Hi, A very warm welcome to Ecommerce with Penny! My name is Penny Chen and I'm an entrepreneur and an online business owner from Singapore. I've been running our business with my husband for 8 years.
My Background
I am a graduate of the National University of Singapore with a B. Sc. in Computer Science with Software Engineering as the area of focus. My career began in 1997 as a Systems Analyst at PSA, with the primary focus in providing solutions to problems.
I have always had a passion for solving complex problems and in the process of problem-solving. I am always looking for new ways to make things easier, simpler, more efficient and fun! With my background in computer science, I have developed a knack for using technology in my business and increasing productivity. 
My experience is varied from IT system analysis, language teaching, and working in government ministry and as Lead Consultant in Trade Unions working with public organizations.
My Strengths
As a former Lead Consultant with National Trades Union Congress helping to run the various trade unions and associations for 15 years, I can conduct extensive research and pull out useful information for the readers. My strength lies in conducting in-depth research and presenting the information I gathered in an easy-to-understand manner. I am also good at systematizing and designing systems and plans to organize everything to ensure smooth execution.
That is why I can produce quality content which makes it easier to start a business in a systematic way. I love doing research into products, platforms and training related to online business and I would like to do that research for my readers to save them time and money.
My Business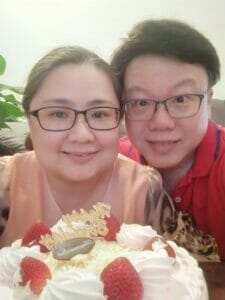 In 2014, I started my company as my husband lost his job. With our background in IT, we naturally started exploring starting online businesses. We found our success with selling physical products on Amazon and have not turned back since then. You can read more about How I started my ecommerce business here.
Owning an online business comes with both challenges and joys. I started my own e-commerce business in 2014 with the dream of creating the life I want for myself and my family. I founded ecommercewithpenny.com as a resource for aspiring entrepreneurs who want to learn from my experience in starting an online business. My goal is to help others overcome the challenges of starting their own business and achieve success.
My professional career and entrepreneurship experience have taught me many valuable lessons in business. I take pride in working hard, getting things done, and helping people and making them successful. I enjoy connecting with entrepreneurs from all over the globe and sharing my knowledge with them.
What I love
Connecting With People
I love working with fellow entrepreneurs because I see the world through their eyes. They are passionate about their business and want to improve it every day. As an entrepreneur, I understand the challenges they face and appreciate the struggle that comes with every single day. It is very rewarding when I get to help someone make their dreams come true.
Freedom
I have tasted the freedom that comes with entrepreneurship by starting my own online business and I would like to share my experience with others. I hope they can also get to enjoy the freedom brought about by starting their online businesses.
I want to be free.
What does this mean? It means to me I can live my life the way I want to live and I can spend my time how I want to spend it (Time Freedom) and also where I want to live or go (Location Freedom).
It makes me feel good to be here right now. To me, it means that I can feel that happiness while doing what I love.
Leveraging On Technology
I love technology, so I like to keep myself up-to-date with all the new trends in technology and online business. I am always learning new skills and methods that help me run my business better, and to share great content with our readers.
Helping Others Live Their Dreams
I find satisfaction in being able to help others and make a positive difference in their lives. I also enjoy the financial stability that comes with being successful. Knowing that my work is making other people's lives better is very gratifying.
A Very Warm Welcome Once Again
So once again, welcome to my blog! I'm excited to share my tips and insights on how to start and grow a successful online business. Here you'll find practical advice on everything from marketing your business effectively to increasing website traffic and conversions. Hope you find the information and inspiration here useful in starting or improving your online business.
I believe that with hard work and dedication, anyone can build a thriving online business. I'm here to help you make your dream a reality. If you are new to ecommerce or want to make your current ecommerce business grow, I can be your trusted friend and share with you about online business and how to get started. Thanks for stopping by! I hope you find this information useful and inspiring!
Let's Get Social! ?
?Add me on Instagram: https://www.instagram.com/ecommercewithpenny/
?Add me on Twitter: https://twitter.com/EcomWithPenny
? Follow me on Pinterest: https://www.pinterest.com/ecommercewithpenny/
? Don't forget to subscribe: https://www.youtube.com/channel/UCkjZblC8hlB7KGkkviw56ig