Why Print On Demand Business Model Is a Superb Online Business Model
With the emergence of the internet, social media and artificial intelligence tools such as ChatGPT, it has been easier than ever to start an online business. In fact, there are several different online business models available. Choosing the right business model is one of the critical factors that determine the success of every online business.
If you are a would-be online entrepreneur, or an online entrepreneur that is just starting out, getting a sound understanding of the various online business models available will help you make the right choice. In this article, we will discuss why the print on demand business model is superior to other online business models.
DISCLOSURE: Some of the links that I share in this article ARE my affiliate links. This means I may earn a commission, at no extra cost to you. In fact, sometimes you'll get a discount or free credits just FOR using my link. 🙂
What Is a Print on Demand Business Model
Print on Demand (POD) is a business model that allows individuals or companies to create and sell custom products without having to carry any inventory. The concept of print-on-demand is simple; you only print goods after getting orders from customers.
With POD, customers can order personalized items such as t-shirts, mugs, phone cases, and more from an online store. The process begins when the customer places an order, and then the product is printed and shipped directly to the customer by the POD supplier. This eliminates the need for the business to invest in upfront inventory costs and storage space.
POD offers a wide range of products and allows for custom designs, which appeal to a large target audience. Whether it's for personal use, promotional items, or starting an online business, POD provides a convenient and cost-effective solution for creating and selling unique products.
Benefits of a Print on Demand Business Model
There are many benefits of using a print on demand business model. Here are some of the most important ones:
Low Startup Costs
Unlike other online business models, print-on-demand businesses do not require significant capital investment. POD business models are relatively easy and affordable to start. You can easily start a POD business using free design software, and the product will be printed only when the customer places an order.
Furthermore, there is no need to purchase or stock inventory before making a sale since products are only printed when orders are placed. This way, you don't need to worry about warehousing or storage costs. As a result, the upfront investment is minimal, making it easier for entrepreneurs to test out new ideas and products.
Low Overhead Costs
Overhead costs can eat into a business's profits, but POD businesses have low overhead costs. Apart from not needing to invest in storage facilities or warehouse spaces, POD businesses are usually online-based so the owners can run them from the comfort of their homes. It not only reduces the cost of operations but also saves the time and energy of the entrepreneurs.
Cost-effectiveness
There are minimal expenses in comparison to conventional retailing. You don't need to hire a space to store inventory, nor do you need to pay for any construction. You can launch your print-on-demand business for as less as a few hundred dollars, which is far cheaper than conventional retail.
No Inventory Risk
In other e-commerce businesses, entrepreneurs would purchase stocks in advance, and you don't know whether they will sell. The risk of loss is high in this situation when sales don't come in as expected, and you will need to sell them quickly to other competitors. Not only are there upfront costs, but there's also always a risk of overstocking or under-stocking.
However, the print on demand model eliminates the problem of inventory since products are only produced when a buyer places an order. Once orders come in, the POD service prints and will send the product straight to the customer, eliminating the need to store and manage large quantities of inventory. This way, there is no chance of overstocking, saving you from financial loss.
No advanced skills necessary
In most cases, the print-on-demand business model does not require complicated technical skills. Many POD services have an easy-to-use platform that you can easily navigate and use. When you can't design or draw, outsourcing freelancers at a reasonable price to complete work will fit any budget and skill level. You can even outsource a freelance illustrator to make your brand stand out.
Wide Range of Products Available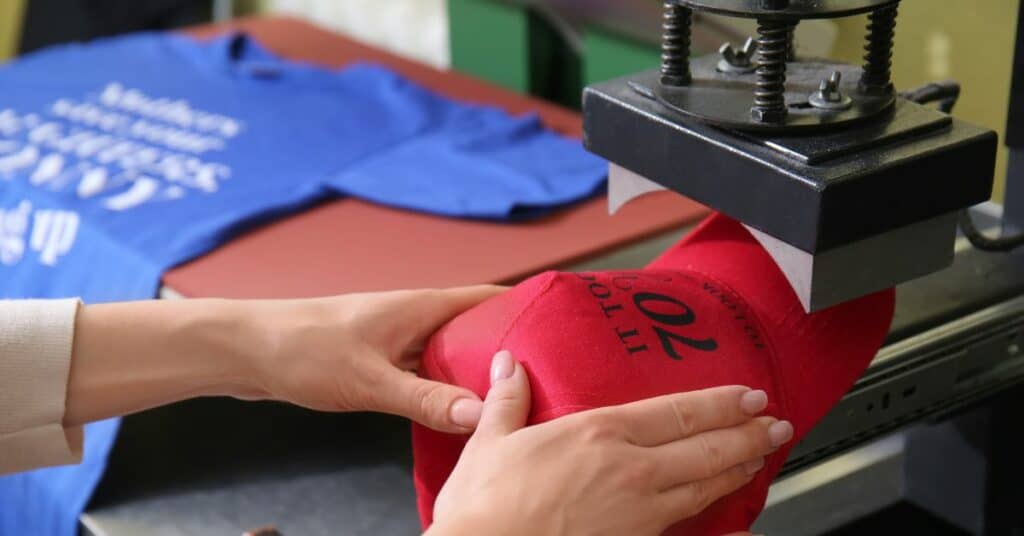 One of the main benefits of using a print on demand service is the wide range of products that can be customized and sold. You have the opportunity to offer an extensive variety of products, catering to a diverse customer base and increasing your chances of finding success in the market.
Popular print on demand products include t-shirts, wall art, photos, water bottles, mugs, phone cases, and tote bags, just to name a few. These items can be customized with unique designs, patterns, or logos to create personalized products that appeal to potential customers.
When selecting products to customize and sell, it is important to consider their demand and potential retail price. Choosing products that are currently in high demand and have the potential to generate a high retail price can significantly impact the success of a print on demand business. Conducting market research and keeping an eye on current trends can help you identify products that are likely to attract a large customer base and generate higher profits.
By offering a wide range of print on demand products, you can cater to the specific preferences and needs of different customer segments, increasing your chances of attracting potential customers and achieving success in the e-commerce industry.
Reduced Time to Market
One of the significant advantages of the print-on-demand business model is that it reduces the time from order to delivery. Products don't need to be shipped to a warehouse, and there's no time waiting for them to arrive before orders are placed. With the print on demand business model, the products are printed and shipped to the customers directly, reducing their time to market.
Customization and Personalization
One of the most significant benefits of the print on demand business model is that it allows you to customize and personalize products, giving buyers more choices. Customers can choose from a variety of design options, colors, sizes, and styles, making it more personalized. This feature is particularly crucial when it comes to selling clothing or other personalized items like phone cases or mugs.
Online consumers expect their products to meet their personal preferences, and this business model makes it easy to offer customization and personalization. This increases customer satisfaction and loyalty, leading to repeat sales and higher profits.
Flexibility, Adaptability and Scalability
In print-on-demand, you have the flexibility to experiment with new product offerings with no fear of a significant product investment. You may also engage in seasonal and event-specific items or market trends quickly without committing to them for long periods. This concept of flexibility means you can experiment with different types of products continuously.
If you discover that a product sells well, you may escalate the level of investment or explore more product possibilities. Since the manufacturer handles the production process, you can invest their time and effort into expanding the business, marketing, and sales. It is much easier to scale a POD business compared to traditional e-commerce businesses and brick-and-mortar stores.
Eco-Friendly
Print-on-demand businesses are eco-friendly. They follow a lean production process that reduces or eliminates wasted inventory. It means that goods are manufactured only upon demand, eliminating the need for mass production.
Mass production results in excess inventory that goes unsold, leading to increased waste and pollution. Print-on-demand businesses, on the other hand, are proactive towards the environment, and they follow environmental-friendly practices.
No Shipping Hassles
Print-on-demand business models eliminate the need for you to ship products yourself. Printing companies like Printful handle all shipping and fulfillment, so you can rest assured that your customers will receive their orders on time. This allows you to focus more of your time on marketing and other aspects of running the business.
Global Market Reach
With the print on demand business model, you can reach a global market via social media and other online selling platforms. An online business using this business model can sell to customers worldwide, breaking down geographical barriers that traditional businesses may face. The limiting factor is only the shipping cost to the consumer, which can sometimes be controlled or managed.
Comparison of Print on Demand Business Models with Other Online Business Models
Print on demand business models have many advantages compared to other online businesses such as dropshipping and affiliate marketing. I have created the table below to show you the pros and cons of each:
 
Print On Demand
Dropshipping
Affiliate Marketing
Amazon FBA
Pros/Cons
+ Sell quality products
+ Reliable Suppliers
+ Fast shipping from local suppliers
+ Fast to create new designs
+ Testing can be done quickly – You know very quickly if you have found winning products.
+ You promote your products & build your business.
+ Allows you to focus on the key money-making activities.  
+ No inventory required
– Poor quality products
– Testing new product takes a lot of time
– Finding & dealing with suppliers takes forever
– Slow shipping gets customers upset (especially if suppliers are in China)
– Copycats as soon as you find winning products  
+ No inventory required
– Promoting someone else's
business or product so you are not building your own brand
– Affiliate commissions and terms and conditions are dependent on the product owners so you have little control and can only take it or leave it  
– Costly to start as you need to buy inventory to test the market. Also the marketing costs can be high
– Long shipping times
– Long time to profitability  
Conquering Challenges in POD
Just like any business model, implementing a print on demand (POD) venture comes with its own set of challenges. However, with the right strategies, you can overcome these obstacles and run a successful business. Here are some common challenges and their solutions:
Quality Control
You might be faced with the challenge of not getting to see the final product before it's shipped to your customer. This could lead to potential issues with quality control.
Solution: The best way to handle this is by ordering product samples. This allows you to check the quality before you start selling and helps to ensure your customers will be satisfied with their purchases.
Limited Customization
With POD, there can be limitations to customization options in terms of product types and printing techniques.
Solution: The key is to carefully select a POD supplier service that offers a broad range of products and printing options. Also, always keep an eye out for new product launches from your POD provider.
Dependence on Third-Party Providers
As a POD business, you're heavily reliant on your printing company for production and shipping. Any delays or issues on their end could affect your customer satisfaction.
Solution: Always have a contingency plan in place. This could mean partnering with more than one POD service to ensure you can always meet your customers' demands.
Higher Unit Cost
POD products tend to have a higher unit cost than products purchased in bulk. This could mean smaller profit margins for your business.
Solution: Ensure you price your products correctly taking into account all costs but also consider the value of not having to deal with inventory or upfront investment.
Competitive Market
The ease of starting a POD business means a lot of competition.
Solution: Stand out by offering unique designs, targeting a specific niche, and delivering excellent customer service.
Remember, every business comes with its own set of challenges. However, with resilience, creativity, and strategic planning, you can conquer these hurdles and build a thriving POD business.
Conclusion
In conclusion, starting an online business can be daunting, and choosing the right business model can make or break that business. The print-on-demand business model has several advantages over other online business models. It offers low startup costs, no inventory, flexible customization options, minimal financial risks with maximum flexibility, eco-friendliness, and scalability.
Furthermore, the low overhead cost, lean production systems and focus on online operations make it a viable option for any would-be online entrepreneur or one who is just starting in the online business world. So, if you're considering entering the online business world, consider using Print-on-demand as a business model to build a highly profitable business for the long term.