Cracking the Code: My Top Takeaways from Amazon Global Selling Summit
Just a few days back, I had the incredible opportunity to attend the Amazon Global Selling Summit 2023 held for the very first time in Singapore. This event brought together experts from Amazon, successful sellers, and industry leaders to share their insights and best practices for selling globally. I attended the summit with an open mind, looking to learn and grow my sales.
After two days of non-stop learning and networking, I came away with several key takeaways from the Summit for Amazon Global Selling that I believe will help any would-be or existing online entrepreneur succeed on Amazon. In this blog post, I'm going to share my key takeaways from the event. My hope is that these insights will also benefit you in some ways.
Roadmap for Getting Started on Amazon
As Amazon launched Singapore on OCTOBER 8, 2019 (pre-Covid), there are relatively fewer Singaporean sellers on Amazon.com compared to the United States. Therefore, this summit was also meant for new sellers. There was a session on "Introduction to selling on Amazon.com – 90 days journey to sell cross-border in the US" which I found to be very useful for a beginning seller.
It provides a step-by-step guide for sellers to set up their Amazon.com store in 90 days. You can access the guide here. What I like about it is that it provides an overview of what selling on Amazon.com entails.
It also provides separate roadmaps for people who already have a product or brand and people who are completely new. Therefore, no matter where you are in your entrepreneurial journey, there is a roadmap for you to follow. Within each roadmap, there are links to the various tools or resources that you would need, so it's really a time-saver. How I wish there was such knowledge back then when I started!
Budgeting for product launch
There was another session called "Money Money Money Don't be penny wise pound foolish" in which two successful sellers Jason Tay and Crystal Ren shared how they would be budgeting for the product launch if they were to be given SGD$10k and SGD$40k respectively. Through their budget allocation breakdown, I learned which areas are the more important ones to invest in so that I could allocate my resources more effectively.
It's important to draw up a budget for your online business so that you know what are the potential costs involved and how much you are prepared to invest in them. As the saying goes, "you have to spend money to make money", but it's also important not to overspend in areas that do not bring significant returns.
It's interesting to note the amount of budget needed to launch products on Amazon nowadays is a lot more than years ago when I first launched my product in 2015. I spent around USD$1,000 to get started back then. But nowadays, you probably need to spend around $7,000 to $8,000 just to launch one product, and you need to be mentally prepared that it will take 8 to 9 months before you can break even.
Based on what I learned from the two sellers during the talk, the following is a possible budget allocation breakdown for launching the first product if you are new to Amazon, which adds up to about USD$9,300. Of these costs, the budget for branding is likely to be an annual cost that's not for every single product launch.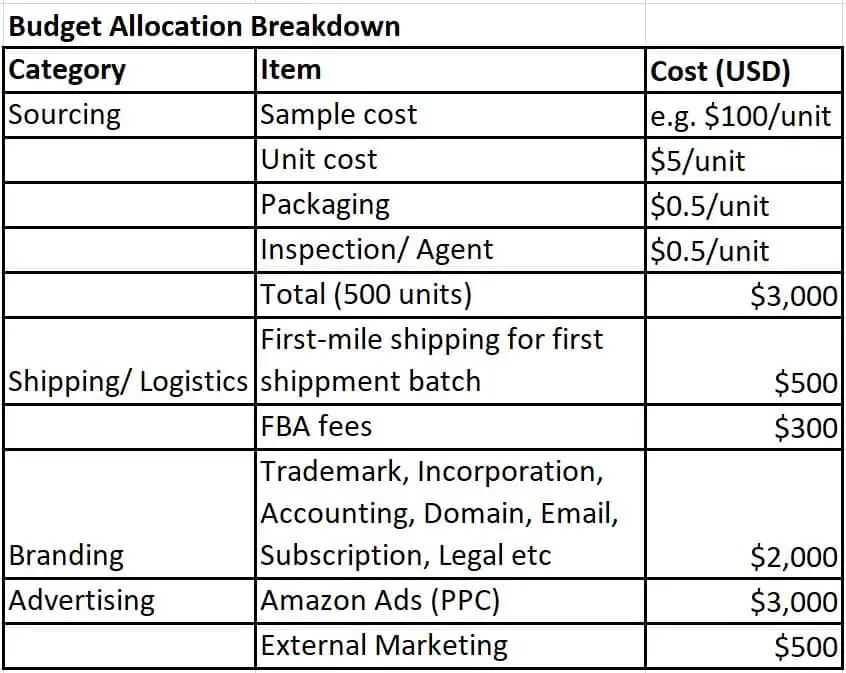 New tools available to sellers
One of the most exciting parts of the summit was learning about new tools and resources that Amazon has launched to help sellers succeed. One such tool is the "Product opportunity explorer" which provides insights based on Amazon's own data and helps you find product opportunities. Most of the other 3rd party tools on the market do not have access to Amazon's real data and therefore the data that they provide are at best estimates and may not be as accurate.
With this tool, you can find a niche to go into and products with potential. It also helps to summarize the reviews on similar products, which allows you to identify gaps in existing products and develop your products. Product opportunity explorer is only available to sellers on profession selling plan.
Another useful feature is the "Branding Owner Tools" which is available to sellers who have registered their brands on Amazon. Apart from protecting brand owners from counterfeits, Amazon provides registered brand owners with the following:
A+ Content which allows you to add enhanced marketing content on your Amazon product detail pages.
Amazon Brand Analytics which provides aggregated insights on customer behavior and competitive insights.
Brand Store which allows you to create a free multipage store for your brand and products.
Sponsored Brands are ads that highlight your brand and product portfolio in search results.
It's also exciting to learn that Amazon will be adding more Brand Tailored Promotions to allow Brands to feature tailored promotions in marketing emails and do more A/B testing on the Brand content. If you are a registered brand owner, be sure to check out these tools and make use of them to enhance your brand's presence on Amazon.
There was one session called "Introduction to Amazon Ads – top tips to leverage advertising at different stages of the customer journey" which introduced the various channels and devices in the Amazon ecosystem that sellers can use to reach out to their potential customers. I was surprised to find that IMDb is also under Amazon so even though Amazon Ads is not something new, there are many more new avenues that we can explore.
Expansion to European Marketplaces
Although this Summit was meant to introduce Singapore and regional sellers to sell on Amazon.com, there was also a session titled "Cross-launching to Amazon European Stores – grow your brand potential in Europe" on the second day that talked about expanding to other global marketplaces such as Europe. Since my experience with selling on Amazon is limited to selling on Amazon.com and Amazon.sg so far, this topic was of interest to me for future expansion.
I suppose one of the biggest hurdles in considering expanding to some of those marketplaces is the diverse language and culture that might be a barrier to effective communication. However, I learned that Amazon has put in place resources to help sellers overcome those barriers such as the "Build International Listings" tool which helps translate listings from US accounts to European stores.
For instance, you can use the Pan-European FBA, which allows you to fulfil your orders from one shipment across all of Europe's stores. Furthermore, you can manage all your stores from a single sign-on and a single monthly subscription fee to Amazon Professional Selling Account which costs USD$39.99 per month, so this is really amazing!
Of course, there are other compliance issues in selling on marketplaces of different countries, selling on Amazon using FBA really made the impossible possible. It's encouraging to see that Amazon is constantly finding ways to make it easier for sellers to expand their business globally.
The potential of global selling on Amazon is vast and tremendous, brimming with opportunities for sellers to reach a global audience. Amazon's powerful suite of tools and expansive networks make what once seemed like a daunting endeavor now an achievable feat. Sellers are no longer confined to geographical boundaries; we can tap into diverse markets, understand different cultures, and cater to an array of consumer needs worldwide.
New services that pop up
Aside from learning about new tools and resources, I also found the following 3rd party service partners that Amazon has shared to support sellers and their services interesting. These new services solve a major part of the Amazon Private Label business which is shipping and returns.
Global Parcel Services – offers a comprehensive range of e-commerce logistics services such as Global Delivery with live tracking of the goods delivered safely from Asia, Europe, and the Americas. They also offer Local Management such as storage, pick and pack, labeling, ticketing, and changing care labels. GPS ships to all FBA locations globally.
SKUdrop – SKUdrop manages the flow of cartons between your supplier's factory and Amazon FBA. I find that they offer an interesting solution that is different from the traditional freight forwarders where they store your products in China warehouse and help shipping smaller regular carton quantities directly into Amazon. So you don't have to pay for costly 3rd Party Logistics Warehouses in the US. Supposedly by doing so you will save a lot of costs and see your profit and margins increase.
They make it super easy for you to create your shipment directly in their system since it's integrated with Amazon.
Return Helper – It's a one-stop global eCommerce Returns Solution. Due to Amazon's liberal returns policy, it's common for shoppers to return orders they make and this can be a headache for sellers. This is where Return Helper comes in, they take care of the returns allowing customers to return to their home country and help you handle all your returns with the best suited options.
They also offer FBA preparations and Storage, removal and relatable service for Amazon Global sellers. They help you to re-ship, send to a different buyer, do about returns etc. This helps take a big headache off your business.
Networking opportunities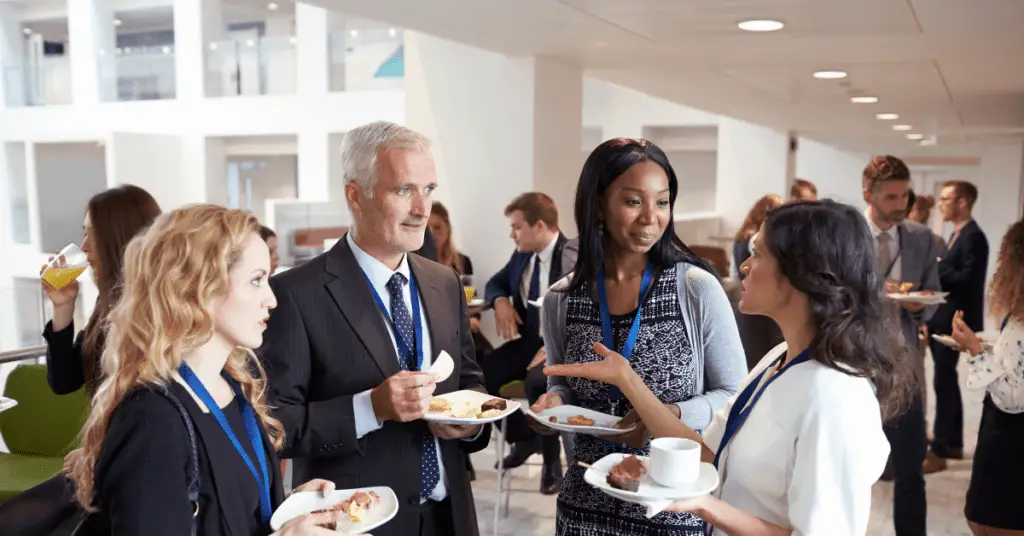 Besides the valuable knowledge shared during the sessions, there were also many networking opportunities throughout the summit. As an existing seller on Amazon, I was invited to its Private Breakfast and Lunch and I had the chance to meet other sellers from various countries such as the US, Thailand, Vietnam and even Panama apart from sellers from Singapore and exchange insights and tips on selling globally. It was really inspirational to see other sellers doing well selling on Amazon.
The summit has reaffirmed my belief in the potential of selling on Amazon and motivated me to continue expanding and growing my business globally. The summit also had a number of exhibition booths where you could interact with Amazon team members and other service providers to get more insights into selling on Amazon. It was an excellent opportunity to network with like-minded individuals and learn from their experiences.
Conclusion on My Top Takeaways from Amazon Global Selling Summit
Attending the Amazon Global Selling Summit 2023 has been an eye-opening experience for me. Not only did I learn about new tools and resources to enhance my business on Amazon, but I also had the chance to network with other successful sellers from around the world. Last but not least, I also gained valuable insights into expanding my business to a global scale.
The Amazon Global Selling Summit 2023 has underscored the immense possibilities that lie ahead of us, highlighting how Amazon continually innovates to make selling globally more accessible and efficient. So, let us embrace this opportunity, expand our horizons, and transform our local businesses into global success stories. The world is, indeed, our marketplace!
As I continue on my own business journey, I am motivated to apply the knowledge and tips shared at the summit to further grow and succeed in the ever-expanding world of e-commerce. So I highly recommend that you also attend such trade exhibitions or events whenever you have the opportunity, as the knowledge and connections you gain will be invaluable to your business.
Keep pushing forward, and success will certainly follow. Let's continue to thrive and succeed together in this rapidly evolving world of e-commerce.
Have you sold on Amazon before? What challenges have you faced? What solutions have you found most useful? Your stories and insights could be invaluable to others on a similar path as you. So, don't hesitate to comment below.