The Pros and Cons of Selling on Marketplace vs Own Website
When it comes to selling products online, there are a few different options available to business owners. One option is to sell on a marketplace, such as Amazon, eBay or Etsy. The other option is to set up your own e-commerce website.
So, which option is better if you are just starting your online business? In this blog post, we will discuss the pros and cons of selling on marketplace vs own website.
DISCLOSURE: Some of the links that I share in this article ARE my affiliate links. This means I may earn a commission, at no extra cost to you. In fact, sometimes you'll get a discount or free credits just FOR using my link. 🙂
Difference Between Selling on Marketplace vs Own Website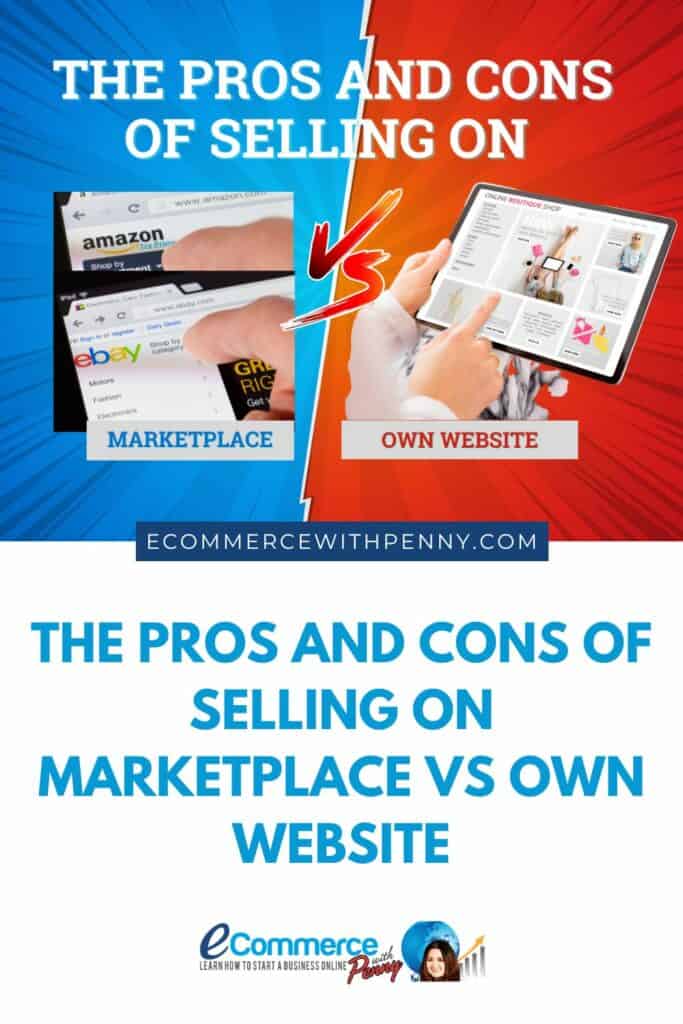 A marketplace is a website where sellers can sell their products. A customer can visit the marketplace, browse through the products, and buy what they want. Examples of marketplaces are Amazon, Ebay or Etsy.
An e-commerce website is a website where the seller sells their products directly to customers. An example of your own ecommerce website is your own Shopify store.
To compare selling on marketplace vs own website, we'll next look at the pros and cons of each.
Selling on Marketplace: Pros and Cons
Pros
The first pro of selling on a marketplace is that you'll have immediate access to a large audience of potential customers that is already interested in purchasing items in your niche. This is because when people go to marketplaces, they already have buying intent.
For example, if you sell handmade jewelry and decide to list your products on Etsy, you'll be able to market your jewelry to the millions of people who use Etsy every day.
Another advantage of selling on a marketplace is that you won't have to worry about building a website or marketing your products, because the marketplace will take care of all that for you. All you need to do is create your listings and wait for customers to find you either organically through the search terms they typed or through paid sponsored ads.
There is less work involved in setting up your store since the platform is already built and takes care of hosting, payment processing, and shipping. The cost of selling on a marketplace is often lower than the cost of setting up and maintaining your own website. 
It's easier to get started on a marketplace as the marketplaces provide built-in tools and resources to help you market and promote your products. You'll benefit from the traffic that the marketplace itself gets from being a well-known brand. 
For example, people already trust Amazon.com so they would readily buy from you even if you are just starting out. If you start out with your own store, people may be hesitant to buy from you as they may not know who you are and they don't have any references or reviews to go off of yet.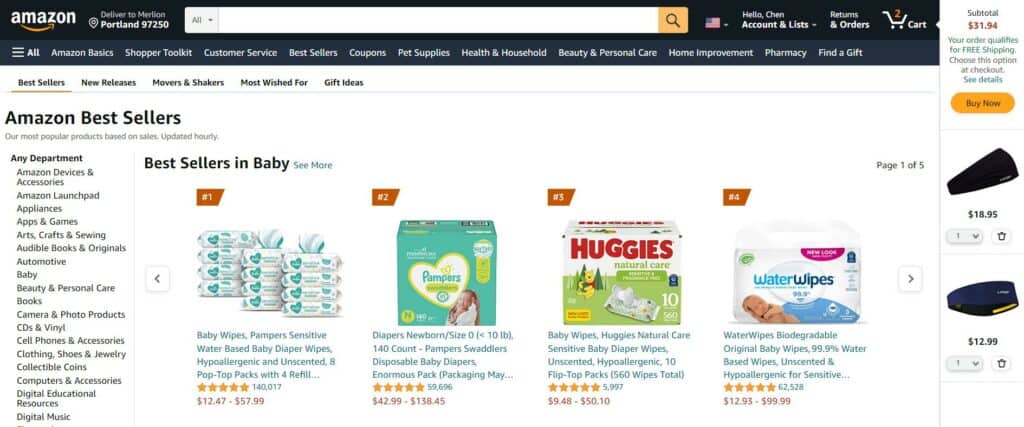 I started my online business journey with selling on a platform called Qoo10 in Singapore years ago as that seemed to be a natural choice for me without having to pay for monthly rental of an online store.
Cons
Now let's take a look at the cons of selling on a marketplace. One downside is that you'll be competing with hundreds or even thousands of other sellers who are offering similar products. This means that it can be difficult to stand out from the crowd and attract attention to your listing.
Another thing to keep in mind is that customers who shop on marketplaces typically expect low prices, which can be tough if you're trying to turn a profit. Also, because marketplaces tend to be very saturated, it can be difficult to build long-term relationships with customers. 
You have less control over branding since customers will see products from other sellers when they visit the marketplace. In fact, customers may not even notice your brand when buying your products as they think that they are buying from Amazon for example.
Although you do not have to spend money setting up your own website when you sell in marketplaces, you have to pay fees to list your products on the marketplace. For example, Amazon charges a monthly selling fee and a referral fee for each item sold while eBay and Etsy charge listing fees for each listing.
You also do not own the customer data, which can limit your ability to market to customers in the future or expand into other channels. What this means is that the customers are Amazon's (or eBay's or Etsy's) customers and not really your customers since you don't have direct access to them except through the marketplaces' system.
Lastly, selling on a marketplace typically requires you to abide by their rules and policies so you have less control over how you manage your store. Since you don't have control over the platform, any changes that the marketplace makes could impact your business negatively.
For example, your listings can get suspended by the marketplace for reasons outside your control and you can lose your business overnight.  Another thing I experienced before when selling on Amazon was my product listings were subjected to fake negative reviews attack by competitors and the platform did not really do anything to stop it back then. 
Selling on Your Own Website: Pros and Cons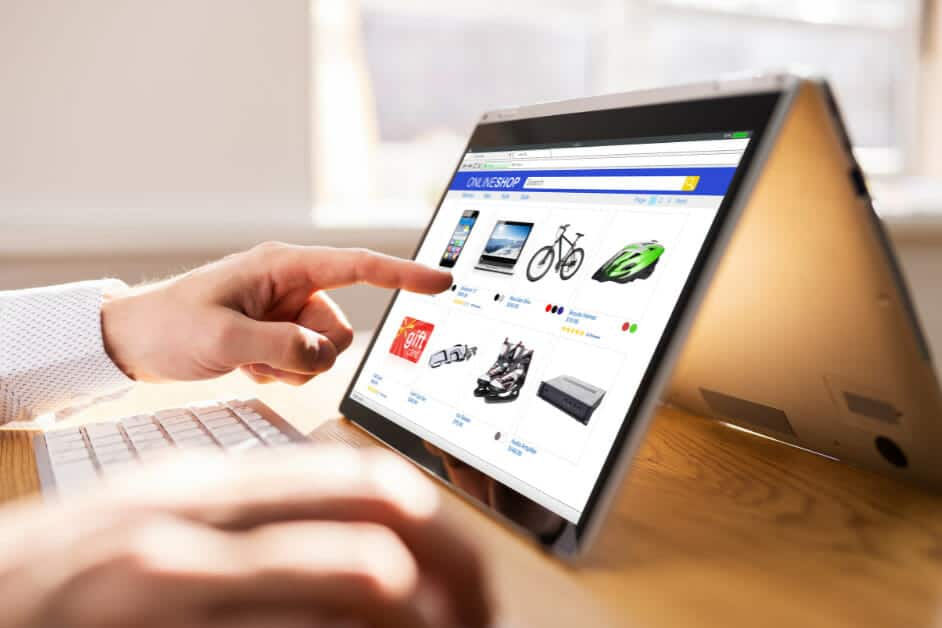 The Pros
When you create your own website, you'll have complete control over the design, branding, messaging, and how you present yourself online. Thus, you have more control over the customer experience.
All these can help you build better relationships with your customers since customers will only see products from your store when they visit your site. All the traffic that comes to your website will be yours alone, which means you won't have to share it with other sellers. 
On top of that, customers who buy from your own website are more likely to spend more money per transaction than those who buy from a marketplace as it is easier for you to upsell and cross-sell products and increase your Average Order Value (AOV).  
There is more work involved in setting up your store, but you also have more control over how it operates. You can set your own store policies, set up automated emails, and customize the customer experience to your exact needs.
This means that you can create an experience that is aligned with your brand and that will attract your ideal customer. On a marketplace, however, you have much less control. The marketplace will have its own design and its own policies, which might not be in line with what you're trying to do.
You also own your customer data, so you can use it to do more targeted marketing in the future.
You may have more success building an email list and developing long-term relationships with customers since they are coming directly to YOUR site. 
You Keep More of the Profits. When you sell on a marketplace, the marketplace takes a cut of all your sales. So not only do you have to pay for the goods or services that you're selling, but you also have to give up a percentage of every sale to the marketplace.
When you sell on your own website, however, you get to keep all the profits (minus any taxes or fees associated with running an online business). This means that selling on your own website is a great way to improve your bottom line.
The Cons
Of course, there are also some drawbacks to having your own website. For starters, it takes quite a bit more time and effort to set up and maintain than selling on a marketplace does. You will be responsible for hosting, payment processing, shipping, customer service, etc.
Unless you're using a good ecommerce platform like Shopify that offers built-in payment processing, you'll need to set up some sort of payment system—which can be tricky if you're not tech-savvy.  
You'll also need to invest time and money in marketing and advertising initiatives in order promote your site and drive traffic there. It can also be more difficult and time consuming to attract customers to an e-commerce website than it is to sell on an established marketplace, especially if you're just getting started.
It can be difficult to compete with the big players who already have an established presence online. It may thus take longer to build up an audience for your products if you're starting from scratch. 
The Hybrid Approach – Marketplace and Your Own E-Commerce Store
By selling on both a marketplace and your own ecommerce store, you can enjoy the best of both worlds. You'll get the advantage of selling on a well-established platform with a large customer base, while also enjoying the benefits of owning your own ecommerce store, such as more control over the customer experience and higher profits.
There are a few ways to do this. You could use Shopify to create an online store and then use Shopify's built-in integration with marketplaces like Amazon and eBay to list your products on those platforms. This way, you'll get the benefits of selling on an established marketplace while still retaining control over your website.
The other option is to use a hybrid approach – selling some products on a marketplace and others through your own ecommerce store. This can be a great way to test out which selling method works best for your products.
You can start by listing some of your products on a marketplace and see how they do. If they're selling well, then consider listing more products on that platform. If they're not selling well, then consider selling them through your own ecommerce store instead.
My own experience was also more of this hybrid approach but it was more coincidental than intentional. I learned to sell on marketplace Amazon.com after taking an online course and started making sales, then I realized that I should start my own website for branding purpose so that my customers are able to find me outside Amazon and I appear more credible that way.
Hence, I started my own WordPress website (to save money) after about one year. However, soon I found out about Shopify and its advantages and moved my online store to Shopify and I have never looked back.
Thus, I highly recommend Shopify if you want to start your own online store as it's a great ecommerce platform which makes it easy for your to set up an online store so that you can focus on selling and marketing, you can check out my blog post How to Create an Ecommerce Website With Shopify (Simple and Easy Steps)
By using a hybrid approach, you can easily switch between selling through a marketplace and selling through your own ecommerce store as needed. This gives you the flexibility to try out different selling methods and see what works best for your products.
Conclusion
There's no right or wrong answer when it comes to selling on marketplace vs own website. It all depends on what's right for your business and what you're hoping to achieve. If you're just starting out and you want to get up and running quickly with minimal investment, then selling on a marketplace could be a good option for you.
But if you're looking for more control over your brand and more long-term growth potential, then building your own website might be the way to go. Whichever route you decide to take, remember that there are pros and cons to both options—it's all about finding what works best for you and your business!
If you want to start your own website, you can sign up with Shopify trial for $1/month for the first three months by clicking the image below: