Why Stay Focused on Your Goal Is Key to Entrepreneurial Success
Hey there, fellow entrepreneurs! I know how hard it can be to stay focused on your goal when you have so many other commitments vying for your attention. I used to think that having more time would automatically mean being more productive, but I soon realized that wasn't the case.
Even with more time on my hands, I found myself wasting precious hours on mindless activities instead of focusing on my business. That's when I learned the crucial lesson that it's not about how much time you have, but how effectively you use it.
In this blog post, I'll be sharing with you the importance of focus in achieving entrepreneurial success, the effects of a lack of focus on productivity and success, and practical tips on how to cultivate and maintain your focus.
DISCLOSURE: Some of the links that I share in this article ARE my affiliate links. This means I may earn a commission, at no extra cost to you. In fact, sometimes you'll get a discount or free credits just FOR using my link. 🙂
The Importance of Focus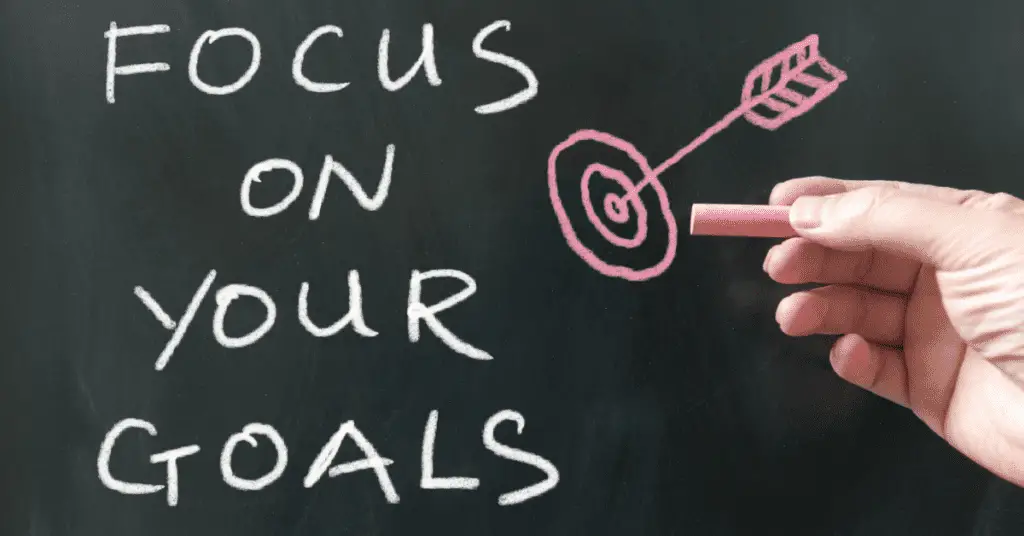 As entrepreneurs, we're often pulled in many different directions, whether it's responding to emails, attending meetings, or handling administrative tasks. These distractions can significantly impact our ability to focus on what really matters – growing our business.
Without focus, it's easy to get bogged down in the day-to-day and lose sight of our long-term goals. On the other hand, when we're able to hone in on our priorities and devote our attention to them, we can make significant progress and achieve success.
Below are some of the benefits of staying focused on your goal:
Focus helps you achieve your goals 
When starting a business, you need to have a clear direction of what you want to achieve. Without focus, you might end up losing your direction, eventually failing to achieve your goals.
If you focus on your strengths and talent, you could create a unique brand that sets you apart from your competitors. It is vital to remember that focus means saying "NO" to all the distractions that come your way.
Turn off your phone notifications or go for a social media fast, and limit your exposure to unnecessary noise and distractions. Sometimes the distractions come from your family members, you need to train them to understand that you need undisturbed focus time for working on your business.
Focus improves productivity
When you are focused, it is easier to identify the most important tasks that need your attention and prioritize them accordingly. This allows you to split big projects into smaller, more manageable tasks and get things done faster.
Focus leads to efficiency 
When entrepreneurs start a business, they usually wear multiple hats; they are responsible for everything from production to marketing to bookkeeping. Juggling different roles in a startup can be overwhelming, but focusing on what matters the most makes it easier.
Entrepreneurs who focus on their to-do list, stick to deadlines, and delegate responsibilities can achieve more. It's more productive and efficient when you start your day with clear priorities and minimize interruptions.
Focus helps you learn from experience 
The most successful entrepreneurs succeeded by making mistakes and learning from them. By focusing on their experience, they can create a better product or service.
Many entrepreneurs fall into the trap of dwelling on past missteps or getting sidetracked by the shiny-object syndrome. Start seeing every failure as an opportunity to learn an important lesson.
Ask yourself, "How can I avoid making the same mistake twice?" or "What can I do differently next time?" Focusing on lessons learned from experience equips you with more tools to succeed.
Focus helps you avoid distractions
This may sound like a tautology but one of the biggest challenges of running a business is dealing with distractions. From emails and social media notifications to unexpected meetings and ad hoc tasks that pop up out of the blue, distractions can take your attention away from your core goals and lead you down a rabbit hole of unproductive activity.
By having a clear focus on what you want to achieve, and breaking down your tasks into manageable chunks, you can avoid distractions and stay on track.
Focus helps you make better decisions
When you are laser-focused on your goals, it is easier to make better decisions. You can evaluate each opportunity or dilemma based on its alignment with your core objectives, and you can filter out the noise and irrelevant information. This makes decision-making more efficient and effective, and it allows you to move forward with confidence.
Focus helps you overcome obstacles
Running a business is full of challenges and setbacks. Maintaining focus during difficult times can provide you with the resilience needed to overcome obstacles. By keeping a clear head and staying focused on your goals, you can identify creative solutions to problems and come up with new strategies to move forward.
Focus helps you measure progress
When you have clear goals and a focused plan, it is easier to measure progress and track your success. By breaking down your objectives into smaller, achievable milestones, you can celebrate your wins, learn from your mistakes, and stay motivated.
The Effects of a Lack of Focus
The impact of a lack of focus on productivity and success cannot be overstated. When we're not able to concentrate on what's important, we end up wasting time and energy on low-value tasks that don't move the needle forward.
This can lead to missed opportunities, lost revenue, and even business failure. Thus, it's essential to develop the discipline and habits necessary to maintain focus, even when distractions are vying for our attention.
Common Distractions Faced by Entrepreneurs
As entrepreneurs, we face a unique set of challenges trying to maintain focus. From social media notifications to email overload to unexpected client requests, distractions can come in many forms.
This is particularly the case for those of us who become entrepreneurs from being employees all our lives. As we are accustomed to structured office hours and direction, the newfound freedom of entrepreneurship can be daunting, resulting in distractions.
Thus, it is important to practice self-discipline and focus on what's most important each day. Taking regular breaks, setting up a daily routine, and learning to say "no" are also useful strategies that can help you stay on track.
The key is to recognize these distractions and develop strategies to overcome them. In the next section, I'll share more tips on how to stay focused in the face of common distractions.
Tips for Maintaining Focus
Here are some tips to help you stay focused and achieve your goals:
Use time management techniques
One of the best ways to stay focused is by managing your time effectively. This includes setting realistic deadlines, creating to-do lists, and prioritizing your tasks based on their importance. You should also use tools such as Trello, Asana, or Monday.com that help you track your progress and manage your to-do list.
Another useful tool is RescueTime, a software that runs while you work and shows you how you are spending your day, could help you understand why something is taking longer to complete than it should.
Below are other useful time management techniques that can help to maintain your focus and increase your productivity:
Chunking technique
Chunking is the act of breaking your workday down into chunks of time and then assigning tasks to each chunk. For example, you might create a 90-minute chunk of time each morning to work on your business development tasks, another 90 minutes around lunchtime for admin tasks or product development, and then a final chunk of time in the afternoon for sales or marketing.
By separating your work into specific, focused tasks, you'll be able to see progress move forward and check off tasks as you complete them.
Batch working
One common challenge for entrepreneurs is focusing on multiple priorities at once. To increase productivity, try batch working–or grouping similar tasks together to do more in less time.
Instead of creating content individually, consider producing a batch of social media content that lasts for a few days or a week. You could do this easily with the help of AI writers such as ChatGPT.
Likewise, you could also batch your bookkeeping, invoicing, or any other recurring task into one assigned daily or weekly timeframe. This technique is not only practical, but it guarantees that you won't be tempted to multitask, saving you time and energy whilst maintaining focus.
Another area in which you should practice batch processing is emails. While email is a great tool for communication over the internet, it can also be a real-time drain. Many entrepreneurs spend a significant part of their day answering emails, even if they are not critical to their business.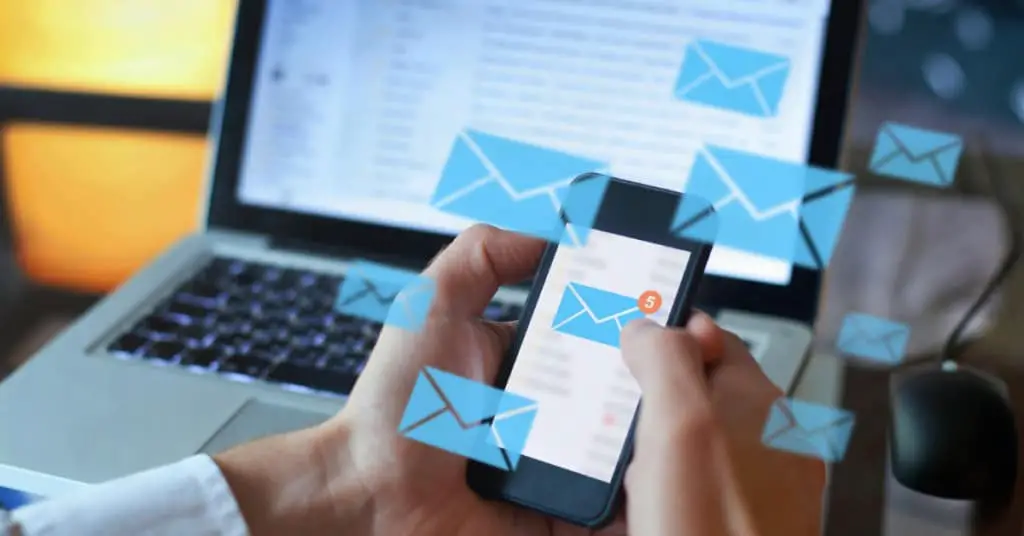 To prevent email from crowding out essential things, set up two or three specific times a day when you'll handle it all at once. When you flag messages for later, you can always get to them during the designated time instead of checking emails again and again throughout the day.
Pomodoro technique
The Pomodoro technique promotes efficient work by breaking time into 25 minute blocks called "pomodoro," followed by 5-minute breaks.
After a few of these, you take a longer break of around 20-30 minutes. During that break, you can do everything except work. The Pomodoro technique is effective because it helps you focus on work without getting burned out.
It works by setting smaller goals that seem more doable than larger goals that might take hours or days to complete. Before you know it, you've put in a full day of work that's been focused and productive.
Manage your energy
Time management is important, but it's not the only way to stay focused on your goal. It's also important that you manage your energy levels throughout the day.
This means making sure you're getting enough sleep every night, eating a nutritious breakfast in the morning, taking regular breaks throughout the day, and exercising regularly. All these things will help keep your energy levels high and help you stay focused on the tasks that are most important to your business.
You also need to know what is your most productive hours and use them to your advantage. I find that having a morning routine helps me to focus my energy.
Read Related Post
The most productive hours can be different for different people though. It can be in the morning, or it might be later on at night. It's good to develop a routine for your most productive hours so that you can make the most of them and stay focused on your goals.
Whatever works best for you is what you should aim for–and never try to force yourself into a productivity schedule that isn't comfortable or natural.
Focus on the 20% of the 80-20 rule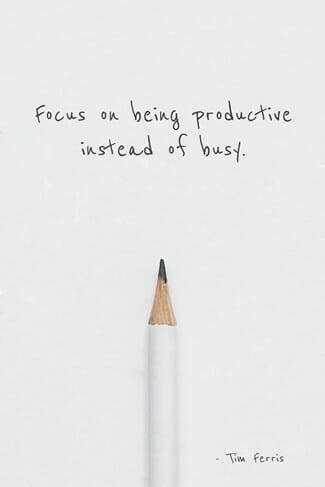 Most entrepreneurs know the 80-20 rule (called the the Pareto Principle): 80% of results come from 20% of the effort. To stay focused on your goal and maximize your productivity, you need to focus on that 20%, or the most important things.
It's easy to get distracted by shiny objects, nonessential tasks, and other distractions. To manage your energy effectively, it's important to recognize what is truly essential and add value to your business.
This means devoting your energy and time to tasks that move the needle in either revenue or growth–not responding immediately to emails or getting distracted by social media notifications.
By managing your energy in this way, you'll be able to focus on the most important tasks, stay organized, and get more done in less time.
Delegation and outsourcing
As entrepreneurs, we often feel like we have to do everything ourselves. Learning to delegate tasks frees up time and helps us focus on our priorities. It also allows us to concentrate on our core strengths.
Mindfulness and meditation
Practicing mindfulness, yoga, and meditation can be powerful tools for enhancing focus and productivity. By taking the time to clear your mind and focus on the present moment, you can increase your ability to concentrate on your business goals.
Conclusion on Why Stay Focused on Your Goal Is Key to Entrepreneurial Success
In conclusion, mastering your focus is essential to achieving entrepreneurial success. By recognizing the importance of focus, understanding the effects of a lack of focus, and implementing practical tips for maintaining focus, you can increase your productivity, make progress toward your goals, and ultimately achieve success in your business.
So, what are you waiting for? Start implementing these tips today and see the results for yourself! Feel free to share with me your progress and experiences by commenting below.