A Comprehensive RescueTime Review and Software Pricing and Free Version
Do you ever find yourself wondering where the time went after a long day of work? Do you struggle to stay focused and avoid distractions in today's fast-paced, technology-driven world? If you answered yes to either of these questions, then RescueTime might just be the solution you've been looking for.
As an entrepreneur, every minute counts, and I need to make the most of my time to ensure that my business grows and succeeds. That's why I started using RescueTime in 2020, and I can honestly say that it has been a game-changer. In this RescueTime review, I'm sharing my firsthand experience with RescueTime, so you can decide if it's worth incorporating into your daily routine.
DISCLOSURE: Some of the links that I share in this article ARE my affiliate links. This means I may earn a commission, at no extra cost to you. In fact, sometimes you'll get a discount or free credits just FOR using my link. 🙂
What is RescueTime?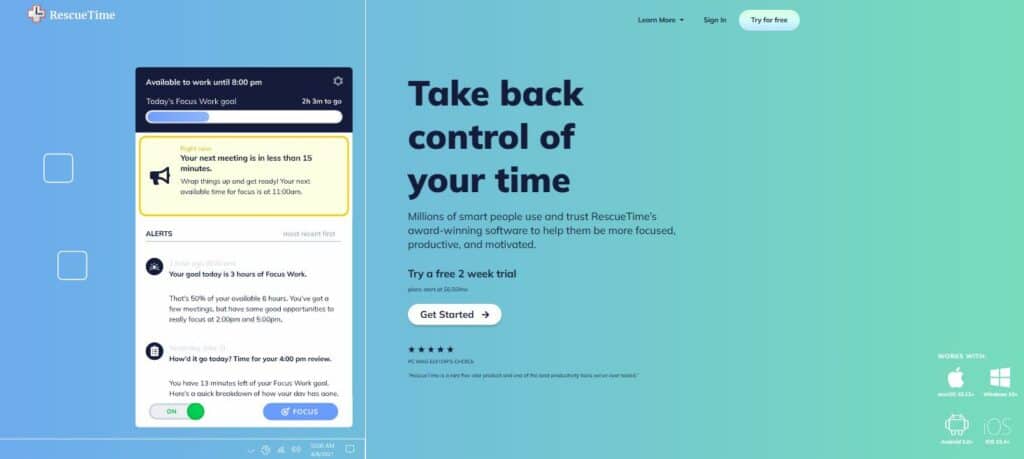 RescueTime is an app that measures productivity by tracking screen time and providing detailed reports on frequently used websites and apps. It also provides real-time alerts, and project management tools, so you can stay focused on what's most important.
RescueTime gives you insight into your daily habits, like how much time you spend on email, social media, and other diversions. With RescueTime, the goal is to make you aware of all the little distractions that are slowing you down and give you a nudge in the direction of focus and productivity.
Read Related Post
Who is RescueTime For?
Whether you're an entrepreneur, freelancer, or student, RescueTime can offer a fresh perspective for anyone looking to boost their productivity. If you struggle with staying focused or making the most of your time, RescueTime can be an invaluable asset to help keep you on track.
It's also great for teams that work remotely. The project management tools and reporting options allow everyone to stay up-to-date with their progress and help make sure that goals are being met.
RescueTime review – Features of the RescueTime
RescueTime is a robust tool for tracking time and boosting productivity. It allows you to track and manage the amount of time you spend on different activities and tasks throughout the day. It comes with a range of helpful features that make it easy to get an overview of your daily progress, reduce distractions, and focus more on productive tasks.
RescueTime gives you a productivity score that lets you know how well you're doing during the day. You can set goals and RescueTime will give you feedback to help you nudge your productivity score higher. You can compare your score to other users in your industry or role, and set goals to improve your productivity over time.
Another neat feature is the weekly report, which is an excellent tool to keep your productivity in check. It breaks down your productivity for the week, showing your stats and patterns.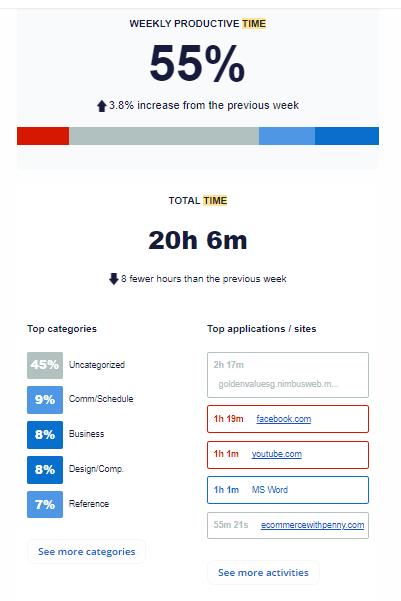 Another one of its key features is Focus Sessions, which allow you to set aside a specific amount of time for uninterrupted work. Activate a Focus Session, and RescueTime will block the sites that are most distracting to you. When your session is over, it provides an analysis of how long it lasted in comparison to your usual work time, so you can track any improvements for yourself.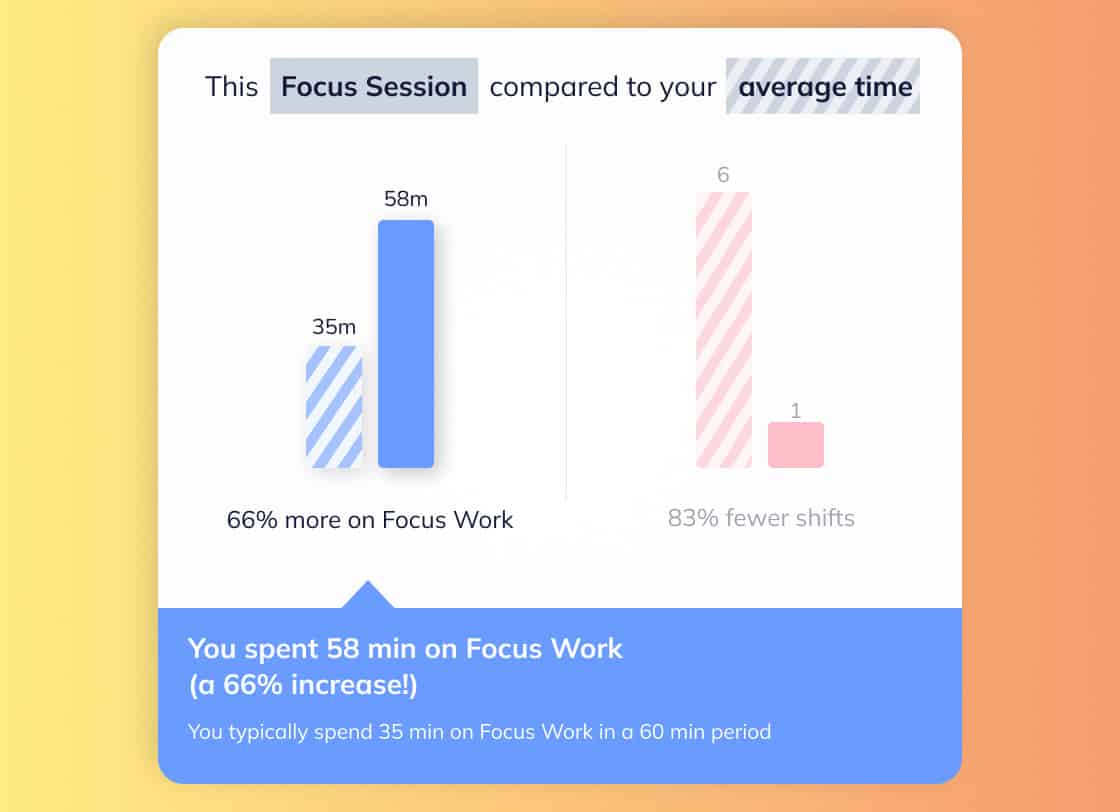 Plus, with its real-time alerts and project management tools, you can stay on top of things without getting overwhelmed. And with its unique Productivity Pulse feature, it's easy to quickly check your daily progress with a single glance.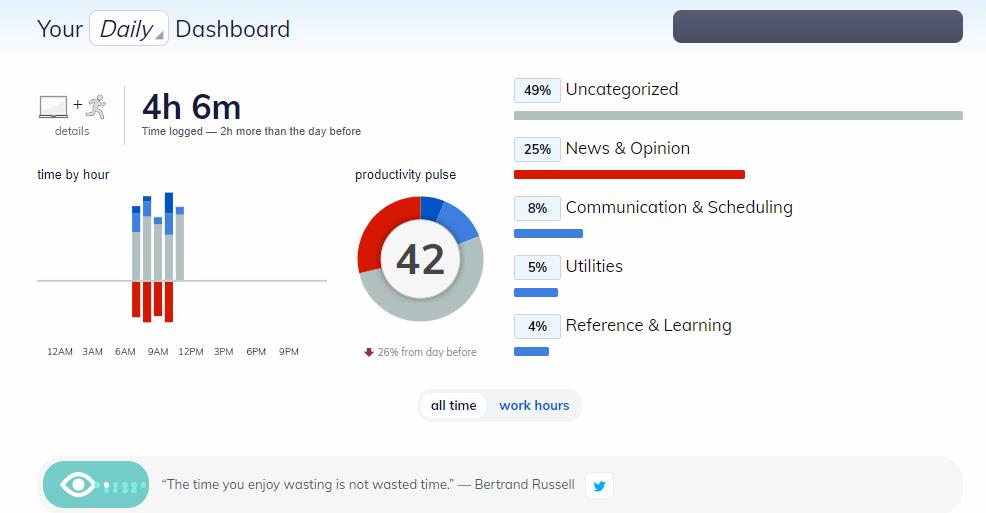 Finally, RescueTime works on Windows, Linux, Android, and mobile Apple devices, in addition to macOS. Its mobile device support and browser extension make it easy to keep track of your productive time no matter where you go or what device you use.
One of RescueTime's best features is that it's customizable. You can personalize it to fit your routine specifically. You can set goals, allow focus time where you won't get notifications, and get alerts when you exceed a particular time limit. In other words, RescueTime gets better with you the more you use it.
Another significant feature of RescueTime is that it integrates with other productivity tools. It's compatible with Zapier, which allows you to automate tasks for more significant productivity. Also, it syncs with Google Calendar, which helps you plan your day based on your productivity score, improve your scheduling habits, and make the best use of your time.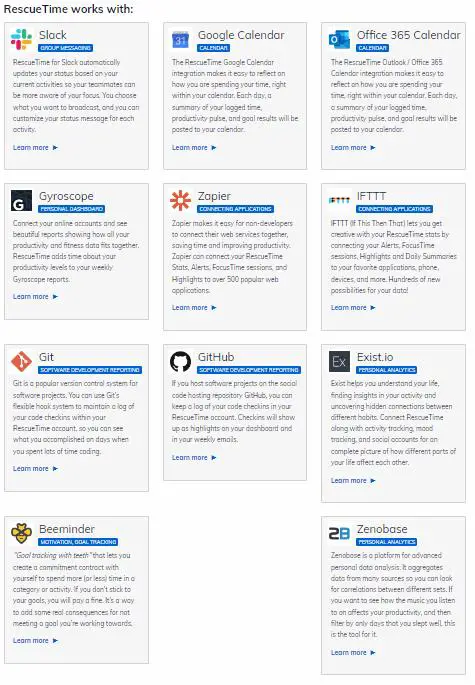 With all these features combined, RescueTime helps make it easier than ever to manage your time well and get more done each day. Time is a precious commodity, and we all want to make the most of it. With RescueTime, you can take control of your time and use it to achieve your greatest goals!
Now, let's discover the incredible advantages of RescueTime in the next section, such as enhancing productivity, increasing focus, and managing stress more effectively.
What are the Benefits of Using RescueTime?
There are countless benefits to using RescueTime! Here in my RescueTime review are just some of the ways it can help improve your productivity levels and life.
Tracking and Understanding Time Usage
We all have 168 hours a week, and how we spend them is crucial. Many people don't know how much time they spend on certain tasks even though they want to manage their time. As Peter Drucker famously said, "You can't manage what you can't measure". That's where RescueTime comes in handy.
The app helps you to track your time spent on different tasks, collect data on your behavior, and give a comprehensive time report. By understanding where your time goes, you can identify your productivity patterns and devise strategies to manage your time better.
Read Related Post
Minimizing Distractions
One clear conclusion from the pandemic's impact on our lives is that remote work has become more important than ever. In today's remote working environment, people struggle with distractions that affect their efficiency during the day. That makes it more and more challenging to complete all their work in time to meet their deadlines.
With RescueTime, you can keep a tab on websites and applications you use on a daily basis, including the total amount of time spent on them. It can also block distracting websites and applications that hinder you from completing crucial tasks.
Minimizing interruptions can boost productivity and help you stay focused on high-priority tasks. This allows you to get more done in less time.
Read Related Post
Setting More Realistic Goals
Entrepreneurs are often ambitious and tend to set unrealistic goals, which can lead to burnout, stress, and frustration. That's where RescueTime comes in handy; it can help entrepreneurs set sensible objectives and progress toward them.
By analyzing how much time it takes to complete particular projects, RescueTime can use that data to predict approximately how much time it will take for other assignments.
Enhancing Work-Life Balance
Entrepreneurship is a 24/7 job; it is easy to get carried away and forget about life outside work. RescueTime can help you achieve work-life equilibrium by setting recurring alerts, blocking websites/apps outside work hours, and scheduling breaks or self-care activities.
Being able to find a balance between work and life helps prevent burnout and increase your overall well-being.
Valuable insights are available to managers
A manager can use RescueTime to understand where employees spend the most time and how productive they are. Managers can use these insights to reassess the workload, identify unproductive tasks, and increase productivity as well. The data RescueTime offers can enable a more effective work environment.
What I like about RescueTime
With RescueTime, I was able to get a realistic and objective view of how I spend my time online. It automatically tracks my activities and provides me with reports and insights to help me better understand my habits and behaviors.
When I first saw the weekly report emailed to me, I was astonished to see how much time I had spent on Social Media. This motivated me to make some changes and optimize my time and productivity further.
One thing I love about RescueTime is its user-friendly interface. I don't need to waste time manually tracking my activities or generating reports. It does all that for me, which saves me a ton of time and stress.
The real magic happens once you've collected enough data to see your weekly or monthly productivity metrics. RescueTime will show you a detailed report of your most and least productive activities, including how much time was spent on email, social media, or specific productivity tasks. This information can be eye-opening and motivate you to make positive changes in your routine.
One of the biggest challenges for me was determining what exactly constituted a "productive activity." Is email communication considered productive, or is it a waste of time? It's a tough call, but RescueTime has a feature allowing you to categorize different websites and applications as either "productive," "distracting," or "neutral." This allows for more accurate data analysis, and you may even question the need for certain applications in your life.
Lastly, one thing to note about RescueTime is that it does rely on your honesty and accurate tracking of your activities. If you leave your computer running or forget to categorize an activity, the data may be skewed or misleading. However, if you're committed to tracking your time and improving your productivity, this app can be a valuable tool in your arsenal.
RescueTime Lite is available for free if you'd like to try it out before committing to the premium version. Premium plans include even more advanced features like automated reports, distraction blockers, phone call tracking, and unlimited focus sessions. You can even use the app offline!
What I dislike about RescueTime
It only tracks screen time, so if you're on the phone or doing something offline, it won't be recorded in your productivity report. This can create an inaccurate picture of where you're spending most of your time. But if you are working on your online business and use a computer or mobile most of the time, this is a good app to track your time usage.
The major drawback of RescueTime is that inaccurate data may result if you fail to categorize an activity or leave your computer running all night. Since RescueTime is a very data-driven platform, inaccurate data can lead to incorrect conclusions and decisions.
How Much Does RescueTime Cost?
Wondering how much RescueTime will set you back? There's a free version of RescueTime that you can use, but to unlock all its features, I recommend upgrading to RescueTime Premium.
The free version allows you to track your time spent on specific applications or websites, while the paid version offers more advanced features such as setting goals, blocking distracting websites, and monitoring team productivity.
RescueTime Premium costs $12 per month, and if you pay annually, it's $78 (which works out to be only $6.50 per month). That said, the added value from RescueTime Premium is worth the price tag, especially if you want to get the most out of your day. RescueTime offers a free trial period of 14 days, so you should take advantage of this and see if the app works for you.
Conclusion on RescueTime review
I highly recommend RescueTime to any new entrepreneur looking to optimize their time and productivity. It has been a game-changer for me, and I'm confident it can do the same for you. Don't just take my word for it though, give it a try for yourself and see the difference it can make in your life and your business.