How Can You Develop a Growth Mindset and Achieve Success?
Are you struggling to take your online business to the next level? Do you find yourself getting demotivated by setbacks and challenges? Developing a growth mindset can be the key to achieving success as an entrepreneur. By shifting your perspective from fixed to growth, you can embrace challenges, learn from failures, and ultimately achieve your goals.
In this blog post, we'll explore the question "how can you develop a growth mindset" specifically for online entrepreneurs. Whether you're just starting or have been in the game for a while, this guide will provide you with the tools you need to cultivate a positive mindset and achieve your business goals.
DISCLOSURE: Some of the links that I share in this article ARE my affiliate links. This means I may earn a commission, at no extra cost to you. In fact, sometimes you'll get a discount or free credits just FOR using my link. 🙂
What is a Growth Mindset?
Carol Dweck, professor of psychology at Stanford University, is widely known for her research on how to develop a growth mindset. In her work, she found that how we think about our abilities and how we approach challenges can have a huge impact on our success.
She identified two main types of mindsets – fixed and growth—and how they can affect how we think, act, and view success. According to Dweck, a fixed mindset views skills and abilities as innate, meaning that you either have them or you don't. This type of mindset often leads to fear of failure and discouragement from trying something new or challenging.
On the other hand, a growth mindset views skills and abilities as something that can be developed through effort and perseverance. People with this type of mindset are more likely to stay motivated and optimistic even when they have to do difficult things or fail. They are more likely to be successful both in their personal and professional lives.
A growth mindset is thus a belief system that focuses on the idea of personal development and improvement over time. It is based on the idea that with effort and dedication, one can become successful at any task or goal they set out to do. This contrasts with a fixed mindset, which believes that success is dependent upon one's genetic makeup or natural ability.
People who have a growth mindset view difficult tasks as opportunities for learning and development. They recognize the importance of putting in the work required to reach their goals, even when it may seem challenging or overwhelming. Successful people understand that failure is part of the journey. They use it as an opportunity to try again and get better.
To more in-depth comparison between fixed and growth mindset, check out my earlier article below:
Benefits of Having a Growth Mindset
Growth mindsets are beneficial for both personal and professional life, helping us stay motivated towards achieving our long-term goals by setting realistic short-term ones along the way. Having a growth mindset is an incredibly powerful tool for anyone looking to reach their goals and become successful.
By focusing on the idea of personal development, it encourages us to look at challenges as opportunities to learn, rather than failure or discouragement. People with growth mindsets are also more likely to work together with others. They recognize each other's efforts instead of their lack of ability.
Growth mindsets also help us stay positive in difficult times by shifting our perspective on what it means to be successful in life. This can have a huge impact on our motivation towards achieving our goals by helping us set realistic short-term ones along the way.
Finally, they help us accept failure as part of the journey and remain positive even when things do not go our way. They help us change our perspective on what it means to be successful in life.
In short, having a growth mindset is an invaluable asset that can help you reach your full potential. It allows you to view challenges as learning opportunities while keeping you motivated and positive even when faced with failure.
Developing a Growth Mindset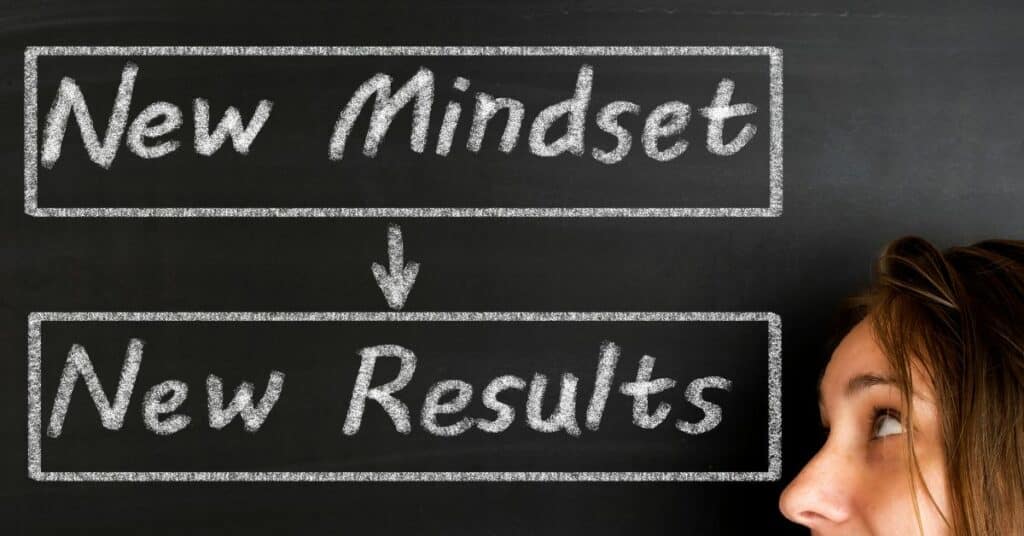 Developing a growth mindset can be incredibly beneficial to your personal development and success in life. By viewing challenges as learning opportunities rather than sources of discouragement, you can stay motivated and on track to reach your goals.
This shift in perspective also helps with setting realistic expectations and breaking long-term goals down into manageable chunks. So exactly how can you develop a growth mindset and achieve success?
Begin by Acknowledging Your Current Mindset
Being aware of your current mindset is an important step toward developing a growth mindset. It can be helpful to ask yourself questions such as: How do I respond when faced with a difficult challenge? Do I give up easily or do I persevere and try to find a solution? Do I focus more on potential failure rather than possible success?
You can also read the following post to see whether you have any self-limiting beliefs holding you back.
By learning to identify what type of thinker you are, it will be easier to make changes and develop the right attitude. Once you've identified that you have a fixed mindset, you can create strategies to help shift your thinking into one of growth.
This may include taking yourself out of your comfort zone more often, talking more about yourself and your skills, or simply being open-minded when things don't go your way.
Developing a growth mindset can be hard work, but it's also incredibly rewarding. By acknowledging your current mindset and being open to making changes, you'll be on your way to unlocking new opportunities for personal growth!
Recognize That Ability is Not Fixed
Many of us are raised with the belief that our abilities are fixed. We're told that some people are "naturally" talented and others aren't, and so it becomes part of our mindset. But this isn't necessarily true! Recognizing that ability is not fixed is a key part of developing a growth mindset.
The idea here is to focus on effort rather than natural talent or ability. This means recognizing that we all have the potential to grow and improve, no matter what our current level of skill or knowledge may be.
It also involves understanding that success takes time and hard work, but can ultimately be achieved through perseverance. The key to success is to keep pushing forward, even when faced with difficult challenges or setbacks.
By embracing this mindset, you can begin to shift your focus away from comparing yourself to others and instead focus on meeting your own goals. You may still face challenges along the way, but if you view them as opportunities for growth, you can build the strength you need to keep going toward your long-term goals.
Reframe Failure and Use It as a Learning Tool
Failure is an inevitable part of life and growth. No matter how hard we try, we will all experience failure at some point. While it can be difficult, it is important to remember that failure does not have to be a bad experience. In fact, it can be a great learning experience.
By reframing our view of failure, we can change the way we view it. We can see failure as an opportunity for growth. Instead of letting failure consume us, we can use it as motivation to keep pushing forward in pursuit of our goals.
Failure should not define us; instead, it should serve as a reminder that we are capable of more than what we think. We can also look at failure in terms of the lessons learned from each experience.
By reflecting on what went wrong and what could have been done better, you can begin to develop strategies for future success. With this newfound knowledge in tow, you'll be better equipped to tackle any challenge that comes your way! So don't let fear or doubt stop you – use failure as fuel for your ambition and watch yourself flourish!
Develop Strategies for Challenging Situations
When presented with a challenging situation, it can be tempting to give up or feel discouraged. While it's normal to feel overwhelmed by difficulties, the most successful people know that these moments are growth opportunities.
The key is to develop strategies that will help you make the most of these situations and come out on top. Start by breaking down your challenge into smaller tasks and setting realistic goals for yourself.
Take time to reflect on what went wrong in previous attempts and use this knowledge to inform your approach moving forward. Recruit a cheerleader who can provide feedback and encouragement as you work towards your goal. It can be very motivating to have someone believe in you!
By learning to deal with difficult situations, you will gain confidence in your skills and learn how to deal with any challenge life throws at you.
Set Realistic Goals and Celebrate the Small Wins
Realistic goals are an essential part of any successful endeavor. It's important to set goals that are achievable and will challenge you without overwhelming you. When setting your goals, consider factors like the amount of time you have available, your current skill level, and the resources available to you.
It's also important to remember that progress is rarely a straight line. Celebrating the small wins along the way will help keep you motivated and focused on your ultimate goal. Achieving something that once seemed impossible can be incredibly rewarding and can provide much-needed encouragement during difficult times.
Finally, don't forget to give yourself grace when things don't go as planned or if it takes longer than expected to reach your goal – there's no such thing as failure in personal growth! With realistic goals and consistent effort, anything is possible!
Surround Yourself with Positive Influencers and Role Models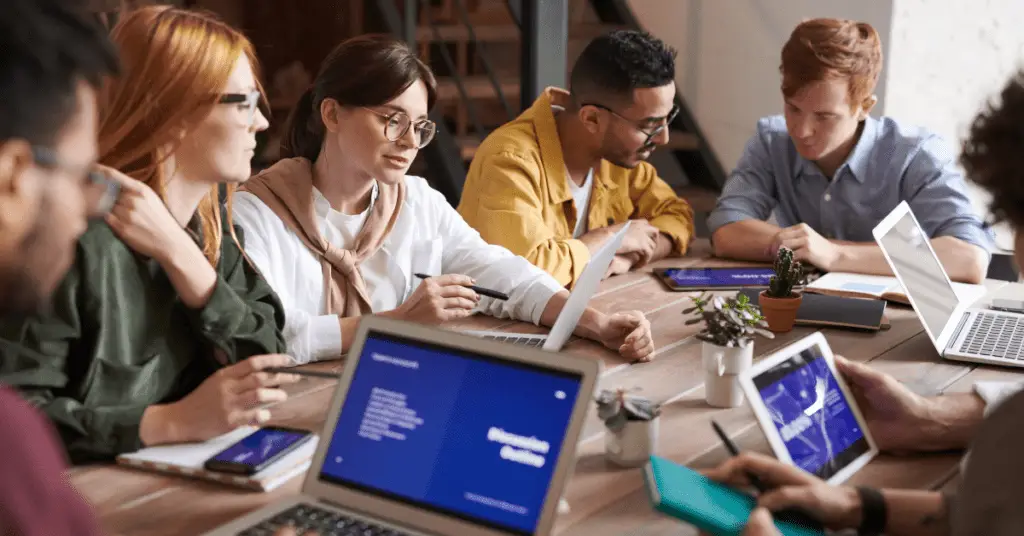 Having a positive role model or mentor in your life can be incredibly beneficial for developing a growth mindset. Surrounding yourself with people who are successful and have achieved their goals can help you stay motivated and inspired to reach your own.
The people around you can also be instrumental in helping you think positively about challenging tasks and situations. Having someone who supports and encourages you to take risks can make all the difference when it comes to facing obstacles and taking on difficult tasks.
If you don't have a positive role model in your life, there are plenty of other ways to find inspiration. Reading biographies or autobiographies of successful people, taking online courses, joining a support group, and attending networking events are just some of the ways that you can learn from others.
Make Self-Improvement a Priority & Practice Self-Compassion
To develop a growth mindset, making self-improvement a priority and practicing self-compassion are two key components.
Self-improvement involves taking the time to evaluate your current skills, then identifying areas where you can improve, and setting goals to make those changes. At the same time, it's important to practice self-compassion.
Acknowledge your mistakes and successes, learn from them both, and be kind to yourself as you go through this process – don't forget that everyone is on their own journey!
Reflect on Your Progress Regularly and Set New Goals
Reflecting on your progress regularly is a key part of developing a growth mindset. It's important to take the time to consider what you have achieved and learn from both your successes and failures. This will help you identify any new goals that you need to set to continue to make progress in the right direction.
Reflective Exercises to Help You Develop a Growth Mindset
Reflective exercises can be an important part of developing a growth mindset. Journaling is one such exercise that can help you explore your challenges, accomplishments, and strengths.
Writing down your thoughts and feelings can give you clarity and insight into what's holding you back or pushing you forward in life. Visualizing your future self and what you want to achieve is another great reflective exercise to help create a roadmap for success.
Dweck also recommends practical exercises such as positive affirmations and reframing how you think about failure to cultivate a more growth-oriented perspective. Additionally, she suggests engaging with others who share your goals and celebrating each other's successes instead of pointing out weaknesses or failures.
Conclusion for how can you develop a growth mindset
Developing a growth mindset is an essential part of achieving success in life. By implementing these strategies and exercises I shared earlier in this article, you can set yourself up for success on your journey. With time, effort, and dedication, you can take advantage of every opportunity presented to you and fulfill your goals.
Just remember that failure is part of the process, so don't be afraid to try something outside your comfort zone. With focus and dedication, you'll be able to reach your goals and fulfill your potential.