What Is the Difference Between Growth and Fixed Mindset for Entrepreneurs?
Have you ever wondered why some people seem to be able to keep growing and learning, while others seem to stay in the same place? It all comes down to mindset. Specifically, how someone views their own abilities—whether it's with a fixed or growth mindset.
As a new entrepreneur, your mindset can play a crucial role in determining your success. In this article, we will look at what is the difference between growth and fixed mindset, and how new entrepreneurs can benefit from both.
DISCLOSURE: Some of the links that I share in this article ARE my affiliate links. This means I may earn a commission, at no extra cost to you. In fact, sometimes you'll get a discount or free credits just FOR using my link. 🙂
What is a Fixed Mindset?
A fixed mindset is one where you believe that your talents are predetermined and there is little room for improvement. People who have a fixed mindset are more likely to resist challenges or try something new because they fear failure or criticism from others. They also avoid taking risks because they don't think they can improve any further.
They may also become defensive or make excuses when they get constructive feedback, because they think it shows that they are not good enough, or that they should be better. So they may not be as motivated to take on difficult tasks or pursue their goals because they don't believe that changes in strategy or effort will make much difference.
For example, a person with a fixed mindset may not want to learn a new skill or take on a new project because they fear failure. Their default mode of thinking or first reaction when faced with new issues is "This is going to be difficult!", "I have never done this before, so I don't know how to do this" or "I can't do it!". Others may think that "I am too old to learn".
I observed this in my husband sometimes. Due to his past conditioning, he would sometimes feel frustrated and say those words when facing problems.
And unfortunately, that is a self-reinforcing vicious cycle because the more you think something is difficult, the more you close your mind to find a solution or learn how to do it. And then even if it's actually something easy, it becomes difficult.
With this type of thinking you may still have short-term success, but it will not lead to long-term growth for your business. Therefore, it's important to catch yourself when you are operating in a fixed mindset mode so as not to slip further down the slippery slope.
What is a Growth Mindset? 
A growth mindset, as the name implies, refers to a way of thinking that prioritizes growth. People with a growth mindset believe that with effort and perseverance, anything can be achieved.
They are more likely to embrace challenges and take risks because they understand that failure is part of the process of improvement. They also tend to be more resilient when faced with setbacks because they know that improvements come from making mistakes and learning from them. 
For example, a person with a growth mindset may be eager to take on a new project or learn a new skill, even if it seems daunting or outside their comfort zone. They may also actively seek out constructive feedback and use it as a tool for self-improvement, rather than becoming defensive or discouraged.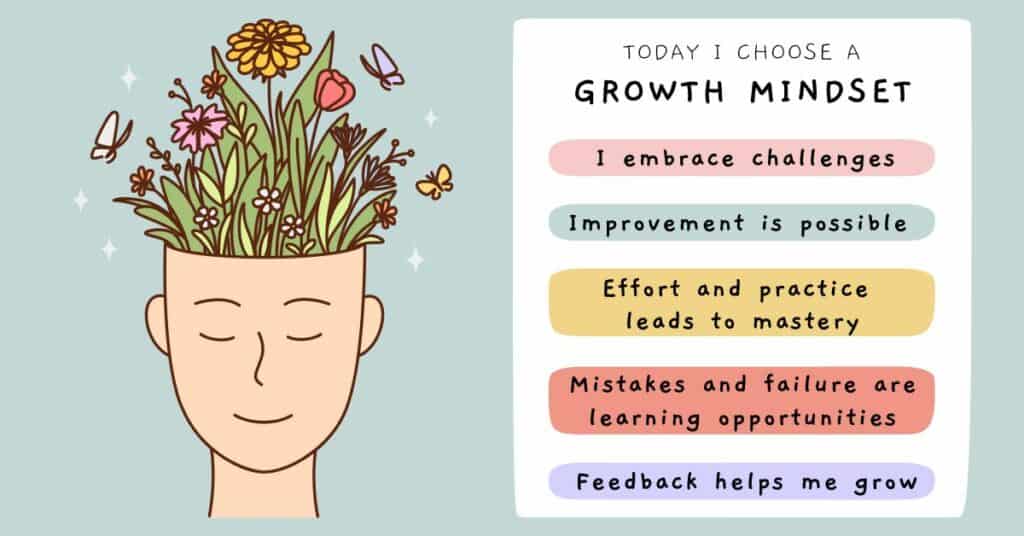 I strive to have a growth mindset myself as I know that it's important for me as an entrepreneur. This is even though I used to have self-limiting beliefs when I was starting such as "I am too old to start a business" and "I didn't have entrepreneurship experience".
With some successful experiences in my online business over the years, my thinking has changed though. Nowadays, when I encounter problems, I always look for solutions.
I would tell myself that it's not rocket science, if others can do it, why can't I do it? Maybe I just have not known how to do it, i.e. the method. I would then try to find out how to do it and learn to do it.
Another thought that I have related to this is that when I have a hard time, I would tell myself that "if it was that easy, everyone would be doing it and making money." So I need to go the extra mile and put in the effort to make it happen.
People with a growth mindset are open to learning new things. They don't let failure stop them. They see it as an opportunity to grow and learn. This type of mindset is especially important for entrepreneurs because it allows them to embrace risks and take calculated chances to achieve success. 
Related Post:
So What Is the Difference Between Growth and Fixed Mindset?
The main difference between a fixed mindset and a growth mindset is that a fixed mindset focuses on results, while a growth mindset focuses on learning. A person with a growth mindset believes that their abilities can be developed through hard work, dedication, and practice. They embrace challenges as an opportunity to learn and grow, rather than viewing them as obstacles.
On the other hand, people with a fixed mindset think that their abilities are set in stone. They can't change them, no matter how hard they try. This type of thinking leads to feelings of fear and doubt when presented with challenging tasks or goals.
The table below provides a side-by-side comparison of the two mindsets:
| | | |
| --- | --- | --- |
| | Growth Mindset | Fixed Mindset |
| Beliefs | Abilities and intelligence can be developed through hard work, dedication, and perseverance | Abilities and intelligence are fixed traits that cannot be improved upon |
| Challenges | Embrace challenges as opportunities for growth and improvement | Avoid challenges or give up easily when faced with obstacles |
| Feedback | Actively seek out constructive feedback and use it as a tool for self-improvement | Become defensive or make excuses when receiving constructive feedback |
| Success | View success as a result of hard work, dedication, and perseverance | View success as a result of inherent talent or luck |
| Setbacks | Approach setbacks with resilience and determination, view them as temporary obstacles to overcome | View setbacks as proof of inherent flaws or limitations, and may give up easily or become discouraged when faced with obstacles |
| Learning | Believe in the power of learning and continuously seek out opportunities for personal and professional growth | Believe that their abilities and intelligence are fixed and may avoid learning opportunities that challenge their existing skills or knowledge |
| Attitude towards risk | Willing to take calculated risks and step outside their comfort zone | Avoid taking risks or trying new things that may lead to failure |
Having a growth mindset can be incredibly beneficial for entrepreneurs. It allows them to think outside the box, take risks that could lead to bigger rewards, and ultimately reach their goals faster than if they had stuck to what was safe and familiar.
Why Is A Growth Mindset So Important For New Entrepreneurs?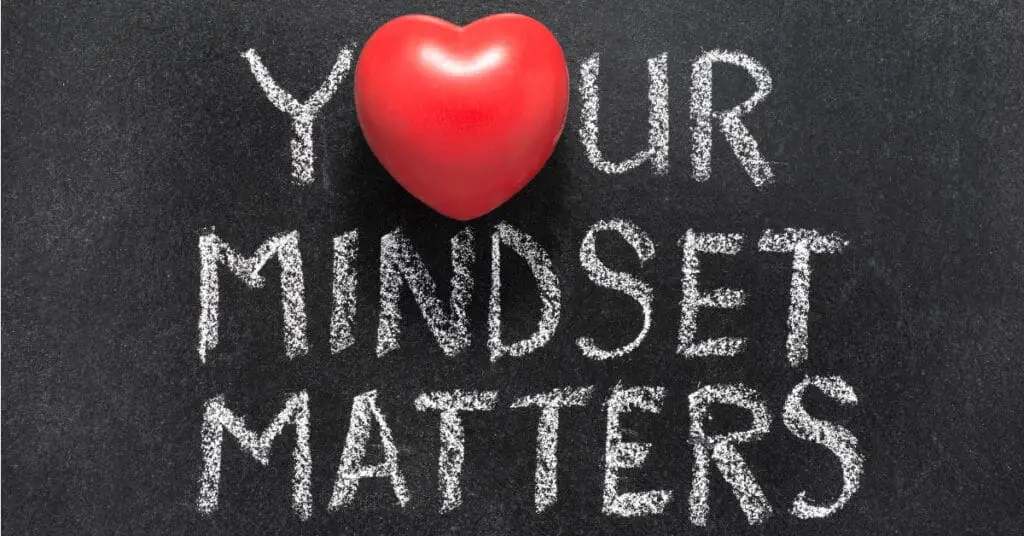 After what is the difference between growth and fixed mindset, we will discuss why is having a growth mindset important. For new entrepreneurs, having a growth mindset is paramount for success. When starting out in any industry, there will always be moments of uncertainty and doubt—that's just part of the process!
But having a growth mindset means understanding that these moments are necessary steps in the journey towards success. During tough times, it is important to not give up hope too early. It also helps entrepreneurs stay focused on their goals despite obstacles because they understand that hard work pays off in the end. 
Having a growth mindset also encourages business owners to take risks, even when failure seems inevitable. After all, the most important thing is not winning or losing, but learning along the way.
Benefits Of Having A Growth Mindset
Thus, having a growth mindset has many advantages over having a fixed one. It allows you to take risks without feeling too scared or anxious because you know that if you fail, you will have to find a new way to move forward.
In addition, when you have a growth mindset, you are more likely to persevere in difficult times because you know that the only way out is to keep trying and keep learning.
Finally, having a growth mindset helps foster creativity because it encourages experimentation and problem-solving instead of giving up when faced with an obstacle.
Conclusion on What Is the Difference Between Growth and Fixed Mindset
Having a growth mindset is essential for new entrepreneurs looking for success in their business ventures. Not only does it motivate during trying times, but it also encourages risk-taking and resilience when faced with adversity. These two traits are important when you want to make it in the business world.
Whether you're just starting out or already have an established business venture, developing a growth mindset is an ongoing process and will undoubtedly serve you well moving forward! By embracing challenges and viewing failure as an opportunity for improvement instead of defeat, new entrepreneurs can set themselves up for long-term success!
We will be talking about how to develop a growth mindset in the next article, so stay tuned for more!
In the meantime, what's your take on having a growth mindset? Leave us a comment below and let us know what you think!