From Audience to Speaker: My Journey as a First Time Speaker at a Summit
Speaking at a summit is an incredible opportunity, but it can also be daunting for first-time speakers. I recently experienced this firsthand when I was invited to deliver a presentation as a first time speaker at the Future of Blogging Summit.
I knew that this would be an excellent experience and opportunity to reach out to potential customers and partners, but I was also filled with fear and uncertainty about how well I would do in front of such an esteemed audience. In this two-part series, I'll take you through my journey from audience to speaker as a first time speaker at a summit.
In this first part, I will share about my experience in preparing for the Summit, hoping to offer you a sneak peek at the preparation work that goes on behind the Summit. It is hoped that this can help others who would also like to do this in the future.
About the Summit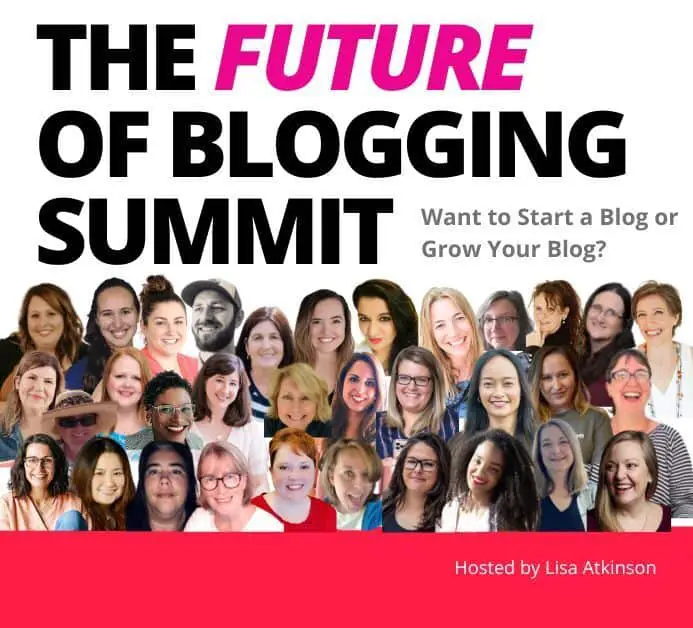 The Future of Blogging Summit is a five-day online event that will be held from Feb 27 to March 3 2023. It was organized by my friend and my coach Lisa Atkinson for people who are into blogging – whether just starting or looking to grow their existing blog.
She has put together this amazing FREE training series with 20+ top blogging experts. The summit covers everything from course creation to email marketing to SEO and legal protection. It aims to provide practical and actionable tips, tricks, and techniques to help people achieve early success with their blogs.
I attended this Summit myself in Jun last year and was so impressed by the sharing that I even purchased the recording of the prior year's summit after knowing that the one I attended was the second one. Of course, little did I know then that I would have the opportunity to speak at the Summit myself less than one year later.
Preparing for the Summit as a First Time Speaker at a Summit
So when I was invited by Lisa to speak at the Summit in January this year, I was incredibly humbled and honored. However, since my blog (ecommercewithpenny.com) is about helping people to start or grow their businesses online and I do share about entrepreneurship and productivity, I wasn't sure what to share at the Summit. After all, the audience of the Summit would mainly consist of aspiring or experienced bloggers.
Furthermore, I have never spoken at a Summit before and I had no idea what to expect. Thus, I was filled with a mix of excitement and dread as I began my preparations for the upcoming event.
How I chose my topic
But Lisa knew that I have been very enthusiastic about leveraging AI in my blogging and have been using AI extensively for the past two years. She had also seen my blog posts and read some of my articles on this topic.
So she encouraged me to take up the challenge and share about this. I decided to accept the invitation in the end and I'll be discussing "perspectives on AI and how to leverage it for blogging". Since this is a topic that I am very familiar with, I am confident that I can share and deliver a great presentation at the Summit.
The prep work started in early Feb
With just a couple of weeks till the start of the Summit, this meant that I had to work quickly on not only preparing for my presentation so that it can be helpful to the audience. I had to find ways of making sure that it was relevant to both experienced and aspiring bloggers, given the different backgrounds of the audience members.
Right around the time the Summit was to be held, Google finally came out to clear the air about its stance on AI-generated content on 8 Feb. So I had to read up widely to keep myself up to date about this development and incorporate this into my presentation.
Additionally, there were also a lot of preparations to be done to ensure that the presentation ran smoothly. For example, we will be sharing a useful freebie that the audience can download and sign up for our email lists. So I had to make sure that the free is ready before the Summit and that the technical side of things is all taken care of for people to sign up with no issue.
Thankful for Lisa
Luckily, Lisa was around to provide tips and advice on what to look out for and this made a huge difference in my preparation process. She has prepared a lot of materials for the speakers like me to share with our audience.
My secret doubts and fear
Leading up to the event, I was filled with a mix of excitement and dread. I couldn't help but feel nervous as being a first time speaker at a Summit and I had no idea what to expect. What if no one liked what I have to say? What if some people already know what I am going to share?
Focus on what's important and what I can control instead
But I was determined to just focus on the positives and have an open mind. After all, this was a great opportunity for me to meet like-minded people and share my knowledge with them. It would be a great chance for me to help other bloggers as well. And that's exactly what matters as we simply can't please everyone!
So I chose to focus on what I can do to make the presentation a great one instead. Anticipating what would be useful to others given my own experience and share what I can in the presentation and freebie. And I will be honest and say that it made me feel much better!
My friends were all encouraging
I also shared this with my audience on my Facebook pages and my Facebook profile about this event because I know it will be helpful for those people who are interested to learn more about blogging.
For my friends, this is not only the first time I am speaking at the Summit but it's also the first time they got to know about my blogging endeavor – I had been blogging on the side and stayed low-key about it when I was still working in my day job for the past few years.
So this is the first update for them on the going on in my life after I shared at the beginning of the year that I have left my day job. It was very encouraging when many of my friends and acquaintances liked my sharing of the event on Facebook and congratulated me in their comments.
Of course, it helps that the session will be a pre-recorded one so hopefully I don't make too many mistakes. I'm also looking forward to having the chance to share my knowledge and learn from the other speakers at the Summit too!
At this time of writing, I am two days away from the recording of my session. It has been a journey for me so far, but one that I am glad to have taken on. And I can't wait to see how it will turn out!
Key takeaways from the first part of the preparation
From this initial experience as a first time speaker at a summit, I learned that well-timed preparation would help increase your confidence as a speaker. It was helpful that I planned what needs to be done first and put them in writing so that I know the to-dos and the timeline for the tasks need to be completed.
Conclusion
If you're considering speaking at a Summit, don't be intimidated by the experience! It can be both nerve-wracking and exciting, but it's an incredible opportunity to share your knowledge and ideas with a larger audience. Learning to effectively communicate your message is an invaluable skill that will benefit you in all aspects of life.
My biggest piece of advice for aspiring entrepreneurs who are thinking about taking this step is to plan ahead and have an open mind. The more you prepare and practice, the more confident you will feel when it's time to take the stage!
I will share my experience after the summit in a future post. Stay tuned and don't forget to mark your calendar for Feb 27-Mar 3 if you have yet to sign up for the Summit. 
I truly believe there's something for everyone, and I'd love for you to join me at the Summit. So if you're keen to learn more about blogging, don't miss out on this incredible opportunity! You can sign up for the Future of Blogging Summit here.