ChatGPT: First impression and How to use it
ChatGPT has taken the world by storm in the short time since it was released in November. It was said to have reached one million users in five days. If you have not heard about it by now, let me introduce it to you! In this article, I will give you a brief overview of what ChatGPT is all about and how to start using it today.
DISCLOSURE: Some of the links that I share in this article ARE my affiliate links. This means I may earn a commission, at no extra cost to you. In fact, sometimes you'll get a discount or free credits just FOR using my link. 🙂
What is ChatGPT?
According to Wikipedia, OpenAI's ChatGPT is a dialogue-focused prototype artificial intelligence chatbot. The chatbot is a large language model that has been improved using supervised and reinforcement learning methods. It is based on the GPT-3.5 model of OpenAI, which is an upgraded version of GPT-3.
It is a large language model that has been trained to generate text in a way that mimics human conversation. It is capable of providing general responses to a wide range of questions and statements, and can be used in a variety of settings.
What can ChatGPT do?
ChatGPT has been trained to generate text in a way that mimics human conversation. It is designed to be able to have natural, conversational interactions with users on a wide range of topics.
Because it is based on GPT-3, it has a vast amount of knowledge and can understand and respond to many different kinds of inputs. It can provide information, answer questions, and even engage in small talk, just like a human conversation partner.
My First Impression
I first read about ChatGPT in the various Facebook groups that I am a part of. All of a sudden, I saw people sharing about it and singing praises to it. Then I started seeing people request that the various AI writers incorporate it or have a similar interface.
This certainly piqued my interest, and I decided to explore it myself. After all, I have been a proponent of AI writers and leveraging it in our businesses. So how can I be left out?
My first encounter with it happened not too long ago. I saw that people have to sign up to be its beta users, and I was glad that I had signed up with OpenAI some time ago for DALL·E 2 beta. So I tried to log into ChatGPT, and it worked!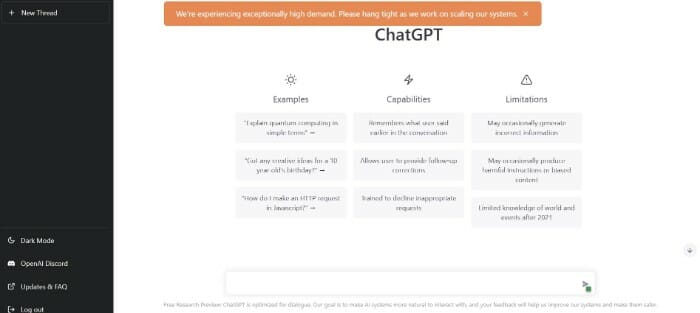 My first impression when logging into was that it has a very clean interface where they show you examples of how to phrase your questions and its capabilities and limitations. Therefore, this question-and-answer format is quite intuitive and easy to get started.
How to use ChatGPT
Just ask a question and press "enter" and it will compose an answer within seconds. And if you are not happy with the answer generated, you can click the "Try again" button to get it to regenerate the output. My own experience with getting it to regenerate resulted in more of the same being generated.
You can also give feedback to OpenAI on the quality of the output generated by giving each generated answer a thumbs-up or thumbs-down.
Compared to many other AI Writers which I have used and reviewed, ChatGPT relies on the inputs (i.e., the questions) to generate the answers, unlike other AI writers that have different templates specifically for different purposes. For example, templates for generating blog outlines or product descriptions.
Thus, the output quality of ChatGPT depends on how well the input and question are phrased. It is nevertheless flexible in a sense, as you can basically ask it any question, but you may or may not get an answer.
Another thing I noticed about its responses is that they are generally quite short as compared to those of long-form AI writers. It also doesn't provide history of generation currently so you need to copy and paste its answers to store them somewhere for later use.
I think it's good for getting ideas and brainstorming, and it can be quite addictive to want to play around with it and try asking it questions and see what it comes up with.
Potential Uses and Applications of ChatGPT in Business
Since ChatGPT is specifically designed for natural language processing tasks, such as chatbots and virtual assistants, businesses can use ChatGPT in a number of ways, depending on their specific needs and goals.
· Generating responses to frequently asked questions (FAQ): ChatGPT could be trained to provide general responses to common questions that customers or clients might have. For example, providing information about a product or service, or answering basic questions about the business.
This could be useful for customer service or support teams, as it could help them handle a high volume of queries more efficiently.
· Improving the user experience on websites or mobile apps: ChatGPT could be integrated into websites or mobile apps to provide users with real-time responses to their questions or comments. This could help businesses improve the overall user experience, and make it easier for customers to find the information they need.
It could also be used to provide personalized responses to customers, such as by generating responses that are tailored to their individual interests or needs.
· Generating product descriptions or other written content: ChatGPT could be used to generate written content such as product descriptions or marketing copy. This could be useful for businesses that need to produce a large volume of written content quickly and efficiently.
· Generating content for websites or social media, allowing businesses to easily create engaging and interesting posts without the need for human writers.
· Could be used to assist with internal communications within an organization, by generating responses to common questions or providing general information to employees.
· Could be used in creative applications, such as generating dialog for a story or script, or creating interactive fiction games.
Limitations of ChatGPT
Since ChatGPT is not a real person and does not have access to external information, it can only respond based on what it has learned from the text it has been trained on. It is not capable of providing specific answers to questions that require external knowledge or understanding of the world.
There may be instances where the responses generated by ChatGPT are not entirely accurate or relevant to the input provided. In this sense, users need to do fact-checking on its output similar to when one uses other AI writers.
Final thoughts on ChatGPT
Overall, ChatGPT could potentially be a valuable tool for businesses that want to improve their customer service, enhance the user experience on their websites or mobile apps, or generate written content more efficiently.
Currently, ChatGPT is in beta so access to it is free. You can sign up for the trial here but you are likely to be placed on a wait list as it is so popular right now that even when I stopped using it for a while, it logged me out and I got the following message when trying to login again: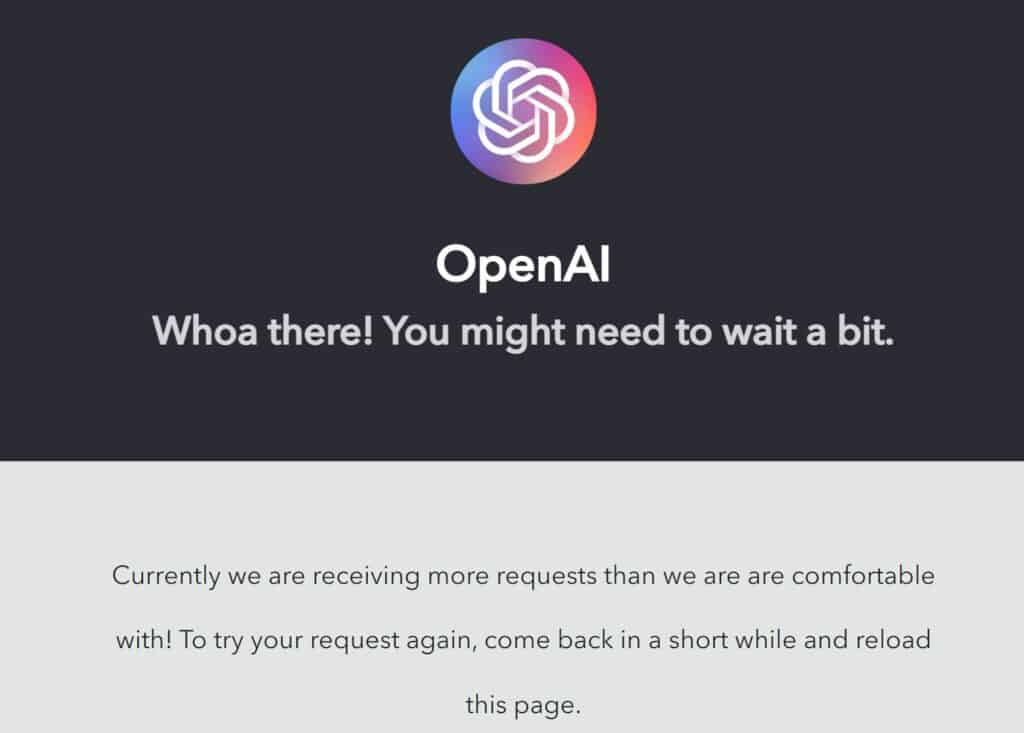 FAQs about ChatGPT
One of the most frequently asked question about ChatGPT is "Is ChatGPT going to replace Google?" since ChatGPT seems to be able to answer many questions. My personal take is that it will not be able to replace Google or other search engines.
Since it is only able to provide answers based on the data fed into it, the data may not be up to date. It is therefore limited in that sense. Google and other search engines are still the best way to find answers to specific questions or to access information on a wide range of topics.