Frase.io Review: AI Writer and Researcher That Helps Produce SEO content
Search Engine Optimization (SEO) is a vital component of any successful digital marketing strategy, regardless if you're an established business or a new blogger. SEO content helps your website rank higher in search engine results pages (SERPs). As such, it can be the difference between gaining more traffic and falling behind the competition.
Fortunately, you don't have to invest countless hours writing and editing content – there are tools available that can help save time and make the process easier. One such tool is Frase.io, an AI writer and researcher that helps produce SEO content quickly and efficiently.
In this blog post on frase.io review, I'll review the features of Frase.io, discuss how it can help bloggers create SEO content, and provide my opinion on the product.
DISCLOSURE: Some of the links that I share in this article ARE my affiliate links. This means I may earn a commission, at no extra cost to you. In fact, sometimes you'll get a discount or free credits just FOR using my link. 🙂
What is Frase.io?
Frase.io is an AI-powered writing and research platform and content marketing tool that helps businesses create SEO content quickly and efficiently. It uses natural language processing (NLP) technology to analyze webpages, providing users with pertinent insights about their content's performance, and helping users optimize their content for greatest impact.
Through its powerful AI writer, frase.io helps users create better SEO content in less time.
Who is Frase.io For?
Frase.io is designed with busy content marketers, bloggers, and marketing agencies or anyone that would like to leverage on content marketing in mind, providing them with an automated way to create SEO content quickly and easily. It's perfect for those who need to produce quality content regularly but don't have the time to do so.
It's also ideal for those who don't have a lot of experience with SEO, as frase.io can help them learn the basics and gain more insights into the process.
Why Should You Consider Using Frase.io for Your Business?
Frase.io is an excellent tool for businesses looking to improve their SEO content quickly and efficiently. It provides a comprehensive set of features that can help bloggers create quality content in a fraction of the time it would take without frase.io.
Additionally, frase.io offers various insights about your content's performance, giving you an edge over your competitors.
Frase.io review – Features of the Frase.io AI Writer
Frase.io contains some powerful features that are sure to help you create SEO-optimized content.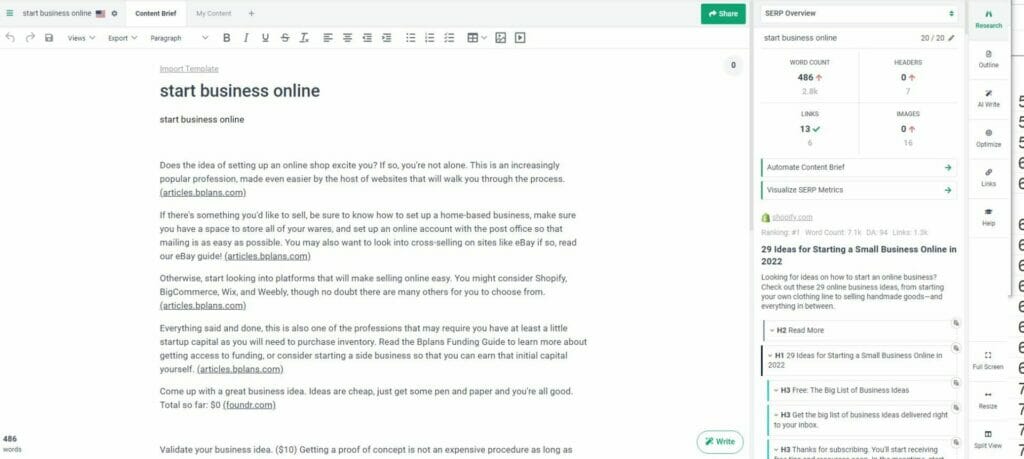 Research
Automatically generates detailed content briefs that can be handed over to content writers based on the top 20 SERP results. You can also add more URLs of your choice.
Outline
Select headings from the search results to compose your outline. It can also help generate a summary based on the outline.
AI write – Many useful templates are available
Frase.io offers a wide selection of 39 tools for different purposes grouped into different categories (as shown in the picture below) to help you create SEO content with ease. For example, SEO tools. You can also create your custom tools.
There is an active community of users who create and share the tools they created. And most recently, Frase has come up with a Chat interface like ChatGPT.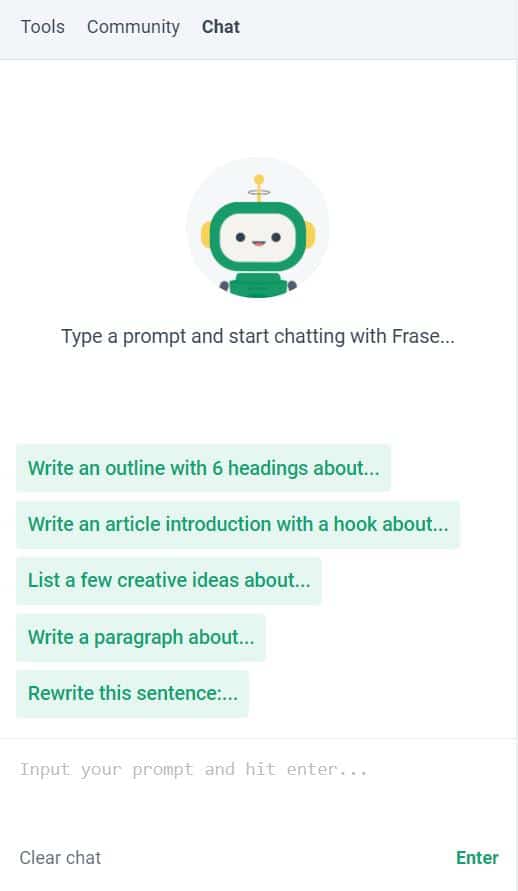 Another way to use AI write is to autocomplete your sentences and even create new paragraphs, by clicking "Write for Me."
Optimize
Compare your content to your top search competitors on the SERP and assign a score using a topic model. The topic model also helps to determine the keywords you should use in your text.
You can thus write like a pro and create content that Google will love by using the list of related subjects and the suggested amount of mentions for each.
Links
It suggests top search results link to pages that you can add as external links in your blog article and also internal links to other articles on your site for you to link to.
SEO tools
Frase has several unique SEO tools. For example, it integrates with Google Search Console to help track organic traffic growth and identify opportunities under GSC Content Analytics.
It also has an outline builder, Wikipedia concept map, topic planner, and an article rewriter.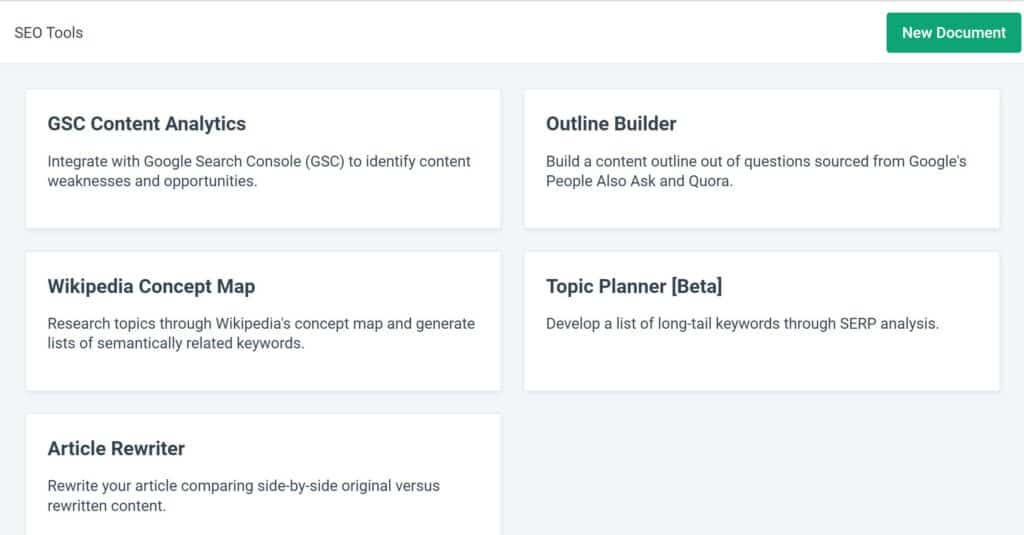 Google Docs Integration and WordPress Plugin are available
Thus, you can use Frase if you are editing your blog post in Google Docs or WordPress. I use the WordPress plugin extensively to optimize my blog article in WordPress.

What are the Benefits of Using Frase.io?
Here are a few key benefits of frase.io:
Saves Time By Producing High-Quality Content Quickly
Frase.io is a powerful content creation platform that can help you quickly create high-quality content that increases your content ROI while saving you time and energy. It can help you curate, create, and optimize content that outperforms the competition.
With its automated content creation process and easy-to-use templates, Frase.io allows you to go from keyword to final draft in minutes. Additionally, its content optimization features allow you to quickly compare your content to your top search competitors, helping you to create content that stands out and attracts more organic traffic.
With Frase.io, you can save a significant amount of time that would otherwise be spent researching content from many sources and still be left with high-converting, SEO-optimized content that reads relatively naturally.
Produce Content That is Optimized for Search Engines
Using Frase.io can help produce content that is optimized for search engines by streamlining the content creation process. The tool allows you to quickly and easily research and produce high-quality SEO content that helps clients meet their goals.
As opposed to traditional methods of content creation, Frase utilizes artificial intelligence to analyze the top search results and guides writers to create the most optimized content possible.
It also provides an easy-to-use content optimization tool that allows you to optimize published content for a specific keyword. This optimizes already published content and helps the article stand out from the rest.
By entering the targeted keyword and the URL of the content, the tool imports it into its content editor and compare it with the top 20 ranked search results. This helps to identify any gaps in the content, as well as suggest edits such as the optimal word count and how many times the keyword should be mentioned.
Using Frase.io for SEO optimization ensures that the content is optimized for search engines and helps it to rank higher on the SERPs. Additionally, the tool helps to save time and energy that would otherwise be spent researching and creating content from scratch.
Integrate Artificial Intelligence into the Content Creation Process
It helps content marketers automate tedious tasks like researching topics and summarizing results, so they can spend more time writing and optimizing their content.
Here are the steps to integrating AI into your content creation process with Frase.io:
Set up a Frase.io account.
Define the keywords that you want to target.
Create a content brief using Frase's concept map and questions feature.
Use Frase's topic modeling and natural language processing algorithms to create a draft.
Review and edit the ai generated draft to ensure accuracy and to make sure it follows Google's terms of service.
Publish and promote the content.
Help Create Unique and Original Content
Frase.io provides a wide range of features that make it easier for you to create and optimize content. Through the use of AI and content analytics, Frase can help you identify and fill topic gaps, generate high-quality copy at the click of a button, compare your content to your top search competitors, and uncover new content opportunities.
This helps you create unique and original content that will help you attract and convert organic traffic, rise up the search engine rankings, and meet your targets. Frase also provides content briefs, which can be easily generated in minutes rather than hours, allowing you to focus on the key points of your content and write more effectively.
Analyze the Performance of Your Existing Content
Frase.io helps you analyze the performance of your existing content, giving you invaluable insights into what works and what needs improvement.
This allows you to make informed decisions about the content that you produce, so you can create content that is more effective in meeting your goals. Frase's AI-driven analysis helps to identify any gaps in the content and suggest changes such as optimal word count and keyword density.
What problem does Frase.io solve?
Content creation can be a time-consuming and tedious process, especially when it comes to optimizing content for search engines. With Frase's help, you can create unique and original content that will meet your goals without spending hours researching topics manually or writing from scratch. Thus, Frase helped to solve this problem for content creators.
What I like about Frase.io
I have been using Frase in my blogging since I started blogging three years ago when it first came out in the market. I noticed that it kept on improving. Initially, I just used it to research, then as I learned more about the software, I use most of its functions.
It helps me uncover the content gaps and produce helpful, value-adding content, which is all the more important given the recent Google Search's Guidance About AI-Generated Content. Google has explicitly stated that it doesn't care how the content is produced and that the focus should be on the helpfulness of the content to readers.
Related post
With the proliferation of use of AI, it can be expected that there will be a lot more content being generated. Thus, quality and helpfulness become paramount.
I also like its logical blogging workflow that is well-integrated (particularly useful for new bloggers) which provides a good user experience and makes the content creation process faster and easier. I use frase.io to help me optimize my blog posts for SEO as it helps me quickly identify opportunities in my existing content, as well as brainstorm ideas for new content.
Using the Optimize part of the workflow, I was aware of where my blog article stands compared to the rest as there is a topic score given to us. The Wikipedia topics and suggested links make it easy for me to build links into my articles and ranking higher on SERP is one of the major goals of content creators, and frase.io helps me optimize my content to match with the search intent and target keywords. This way I can get better rankings while also providing helpful information to my readers.
I like that it has very responsive customer support. I seldom have to contact its support but out of the few occasions when I had to, they came back to me promptly (like the next day) and resolved my issues.
Last but not least, they have an active user community in a Facebook group where people are very helpful and forthcoming in sharing.
What I dislike about Frase.io
The following are the few things I dislike about Frase.io:
The SEO add-on is an extra monthly cost
Frase doesn't provide keyword data with any of the plans
The lack of an inbuilt plagiarism checker
The output of AI writers is not so on-point sometimes so need to re-generate which makes unlimited AI credits essential.
Resources inside the dashboard need educated users to use them effectively
The Advantages of Frase.io compared to other AI writers
Compare to other AI writers, Frase is very SEO-focused and long-form content oriented. Thus, it does what it set out to do well compared to others who might be trying to be "Jack of all trades, master of none".
How Much Does Frase.io Cost?
Previously, Frase had only the Basic plan and Team plan available which made it a bit costly. However, it now has a Solo plan Frase which starts at $14.99/month, so I think it's much more affordable and you can choose the plan based on your needs of the number of documents per month.
For example, if you are just writing a few articles per month, Solo plan would be ideal for you. On the other hand, if you have a team and need unlimited documents then the team plan would be ideal for you.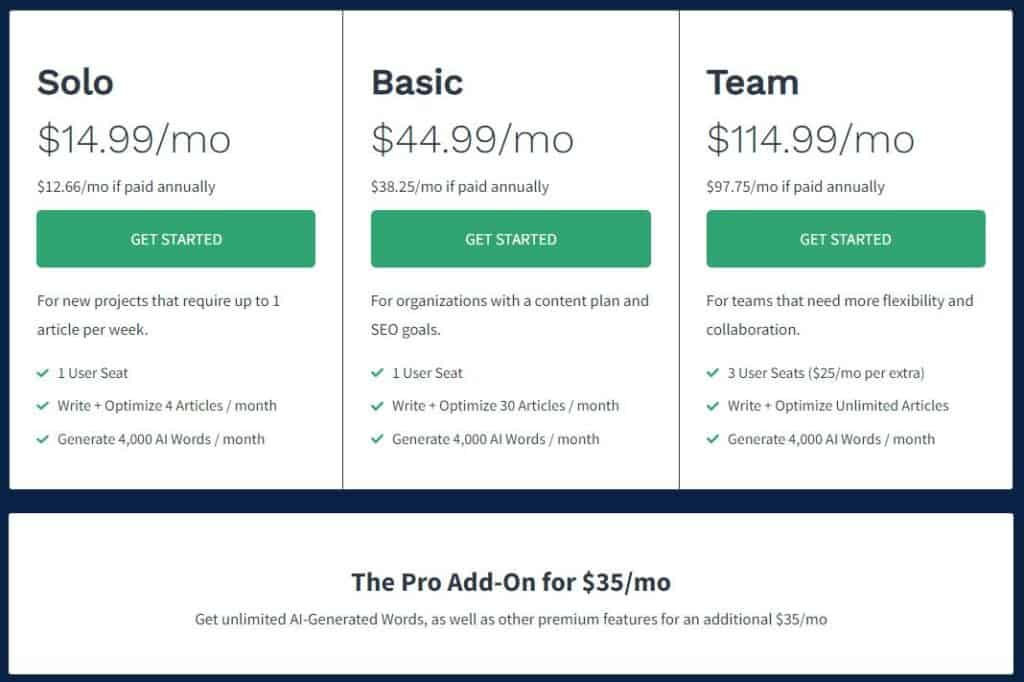 The optional SEO Add-On with unlimited AI-Generated Characters and other premium features costs $35/month.
Conclusion on Frase.io review
All in all, Frase.io is a great tool for content creators and marketers who want to produce high-quality SEO content. It helps streamline the content creation process, optimize your existing content for search engines, create unique and original copy quickly and easily, and analyze your performance so you can make more informed decisions about the content that you produce.
With Frase.io, you can help improve your organic ranking, increase your website traffic, and reach your target audience. With so many features, it's easy to see why Frase.io is the go-to tool for content optimization and SEO optimization. Give it a try today!
You can now try Frase for $1 for 5 days if you check it out here: https://ecommercewithpenny.com/Frase and see for yourself how powerful it can help you in writing quality blog articles!
Thank you for taking the time to read my frase.io review! I hope it has helped provide you with more insight into frase.io and its features. Be sure to check it out for yourself and see what frase.io can do for your business!
Happy writing!
You may also like to read the following related posts: