Will AI Replace Writers? An Entrepreneur's Perspective 
There is no doubt that artificial intelligence (AI) is changing the world as we know it. With AI becoming more and more advanced, many are wondering if it will eventually replace human workers, including writers. In this blog post, we will explore the answer to the question "Will AI replace writers?" and I will give my perspective as an entrepreneur. Stay tuned to learn more!
DISCLOSURE: Some of the links that I share in this article ARE my affiliate links. This means I may earn a commission, at no extra cost to you. In fact, sometimes you'll get a discount or free credits just FOR using my link. 🙂
How artificial intelligence is changing the writing industry
As artificial intelligence (AI) continues to become more and more advanced, it is having a profound impact on the writing industry. AI-powered tools like natural language processing (NLP) and machine translation are being used to create content faster and with higher quality than ever before.
For example, NLP can be used to analyze a text and identify important topics, while machine translation can be used to quickly translate content into other languages.
AI is certainly developing and advancing fast. I remember last year, when I first came into contact with AI writers, their capability was still relatively limited, and not that many were available commercially. This year, there are many more available in a wide variety. Now AI writers even branch into AI art.
To learn more about different AI writers and how to choose the right one, check out the following posts: The 11 Best AI Writer Software to Help You Write Better Content 2022 and AI Article Writer – How to Choose The Right One For You.
Just yesterday, I saw a friend who is also a business owner share the following post on his Facebook page. He felt that he's getting more return on investment (ROI) from AI writer than his human copywriters. He went on to bring up the time and effort needed to communicate with human copywriters with not comparable results.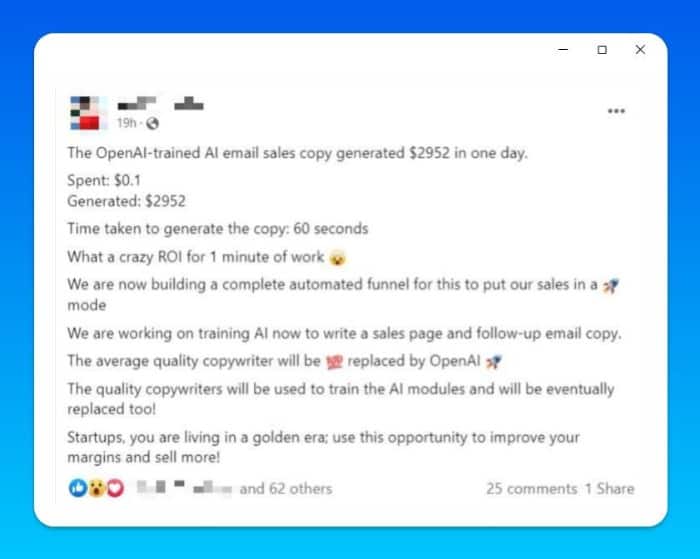 And this morning I saw another friend, who is a freelance writer, shared the following in a Facebook group he started. He expressed his concern that there was less demand for his job and copywriting service.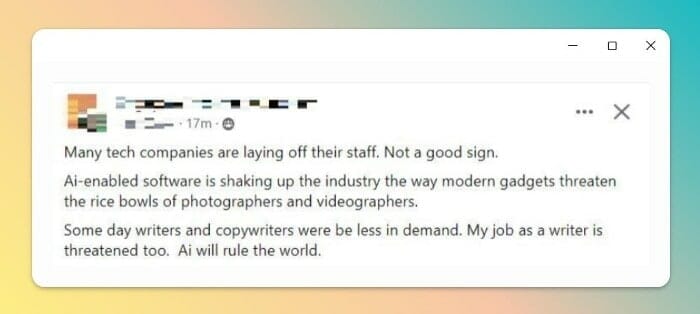 These two posts were written from two different perspectives: that of the business owners who need copywriting services and that of the copywriters, i.e., service providers. We can also sense the contrast in the two posts, where there seems to be a general fear among copywriters wondering will AI replace writers and that they will lose their jobs while business owners are happily adopting AI.
The fact is, we're seeing more and more AI-generated content, and I read that even big news outlets are using AI for a lot of their news publishing nowadays. But does that mean writers are going to be replaced by machines?
The pros and cons of AI from an entrepreneur's perspective
As entrepreneurs, we understand the importance of staying ahead of the curve and leveraging new technologies for competitive advantage. AI-powered tools can certainly help us do that in many ways.
For instance, AI writers are faster and more cost-efficient than human copywriters, meaning businesses have more time to focus on other tasks. So they help us save time and money. AI also eliminates language barriers, making it easier to reach international audiences.
However, there are also some drawbacks to using AI-powered writing tools. For instance, AI can lack the nuance and creativity that humans bring to the table when crafting a story or message.
Additionally, AI writers may not always be able to keep up with rapidly changing trends in content marketing or SEO. Finally, there are ethical considerations to take into account when using AI-generated content.
My own experience as an entrepreneur using AI for writing tasks
I leveraged AI as a tool extensively for my blog writing. I use it to remove writers' block, to research and fact-check, to check grammar, and to create social media posts. It also helps me generate product descriptions for my ecommerce product listings. In other words, I use it to level up and expand on what I can do as one person.
As an IT graduate, I am not adverse to using technology. In fact, I am of the opinion that we should use technology to make our lives better. So I embrace technology. Nevertheless, I don't rely on any one tool to totally generate everything for me.
When I use AI to write blog posts, I guide the logical flow of the post and add in my personal experience and opinions so that it's my work. I think the dangers lie in when one develops a dependency on AI to generate everything and losing one's own ability to write.
With the invention of "one-click blog posts" and entrepreneurs who would only be too happy to have one thing taken off their plate, many would take the easy route and just let AI do all the writing without any discernment.
But deep inside, there seems to be a lot of fear among the same people who use AI writers that Google's platform updates would target contents generated by AI. They are afraid that Google would be able to identify which content is generated by AI, and then it would "punish" the said content with a lower ranking or lower visibility on its search engine results page (SERP).
It certainly doesn't help when there is news recently on OpenAI working on a tool to watermark AI- generated text to prevent misuse.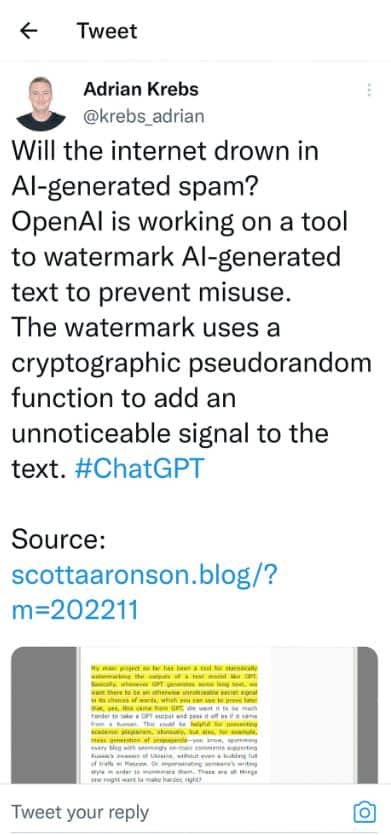 The fact is Google is very advanced in technology and probably uses AI extensively themselves, so there is little doubt that it has the capability to identify AI-generated content.
However, my own take is that Google is a search engine, and its main aim is to have helpful information on the search result page so that its users will find using Google fruitful and come back to Google again and again.
You can learn more about the Google Helpful Content Update in the following blog post I wrote previously: Google Helpful Content Update: What You Need to Know.
Thus, if I were to put myself in Google's shoes, I would be more concerned about the relevance of the search result and not so much about whether it's generated by AI or otherwise.
This brings us to another point about AI writers. Since it's easy and fast to generate a lot of content with AI writers (you can easily create many blog articles with one-click blog posts or just rewrite others' articles or points with the rewriting function), there are bound to be a lot of articles generated with similar information phrased differently.
Recently, Google had another spam update in October that targeted specific guidelines violations. I noticed that some people are seeing their websites with content generated by AI take a hit.
But then, this is really insufficient to conclude that Google is hammering AI-generated content, as we do not know what kind of content they are having on their sites or how they have used AI to generate that content.
Will AI replace writers?
As an entrepreneur, I see the value in AI-generated content for certain tasks; it's often cheaper and faster (both in terms of generation and versatility) than human-written content. But it can't replace human creativity just yet.
AI is only able to work within the confines of existing creations and cannot break through to new frontiers. It can be trained with information on whatever has been created so far to generate output but it can't generate new ideas. Thus, you still need human intelligence to separate the wheat from the chaff. 
There is no doubt that AI will take away certain aspects of the writing work as it helps to establish the minimum standard of writing. With the prevalence of AI writers and more people have access to it, businesses will not be engaging writers for those tasks which AI writers will be able to produce easily.
However, I do not think that AI will replace writers totally as we will still need human creativity at the end of the day. On the other hand, I believe that AI will only make writers better at their jobs by taking on the mundane tasks and leaving the creative work to us humans. 
How can writers to stay relevant in a world where AI is becoming more prevalent?
In a world where AI is more prevalent and low level writing tasks may be eliminated, writers need to respond and evolve on how they perform their work to stay relevant. First, writers can focus on developing their skills in creativity and idea generation. The idea is to develop skills to compensate the shortcomings of AI, i.e. to do what AI is not able to replace and do it well.
Second, they can learn how to use AI tools to assist them in content creation. As experienced writers, they should lean into their experience to leverage on AI tools to make their writing even better.
They should also make their service offering more sophisticated. For example, they can package their offering so as to provide more values to business customers.
Third, they can cultivate a strong personal brand that will make them stand out from the crowd. And lastly, they can stay up-to-date with the latest trends in AI and its impact on the writing industry.
Conclusion on will AI replace writers?
In the end, I think there's a place for both human writers and AI in the content world. Thank you for taking the time to read this article and considering the potential impact of AI on writers. I hope that this article has provided some insight into how AI affects writing, and what writers can do to stay relevant in a changing world.
It is clear that AI will continue to play a bigger part in our lives, and writers need to be ready for that change. By anticipating the trends and evolving with them, writers can ensure their relevance in our ever-changing world.