The 11 Best AI Writer Software to Help You Write Better Content 2022
As a business owner, you know that writing high-quality content is essential for driving traffic to your website and increasing conversions. But what if you don't have the time or skills to write effective copy yourself? That's where the AI writers come in.
I previously wrote this post in May last year. More than one year has passed, and I thought of providing an update as a lot has changed in the meantime, with some new AI writer software on the market.
In this blog post, we will discuss the 11 best AI writer software to help you write better content.
DISCLOSURE: Some of the links that I share in this article ARE my affiliate links. This means I may earn a commission, at no extra cost to you. In fact, sometimes you'll get a discount or free credits just FOR using my link. 🙂
What Does an AI Writer Do and How Can They Help You Write Better Content?
An AI writer is a computer program that uses artificial intelligence to generate written content. AI writers can help you create better content by understanding your target audience and coming up with ideas that are relevant to them. By using an AI writer, you can save time and improve the quality of your content. 
All these writers mostly use the GPT-3 API by Open AI, the world's biggest neural-network powered language model which has read almost 10% of the entire internet and is further trained in specific contexts.
The Benefits of Using an AI Writer to Write Your Content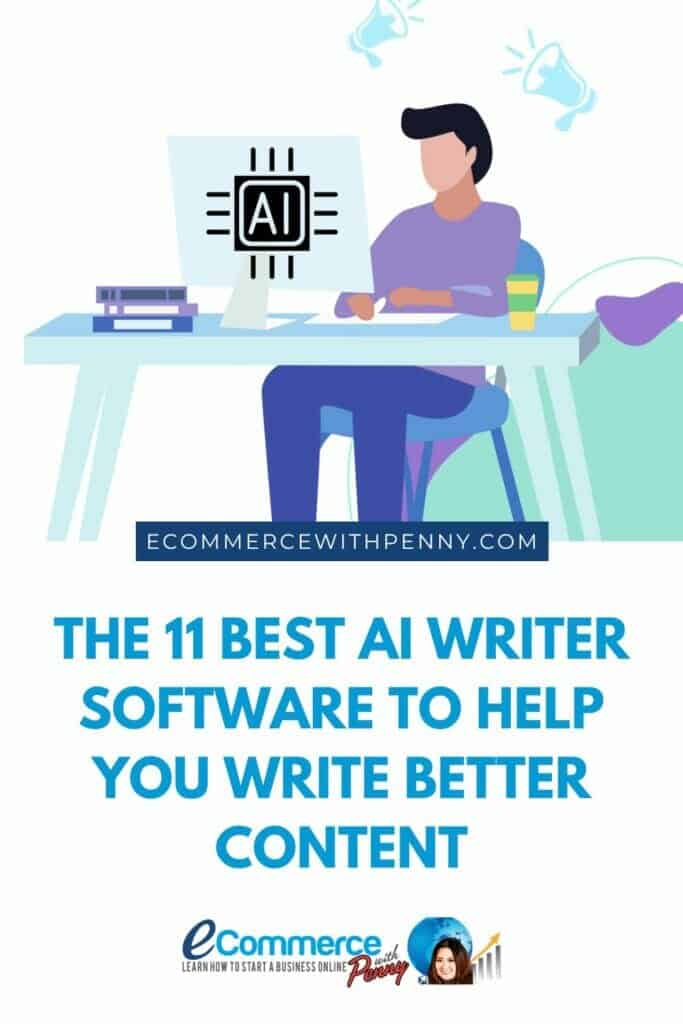 There are many benefits of using an AI writer to help with your content writing needs. Some of these benefits include:
-Eliminate writer's block: If you're struggling to come up with ideas for your content, an AI writer can help generate new ideas based on what you've already written.
-Provides you with the baseline skills of professional copywriters: By using an AI writer, you can get the skills of a professional copywriter without needing to hire one.
-Saves time: With an AI writer, you can create content faster than if you were to do it yourself. This is because the AI writer can generate new ideas and edit your content for you.
-Increased accuracy: When you use a grammar checker or plagiarism checker, you can be sure that your writing is error-free and original.
-More features: Many AI writers offer more features than just a grammar checker or summarizer.
-Easier to use: Many AI writers are designed to be easy to use, with clear instructions and an intuitive interface.
-Affordable: Some AI writers are free to use, while others come at a fraction of the cost of a human writer.
Thus, if you're looking for a way to improve your writing skills and increase the accuracy of your content, then an AI writer may be the best solution for you.
The 11 Best AI Writer Software to Help You Write Better Content and Increase Conversions
Jasper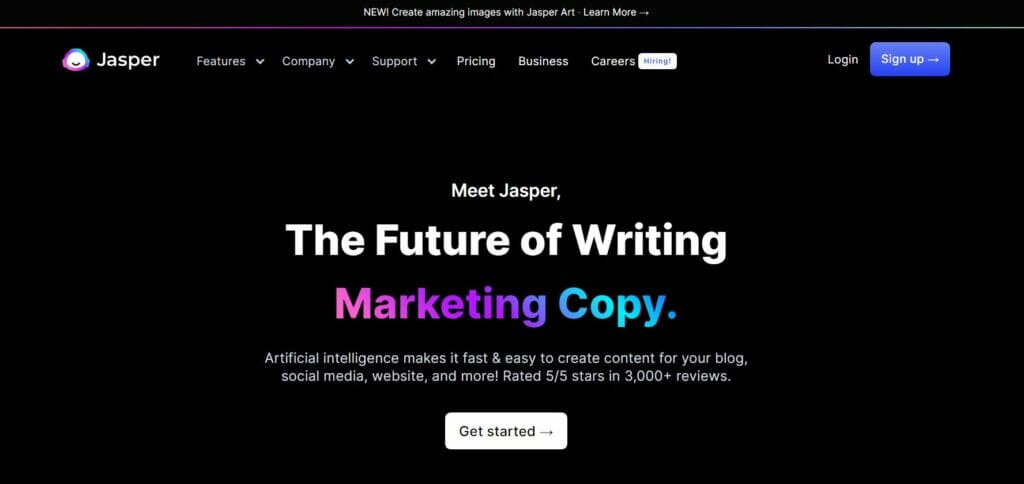 Jasper is an intuitive AI-powered writing assistant based on GPT-3 that specializes in copywriting skills. It is simple to use and generates content quickly. It comes with 50+ copywriting short-form templates. It is also able to produce long-form articles when you subscribe to the Boss mode.
Jasper has a smooth interface and it helps you change the tone of voice for your documents in a second. Jasper makes it easy to start outputting content right away with its templates and recipes.
Pros

Jasper comes with 50+ copywriting short-form templates, which are useful for a variety of purposes such as content creation, copywriting, and marketing.
Easy to use: The software is easy to use with step-by-step instructions and features natural language generation that makes the process easier for users.
The software generates high-quality content: The software has been educated by several well-known conversion gurus and copywriters, making it specialized in 40+ copywriting skills.
With Jasper's long-form assistant and Boss mode, you can easily generate full-length, high-quality content without any effort. It saves me lots of time for actual writing and frees up time for research to ensure article quality.
The generated content is original and passes plagiarism tests.
It includes templates and recipes: It makes it easy to start outputting content right away, with templates and recipes for different types of documents.
Most recently, it has come up with one click article generation and Jasper Art which costs additional $20/month.
Cons
It is not the cheapest AI software out there – Jasper is not the cheapest AI software on the market but it is worth the investment if you plan on using it regularly to generate content.
To get added SEO capability, you need to integrate with Surfer SEO, which will cost another $49/month.
Pricing
Jasper has a 5-day free trial for new users. Its paid plan starts at $29/month for short-form content and $59/mo for boss mode long-form content, and the price increases depending on the number of words.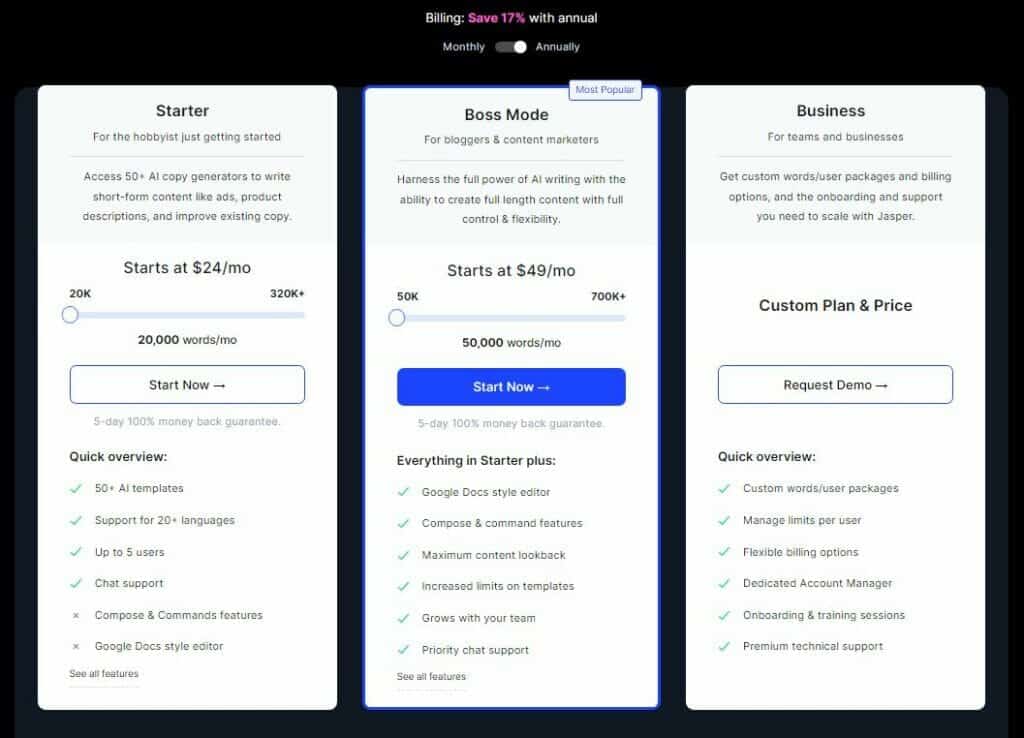 Verdict
Jasper is best known for its ability to generate high-quality content quickly and easily. If you need a writing assistant to help with your copywriting or content marketing and you can afford the cost, then Jasper is the right tool for you!
You can read more about the detailed review I did on Jasper here: Is Jasper AI writer really the best AI software? My in-depth review
Frase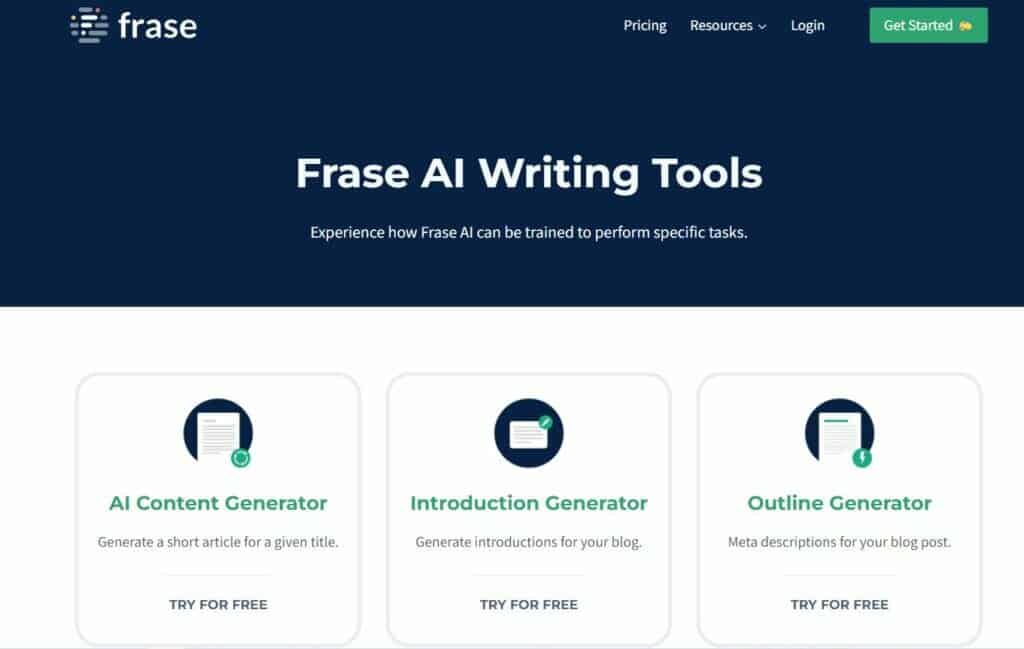 Frase is an easy-to-use and cost-effective AI writer that helps you with quick research for your content and allows you to create content quickly and easily. It guides you step-by-step through a content creation workflow so that your research has the best outcome against a set of keywords. You can then optimize it for better search engine results and get more organic traffic.
Pros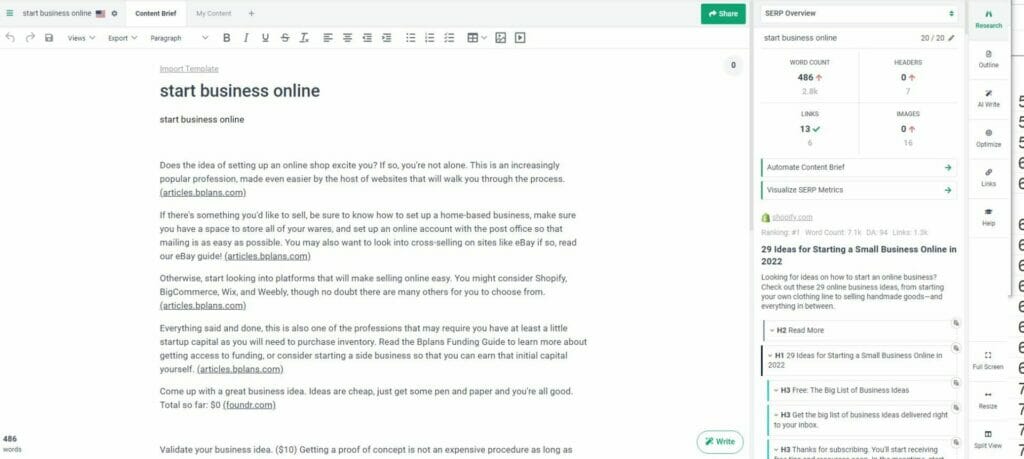 The platform offers an easy-to-use end-to-end workflow that includes research, outline, AI write, optimize, and links.
It helps with quick research and provides a smart outline for your topics automatically. That saves you time from clicking through an unending number of websites to get information.
An intuitive editor that automatically generates an understandable content brief out of a keyword You can also create a custom brief and explain the detailed guidelines such as tone of voice, SEO recommendations, governance, and style with Frase.
Frase updates your article's scores instantly, so you can see how it's doing against your competition. It also identifies optimization opportunities to increase your content's shelf life and minimize traffic losses.
It also has 42 AI templates and a community library of templates shared by other users.
Google Search Console, Google Docs Integration, and WordPress Plugin are available.
It costs money, but it's well worth it.
Cons
Cost: Frase is a bit costly compared to some of the cheaper AI tools, but it is well worth the money.
There is no guidance on the tone of voice or style; there is no guidance on the tone of voice or style, which can make it difficult to write content that feels natural and conversational.
Pricing
The basic plan of Frase starts at $44.99/month with the optional SEO Add-On with unlimited AI-Generated Characters and other premium features for $35/month.
Verdict
Frase is a great AI writing tool for creating well-researched long-form articles and blog posts. If you are a blogger, SEO content writer, or content marketer, or you run a content marketing or SEO agency, then Frase is highly recommended. You can now try Frase for $1 for 5 days if you check it out here: https://ecommercewithpenny.com/Frase and see for yourself how powerful it can help you in writing quality blog articles!
Copy.ai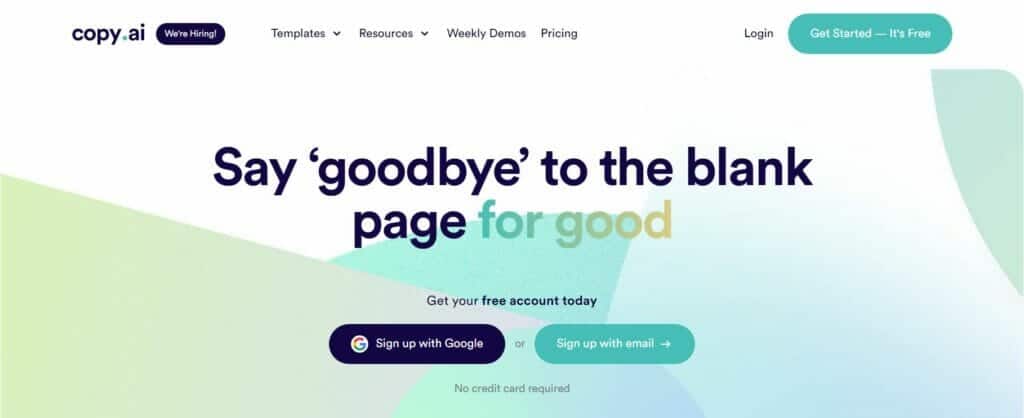 Copy.ai is an AI-powered writing tool that allows you to compose high-quality marketing copy in a few seconds. It comes with 90+ copywriting tools, which you can use to create blog content, e-commerce copy, sales copy, website copy, digital ad copy, social media content, etc.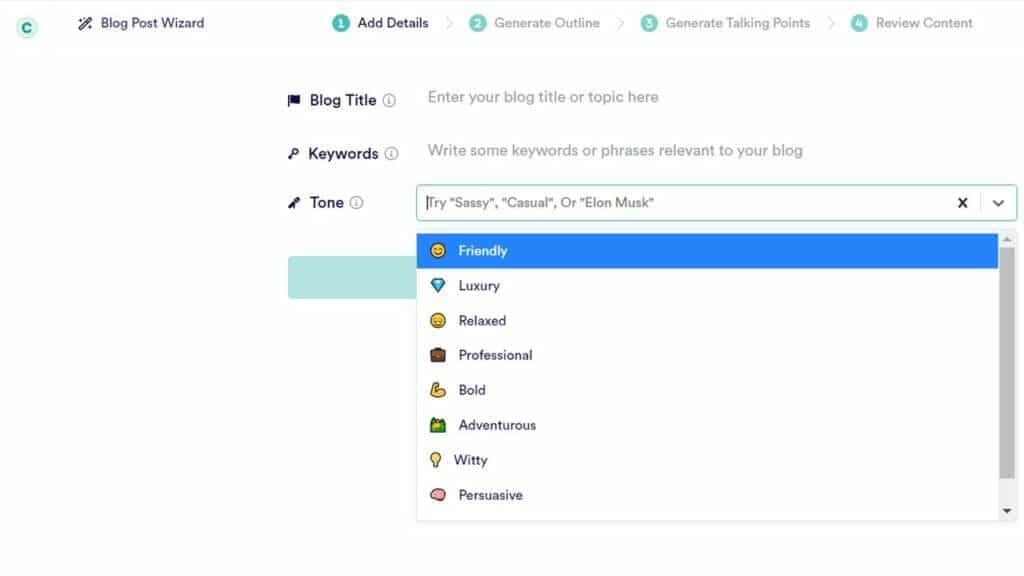 Pros
It is quick and easy to use, allowing you to compose a high-quality copy in seconds.
It helps you brainstorm various ad ideas that are suitable for your audience and helps you reach a good starting point without having to stare constantly at a blank screen.
It saves your time dedicated to copy creation and increases its quality for better ad performance.
develops attractive marketing copy that helps you eliminate ad fatigue by providing a creative, non-generic, and relevant copy.
It has multiple ready-made content creation templates that you can translate into 25+ languages.
It allows you to generate copies for Facebook, Google, and LinkedIn ads as well as social media captions along with hashtags and meta descriptions.
Help eCommerce brands reach more audiences without sacrificing their ROI by creating targeted ads that are suitable for their audience.
Content tuning with the "simplify sentences" tool
affordable for small businesses.
Cons
Costly: The Pro Plan is comparatively more costly than some of the other AI writers.
Pricing
It has a free plan of 2000 words per month with no credit card required. It also lets you try the pro plan for 7 days. The paid Pro Plan is available starting at $49/month for 40k words or $36/month if you subscribe annually for team plans with up to 5 users. The subscription fee varies depending on the number of words.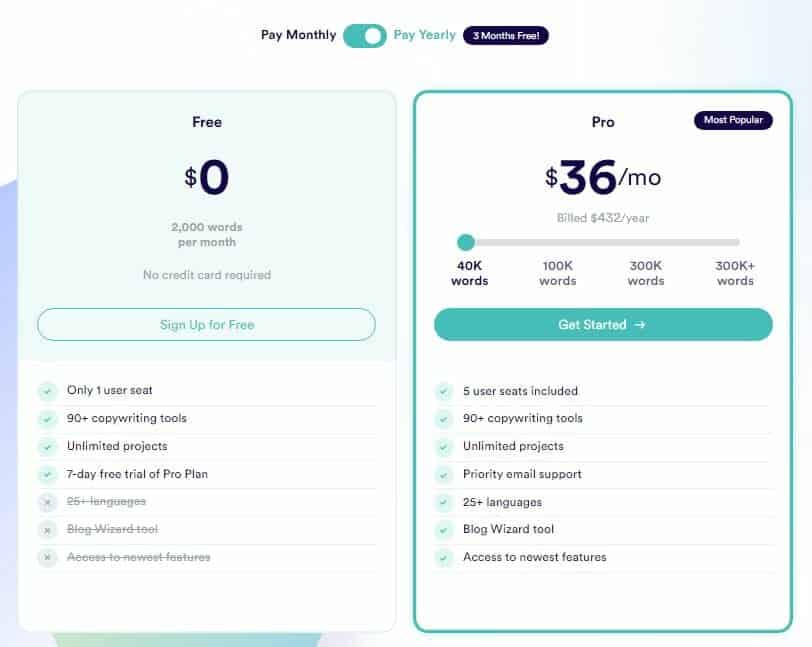 Verdict
CopyAI is one of the best multipurpose AI writers that you can have. I have tried it, and the quality of the copy produced is pretty amazing. If you want to create high-quality content for your blog or website, then this is the best tool.
ClosersCopy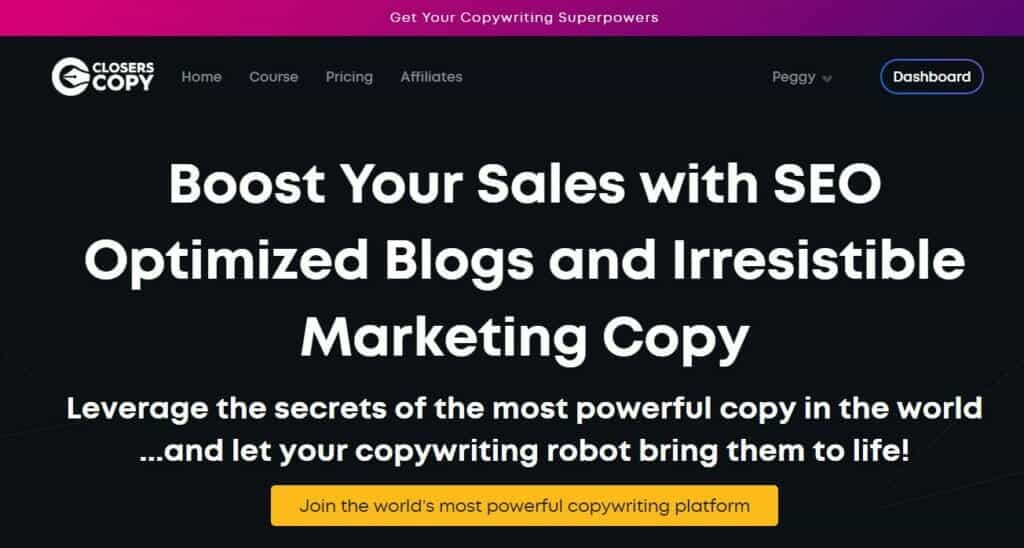 Closerscopy is an AI writer that allows you to write both short-form and long-form content like sales pages, blogs, and articles. You can choose between 3 different AI models: SalesAI (for marketing materials), BlogAI (for blogging), and StoryAI (trained to write stories).

This is unlike other AI writers, which mostly use GPT-3, so it doesn't have GPT-3/OpenAI restrictions.
Pros
No writing limits: Closerscopy's Unlimited plans allow you to write as much content as you want. Closers Copy does not have any restrictions or limits on the amount of collaboration that can take place between users, making it a powerful tool for teamwork projects.
Comprehensive tool: Closerscopy has many features and supports all kinds of topics. It contains templates for different types of content, e.g., sales letters, email scripts, advertisements, and websites.
Build your own reusable frameworks to use over and over again.
Choose between three different AI models: one is written for selling, one is suited for blogging, and the third is trained to write stories.
Closerscopy's AI content generator can generate content in 128 languages and allows for collaboration between users.
You have access to over 300+ frameworks and 30+ workflows.
It provides SERP-guided AI writing, which allows you to have a detailed analysis of your website's SEO performance, helping you improve your site's ranking in search engines.
It includes community features that allow users to collaborate and share ideas, increasing the value of the tool overall.

Accurate and up-to-date information: The platform is updated frequently with accurate and up-to-date information.

Closerscopy offers a Facebook community and a course to learn about their tool.
Cons
As there are many features available, it may take some time to learn to use them all.
The software is constantly updated with more functionalities, so you need to keep up with the changes.
No free trial.
The paid plans are on the higher side. The paid plans are expensive compared to other similar AI-writing software options available on the market.
Pricing
There is no free trial available, but they do offer a 14-day money-back guarantee. Starting from the Power plan at $49.99/mo, unlimited writing and updates are available for Superpower at $79.99/mo and Superpower Squad at $99.99/mo.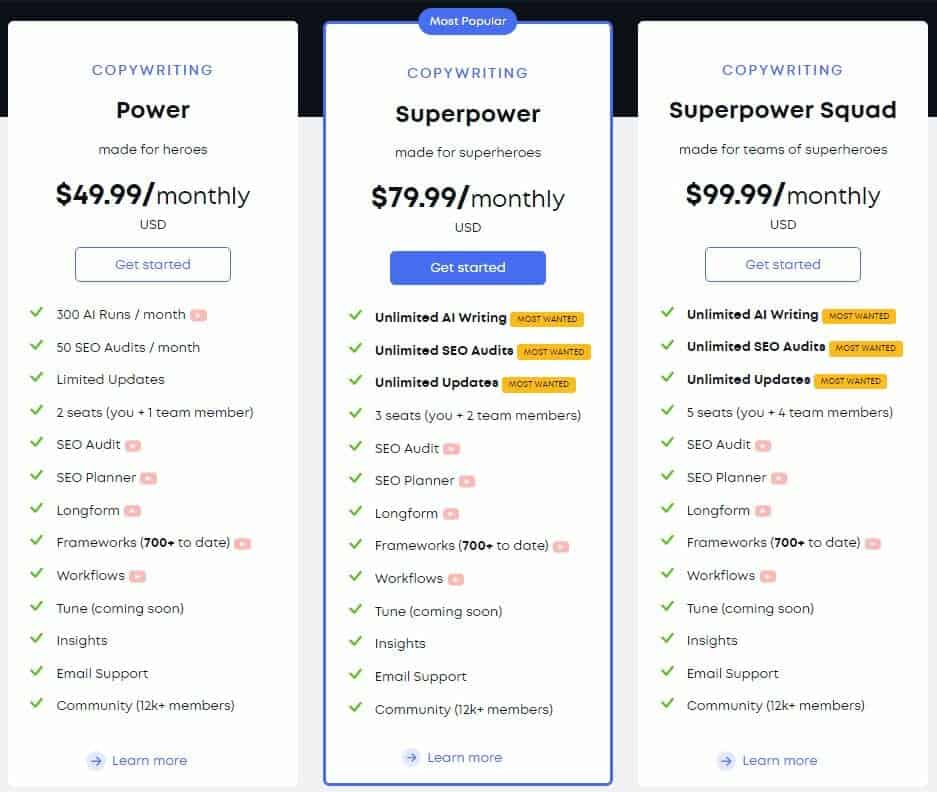 Verdict
CloserCopy is like the Swiss Army Knife of AI writers. It is powerful, with many features that can help you write better content. However, the paid plans are on the higher side to start with. So, unless you plan to produce a lot of content, you may want to consider another tool. Overall, it is a great tool.
Contentbot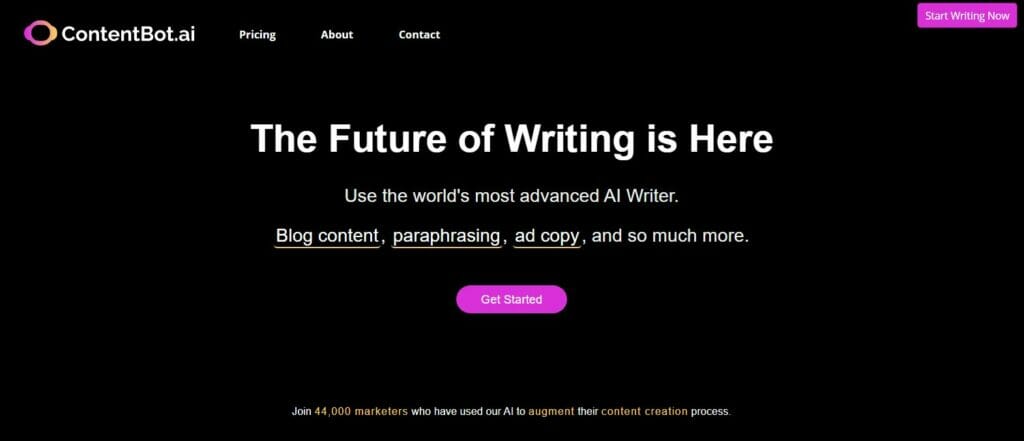 Contentbot is an AI writing tool that can generate different types of content for various purposes quickly and easily. It has 30+ AI skills for short-form content creation. It can also produce long-form blog posts and articles that are 1,000 words or longer (but this requires the Premium plan and above).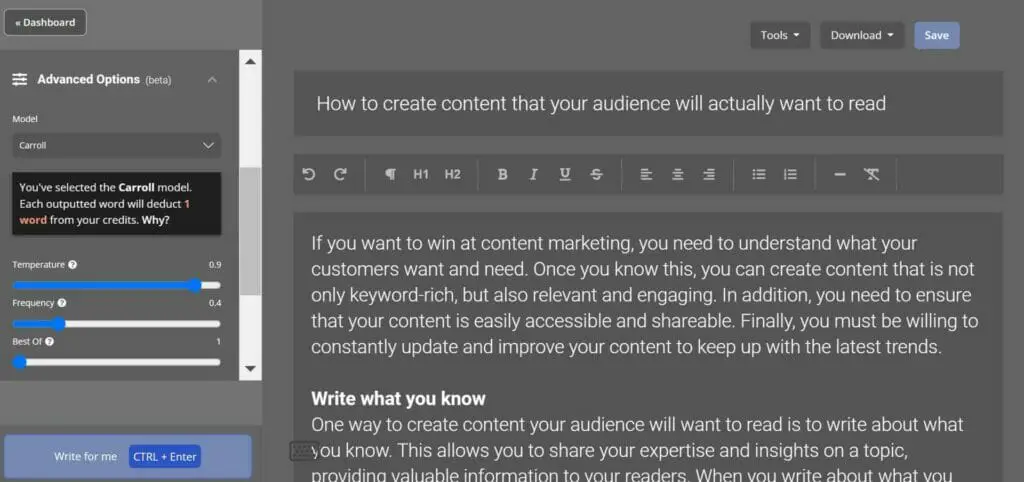 Pros
It generates text quickly—it takes less than a minute for AI to generate text. It can also automate the generation of full articles given a topic.
ContentBot.ai can create content for various purposes, including social media advertising (Facebook and Instagram ads), PPC advertising (Google Ads), website content (blog intros, blog outlines), product descriptions, sales copy, brainstorming topics, and Google ad generation.
ContentBot has tools to help you with content ideas, video ideas, and startup ideas. Automated brainstorming can help you come up with new ideas and solutions more quickly.
It uses Google Translate, Watson, or DeepL and supports all supported languages.
You can use these to create your content, saving you time and hassle from having to install separate tools.
Built-in plagiarism checker of up to 500 words to ensure that the article is 100% original.
Rephrase articles of up to 2,000 words.
Weekly email of topic suggestions: Contentbot sends weekly blog topic suggestions or marketing ideas to your inbox so that you don't have to come up with them yourself!
The platform is affordable for users of any size.
Cons
Limited functionality: The main limitation of Contentbot is that it only generates blog posts, not articles or other types of content.
The quality of the articles being rephrased is not that good in my opinion.
The brainstorming feature is limited: the brainstorming feature sends you only topic ideas or marketing ideas every day or week, rather than the actual content.
Pricing
Paid plans start at $29/month for 40,000 words.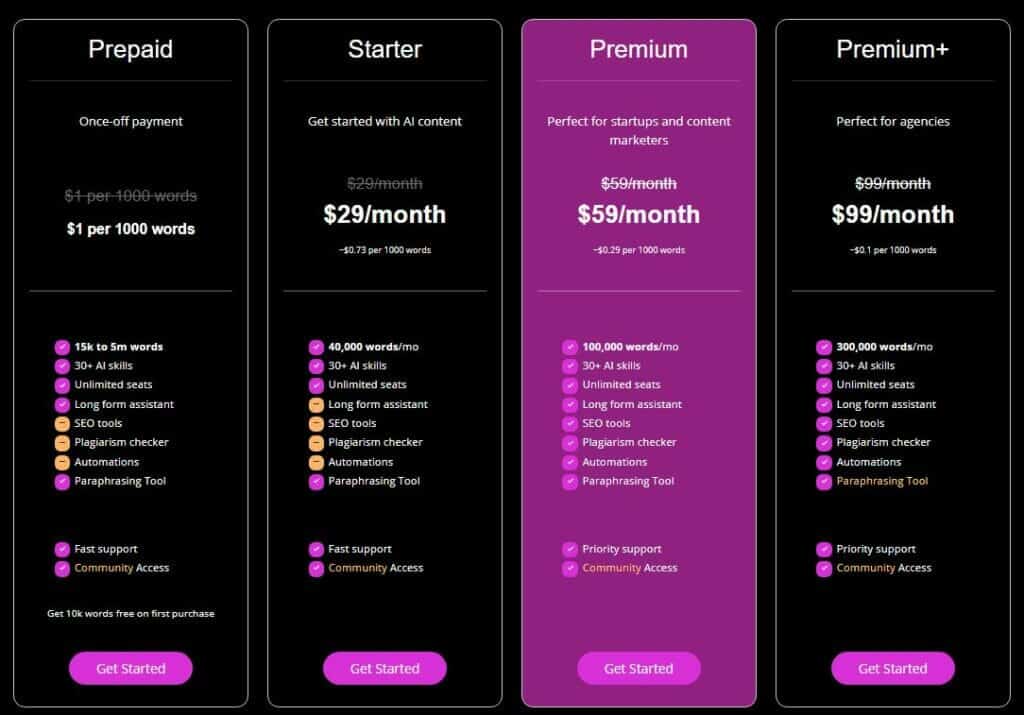 Verdict
I use it to generate blog post outlines and ideas and produce answers to Quora questions and meta descriptions for blog SEO. The quality of the output is pretty good. You can read my detailed review on ContentBot.ai Review: Features, Benefits, Advantages and Prices for more information.
Longshot.ai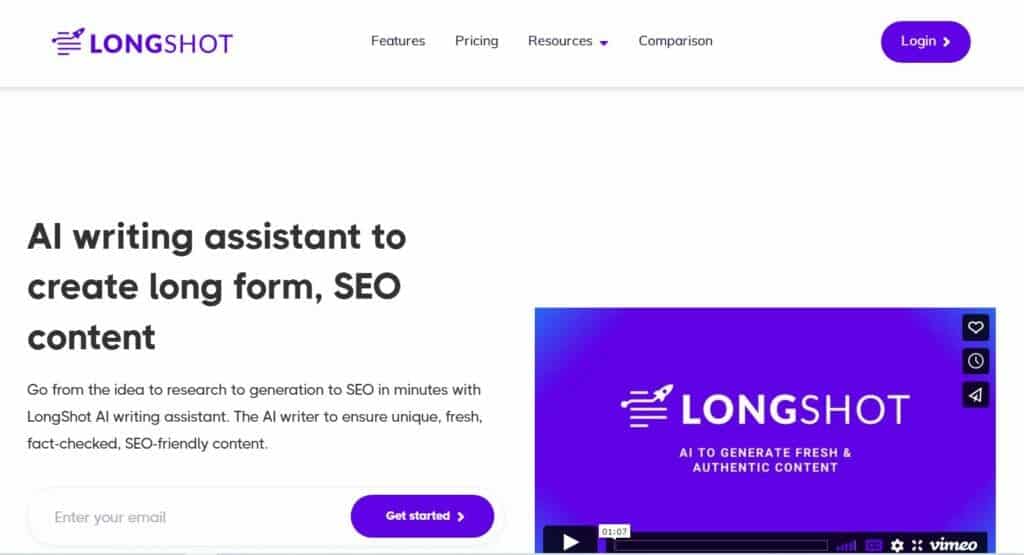 Longshot.ai is an AI writer that specializes in helping you generate quality blog posts, and it also offers a range of features. It can be used to generate product descriptions, meta descriptions, blog topic suggestions, etc. Longshot.ai has 21 templates that you can use to help with your writing process (see screenshot below).

Pros
The Longshot interface is simple and easy to use.
Time saver: Instead of spending hours researching and writing new blog posts each week, you can generate high-converting blog posts in less than 30 minutes using Longshot.ai.
Long-form content generator: The platform provides a long-form content generator that allows you to create high-quality, long-form content.
The fact-checking tool helps check the accuracy of a text, which helps to ensure the accuracy and truthfulness of your content. It generates authentic, fact-checked content: Longshot AI can generate creative and interesting content that is accurate.
The Longshot has LSI keywords: The Longshot has LSI (Latent Semantic Indexing) keywords for the document you are editing on the right side window.
Calculate the semantic score for your article based on comparing your content with some conceptually related keywords or questions that the users ask about that topic and compare it with that of other ranked articles.
A Chrome extension is available to access features such as expand, shorten, rephrase (up to 500 words), and change tone.
The platform is affordable for users of any size.
Cons
Limited features: Longshot has fewer short-form features available compared to other AI writers.
The Basic plan is free to use but has a very limited number of credits, while the Pro and Team plans cost money per month.
Pricing
Longshot.ai offers a basic free trial plan with 10 free credits per day. It is available starting with a monthly or annual Pro subscription costing $49 or $29 per month.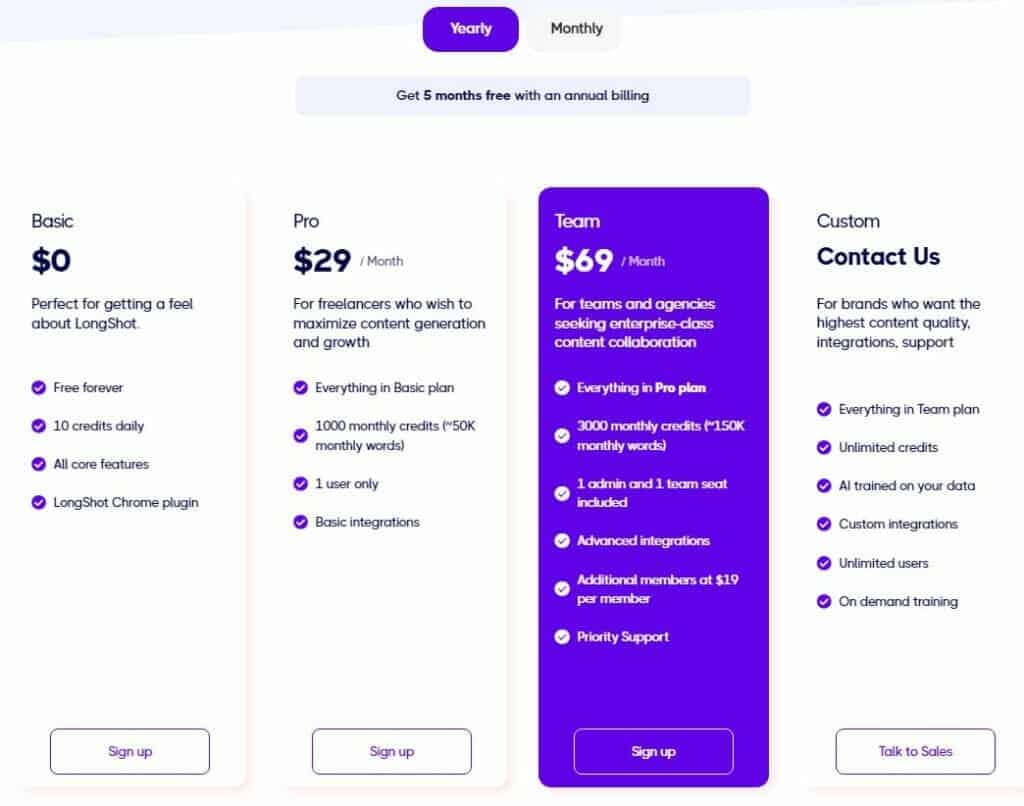 Verdict
It is pretty good at producing well-researched blog posts. I use it for research and fact-checking to generate blog outlines.
Writesonic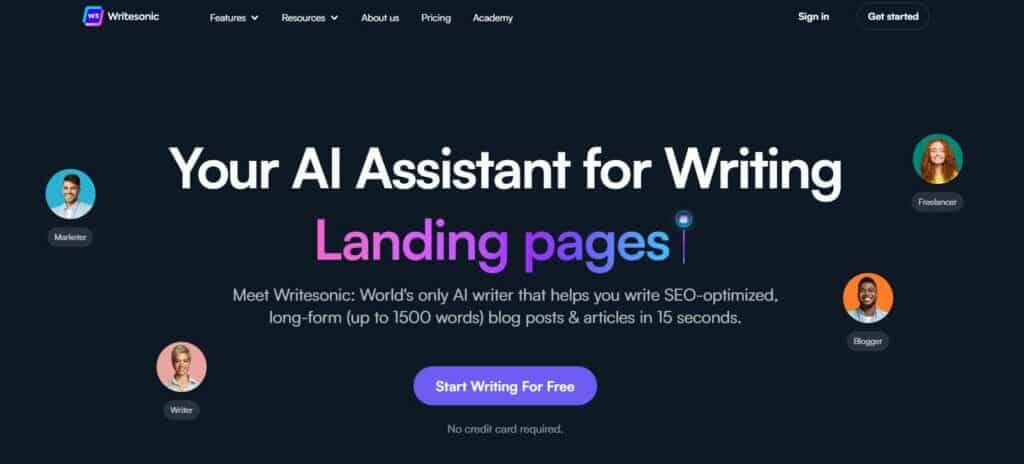 Writesonic is a versatile AI writer powered by GPT-3. It offers 70+ AI Templates which include a range of features to help you create short-form and long-form content of any type that is useful for marketing copy generation.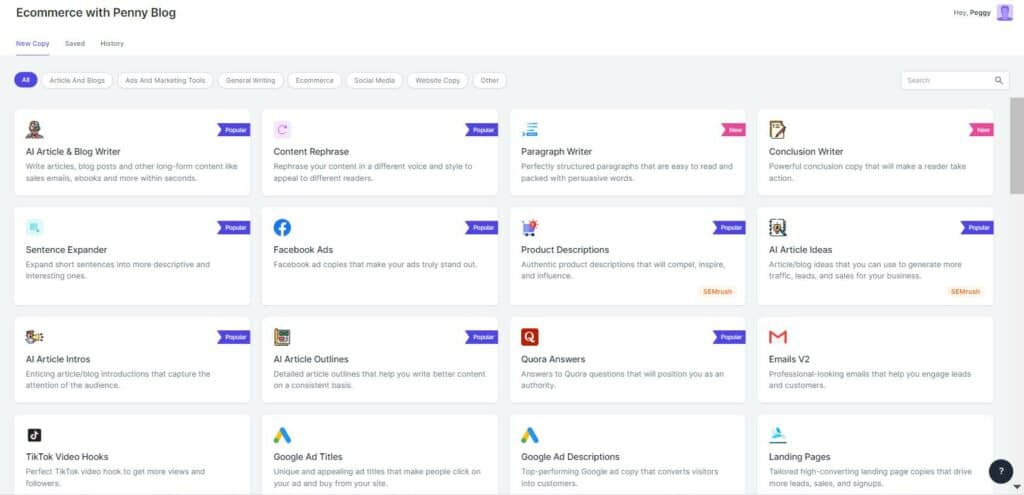 Pros
The platform has an easy-to-use interface that beginners can understand.
Easily creates long-form content: The intuitive interface makes creating long-form content easy.
Check for grammatical errors: The software checks the content for grammatical errors to ensure that it is readable.
Apart from writing articles through its AI, the platform offers a variety of content such as landing pages, Google Ads, Facebook Ads, product descriptions, article summaries, professional emails, content expanders, content rephrasers, SEO Metatags, and features to benefit.
Under active development with new features added such as instant article writer (which allows you to generate 1500+ word articles in seconds), story creator, and song lyrics writer.
Available in 25+ languages: Writesonic can create articles in 25+ global languages. If you ever wanted to start a multilingual blog, Writesonic will help you achieve that with its multi-language compatibility.
Affordable plan with monthly billing.
Most recently, it has come up with AI Art called Photosonic which is included in Writesonic and allows you to create unique visuals to go with your content.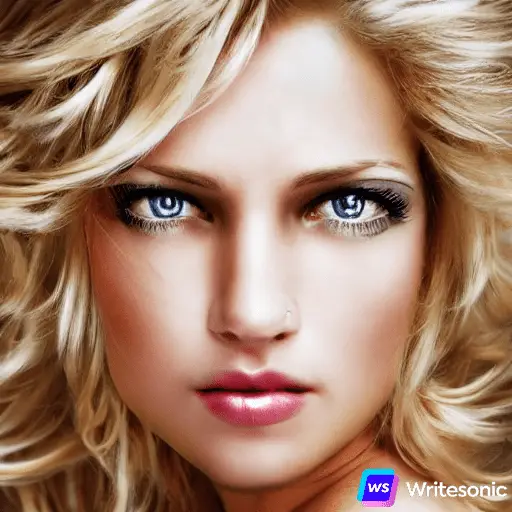 Cons
While using the long-form AI article writer 3.0 to generate articles, if you make the wrong choice out of the 5 choices in each of the steps, you have to start the whole article generation process all over again. This means that the credits consumed during the process have been wasted.
Pricing
Writesonic offers a free trial and starts at $10/month (for short-form) and $13/month (including long-form) when billed annually and offers different tiered plans depending on output quality and the number of words generated.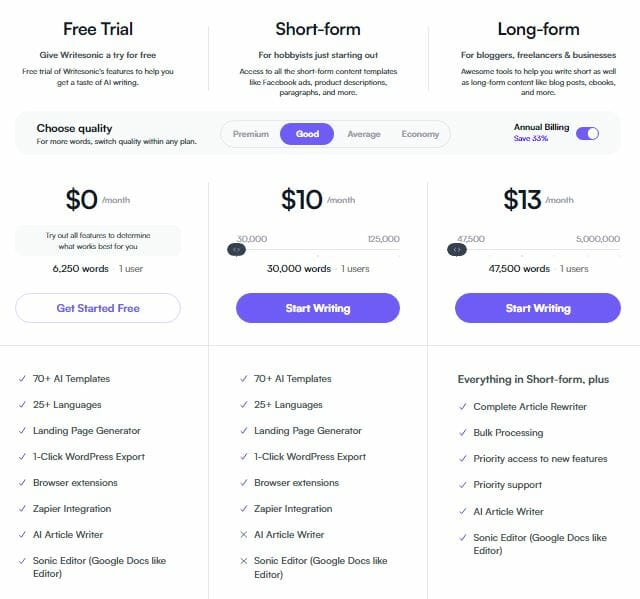 Verdict
In many ways, Writesonic is similar to Jasper, but it offers more value in terms of cost. If you want to have a wide variety of templates and long-form writing at an affordable price, Writesonic is a good choice.
You can read my detailed review on Get Quality AI Content with Writesonic AI writer for more information.
Outranking
Outranking is an AI writing tool that allows you to quickly create well-researched and optimized material that is SEO-optimized to surpass your competition. It accelerates content ROI by combining content production workflows with SERP research, sophisticated SEO scoring, and AI writing support.
Pros
Use Strategist to build an SEO content strategy with topical authority by finding keywords to rank for.
Its AI editor has prebuilt workflows that streamline the process of writing. It helps you research and generate outlines based on user intent, keywords, and SERP data. It also helps to optimize your website for better visibility in search engines.
Suitable for long-form articles and blog posts with SEO in mind.
The platform has SEO scoring capabilities with real-time assessment and feedback, so you can see how your content is performing compared to other articles on the same topic.
The platform integrates with other writing tools such as WordPress, Google Docs, SEMrush, etc., giving you access to a range of on-page optimization suggestions for elements such as metadata, headings, etc.
Outranking supports creating content in multiple languages, with support for 13 languages currently available.
It is under active development and just had its version 9 update recently.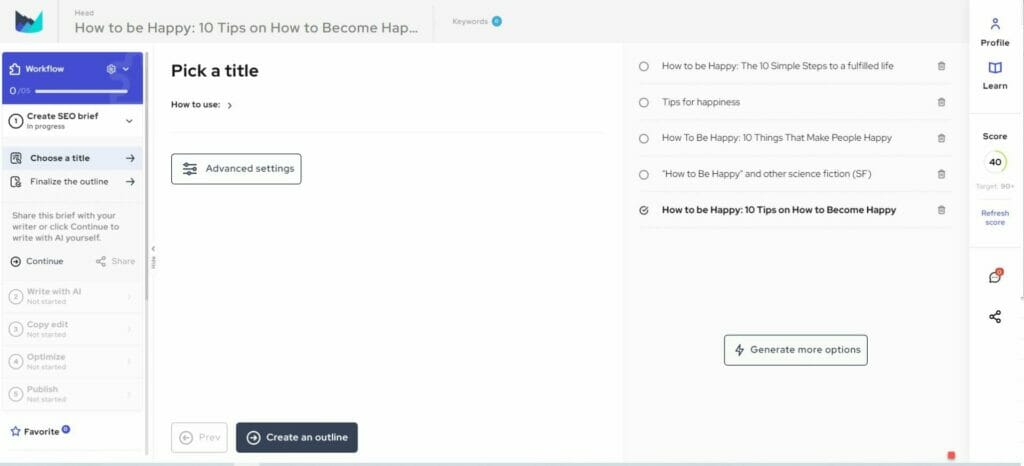 Cons
High monthly price.
Outranking has a limited number of AI templates compared to other AI writing tools.
Supports only long-form content: outranking is not suitable for creating short articles.
Translation support is limited: With 13 languages currently available, translation support is limited compared to other AI writers.
A bit complicated to use. Since it's constantly being updated, you need to learn the new features each time an update is released.
Pricing
Pricing for outranking varies depending on the plan chosen but ranges from $129/month to $999/month for an enterprise plan.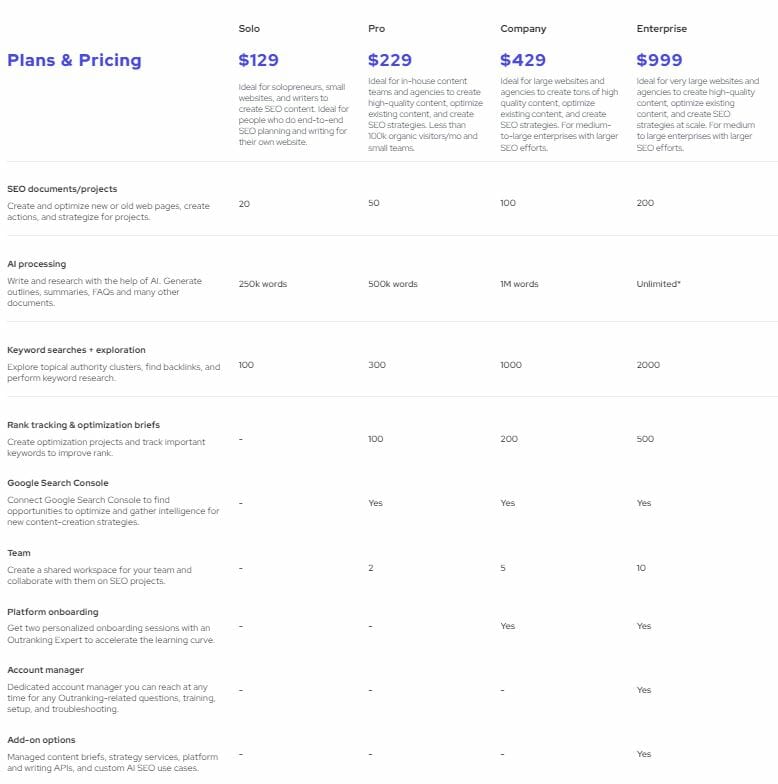 Verdict
Outranking is a good AI writing tool for creating long-form articles and blog posts with SEO in mind. However, the learning curve can be steep given the constant updates. The monthly price is also on the higher end, which may not be out of reach for solopreneurs or people who are just starting out.
ArticleForge
ArticleForge is an AI copywriting software that automatically generates content for a certain topic or niche. The software uses AI and machine learning to generate full articles based on the keywords provided.
Pros
Speeds up work: Automatic long-form article generation speeds up the process of writing content, saving you time. . With a single click, Article Forge can generate entire 1,500+ word articles, complete with relevant section headings.
Automatic blog posting: It can automatically post content to your WordPress blog.
Bulk article generation: just give Article Forge your list of keywords and it will generate the blog posts and post them to your blog.  
Affordability: The tool is affordable for users of any size.
Cons
Poor quality: When I tested Article Forge, I found that the quality of the articles created using Article Forge is just ok, not great.
Pricing
It is the cheapest tool to mimic a human mind and style of writing. Pricing – Basic: $27/month – 25,000 words/mo; Standard: $57/month – 250,000 words/mo; Unlimited: $117/month.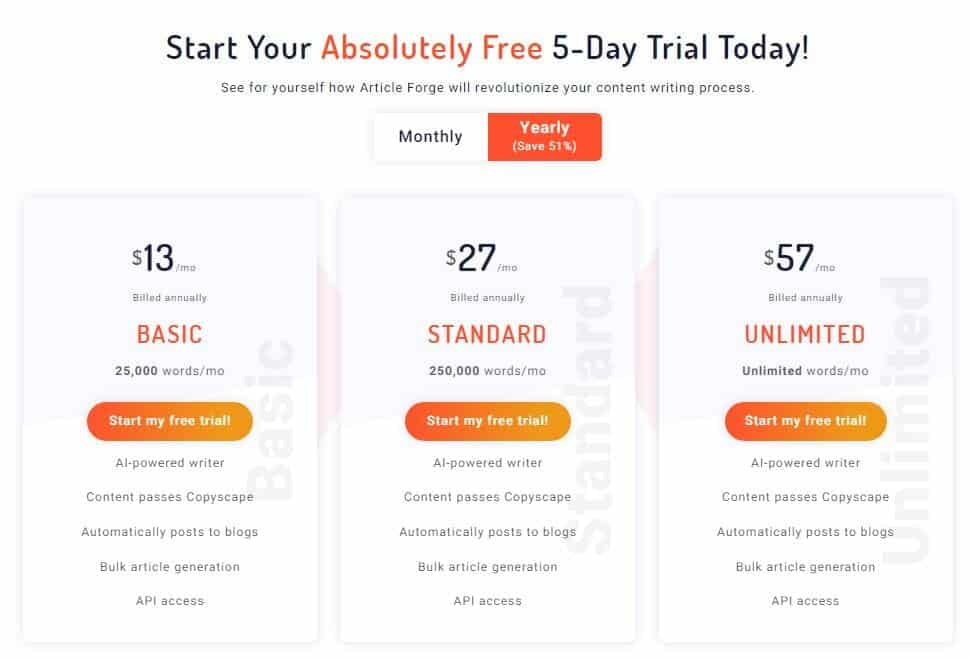 Verdict
If you just want to get some ideas for your blog and save time in producing articles, this tool is for you. However, you would need to spend some time editing the content to improve its quality before publishing it.
QuillBot
Quillbot is an AI-powered writing tool that helps you paraphrase content and check for grammar and plagiarism. It can also summarize your content for you. Quillbot uses artificial intelligence to help improve the quality of your writing by checking for grammatical and spelling errors.

Pros
Easy to use: No sign-up is necessary to start using the tool—just paste in the content and start working. Quillbot is free to use.
Quillbot has many features to help you with your writing needs, including a paraphraser and grammar checker. It offers 7 writing modes for the Premium plan: Standard, Fluency, Expand, Shorten, Formal, Simple, and Creative modes.
Quillbot is just as good, if not better than Grammarly when it comes to grammar checking.
The co-writer feature can help generate new ideas based on what you've written, while the summarizer will give a summary of your text for easy reference later on.
Solid job: The summarizer does a solid job.
The Citation Generator helps you track and properly cite your citations.
Chrome extension: A browser extension for Chrome to help you easily check grammar and syntax while writing online.
The Microsoft Word extension adds an AI helper to help with grammar and formatting in Microsoft Word, making it easier to write academic papers accurately.
It has an affordable price for the features it offers. It has a lot of options for a reasonable price and is one of the more versatile tools available.

Cons
Limited AI writing assistant: The AI writing assistant in the Quillbot tool is limited in what it can do for you.
No marketing copy
Slow process: Quillbot processes only two sentences at a time, compared to 15 for Quillbot Premium.
Free to use but limited features: The Quillbot tool is free to use, but it does not have many features compared to other writing tools.
Pricing
Quillbot is available for free to all users but has limited features compared to its premium version.
It has a simple pricing structure with the Premium plan costing USD$19.95 per month. You can save by subscribing annually for USD$8.33/month.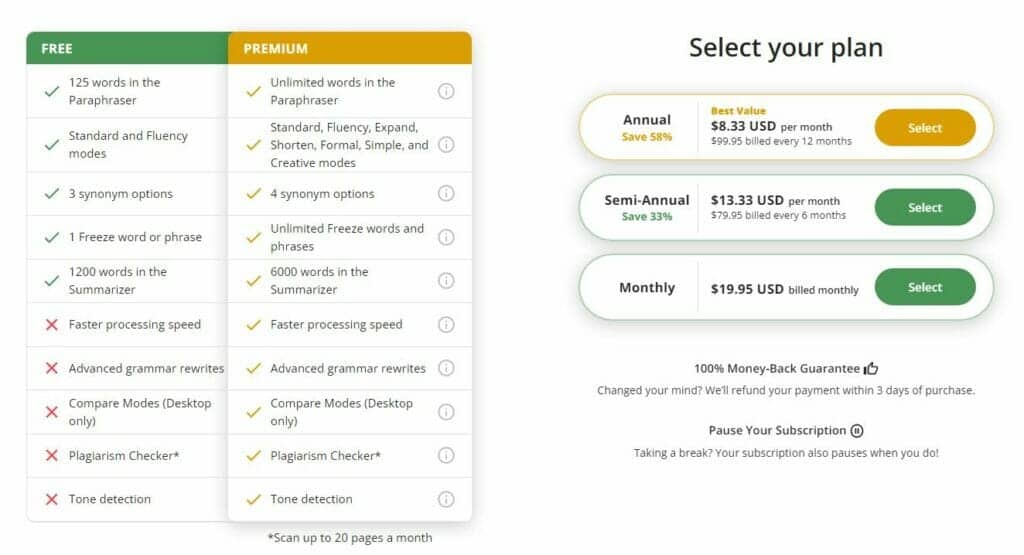 Verdict
Quillbot does a good job overall of all its functions. So if you are looking for a great paraphrasing tool with a grammar checker and a summarizer, this could be the tool for you.
Wordtune
Wordtune is slightly different from the other AI writers mentioned in this blog post. It helps you quickly rephrase your sentences, instead of helping you write long-form content. It comes with a Chrome extension, which makes it easy to use on several websites.
Pros
Wordtune is easy to use and rephrase sentences.
Change the tone of your content: You can change the tone of your content from formal to casual or vice versa by using better words.
Make the content more concise: By shortening your sentences and using better words, you can make your content more concise.
Expand the sentence with added details: With more details, you can expand a sentence for a more in-depth understanding of the topic being discussed.
can be helpful when writing short-form copy, such as emails. When you are lost for exact words, Wordtune can help rewrite these types of pieces accurately.
very affordable.
Cons
The free plan is limited. You will need to upgrade to the premium plan if you want more features such as changing the tone or changing the length of sentences.
Not for long-form content.
Pricing
Wordtune has a simple pricing structure with a free plan for rewriting or rephrasing just 10 times a day. The premium plan comes with everything unlimited at $9.99 / month (Billed at $119.88/year).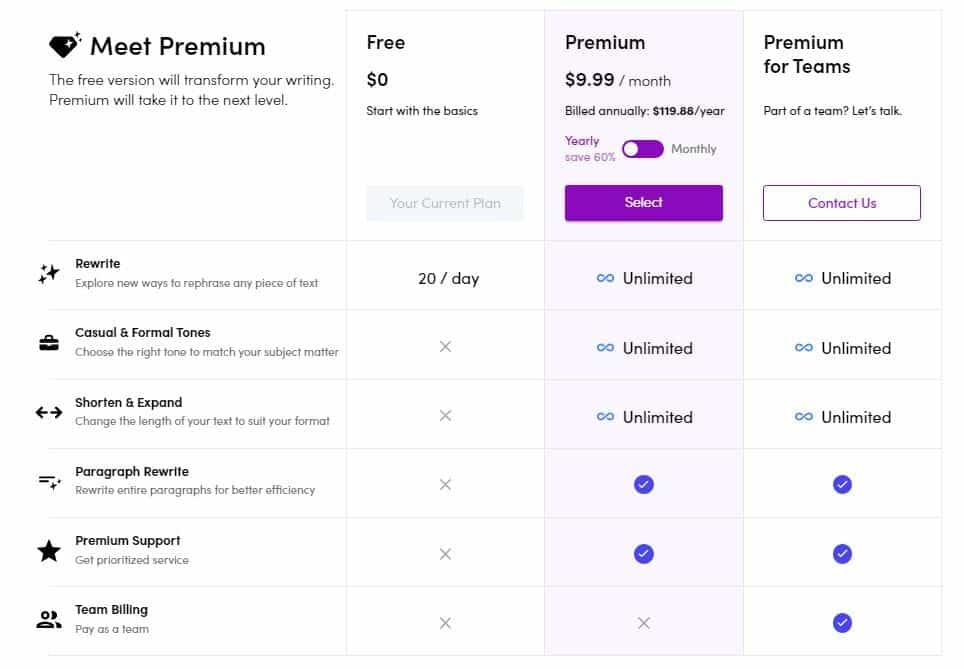 Verdict
Wordtune is best known for its AI content rephrasing capabilities, and it does it really well. So, if you just need an AI tool to help you rephrase short content, this would be the right tool for you!
How to Choose the Best AI Writer for Your Business
When it comes to choosing the best AI writer for your business, it's important to consider your specific needs and what you're looking for in a tool. Some things to think about include:
– What are your main writing needs? Do you need a grammar checker, plagiarism checker, co-writer, or summarizer?
– How much do you want to spend on a tool? Some tools offer free versions, while others come with a price tag.
– Do you want a tool that is easy to use or one with many features?
– Is accuracy important to you, or are you happy with some errors in your writing?
– How often do you plan on using the tool? Some tools have monthly or annual subscription rates.
Once you've answered these questions, you can begin to narrow down your search and find the best AI writer for your needs.
Tips for Working with an AI Writer
If you're new to working with an AI writer, here are a few tips to help you get started:
Understand your needs: It's important to understand what you need from an AI writer before you begin searching for one. This will help you narrow down your options and find the best tool for your needs.
Specify what you want the AI writer to do: When you first start using an AI writer, be sure to specify what you want it to do. The quality of output usually depends on the quality of input, so the more specific you are, the better results you'll get.
Start with a small project: If this is your first time working with an AI writer, start by doing a small project first. This will help you get used to how the tool works and see the benefits of using it.
Check the accuracy of the AI writer: No tool is 100% accurate, so be sure to check the accuracy of your AI writer before publishing any content.
Edit your content: After you've generated your content, be sure to edit it yourself. Do your fact check and plagiarism check before publishing. This will help ensure that your content is error-free and original.
Give feedback: If you're not happy with something about the AI writer, be sure to give feedback so that they can improve their tool in future versions.
Developing Trends in AI Writers
The following are some of the trends I have observed in the AI writer space.
The first is that there are more and more AI writers on the market, which is great news as it means that there is more choice for businesses looking to invest in this technology.
Second, I have noticed that the quality of AI-generated content has gotten better over the past year. This is likely because the algorithms and software have gotten more sophisticated.
Finally, I have observed that businesses are starting to use AI writers for a wider range of tasks beyond just writing copy. For example, some companies are using AI-generated content for social media posts, email marketing campaigns, and even creating video scripts.
1. More specialized for different purposes
One trend that I think is worth mentioning is that there are now more specialized AI writers on the market. In the past, most AI writers were generalists that could be used for a variety of tasks. However, now some AI writers are more specialized for certain purposes.
For example, there are AI writers specifically for creating blog posts, social media posts, email marketing campaigns, and even video scripts. This is great news for businesses as it means that they can find an AI writer that is best suited for their specific needs.
2. Integration of SEO and research
Specifically for AI writers that specialize in producing a long-form blog, the trend is to integrate research and SEO into the content generation process.
What this means is that, besides writing the copy, the AI writer will also do research on the topic and optimize the content for SEO. This is a great benefit for businesses as it can help them save time and ensure that their content is effective and visible to their target audience.
3. One-click Blog Posts
More recently, I noticed that some AI writers are now offering one-click blog posts. What this means is that, with just a few clicks, you can generate a complete blog post on your chosen topic.
Although this seems to be great news for businesses as it can save them a lot of time when creating content for their website, it is still important to have human editing before publishing the final product.
This is because, although the AI writer can generate the copy, they may not be able to identify errors or inaccuracies in the content. Thus, it is still important to have someone proofread and edit the final product before publishing it on your website.
4. AI Art
More recently, some AI software is starting to offer AI art. AI art is a type of art that is created by algorithms or software. This is a great new feature for businesses as it can help them create unique and visually appealing content for their website or marketing materials. 
Conclusion
In this blog post, we discussed the 11 best AI writers to help you write better content and increase conversions. We also provided tips on how to choose the best AI writer for your business and how to work with them effectively. If you're looking for a way to improve your website's content writing skills, using an AI writer may be the best option for you!