Google Helpful Content Update: What You Need to Know
In the past week, I saw several AI writer group owners sharing about this topic. Out of interest, I studied it in more detail, as this is a topic that applies to everyone having a website. Then one member of my Facebook group also asked me about my take on this. So in this article, I will explain everything you need to know about Google helpful content update and share with you my take on this update.
What Is Google Helpful Content Update? 
Google announced on 18 Aug 2022 via its developer blog article "What creators should know about Google's helpful content update" that a new algorithm update will be rolled out. It will affect how websites are ranked in search results.
They stated that "it is part of a broader effort to ensure people see more original, helpful content written by people, for people, in search results. It aims to better reward content where visitors feel they've had a satisfying experience, while content that doesn't meet a visitor's expectations won't perform as well.
The update aims to better reward content where visitors feel they've had a satisfying experience, while content that doesn't meet a visitor's expectations won't perform as well.".
Google is a search engine, so its aim is to show people the most helpful and relevant content for their queries. Against the background where technology advances have seen many AI writers and article spinners rising in the market regurgitating and mass-producing content with little thought.
As a result, Google is probably seeing an increase in low-quality content in search results. This will frustrate the users as they cannot find what they are looking for easily.
Google does not want this to happen as it will affect its brand and business negatively. Hence, it is probably inevitable that Google would introduce this update to remedy the situation.
When will it roll out?
At the time of writing, Google has already released the update on 25 Aug 2022 to English searches globally. They mentioned that the rollout could take up to two weeks to complete. They also planned to expand to other languages in the future.
They will also refine the unhelpful content detection and launching further efforts to better reward people-first content in the coming months. What this probably means is that while the intention is good, we still need to observe what is the result of implementation as with all updates.
They also mentioned that "This classifier process is entirely automated, using a machine-learning model. It is not a manual action nor a spam action. Instead, it's just a new signal and one of many signals Google evaluates to rank content.
This means that some people-first content on sites classified as having unhelpful content could still rank well if there are other signals identifying that people-first content as helpful and relevant to a query. The signal is also weighted; sites with lots of unhelpful content may notice a stronger effect. For the best success, be sure you've removed unhelpful content and also are following all our guidelines.".
This reads to me like we cannot say for sure what the effect will be since it will be determined by machines and not humans. So it's almost like a black box since Google ranks sites based on not only one factor but a combination of many factors (200 over).
This also means to say you can only observe the full effect on your site over time (probably the next few weeks or even up to months).
Another thing worth noting is that there seems to be no avenue for redress at all if you think your site has been wrongly classified.
What Does This Mean For Your Website? 
If you have a website that contains helpful and original content, you have nothing to worry about. Google will recognize and reward your website with a higher ranking in search results.
On the other hand, if you have a website that contains low-quality or duplicate content, this helpful content update will probably cause your website to drop in rankings. Google has specified that "content that doesn't meet a visitor's expectations won't perform as well."
So if your website currently ranks highly in Google search results but does not provide helpful and original content, it is time to make some changes.
Will The Update Hurt Your Website?
It depends on what kind of content is on your website. If it is deemed as unhelpful by Google, then yes, your website will be affected.
What Will The Helpful Content Update Do To Websites?
Google shared in more detail that "This update introduces a new site-wide signal that we consider among many other signals for ranking web pages. Our systems automatically identify content that seems to have little value, low-added value or is otherwise not particularly helpful to those doing searches.".
What types of content will the update impact?
To this, Google shared that "Any content — not just unhelpful content — on sites determined to have relatively high amounts of unhelpful content overall is less likely to perform well in Search, assuming there is other content elsewhere on the web that's better to display. For this reason, removing unhelpful content could help the rankings of your other content."
This brings us to an important question. What is considered "Helpful" in Google's eyes and what is considered "Unhelpful"?
What is considered "Helpful" by Google?
Google has also shed some light on this in its blog article. Essentially, it "focuses on people-first content". Google then shared that it has issued long-standing advice and guidelines to create content for people, not for search engines before.
It elaborated that "People-first content creators focus first on creating satisfying content, while also using SEO best practices to bring searchers additional value.". I have learned from some SEO practitioners before that you need to have a search engine-first approach in writing and then humans second, since if your article cannot even be discovered by the search engine, then there is no way humans can read it.
Yet, Google is telling us that this is putting the cart before the horse and we should write for humans first. Google is saying that if you focus on creating content for people that is satisfying, the SEO will naturally follow.
So instead of focusing on the technical SEO details, Google is saying that we should focus on creating great content. Google has also given the following questions for us to gauge whether we have a people-first approach in producing helpful content:
Do you have an existing or intended audience for your business or site that would find the content useful if they came directly to you?
Does your content clearly show first-hand expertise and a depth of knowledge (for example, expertise that comes from having actually used a product or service, or visiting a place)?
Does your site have a primary purpose or focus?
After reading your content, will someone leave feeling they've learned enough about a topic to help achieve their goal?
Will someone reading your content leave feeling like they've had a satisfying experience?
Are you keeping in mind our guidance for core updates and for product reviews?
From the questions, we can see that there is a lot of emphasis on satisfying the search intent of readers, first-hand experience, and depth of knowledge. They also mentioned about product reviews.
I guess that they may have discovered some product review websites providing inaccurate information, so, in response to it, they highlighted these points.
Now that we know what is considered "helpful" by Google, then what is considered "unhelpful"?
What is considered "Unhelpful"?
Google suggested avoiding creating content for search engines first and they have given a list of questions to help provide guidance:
"Answering yes to some or all of the questions is a warning sign that you should reevaluate how you're creating content across your site:
Is the content primarily to attract people from search engines, rather than made for humans?
Are you producing lots of content on different topics hoping some of it might perform well in search results?
Are you using extensive automation to produce content on many topics?
Are you mainly summarizing what others have to say without adding much value?
Are you writing about things simply because they seem trending and not because you'd write about them otherwise for your existing audience?
Does your content leave readers feeling like they need to search again to get better information from other sources?
Are you writing to a particular word count because you've heard or read that Google has a preferred word count? (No, we don't).
Did you decide to enter some niche topic area with no real expertise, but instead mainly because you thought you'd get search traffic?
Does your content promise to answer a question that actually has no answer, such as suggesting there's a release date for a product, movie, or TV show when one isn't confirmed?"
From this list of questions, we can see that a focused approach is favored by Google so you would need to put in more thoughts and be more intentional when planning what topics to write for your blog.
They also mentioned about automation and this is probably the part that caused panic in many who use AI writers. The part on the word count busted the myth that some in the SEO community believe that the longer a blog article, the better.
My Take On This Helpful Content Update 
My take on this update is as follows:
The importance of focusing on content quality.
With this update, Google is nudging us to focus on quality over quantity. Google has always been about giving searchers the best answer to their questions and this update is just an affirmation of that.
This update also highlights the importance of creating in-depth content. Google wants us to write articles that are helpful and informative, to provide searchers with everything they need to know on a topic.
This is a good development.
This is good for the readers/ searchers, as the Google search engine will prioritize high-quality content over garbage. In this age of information overload, the last thing we need is reading more low-quality blog articles that need us to sieve through and waste our time.
It's also a good development for thoughtful creators who create helpful information for the readers. Google has always been in the business of providing relevant and quality search results to its users and this is just another Google update that reaffirms its commitment to that.
However, while the intention is good, we still need to observe what results from implementation, as with all updates. So it will probably take weeks or even months for the full effect to be seen.
This means that as content creators, we need to be more intentional about the topics we write on our blog and make sure they are helpful to our target audience. We should also provide in-depth analysis and first-hand experience instead of writing for the sake of writing or because everyone else is doing it.
Need to diversify platforms for blog traffic.
Another insight I gained from this update is that we should not put all our eggs in one basket. Google has been and will continue to be a major source of traffic for many bloggers, but with this update, the traffic from Google might dip if your content is not helpful.
Thus, you need to get traffic from different sources such as Bing, Social Media, and Email Marketing. This way, even if Google traffic decreases, you will still have other sources of traffic to rely on.
Need to do an audit on your blog.
If you are worried about this Google update, I would recommend that you do an audit of your blog. This includes checking the topics you are writing about, the quality of your content, and whether you are providing value to your readers. Make a plan to improve the quality if you found some to be not so helpful.
More planning before writing the article.
Before writing the article, take some time to plan out the topics you want to cover. Make sure that they are helpful and relevant to your target audience. Also, provide in-depth analysis and first-hand experience instead of writing for the sake of writing or because everyone else is doing it.
What can you do to avoid having issues with this update?
The following are some dos and don'ts to consider:
Dos:
Focus on producing people-first content: Keep it relevant, useful, and helpful to your audience.
The Importance of Expertise and Authenticity: Build your Authority and E.A.T (expertise, authoritativeness, and trustworthiness).
Make sure that your site provides enough value to make visitors want to stick around.
Don'ts:
Avoid creating content for search engines first.
Don't load webpages with extra content you think will work well with search engines.
Avoiding clickbait headlines, and stuffing keywords into articles.
Conclusion
The Google Helpful Content Update is an update that emphasizes the importance of creating quality content that is helpful to the readers. As a content creator, you should be more intentional about the topics you write on and provide in-depth analysis and first-hand experience (i.e. build topical authority). You should also try to get traffic from different sources such as Bing, Social Media, and Email Marketing.
Do you have any thoughts on the update? Let me know in the comments below!
FAQ
How long will it take to see results if you remove unhelpful content? 
Google shared that "Sites identified by this update may find the signal applied to them over a period of months. Our classifier for this update runs continuously, allowing it to monitor newly launched sites and existing ones. As it determines that the unhelpful content has not returned in the long-term, the classification will no longer apply."
Thus, it may take months before the results improve.
How to Know if Your Site Has Been Hit?
The goal of the helpful content update is to provide better, more relevant information to searchers. Pages that don't help users will suffer from a decrease in rankings and traffic.
If you've noticed a decrease in performance since the update, there are several things we suggest checking out. Here are some of my recommendations: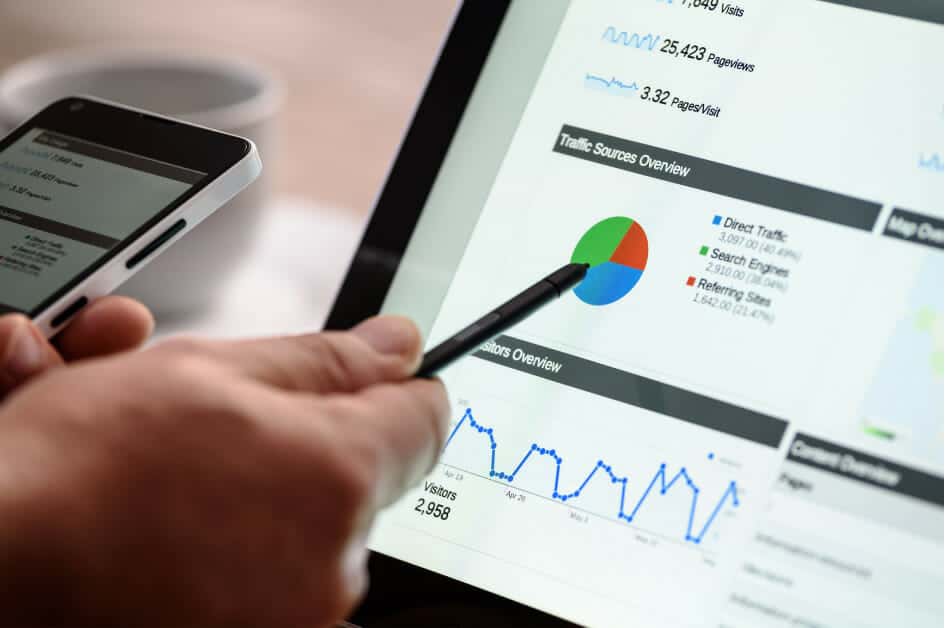 1. Check Your Performance Metrics – Make sure you're seeing a similar amount of traffic coming into your site as before. You can do this using Google Analytics.
2. Look At Your Website – Are you noticing fewer impressions? Fewer clicks? Lower CTR?
3. Monitor Your Competitors – Do they seem to have similar issues?
What does this mean if I have been using AI writers to help generate content? Should I stop using it?
Using automated software to produce content is not necessarily bad, but you need to be aware of the limitation of such software. For example, AI is not good with current affairs or developing stories, as its training is largely based on past data.
You would always want to fact-check any information generated by AI to ensure it is accurate and up-to-date. The other thing is that you can use AI to assist in your writing, but not just rely on it to produce the entire article with no checking or editing.
If you have been using AI writers, I would recommend doing a review of your content to see if it is truly helpful and relevant to your target audience. If not, you may want to consider other methods of content generation, such as hiring a freelance writer or writing the content yourself.
Is SEO no longer relevant with this update?
No, based on what Google shared, SEO is still very relevant. Google said that " this update does not invalidate following SEO best practices, such as those covered in Google's own SEO guide. SEO is a helpful activity when it's applied to people-first content. However, content created primarily for search engine traffic is strongly correlated with content that searchers find unsatisfying."
Thus, the difference is in the intention and approach. You should write helpful and people-first content first and then follow SEO best practices and not produce content simply for the sake of SEO.