Make Short Videos Online for Big Impact: How I'm Using This New Trend
Short videos are the new king of online content. Given the prevalence of social media and our increasingly limited attention spans, short videos have emerged as the preferred format for video marketing. If you're not already making short videos online, you could be missing out on a big opportunity to reach your target audience and make a big impact.
In this article, I'll be sharing my experience as a content creator in switching from making long-form videos on YouTube to creating highly impactful short videos, and providing helpful tips along the way. Read on if you want to learn more about optimizing your video marketing strategy with this exciting new trend!
DISCLOSURE: Some of the links that I share in this article ARE my affiliate links. This means I may earn a commission, at no extra cost to you. In fact, sometimes you'll get a discount or free credits just FOR using my link. 🙂
What I have been doing in the past
If you've been keeping up with my blog or content, you probably know that I've been consistently posting longer YouTube videos since last year. I tried to create one video a week for those blog posts I have already written in the hope of getting more traffic to my blog.
My previous workflow for making videos
After selecting a topic, I would start by preparing the script and slides for my video and then record the video on my desktop. The video editing process was done in a different app and the final result was uploaded to YouTube and published for everyone to watch.
This might sound straightforward forward, but there is much work involved. The problems with creating long videos are that they are often time-consuming (it is laborious to edit the video even with good editing tools), difficult to package into social media platforms, and sometimes even hard to watch through to the end.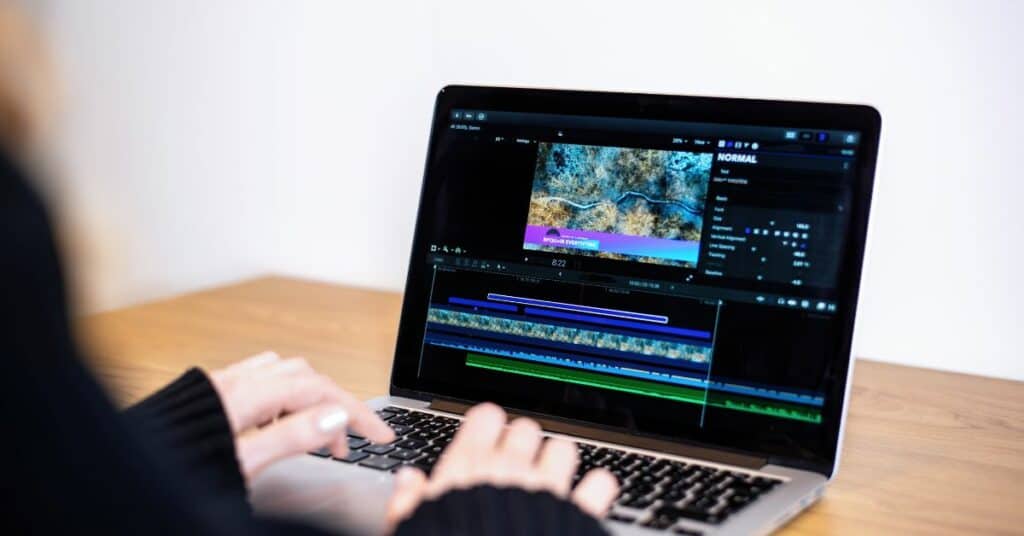 What's worse was that sometimes technical problems occurred during the recording (for example, no sound was recorded) but I did not realize it. In the end, I had to re-record the whole video a few times just to get it right. It was very frustrating!
So it became a chore to me and I felt like I was making videos for the sake of it rather than creating something that could be truly helpful and impactful. Even though it became something I dreaded, I still persisted in making those long-form videos thinking that it was just what I had to do.
A suggestion to change strategy
Then, I attended a Video Secrets Masterclass by my video coach Sue Moss and during the Q&A session. I shared with the class my frustrations with making longer-form videos. She suggested that I cut back the recording of long-form videos to once a month and try making short videos instead.
I felt so relieved by her suggestion as I never thought of doing that myself. It was a great idea that she planted in my mind. However, I did not act on it right away as I did not know how to make short-form videos.
This is even though I knew that the trend is towards short-form video with the rise of TikTok, I had been hesitant as I do not have any experience in it. Many social platforms such as IG, Facebook, and YouTube have been following suit to come up with short video formats.
Read Related Post
Making short videos online
So after the masterclass, I took some time to research and learn more about short-form video and their formats. The following is what I have learned.
Why short videos?
Short videos are a great way for grabbing attention quickly. It can make a big impact on your audience since they can be consumed quickly without any major time commitment. It's also much easier to repurpose these shorter clips on other social media platforms. Short videos are great for storytelling and capturing the essence of your message in a few seconds.
Furthermore, short videos can potentially get more views than longer videos, as they are often more engaging and easier to consume. Short videos are also more likely to be shared on social media platforms, which can increase their reach and visibility. 
Platforms with short video forms
Several social media platforms specialize in short-form video content, and they have different video formats, including:
TikTok – a popular app for creating and sharing short videos, often set to music or sound bites.
Instagram Reels – a feature within Instagram that allows users to create 15 to 30-second videos with music, filters, and other effects.
YouTube Shorts – a relatively new feature of YouTube that allows users to create and share vertical videos up to 60 seconds long.
Facebook also has several features that support short-form video content, and they are listed below: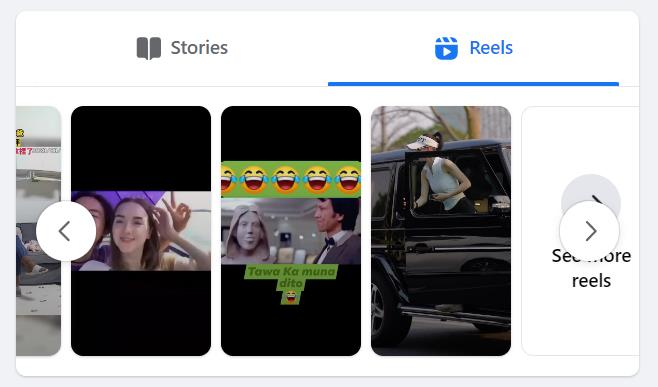 Facebook Stories – Like Instagram Stories, Facebook Stories allow users to share photos and videos that disappear after 24 hours.
Facebook Reels – Facebook's answer to Instagram Reels, this feature allows users to create and share 15-second videos with music, filters, and other effects.
Facebook Watch – Facebook's video platform, which includes a variety of short-form video content, including news clips, comedy sketches, and other entertainment content.
Facebook Live – A feature that allows users to broadcast live video to their followers, which can also be saved and shared later as shorter clips.
The most common format for a short video on most social media platforms is vertical video. This means that the video has a 9:16 aspect ratio, which is taller than it is wide. This is because most people view social media on their mobile devices, which are held vertically.
By creating videos in a vertical format, they take up more of the screen and are easier to view without having to turn the phone horizontally. Besides the aspect ratio, most social media platforms have specific requirements for the length of short videos.
For example, TikTok videos can be up to 60 seconds long, but the most popular videos on the platform are usually 15 to 30 seconds in length. Instagram Reels videos can also be up to 60 seconds long, but the recommended length is 15 seconds or less.
| Platform | Maximum Video Length | Recommended Video Length |
| --- | --- | --- |
| TikTok | 60 seconds | 15-30 seconds |
| Instagram Reels | 60 seconds | 15 seconds or less |
| YouTube Shorts | 60 seconds | 15 seconds or less |
| Triller | 30 seconds | 15 seconds or less |
| Snapchat Spotlight | 60 seconds | 60 seconds or less |
| Byte | 6 seconds | 6 seconds or less |
Another common feature of short videos on social media platforms is the use of captions or text overlays. This is because many viewers watch videos without sound, so adding captions can help to convey the message of the video more effectively. Text overlays can also be used to add context, provide more information, or create visual interest within the video.
How to make short videos?
The process to make short videos online is not much different from recording longer ones. You still need to plan out the content that you want to convey and use visuals to support it. The difference lies in the duration of the video, the content that you want to show, and how quickly you can get your message across.
To make short videos, start by thinking about what story or point you want to get across. Then decide what visuals will best support this story or point and plan out the order of these visual elements.
Once you have a plan in place, record your video in a vertical format and try to keep it as short as possible. Finally, add captions or text overlays if necessary, edit the video to make sure everything flows smoothly, and upload it to the social media platform of your choice.
My switch to making short videos
After two months of researching and learning, I finally decided that I should try out something different to get bigger results and a better impact. Instead of producing long weekly videos, I produced short videos that will be scheduled more frequently and then one longer video per month.
I found that it's very easy to make short videos with just my phone and the mobile app BigVu. BigVu is a video creation and distribution platform that allows users to create and share professional-quality videos quickly and easily. I use its mobile app to create my script and then its teleprompter function to make short videos with just my phone.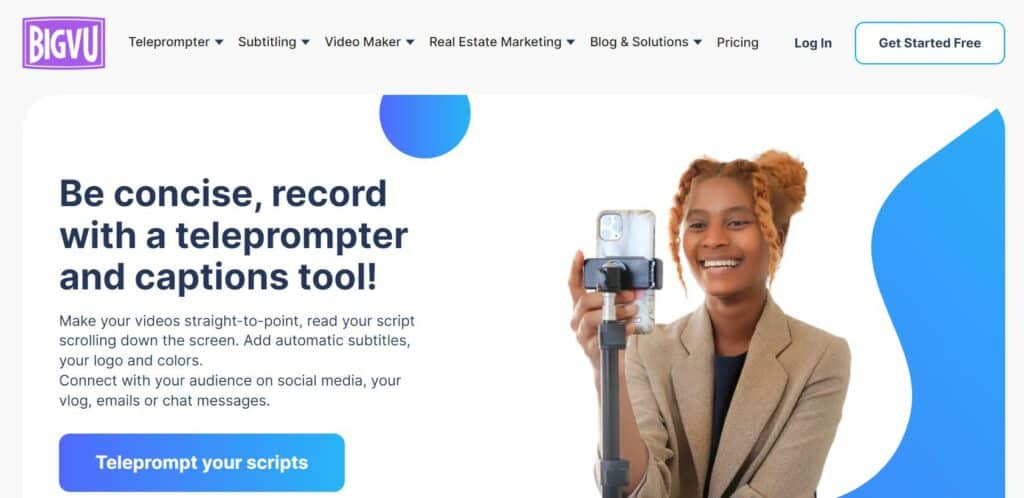 After recording, the app would upload the video to the BigVu server and I can use its editing tools to add background and caption for social media marketing. Thus, it helps me save a lot of time in video production.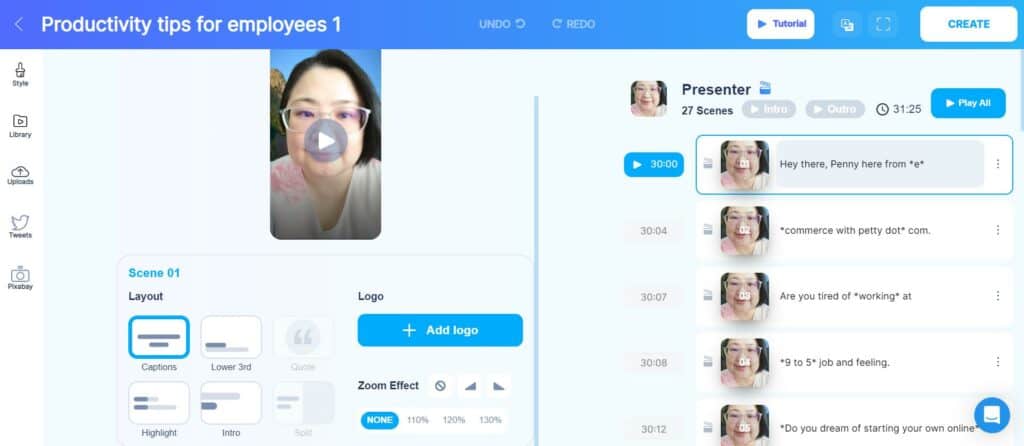 I also tried to further increase my productivity by batching my video production. So instead of recording one video at a time, I recorded 10 one-minute videos at one go and then edit them one by one. This further saved the set-up time for video creation.
I then used SocialBee to schedule the 10 YouTube shorts in one go. Given the common formats of the different social media platforms, you can repurpose the same video for different platforms once the video is made.

What I gained by making the switch
After experimenting and learning from my mistakes in the process, I'm happy to say that I now have a better workflow and strategy for creating videos in my quest to make short videos online.
The best part about switching to this new format of video is that I can now produce more videos in less time. And the whole production process is much easier. I get to experiment with different content and styles, which helps me reach a wider audience and be more creative with my content.
Not only would it take less time for me to create and edit them, but I can also reach more people with my content. This is because I could spend more time promoting the videos using different platforms such as TikTok, Instagram Reels, and YouTube Shorts rather than wasting time editing the videos.
These days, I'm confident that I can create high-quality short videos online quickly and effectively while still making sure it resonates with the audience. My goal is to make more compelling stories that viewers can relate to, learn from, and be inspired by.
The key takeaway is to focus on what matters (the 20% in the 80-20 rule) and create quality content that can be easily digested – no more than 60 seconds! Focusing on the message and making sure that it is concise yet effective are crucial in making impactful short videos.
Conclusion: make short videos online
Switching to make short videos online has pushed me out of my comfort zone and made me more productive in the process. I will share more about my result of using short videos in a future post. In the meantime, I would love to hear about your experience in making short videos and how you're using them to increase your impact. Let me know in the comment section below!
Check out BigVu if you need to make professional short videos quickly and easily! It's the ultimate platform for creating and distributing impactful videos. Try it out today and see what you can achieve.
P.S. And if you subscribe to BigVu with my special promo code "J40JZPhj", you will be able to get $20 discount.