Longshot.ai Review: The AI Writer That Will Help You Write Better, Faster
If you're like me, then you sometimes find yourself struggling to come up with ideas for new blog posts or articles. You sit down at your computer, and all of a sudden, nothing comes to mind. This can be a major roadblock when it comes to content marketing. But what if there was an AI writer that could help you write better and faster? Well, there is, and it's called Longshot.ai.
In this Longshot.ai review, we will take a look at how the AI writer works and how it can help you improve your writing skills.
DISCLOSURE: Some of the links that I share in this article ARE my affiliate links. This means I may earn a commission, at no extra cost to you. In fact, sometimes you'll get a discount or free credits just FOR using my link. 🙂
What is Longshot.ai and what does it do?
Longshot.ai is an AI (artificial intelligence) writer and GPT-3 tool that specializes in long-form content generation. It helps you write better and faster by streamlining the research process of blog writing for you.
By following its step-by-step guidance, you can easily create long-form blog posts. With Longshot, you can easily produce articles, videos, and blog posts on a variety of topics.
Who is Longshot.ai for?
Longshot.ai is for anyone who wants to improve their writing skills. Whether you're a blogger, marketer, content writer, or business owner, Longshot.ai can help you write better and faster.
What are its features?
The main feature of Longshot.ai is its blog template, which has a writing wizard that guides you through the writing process and topic research. In addition to this, it has 40 short-form templates available.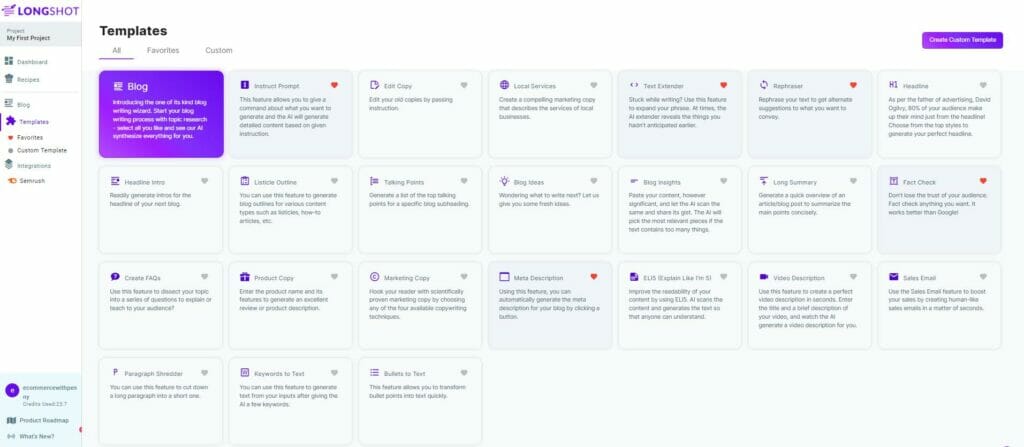 Since the account I have access to is one that I won in a giveaway when the app first launched, the number of templates is lower than that of an account with a paid subscription. Thus, you probably don't see all the features in the screenshot I provide here.
Of the short-form templates, there are some related to blogging as well, and they are blog ideas generator, headline generator, headline intro generator, meta description generator, blog insights generator, blog intro generator, keywords to text generator, bullets to text generator, personalized content generator, Listicle Generator, Listicle Outline Generator, summary generator, conclusion generator, talking points generator, plagiarism checker, and FAQs generator.
The fact checker is for factual accuracy, and content claim detection detects any suspicious claims in the content. The Semantic SEO Score Generator generates a semantic SEO score for your content to check for improvements and suggestions. There is also a Facts Generator that generates a fact sheet based on the top SERP results for that search query. 
There are also tools for general writing. These include content rephraser, text extender, paragraphs shredder (a long paragraph into a short and easily digestible one), Write More, content expander, Instruct AI Prompt (instruct the AI to write as per your command), Writer's Block Remover, Synopsis Generator, content readability improver (makes your text easy to read that even a five-year-old can understand)
Tools related to copywriting include AIDA (which stands for Attention, Interest, Desire, and Action) copywriting framework generator, BAB (which stands for Before – After – Bridge) copywriting framework generator, PAS (which stands for Pain, Agitate, Solve) copywriting framework generator, FAB (which stands for Features – Advantages – Benefits) copywriting framework generator.
Tools related to emails such as sales email generator and tools related to e-commerce such as product description generator, Product Review Generator,  and Local Services Description Generator. There is also a tool related to videos which is a video description generator.
You can even create a custom prompt for your specific use case by using the Custom Template Generator.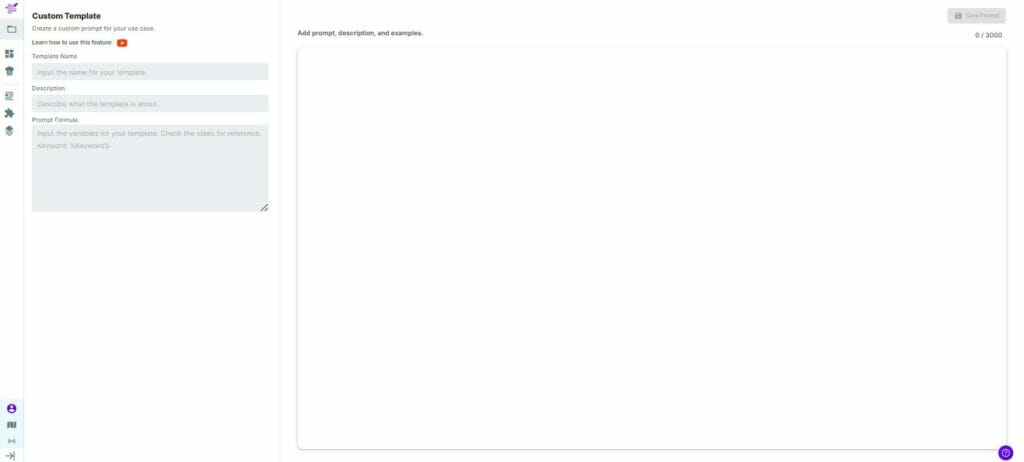 How does Longshot.ai work?
I will break down the steps involved in long-form blog creation below since it's the selling point for longshot to provide you with an insight into how it works.
Step 1: Research your niche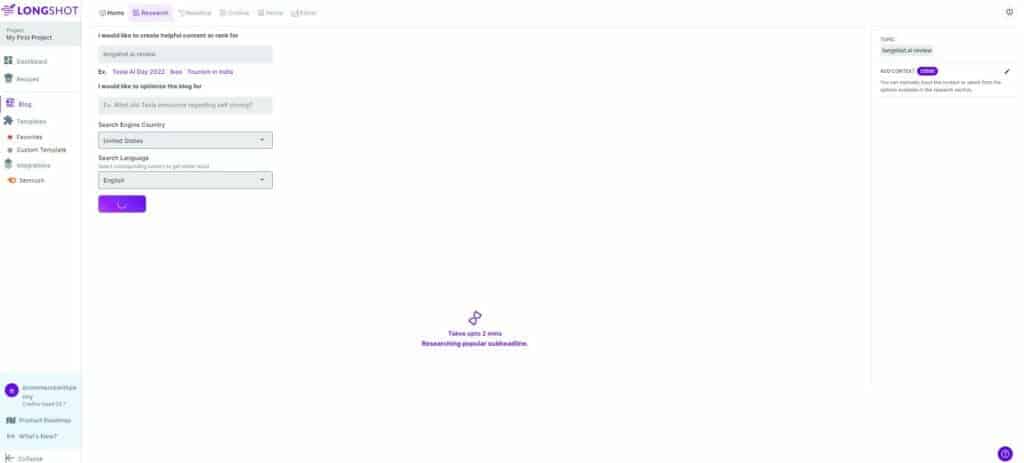 First, you enter the content topic you would like to create content for. The app will generate a list of relevant keywords, popular headlines, top questions, and a fact sheet based on your topic for you to choose from. You need to select 500 words among them to form the context for your writing.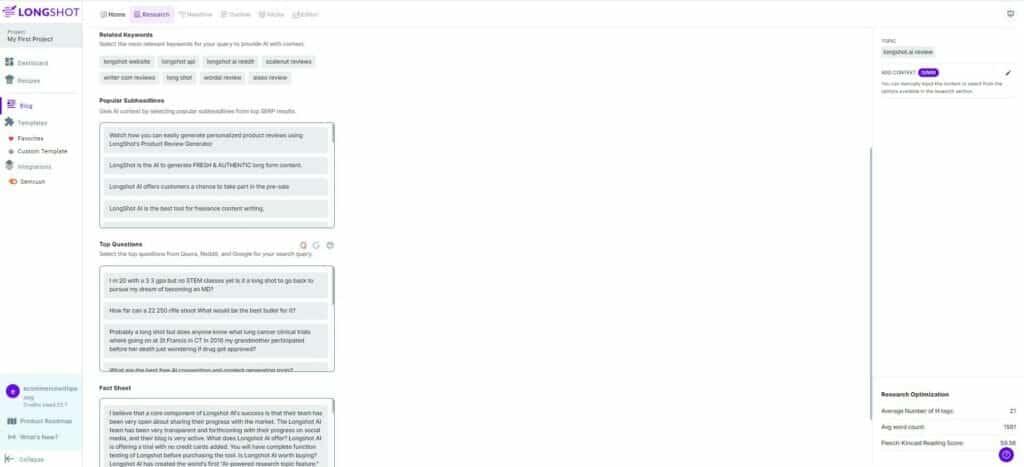 Step 2: Generate potential headlines for your blog post
Longshot.ai then helps generate a list of high-quality headlines for your blog post based on the keywords you enter. There are different types of headlines, such as Listicles or Call-to-action.

This can be a useful starting point for writing your blog post, as it can help to generate ideas and make sure that your headline is attention-grabbing and will draw in readers.
Step 3: Create a content brief

You are asked to select several blog outlines you would like the AI to generate. This can range from 3 to 10. The AI then generates sub-headings for you to choose from. It also lists out the top 10 competitors' sub-headings for you to refer to.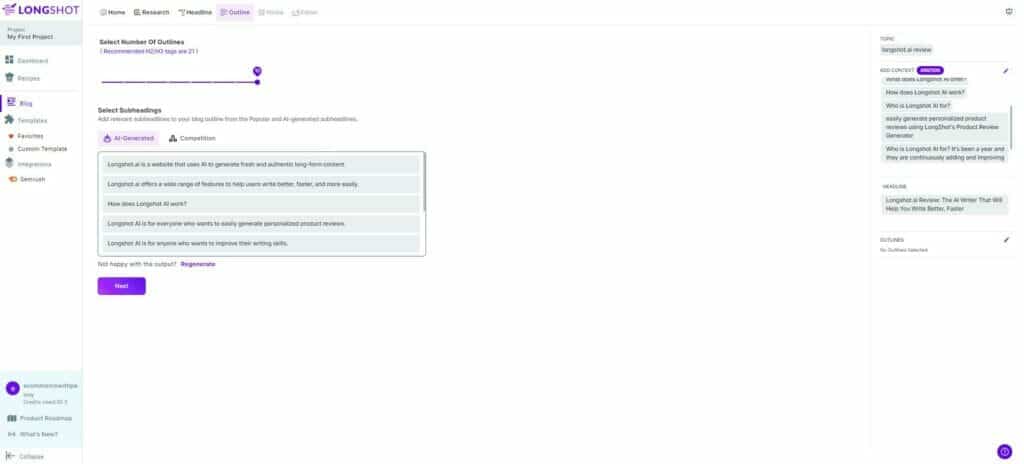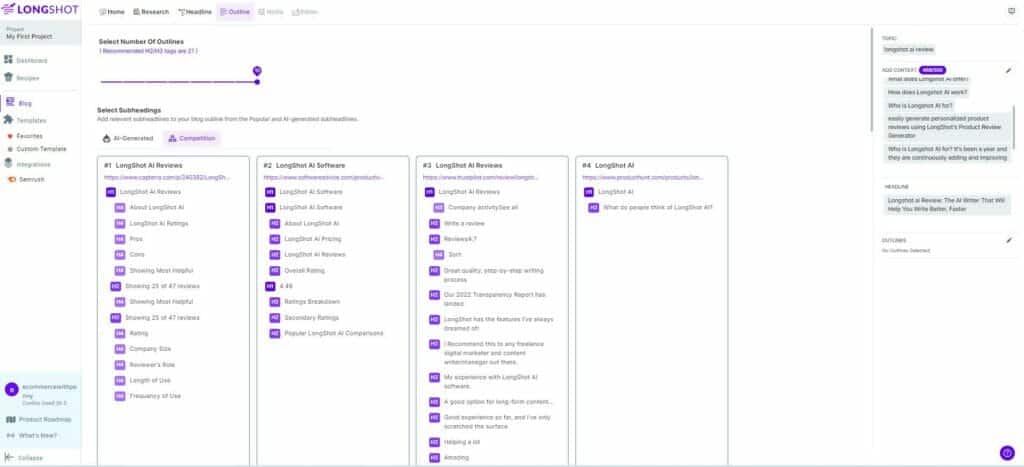 Longshot.ai offers 15 different niches to help you narrow down your focus. It then helps you create a content brief in seconds by tweaking a few details.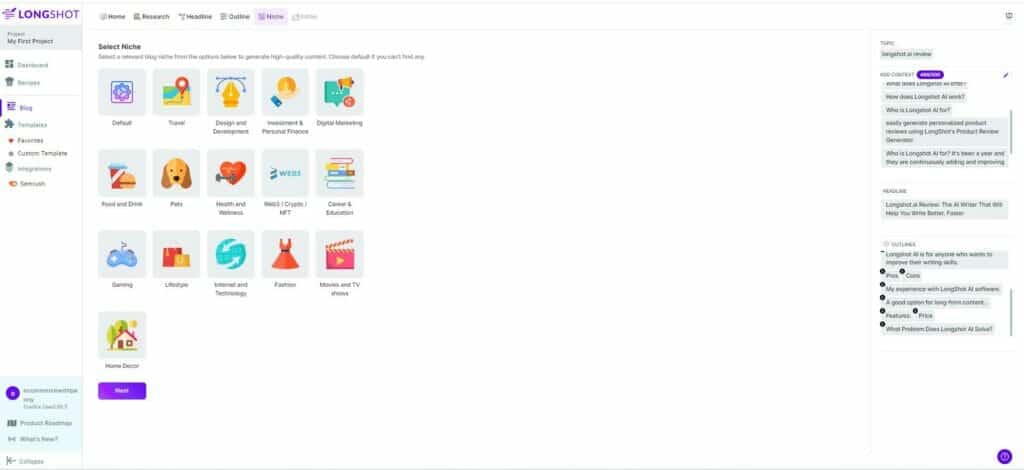 Step 4: Editor
Finally, you are led to the editor page, which has the title, introduction paragraph, and sub-headings all outlined. You can then use its AI content writing tools to expand on the sub-sections and compose the entire article.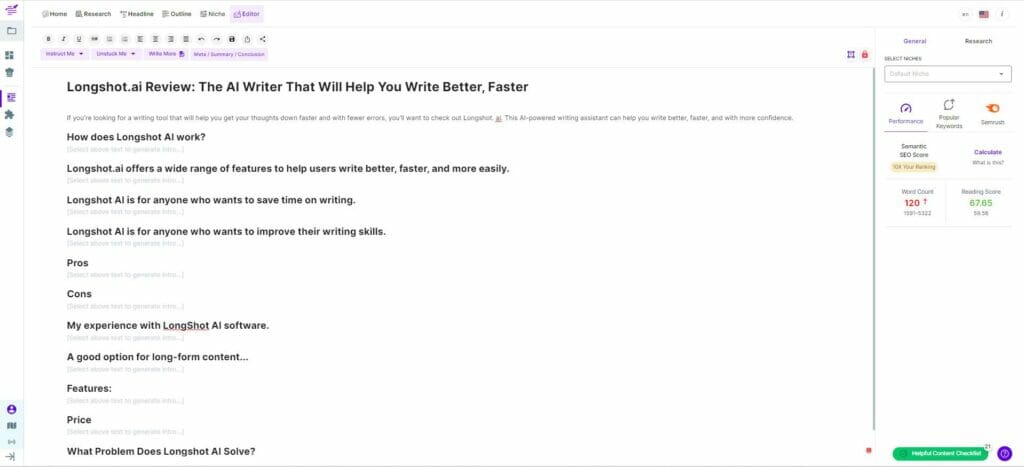 The system has a collaborative editor, which allows for easy sharing of content. Longshot.ai helps you improve your content by giving you feedback on your writing and suggesting ways to improve it.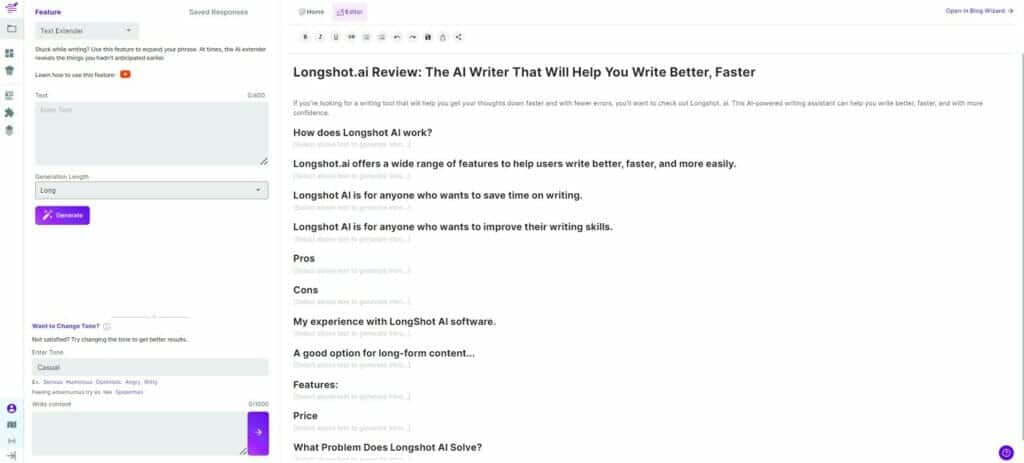 Longshot.ai benefits
The Longshot interface is simple and easy to use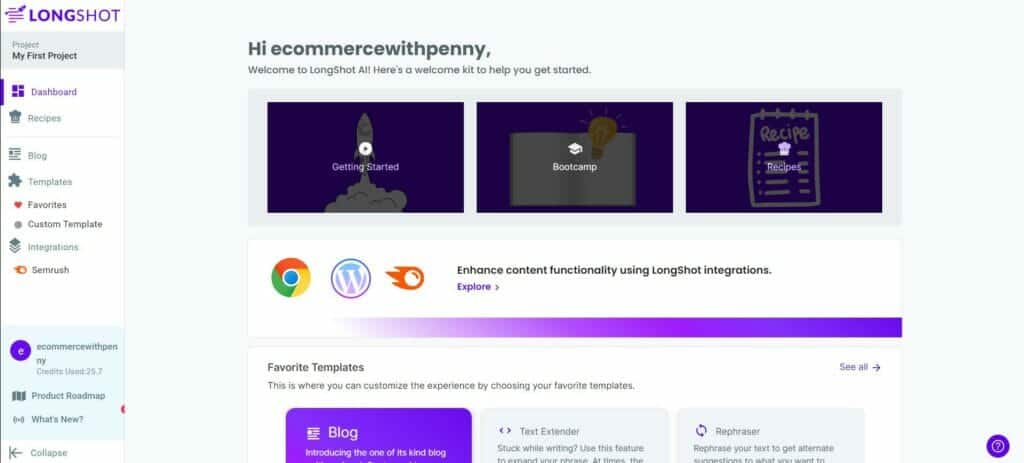 Longshot.ai provides a structured process for anyone without any prior experience or expertise in blog writing. It is simple to use and doesn't need any special skills or knowledge to get started.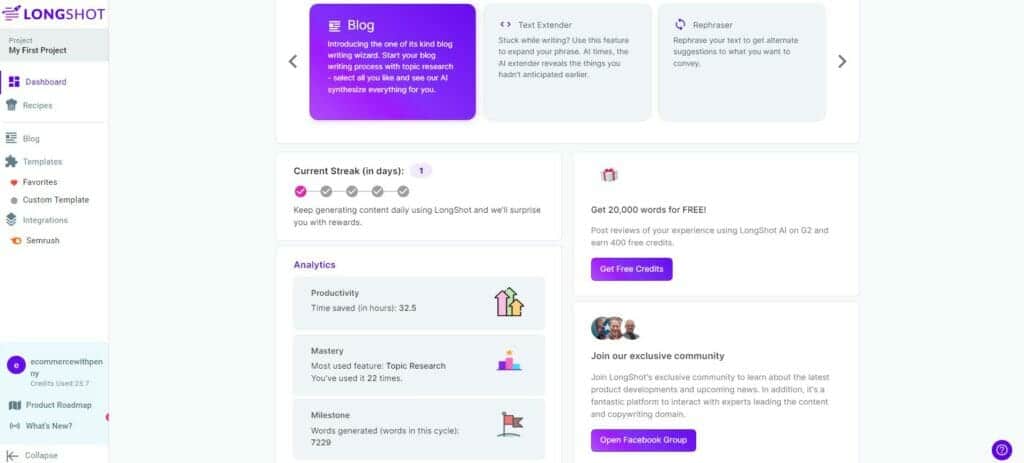 With this platform, you can generate well-written, longer pieces that are likely to attract customers because of their high-quality content.
Help you write better, faster
Longshot.ai can help you write better and faster by helping you create well-researched and well-written articles in a fraction of the time it would normally take you. Just enter a topic and outline, and Longshot.ai will take care of the rest, creating a well-researched, well-written article from start to finish.
Generates authentic, fact-checked content
The fact-checking tool helps verify the accuracy of a text, which then allows you to publish content that is accurate and trustworthy.
Semantic score helps you improve your writing
The semantic score of your article can be found by comparing your content to related keywords and questions that users ask about the topic. This can then be compared with the scores of other articles on the same topic.
Chrome extension is available
The Chrome extension is available to access features including expand, shorten, rephrase (up to 500 words), and change tone when you work in other Chrome-based applications such as Google Doc and is not limited to using it in the app itself. This is very useful and convenient.
Longshot.ai drawbacks
One of the drawbacks of Longshot AI is that it can only be used on a desktop and is not available as a mobile app.
Another drawback is that it doesn't support a lot of languages as compared to some other AI writers. Currently, it can read and write in 8 languages including Spanish and French only.
During the research phase, I used to be able to select some good information to be included in the context. However, that has been cut down to 500 words in a recent update which severely limit the information that can be included.
What problem does it solve?
I think longshot solves the following problems for its users:
You want to write a blog post, but you don't know where to start. Longshot guides you through the process from beginning to end. You just need to follow its prompt and you can come up with a well-researched blog article in a short amount of time.
You have a lot of information in your head, but you don't know how to organize it and turn it into a cohesive article. Longshot takes care of the organization for you, so all you need to do is write.
You are not sure how good is your writing. This is addressed by Longshot offering feedback on your writing so that you can improve your skills.
What I like about Longshot.ai
I have been a Longshot.ai user for one and half years. I use a couple of AI writers to help me with blogging. Usually, I would start with keyword research using another keyword research software, and then I would use Longshot to do more in-depth research for the blog post I wanted to write, generate blog titles and meta descriptions, and also fact check.
I find that the blog titles it generated gave me a good idea of how to create interesting titles while it can usually produce good meta descriptions based on the introduction paragraph I created.
The fact-checking feature is very useful and quite thorough, thus saving me time. I also like that it can calculate the semantic score for my article compared to that of other ranked articles.
Last but not least, I like that it is constantly updated and in tune with the latest developments in search engines, such as Google updates and SEO (Search Engine Optimization) with their SEO tools. For example, it provides a helpful content checklist for you to refer to when generating content in response to Google's recent helpful content update.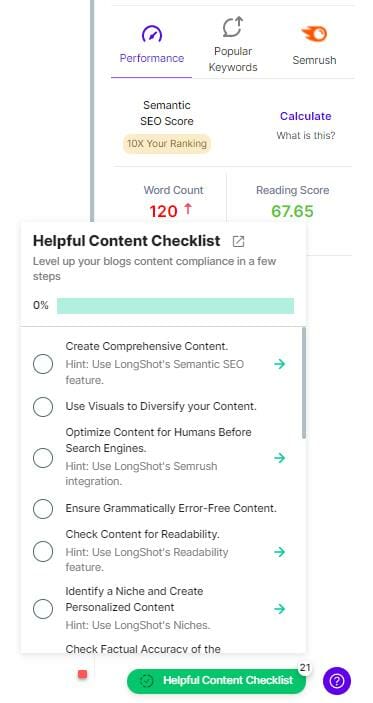 What I dislike about Longshot.ai
Generally, I like longshot as it's different from general-purpose AI writers and focuses on helping us produce blog articles and saving time.
How much does Longshot.ai cost?
Longshot.ai offers a basic free trial plan (with no credit card required) with 50 credits on signup and 10 free credits per day with all core features to let you try out the software. The free plan also includes the Chrome plugin.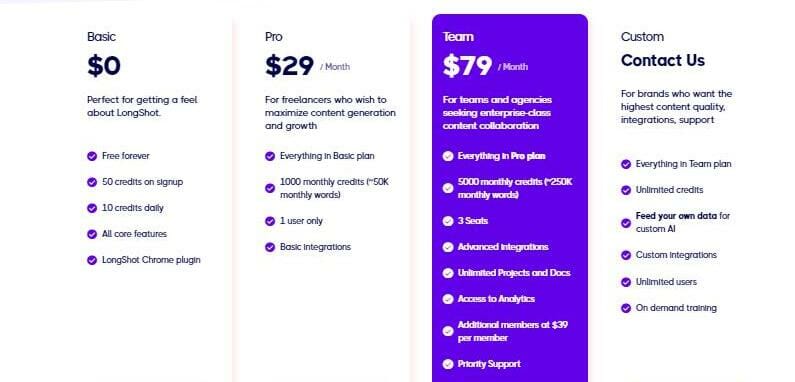 For paid plans, it is available starting with a monthly plan or an annual Pro subscription costing $39 per month (or $29 per month if you pay yearly). They also have a team plan, which costs $99 per month (or $79 per month if you pay yearly) and has more seats and credits. There is also a 14-day money-back guarantee.
My verdict
My final verdict for this Longshot.ai review is that I would highly recommend Longshot.ai if you are into blogging and would like to save time on research but still want to produce quality blog articles.
How to get started with Longshot.ai
If you're looking to get started with Longshot.ai, the first thing you'll need to do is sign up for an account. You can do this here: https://ecommercewithpenny.com/Longshotai
Once you've created an account, you'll be able to start using Longshot.ai immediately.
Conclusion of Longshot.ai review
In conclusion, Longshot.ai is a great resource for writers of all levels and disciplines. With its easy-to-use interface, long-form content generator, fact-checking tool, collaborative editor, and Chrome extension, it can save you time creating long-form articles while still producing quality articles. So if you're looking for an AI writer to help with your long-form content creation, then Longshot.ai is definitely worth a look!
Thanks for reading my longshot.ai review article! I hope this was helpful and if you have any questions, feel free to reach out! 🙂