How To Write a Blog Post Fast and Boost Your Efficiency: Master the Art
Blogging is a powerful way to connect with your target audience, drive traffic to your website, and establish yourself as an expert in your niche. But the thought of writing a blog post can feel overwhelming, especially when you've got so many other things on your plate.
You are not alone. Many struggle daily with writer's block, lack of ideas, and inefficient processes when writing blog posts. The good news is that you can learn how to write a blog post quickly without sacrificing quality. In this blog post, I'll share some tips on how to write a blog post fast and efficiently.
FULL DISCLOSURE: This page contains affiliate links which means we receive a small commission at no cost to you when you make a purchase. As an Amazon Associate, I earn from qualifying purchases.
Optimize Your Writing Environment to enhance focus and productivity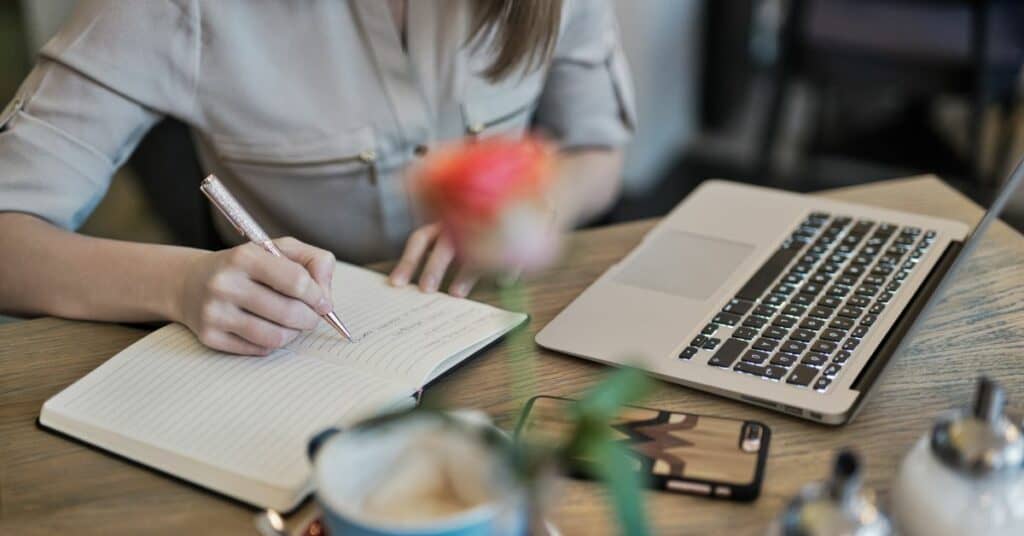 The way you set up your writing environment can make a huge difference in how quickly and efficiently you write. Find an environment that works best for you – is it a particular spot at home such as your desk or a quiet cafe? Make sure the environment is comfortable and well-lit, so you can focus on your writing.
Create a distraction-free environment that will help get the creative juices flowing. Writing in a distraction-free environment is essential for boosting your writing speed. If it is the desk, it can free up valuable mental energy and prevent you from feeling overwhelmed.
Without distractions, you can focus solely on the task at hand and get more done in less time. Distractions such as notifications, emails, and even conversations can take away from the concentration needed to develop detailed ideas and express them clearly. Remove them by closing your email and social media tabs, and turn off your phone notifications.
Studies have found that background music can be beneficial for writing productivity. Try out different genres of music to find the one that suits you best and helps you write faster. This is unique to individuals though. For me, I prefer to work in a quiet environment so that I can concentrate fully on the task at hand.
Make sure that you have all the necessary tools and equipment available. For example, having a laptop with an ergonomic chair or stand can ensure that you stay comfortable while working. Additionally, it's important to have a reliable internet connection so that research is quick and efficient.
Finally, it's important to have some form of soundproofing so that background noises like traffic or conversations don't disrupt your concentration. Investing in noise-canceling headphones can also be a great way to block out distractions while writing. I recommend Sennheiser Momentum 4 Wireless Headphone for this purpose as it's value for money.
Write during your peak energy times
Your body is naturally wired to operate in cycles. Knowing when your body is most alert and productive can make a huge difference on how well and quickly you write any blog post.
If you're not sure when your best work times are, start by tracking how much energy you have at different points during the day. You may find that you feel more energized and creative in the morning or that you prefer to write late at night.
Once you figure out your peak energy times, use those to your advantage by scheduling all your writing activities during these times. If mornings are when you work best, set aside time each morning to write blog posts so that you can get them done quickly and efficiently.
Plan ahead: research and preparation before writing
The more time you spend researching and preparing for a blog post, the less time it takes to actually write it. As a result of this, it's important to plan ahead by doing some research beforehand.
Understand Your Audience and Purpose
Before you start writing, it's crucial to have a clear understanding of your target audience and the purpose of your blog post. Define your goals, research your audience's preferences, and outline the main points you want to cover. This preparation will streamline your writing process and keep you focused.
Brainstorm topics
The key to writing blog posts quickly is to be organized and plan ahead. Take some time to brainstorm topics. This will help ensure that you always have a topic to write about, and you won't waste valuable time trying to come up with ideas.
Keep a keyword list of ideas
When you are researching for topics, take the time to write down any interesting keywords or phrases that come up. Having a list of keywords ready will help you save time when it comes to writing your post because you can quickly refer to them and include related information if needed.
Outline your content
Before starting to write, make a list of the main points and subtopics you want to cover in your post. This will help you organize your thoughts and keep your writing on track.
This will give you a roadmap to follow and help you stay focused on your topic and organized. You'll be able to write faster since you won't be constantly stopping to figure out what to write next.
You can brainstorm your ideas using a mind map to organize them efficiently. This will help you work faster as you can easily access the information that is relevant to the topic when you need it. It also makes it easier to link different topics together while writing, allowing for a more cohesive post.
Read Related Post
Next, do your research and gather all the necessary information before you start writing. Spend time researching the subject, reviewing your sources, gathering facts, quotes and other references to support your content. This will help you write with confidence, and your audience will appreciate the value that you provide.
You can use Google to search for topics ideas by using Google autosuggest, people also ask and related searches. I use Frase to help me with this research process. Frase would auto generate a content brief for me after going through the SERP (search engine result page) for any of my target keywords, so it saves me lots of time.
Read Related Post
By taking the time to plan ahead and do your research, you will avoid getting sidetracked and be able to write the post faster. The main idea is less thinking and more executing during the writing stage later. With the research and outline complete, all that is left to do is write.
Speed Up the Writing Process
Writing fast means knowing how to express your ideas quickly and precisely. To do this, focus on clarity and brevity. Aim for short sentences that are easy to read and understand.
Use simple words over more complex ones, unless absolutely necessary for clarity or specificity. Below are some tips to speed up the writing process:
Use the Pomodoro timer and write your first draft quickly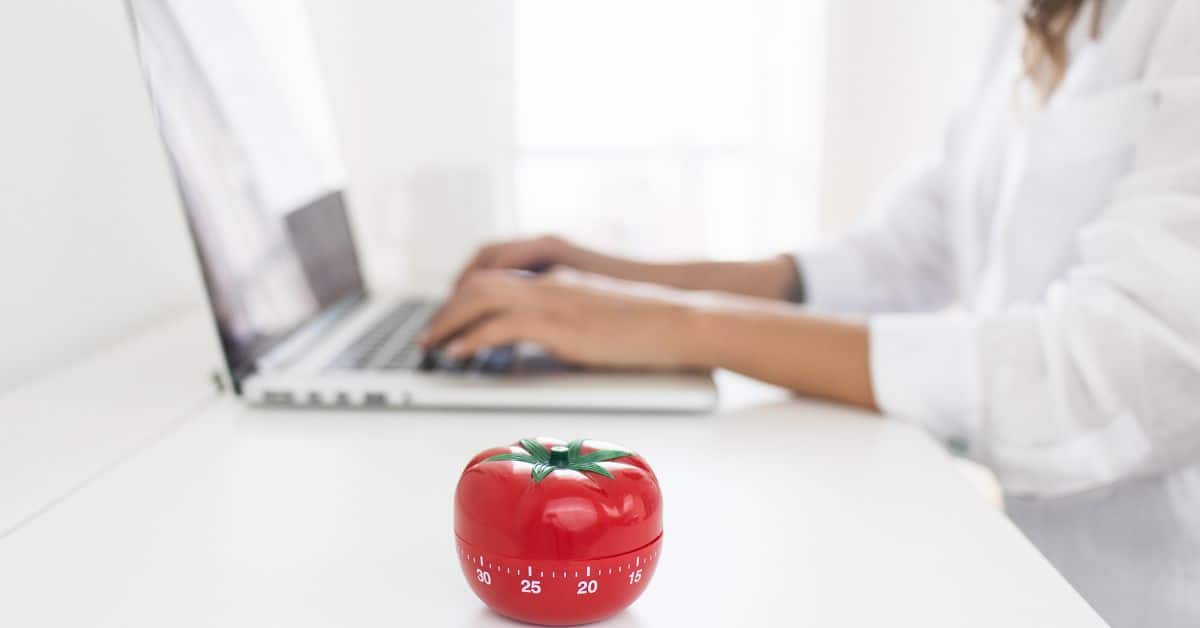 You can use the Pomodoro Technique to help you to write a rough first draft without worrying about perfection. The goal is to move quickly and write a rough draft in one sitting.
It's best to let your thoughts flow freely without any interruptions. Don't worry about grammar, spelling, or typos. Editing as you write is a significant time-waster and can disrupt your thinking process.
Instead, focus on getting your ideas down on paper. The Pomodoro Technique suggests working in short bursts with breaks in between. Set a 25-minute timer to write without interruptions or editing. Take a 5-minute break after each session and a longer break of 15–20 minutes after the fourth session.
This helps maintain energy and focus for extended periods of work. You'll be amazed at how much you can get done if you're intentional and disciplined with your time.
Read Related Post
Adopt a Streamlined Writing Approach
Start with a captivating introduction that grabs readers' attention and clearly states the purpose of your post. Then dive into the main points concisely. Structure your blog post with clear headings, subheadings, and bullet points to improve readability.
Support the points with relevant examples or data. Keep your sentences and paragraphs concise and focused, avoiding unnecessary fluff that only elongates the writing process.
Using active voice is essential when writing a blog post, as it helps to make the information easier to understand and more engaging. Active voice makes your writing direct and concise, removing any confusion or ambiguity. It also helps to keep readers' attention and encourages them to interact with the content.
Try to cut down unnecessary words or phrases that don't add any value to the post. This will help you save time and make your writing more concise and impactful.
Be sure to maintain a consistent tone throughout the post that reflects your brand's voice. Your readers should be able to recognize your style of writing easily, so it's important to keep your language consistent.
Finally, end the post with a conclusion that reinforces your main points and encourages readers to take action. As mentioned earlier, make sure to avoid any distractions while writing – put your phone away or use an app blocker to increase focus.
Once you are done writing, take a break before you start editing. This break will help you to come back with fresh eyes and spot errors that you wouldn't have seen if you had edited immediately.
Keep it simple
When you're short on time, it's important to keep things simple. Stick to a clear and concise writing style, and avoid getting bogged down in details.
Use bullet points and short paragraphs to break up your content and make it more readable. Don't feel like you have to write a 2,000-word masterpiece every time you sit down to blog. Sometimes, a shorter post that provides value to your readers is all you need.
Use the right tools to help Edit and Proofread Efficiently Later
Once you've finished writing your blog post, it's time to edit and polish it to perfection. Check if all the facts are correct and make sure the content is relevant to your topic.
Rather than revising line by line, adopt a systematic approach. Scan for grammar and punctuation errors, ensure logical flow and coherence, and trim down any redundant or irrelevant information.
As this process can be very tedious and mechanical, it is best to use technology to automate it. I use ProWritingAid to help me speed up the proofreading process. It helps to check my grammar and spelling and provides useful suggestions to make my writing better.
Another useful free tool is the Hemingway editor, which can help simplify your writing and make it more reader-friendly. It also tells you the readability and offers suggestions for improving your writing.
Lastly, you can also read aloud your blog post yourself or using a tool to read out for you. This is to identify any mistakes and check if there are any awkward or unclear sentences. I have made a video on how you can do this using Microsoft Edge browser, and you can watch it below.
Finalizing and Publishing
Once you have finished editing and proofreading your blog post, it is time to complete it for publishing. This includes adding visuals, optimizing for SEO, and formatting for readability.
Adding Visuals
Visuals are an important element of any blog post as they help to break up the text, capture readers' attention, and keep them engaged. Look for relevant images or videos to go with your post and enhance its value.
Search for royalty-free images online or consider creating custom visuals such as infographics, slideshows, or screenshots. I use Canva to help create visually engaging graphics for my blog posts.
It's best practice to include alt tags with all visuals to help them rank on search engines.
Optimizing for SEO
Search engine optimization is essential for blog posts, as it helps them to get discovered more easily by your target audience. Before you start writing, do some keyword research and identify terms related to your topic that have the highest number of searches.
Include these keywords organically in the post in the title, headings, subheadings, introduction, and conclusion. Additionally, use outbound links to other websites or resources in your post to boost its credibility.
Formatting for Readability
Formatting is another important step before you hit publish. Break up your content into short paragraphs and include clear headings or subheadings to make it easier to navigate.
Creating Captivating Headlines and Meta Descriptions
Headlines and meta descriptions are key elements of any blog post that have the power to attract readers. A captivating headline should be concise, engaging, and informative, while the meta description should summarize the post in a few words and provide further context.
Tools such as CoSchedule Headline Analyzer can help you come up with catchy headlines and optimize them for SEO. Similarly, you can use AI writers to help craft better meta descriptions.
More tools to help you produce content fast
In addition to the tools previously mentioned, I have compiled a list of valuable writing tools and software to tackle the challenge of how to write a blog post fast and effective:
Use AI writers
You can use AI writers to help you overcome writer's block and maintain a steady flow of ideas. AI writers are automated writing tools that are artificial intelligence-based algorithms that can help you come up with high-quality content quickly.
AI tools can imitate human writing and aid in tasks like generating blog ideas or crafting articles. My favorite automated writing tool has to be Jasper and Frase.
There are many useful AI writers with enhanced and specialized functions that can help you with your writing tasks more effectively. You can check them out from my review article here.
Read Related Posts
Use PLR
PLR stands for Private Label Rights, and it is a type of content that you can buy the rights to use. This content is already prepared and ready to be used, so it can save you a lot of time when writing blog posts.
You can buy PLR packs from sites like Piggy Makes Bank, where you'll find a variety of topics and formats to choose from. You can also customize the content according to your needs and repurpose it into multiple blog posts as well.
This is great for busy bloggers who don't have a lot of time on their hands, as you can get quality content that you can use without spending hours creating them from scratch.
Use writing templates and blog post frameworks
Using blog post templates is one of the most efficient ways to write blog posts quickly. You don't have to reinvent the wheel every time you sit down to write a blog post.
A template can save you time and ensure that your posts are consistent in their structure and formatting. Templates provide a structure and format that can guide you through the writing process. With a template, you can fill in the blanks and tweak the content to fit your style and topic.
Create a template that includes sections like an introduction, main points, and a conclusion. This would help you create blog posts fast and efficiently, as it takes the guesswork out of laying out a post.
Use dictation to write faster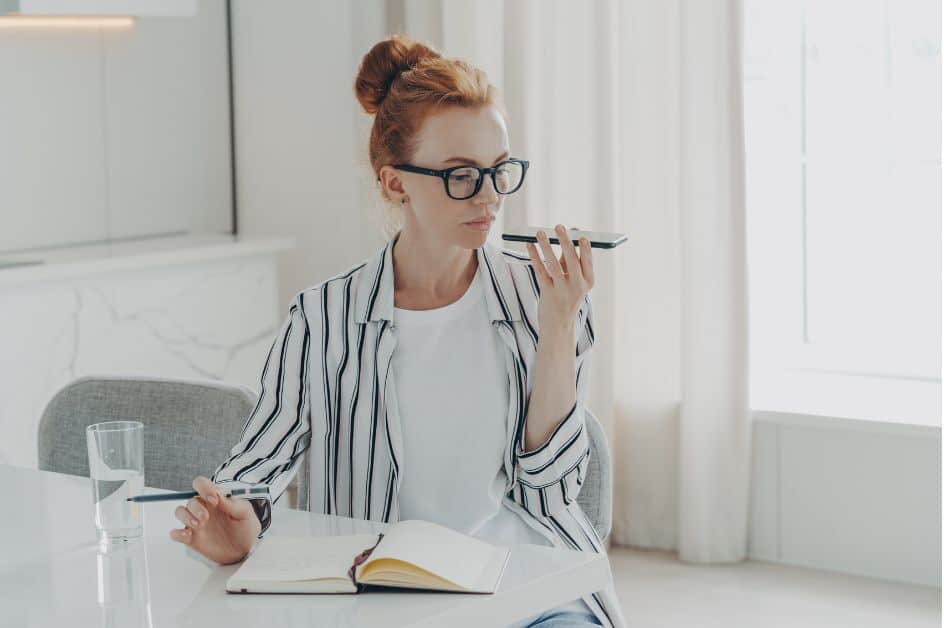 Sometimes, typing can be time-consuming and tedious. To speed up the writing process, you can dictate your writing rather than typing to write your blog post faster. This reduces the time it takes you to get your thoughts down.
Tools like Voice In or Google Speech Recognition are voice recognition software that can convert speech into text quickly and accurately. This is perfect for bloggers who prefer talking to writing down their thoughts.
I use Voice In to help me with the dictation as its recognition is much more accurate than Google's. You can check out my review of Voice In below:
Read Related Posts
How to write a blog post fast: other productivity tips
Besides the tools I mentioned above, here are a few other tips and tricks that can help you write blog posts faster:
Establish an SOP or workflow
Creating checklists for each step of the blog writing process helps to ensure that all necessary elements are included. By establishing a step-by-step workflow or Standard Operating Procedures (SOP), it can help remove any guesswork in the process and speed up the editing process.
For example, the following diagram is my blogging workflow leveraging AI tools:

Having an SOP in place allows you to be organized and efficient with your writing process. You'll know exactly what needs to be done at any given time, enabling you to write faster.
Develop a Consistent Writing Routine
As humans, we are creatures of habit. Having a consistent and regular writing routine helps to develop your writing skills and become more efficient with your time.
Aim to write for at least an hour or two a day, and establish a schedule that works best for you. You can even set reminders on your phone or calendar to help you stay focused and productive.
Write in batches
One of the biggest time-wasters when it comes to blogging is switching back and forth between tasks. Instead of writing one blog post at a time, break it up into smaller chunks and try writing in batches.
For example, you can research all the topics you will be writing next week at one go, or you can write a few blog post titles in one sitting. This helps to keep your momentum going and speeds up the writing process.
Another way to write in batches is to tackle one section or point at a time. This will help you stay motivated and focused, and you'll be able to write more efficiently.
Use a content calendar to plan ahead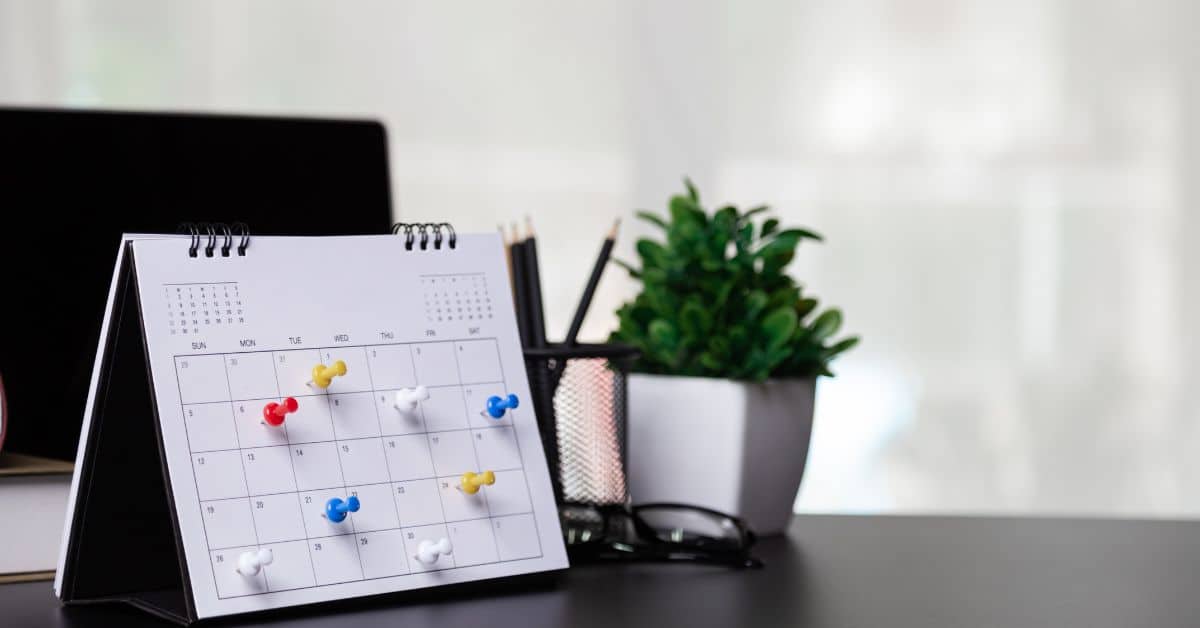 Writing with a content calendar is key to boosting your efficiency. A content calendar allows you to plan ahead, taking into account all the different tasks that need to be done to create high-quality blog posts.
You can use the calendar to plan your topics, research and write blog posts, schedule them for publishing and even market them. This way, you won't be scrambling at the last minute or end up missing deadlines.
Having a content calendar also helps you stay organized and focused while writing, so that you can write more effectively and efficiently.
Overcome mindset issues
Creating a consistent stream of high-quality blog posts can be challenging, and many people struggle with mindset issues that slow down their creative flow. Impostor syndrome, writer's block, and procrastination are common mindset issues that can hinder the writing process.
Impostor syndrome can make you feel like you are not skilled or knowledgeable enough to write a blog post. Suffering from writer's block may impede your ability to effectively express your thoughts, whereas procrastination can result in unmet deadlines and unfinished tasks.
To overcome these issues, you need to adjust your thinking and establish systems and processes to stay focused and productive. One way to tackle impostor syndrome is to recognize that everyone has something valuable to share, and focus on providing helpful information to your readers.
To beat writer's block, try AI writers or methods like free writing, mind mapping, or taking a break and returning to the project later. To fight procrastination, make a schedule, establish objectives with deadlines, and use productivity tools, such as the Pomodoro method or voice typing tools.
Recognizing any mindset challenges and implementing solutions to tackle them can vastly improve your content creation process.
Outsource parts of content creation for faster production
The last tip is to outsource parts of the content creation process if you have the financial resources. Outsourcing can help you create blog posts faster by delegating specific tasks to experienced professionals.
You can hire writers, editors, and designers to help with writing, editing, or design work. This will free up more time for you to focus on other aspects of blogging such as marketing and outreach.
Conclusion on how to write a blog post fast
In conclusion, as an ecommerce entrepreneur, you have a million things on your to-do list. But don't let that stop you from blogging. By taking the time to master the art of writing blog posts quickly and efficiently, you can maximize your productivity and create content that will help you build a successful online presence.
Remember to plan ahead, write in batches, use templates, keep it simple, and stay focused. By leveraging the tools, techniques, and strategies I shared in this article – you can write great blog posts fast and boost your blogging efforts.
Do you have any tips for writing blog posts faster? Share them below! I'd love to hear from you.