The Hidden Costs of AI Writer Lifetime Deals: Why They Aren't Worth It
As an entrepreneur, you're always looking for ways to save money and increase efficiency when it comes to your business. And with the popularity of AI-powered content writers, it's tempting to jump on the bandwagon and invest in these tools for your content creation needs. However, before you commit to a lifetime deal for AI writers, it's important to consider the hidden costs and whether it's worth it in the long run.
In this blog post, we'll explore the hidden costs of AI writer lifetime deals and why they may not be the best investment for your business. While lifetime deals may seem like a good value proposition, they can actually end up being more expensive in the long run.
DISCLOSURE: Some of the links that I share in this article ARE my affiliate links. This means I may earn a commission, at no extra cost to you. In fact, sometimes you'll get a discount or free credits just FOR using my link. 🙂
The Allure of AI Writer Lifetime Deals
Perceived cost savings are one of the biggest draws of AI writer lifetime deals. These deals typically offer you unlimited access to a writing tool for a fixed fee, meaning you can write as much content as you need without worrying about incurring extra costs. This makes it seem like an ideal solution for businesses with large-scale content creation needs.
Read Related Post
While AI Writer Lifetime Deals can seem like a good way to save money, they can actually end up costing you more in the long run. This is because there are hidden costs that you might not think about at first, but that add up over time.
Limited functionality
One of the biggest drawbacks of lifetime deals for AI writers is that they often come with limited functionality. While these tools may seem like a great bargain at first glance, they may not provide the advanced features and capabilities you need to truly maximize your content creation efforts.
This is especially when newer technology is available. This can end up costing you more in the long run when you find yourself needing to invest in more tools to supplement what your AI writer can't do.
Limited updates
Lifetime deals for AI writers may seem like a great investment at first, but they often come with limited updates. This could ultimately lead to frustration and a lack of value for your investment.
For example, Writesonic once offered a lifetime deal for their Starter Plan that included all future updates. However, they changed their pricing plans and no longer provide the Starter Plan.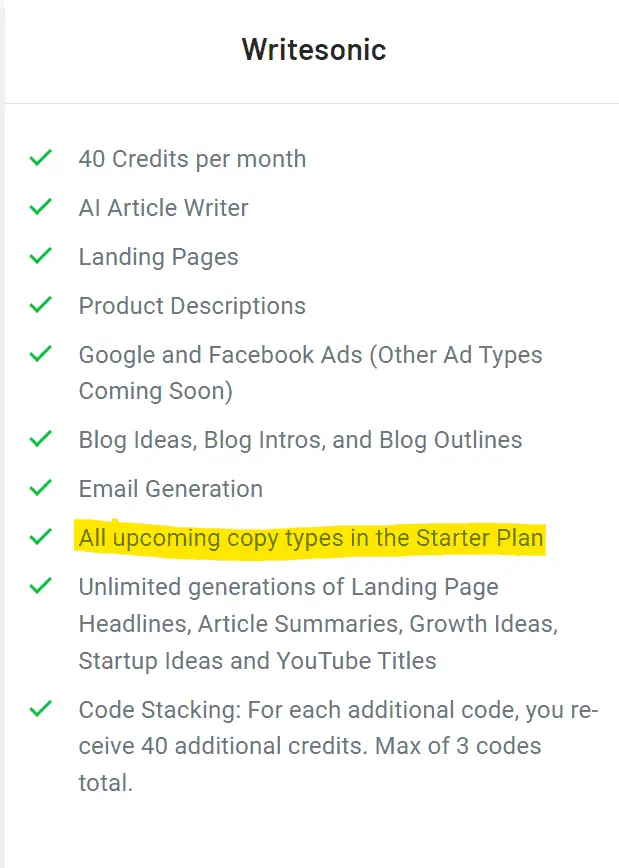 So the company did not provide new features for their software to the customers who had previously bought the Lifetime Deal. This left those customers feeling neglected, even though they were early supporters of the company's product. This practice is most regrettable and left a bad taste for those customers.
Hidden costs of upgrades
Finally, it's important to remember that AI writers are constantly evolving and improving over time. This means that even if you invest in a lifetime deal now, you may still need to pay for upgrades or new versions down the line to stay competitive and keep up with the latest features and functionality. These hidden costs can add up quickly and end up making your lifetime deal less of a bargain than you originally thought.
The lack of flexibility and scalability that comes with lifetime deals for AI writers can be a major hindrance to your business's growth and adaptability. While it may seem like a good idea to invest in a single, fixed-cost solution, you may find that the limited features and capabilities quickly become outdated, leaving you unable to keep up with the competition.
Moreover, you may come to realize that your business is restricted to a limited range of tools and functions, which may not accommodate your organizational growth and transformation.
Risk of tool abandonment or obsolescence
Another hidden cost of AI writer lifetime deals is the risk that the software will become outdated. AI writing tools are constantly evolving, and the technology that was cutting-edge years ago may no longer be relevant today. This means you could end up paying for a tool that is quickly becoming obsolete — an expensive mistake.
The financial sustainability of lifetime deals for providers is an important consideration, as it is not always a sound investment. For the providers, offering lifetime deals can be a risky venture if they are not able to secure more funds through Monthly Recurring Revenue (MRR).
This means that providers may not be able to recoup their investment over the long-term, resulting in losses for both parties. The absence of recurring revenue from AI Writers Lifetime Deals can have a negative effect on tool development. If companies don't have the steady stream of income generated by a recurring revenue model, they may not have enough money to invest in research and development for their tools.
Not updating the technology can make it fall behind the competition, leaving customers with outdated features and capabilities.
The bottom line is this: AI writers lifetime deals can seem like an attractive cost savings solution at first glance, but they can end up costing more in the long run due to hidden costs and lack of flexibility. So do consider your long-term needs carefully before committing to a lifetime deal!
The True Value of Subscription Plans
Rather than investing in a lifetime deal, it may be more beneficial to go with a subscription plan. This way, you can get access to the latest features and capabilities without having to worry about hidden costs or obsolescence. With subscription plans, you enjoy the following:
Regular updates and upgrades
The regular updates and upgrades that come with subscription plans ensure that my AI writers are always up-to-date and equipped with the latest features. This helps me stay competitive in an ever-evolving industry.
Flexibility to switch tools or upgrade/downgrade as needed
With subscription plans, I'm not stuck with a single AI writer for life. I have the ability to switch tools or upgrade/downgrade as needed with no long-term commitment.
This makes it easy to scale my business up or down depending on what I need at the time.
Costs of AI are decreasing with new models being developed
AI writing tools are quickly evolving. This means that newer models can offer better performance at a lower cost, making them more affordable than ever before.
Subscription plans offer flexibility, allowing me to switch plans or use newer AI writers based on my business needs, without any additional costs or hidden fees.
Encouraging providers to continuously improve their product
Recurring revenue models provide providers with ongoing income which allows them to invest more in research and development for their tools. They have an incentive to continuously improve their products to remain competitive and attract new customers.
By offering subscription services, providers can stay up-to-date with the latest technology, ensuring that their product remains cutting-edge. Additionally, they can maintain a regular income stream by encouraging customers to upgrade or downgrade.
Jasper is a great example of a company that recently lowered their prices, added new product features such as brand voice, and improved their competitiveness by offering the unlimited BOSS mode to every subscription plan now.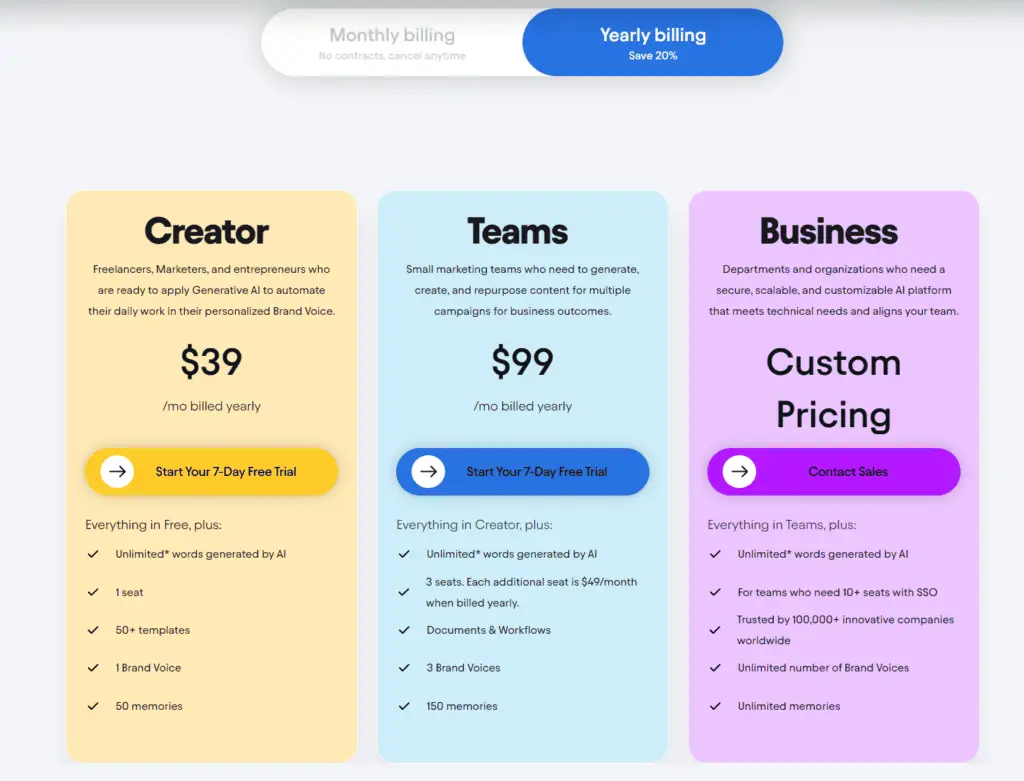 My personal experience with AI writers and lifetime deals
I have been a technology enthusiast and have been very interested in leveraging AI writers in my business since 2021. Thus, I have bought quite a few AI writers lifetime deals before. But I recently realized that this perceived cost savings may not be true after all.
The biggest problem I faced with this approach was under-utilization. I bought many tools but used a very small percentage of them. And worse some of them like Writesonic almost became a white elephant as it doesn't extend new features to lifetime deal buyers.
This is even though we do have a certain number of credits per month, they could have easily extended the new features to us and just deducted our monthly credits accordingly. But they simply chose not to offer new features to us.
After my negative experience with Writesonic, I think it's best to opt for pay-as-you-go plans or monthly subscriptions when it comes to AI writing for cost-effectiveness. Subscription-level service ensures that I have access to the latest features and tools available, which keeps my business competitive and up-to-date.
And if you have limited budget, it is best to start with a lower tier subscription and then monitor your usage and adjust accordingly. With the flexibility of subscription plans, you can always upgrade or downgrade your plan as needed.
Read Related Post
Conclusion
While AI writers lifetime deals may seem like a great investment for entrepreneurs looking to save money and increase efficiency, it's important to consider the hidden costs before committing to one.
From limited functionality, hidden upgrade costs, the lack of flexibility and scalability, there are several factors to consider before making your decision. Ultimately, it may be worth investing in pay-as-you-go plans or monthly subscriptions instead. Don't let the allure of a lifetime deal blind you to the potential hidden costs – do your research and make a smart, informed decision for your business.