Lifetime Deals – What are they and how to Leverage on them in your business
Have you heard about lifetime deals software for business? There are many benefits to purchasing software lifetime deals. The software is purchased for a onetime payment.
What are lifetime deals?
A lifetime deal (or LTD in short) offers you a chance to pay one lump sum instead of making small monthly payments.
It is common nowadays for software as a service (SAAS) to have lifetime deals. This software can provide you with a significant advantage if you will pay a onetime payment. When you are in business, you would want to control costs.
In Chinese, they say to make money you either get more sources of income or reduce monthly expenses. A lifetime deal is one way to do it. In a nutshell, you pay a sum upfront, and that is it.
Why would software companies want to offer lifetime deals?
Why do companies offer lifetime deals? There are primarily a few reasons and they are as follow:
1) The company wants to accommodate their customers' needs;
2) It is easier for the customer than paying monthly.
3) New software companies want to gain initial adopters and early funding for their product.
For instance, Microsoft Office has had lifetime deals in the past, but Microsoft releases new versions of Office software every three years. So the newest version is always better than what has been purchased before.
Nowadays, new software companies also offer lifetime deals to get their first seed capital. The first users' investment can go into developing and maintaining the software. This will substantially lower the cost of customer service. Compared with monthly subscription, lifetime deals offer the customer better price and fewer future upgrade charges.
Why should you be considering lifetime deals?
Apart from helping to control costs for you, another reason is that in the long term you might end up paying the same price as what you would have paid for a lifetime deal. For example, if you pay $5000 for a software whose monthly subscription charge is $49, after 5 years, you will end up paying exactly $27500, which is exactly what you would have paid if you had purchased the lifetime deal.
However, when you start with the lifetime deal and then switch to a monthly plan later on, software companies will offer you special deals to get more money from your pockets.
DISCLOSURE: Some of the links that I share in this article ARE my affiliate links. This means I may earn a commission, at no extra cost to you. In fact, sometimes you'll get a discount or free credits just FOR using my link. 🙂
Best deal site for lifetime deals
There are many lifetime deal sites nowadays. But the most established one is AppSumo. They have a long history of providing customers with great products at the lowest prices. AppSumo offers lifetime deals for a good deal of software and other digital products and services, including Kindle Fire, software app, online course, etc.
In fact, they have further enhanced their offering to more digital products such as creative assets, ebooks and pdfs, templates and even services recently. Therefore, you should definitely include Appsumo in your arsenal for your business.
Also, AppSumo offers its customers several freebies along with lifetime deals such as free e-books or courses or webinars. It is very common nowadays for software companies to offer webinars to their customers to update them on new upgrades of the product in question.
Appsumo is the first lifetime deal site and they are still very popular today despite many other similar deal sites have sprung up. I believe one reason for their popularity is that they consistently offer many great products.
According to AppSumo, "We prefer to drive value and deliver benefits than just make money." They want to help you become successful. AppSumo's lifetime deals are a mix of mostly digital products that will help you run your business in the most efficient way possible.
Another thing which I love about Appsumo is that it has 60-day money back guarantee so you can try out the software to see whether it's right for you before you decide whether to own it permanently. In fact, if your product does not meet your expectations and you don't feel it is worth the money, you can just get a refund.
Appsumo gives you your full refund within 60 days if you don't like it. So you can really give the software a good run and try it before you decide whether to keep it. Creating an account on Appsumo is free and you get $10 credit after your account is created. You can use this $10 credit towards anything you purchase subsequently and it doesn't expire. So why not create your account now?
Appsumo Plus
If you foresee you will buy quite a lot of lifetime deal resources from Appsumo, you can sign up for Appsumo Plus which is an annual membership for you to get 10% discount in every deal you get on Appsumo.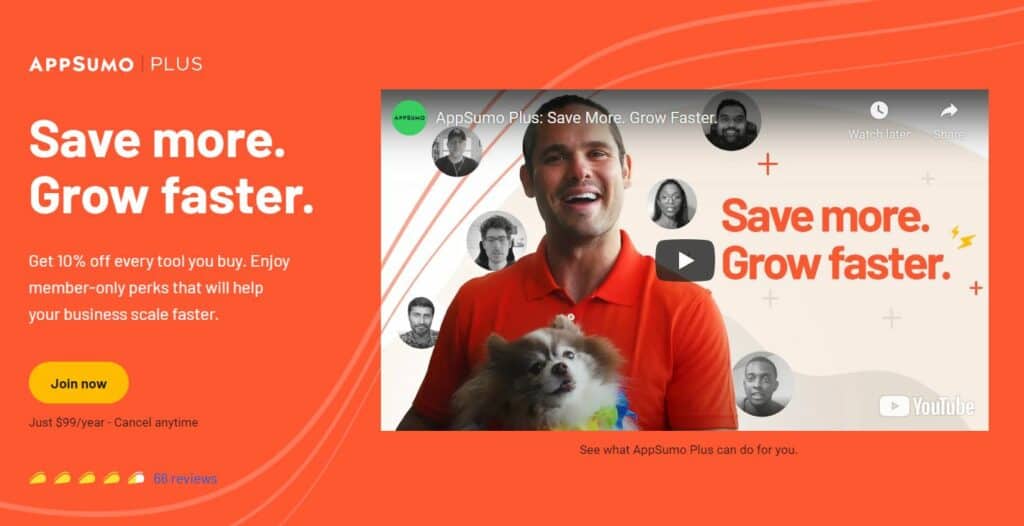 In addition, you will get to buy all the apps with Extended Access, so those deals are already over for regular Appsumo users but you still get to buy them for 72 extra hours. So when other non-members regret that they have missed out the deals, you can still buy them.
Another benefit of being an Appsumo Plus member is they can buy or upgrade Last Call deals which are past top deals you may have missed. Then there is the member-only deals which are exclusive to Plus members.
You can cancel the subscription at any time and keep all your purchased lifetime deals. So if you would like to save more money, be sure to check out Appsumo Plus!
There are many sites that provide lifetime deals nowadays and it might be difficult to choose from among them because there are too many options available.
What to look out for when buying lifetime deals?
Ease of use is one of the most important things you need to consider for software lifetime deals. If the software is hard to use, you will end up getting frustrated and quitting. You might not save as much time and money as possible in using the software which means it might not be something worth using after all and it will just become a white elephant and a "shelf"ware.
Credibility of the company which offers the lifetime deal
The credibility of the company selling the lifetime deal is important. There are many companies which have been going through the scam allegations for quite some time now, so you need to make sure that you are not buying from one of them.
One way to find this out is through joining Facebook groups which discuss lifetime deals. Before purchasing any lifetime deal, you need to read reviews and ask questions in these groups and on any other social media platforms that discuss lifetime deals.
How long has the company been around?
This is also a very important thing you should check before purchasing lifetime deals from any company. If the software and business has been going for a long period, chances are it is worth buying.
Another thing is the credibility of the product. This is determined by the reviews and statistic of the software. Therefore, it is important to read the reviews online before purchasing a lifetime deal.
I would highly recommend you to try this process and see how it works for you. If you are buying products or services online, you need to choose those which have many reviews and ratings.
Read the terms of the deal carefully
For example, does the deal include future upgrades or future features ? What if the limits of the lifetime deal is exceeded? Will you be able to upgrade your purchase or do you have to pay for a subscription? I would strongly suggest that you read the terms carefully before deciding to buy.
You need to read through all the terms carefully before clicking the purchase button. This way, you can avoid any issues that might arise after making the payment for the product.
You should also look at the time you will get to use it before the deal ends in case you decide to keep it for a longer period. You need to consider your budget available for software purchases.
Check out the product website
Usually you will find more information on the product from its website than the Appsumo sales page. You can get to see its features, requirements, price and other important information.
Particularly if you are just starting up, you need to be careful with your available funds and resources. To get the best deals, you need to be selective about your purchases. You also need to know that lifetime deals might not be very beneficial if you do not know how to use them correctly.
In Conclusion
Buying lifetime deals can be addictive as there will always be new software that looks interesting. Beware of Shiny Objects Syndrome. While purchasing lifetime deals can save costs and be very useful for your business, you need to be aware of the inherent risks in them too, as many a time they are new start-up companies.
Therefore, before you buy into one, note any red flags and also ask yourself the questions above to make sure that you really need them before you buy and you should be alright. Always ask yourself the following questions before you buy: Do you really need to buy that software? How will you be using it?