ContentBot.ai Review: Features, Benefits, Advantages and Prices
Content is king for online businesses. If you're looking for a content writing tool that can help you save time and energy and get more done, then you should check out Contentbot AI writer. This artificial intelligence-powered software can help you create high-quality content for your blog or website quickly and easily. This article is a Contentbot.ai review to share with you what ContentBot is all about.
DISCLOSURE: Some of the links that I share in this article ARE my affiliate links. This means I may earn a commission, at no extra cost to you. In fact, sometimes you'll get a discount or free credits just FOR using my link. 🙂
What is ContentBot?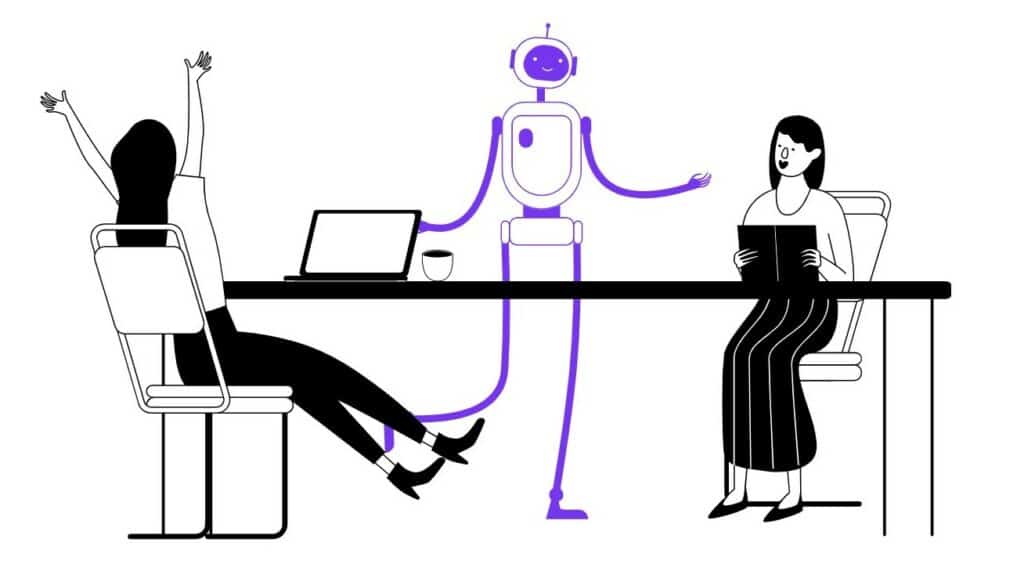 Contentbot is an AI writer that can help you improve your content marketing. By using artificial intelligence, Contentbot can help you to create better content faster and easily. 
Contentbot uses a variety of AI models, with the main model being GPT-3 by OpenAI. GPT-3, or Generative Pre-trained Transformer 3 is an autoregressive language model which uses deep learning to produce human-like text.
By the way, all the screenshots in this article has dark background as I have chosen the dark mode to be my default screen mode for ContentBot. You do have the option to change it.
Who is ContentBot for?
ContentBot can be used by all kinds of content creators such as small business owners, content writers, content marketers, digital marketers, SEO (Search Engine Optimization) Specialists, Bloggers and copywriters. It is particularly useful for small business owners or new business owners who may be bootstrapping with limited funding.
Why should you consider using AI writer for your business?
There is a growing body of evidence that suggests that using an AI writer can be beneficial for businesses. For one, AI writers can help to produce high-quality content more quickly and efficiently than human writers. Also, AI writers can help to customize your content to better appeal to your target audience.
If you're looking for a way to improve your content marketing strategy, using an AI writer may be the answer. I have written a previous article on considerations when choosing an AI writer and you can check it out here.
Contentbot.ai review: Features of the Contentbot AI Writer
Many Useful Templates Available
There are 35+ highly tuned AI templates broadly fall into two types of content, short form and long form, that can be generated with ContentBot. They is a comprehensive array of templates available to meet business writing needs.
The templates are categorized into Popular tools, Copywriting, Marketing, Social Media and Other. If there is something you are looking for, you can also search for templates directly.
Under Copywriting tools, there are: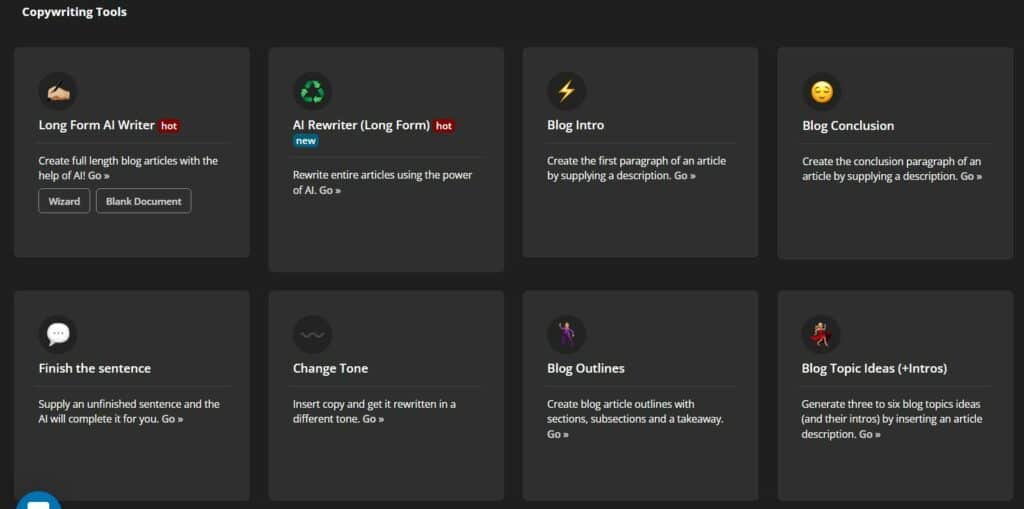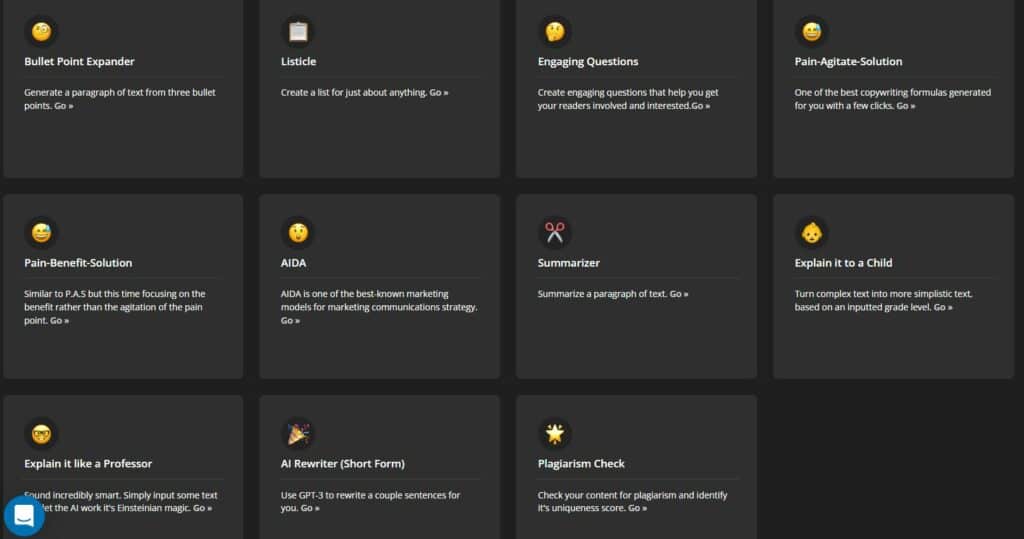 Blog-related tools: such as blog intro, topic ideas, outlines and conclusion. You just need to enter the information required, such as the article topic for the blog intro and select the many tone options available (professional, bold, playful, dramatic, sarcastic, excited and funny) and press generate inspiration. The AI will then generate the blog intro for you.
Finish the sentence: Supply an unfinished sentence and the AI will complete it for you.
Change Tone: Insert copy and get it rewritten in a different tone.
Bullet Point Expander: Generate a paragraph of text from three bullet points.
Listicle: Create a list for just about anything.
Engaging Questions: Create engaging questions that help you get your readers involved and interested.
Pain-Agitate-Solution (P.A.S): It's a copywriting formula based on the notion that people are more likely to avoid pain than to get gain. The formula breaks down as follows: Problem: Identify a problem. Agitate: Agitate that problem. Solve: Find and present the solution.
Pain-Benefit-Solution: Like P.A.S but this time focusing on the benefits rather than the agitation of the pain point.
AIDA: AIDA is one of the best-known marketing models for a marketing communications strategy. It stands for Attention, Interest, Desire and Action used to convert readers into customers.
Summarizer: Summarize a paragraph of text.
Explain it to a Child: Turn complex text into more simplistic text, based on an inputted grade level. You can select the grade level (from 1 to 12) you want the text to be turned into.
Explain it like a Professor: To rewrite the paragraph into something that sounds incredibly smart.
Short Form AI Rewriter: Use GPT-3 to rewrite a sentence for you.
Plagerism Check: Check your content for plagiarism and identify its uniqueness score.
Long Form AI Writer: It helps you create full length blog articles with the help of AI. You can either start writing a blog article by using a wizard or start with a blank document and just start writing. Below I show you a walk-through to give you a better idea of how long form AI writer works with the wizard.
With the wizard, you will be prompted to answer some questions such as "What would you like to write about?" and guided through the content creation process. You even have a language option where 3 different translation services are available for you to choose, namely Google Translate, Watson and DeepL. You can choose what source and target language ContentBot should use when composing your AI content.

After you choose a topic, you are presented with 3 title options and asked to select a Title for your blog post. If you are not happy with the suggested titles, you can ask Contentbot to generate more.
You are then given 3 introductions and prompted to "Select an Intro for your blog post". After you select your introduction, you will be asked to choose Subheadings for your blog post and these will form the outline for your blog article.
As you select each subheading, the AI will generate paragraphs under that subheading for you. Again, at any point, if you are not happy with the suggestions generated, you can press "Generate More" to ask AI to generate more suggestions.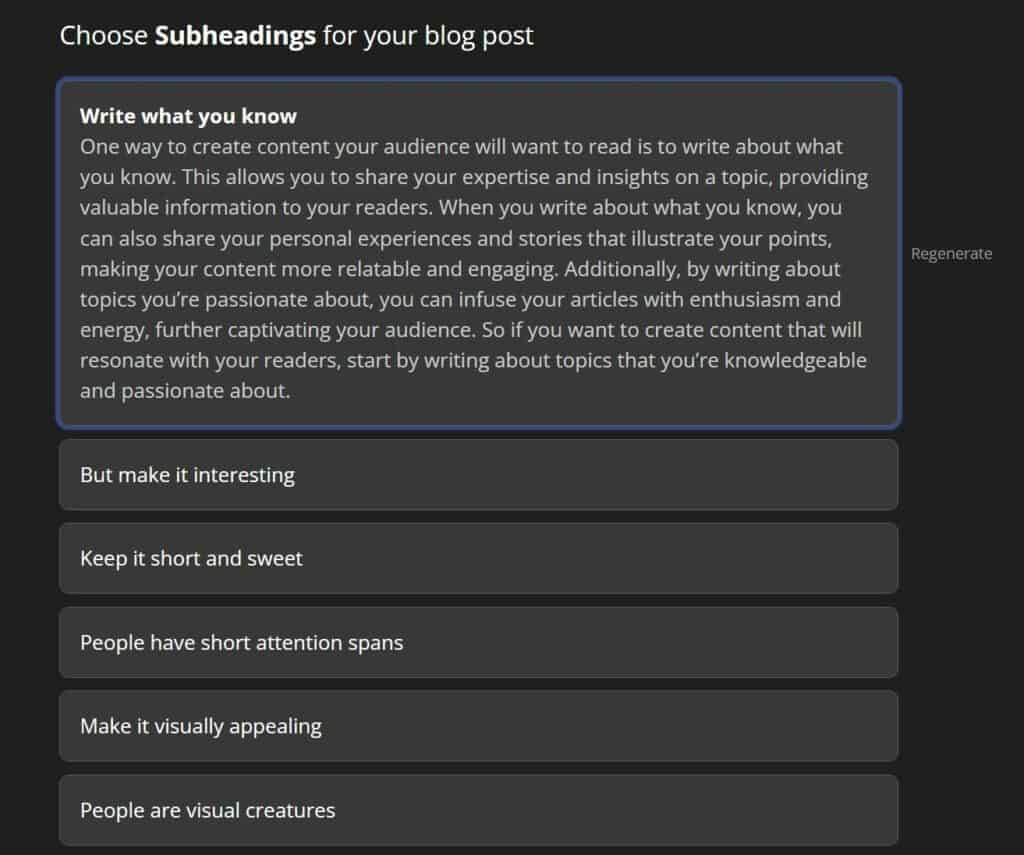 Once you are happy with the subheadings and the generated texts, you can continue to the next step and Contentbot will put everything (the title and the subheadings and content) together in an article layout.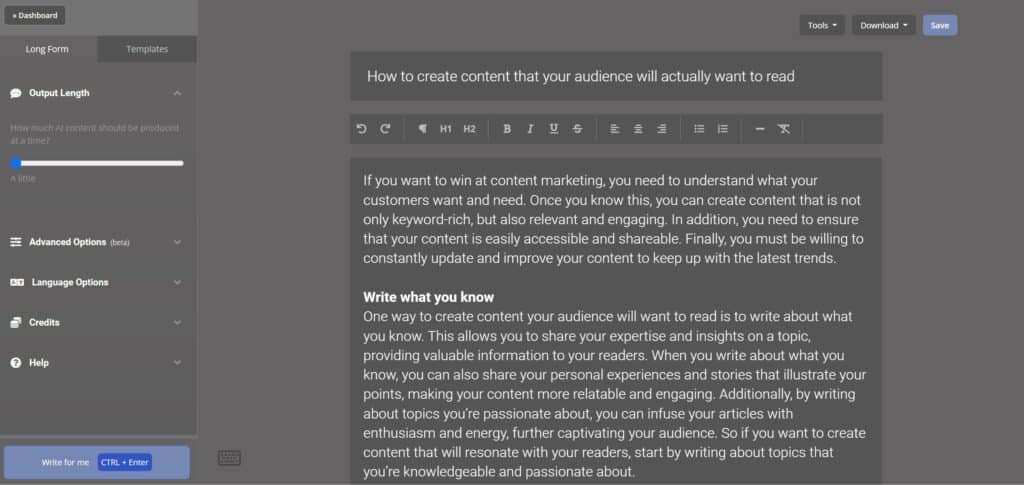 You can then read through the article and edit as necessary. In fact, you can also ask the AI to write more for you if you feel that certain parts you need more elaboration. You can even choose between Caroll or Hemingway AI models under advanced options. You also have the option to adjust the temperature and frequency for the model selected.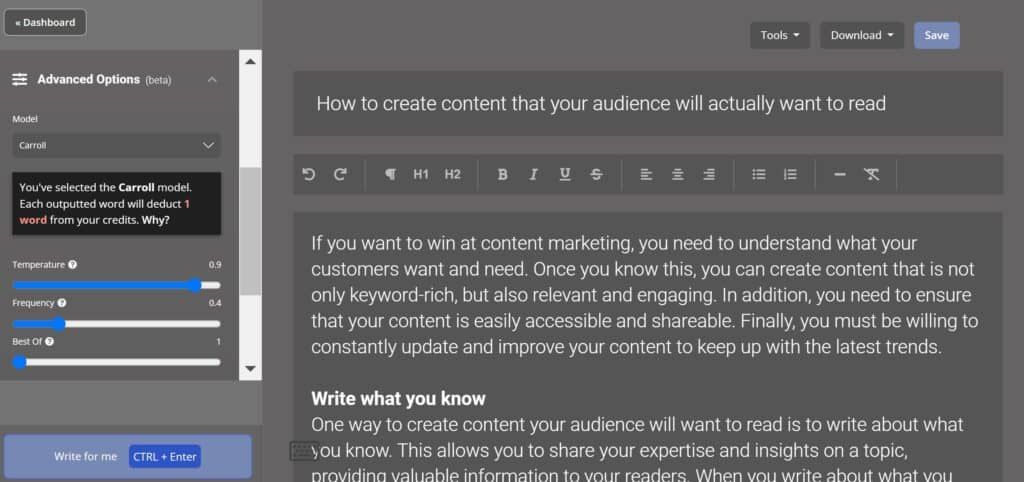 Last but not least, there are two tools you can use. One of them is Discover and the other is SEO report. You can use Discover to find out the SERPs (A search engine results page, or SERP, is the page you see after entering a query into Google, Bing, or any other search engine), people also ask questions, gain insights on volume, CPC (Cost Per Click), results, ad competition, keyword variations, phrase questions and what people also searched for. You can also analyze your content generated so far.
Under SEO report, you can find out the readability, uniqueness, tone, keywords density and top keywords. It is thus very useful for the SEO of your content creation.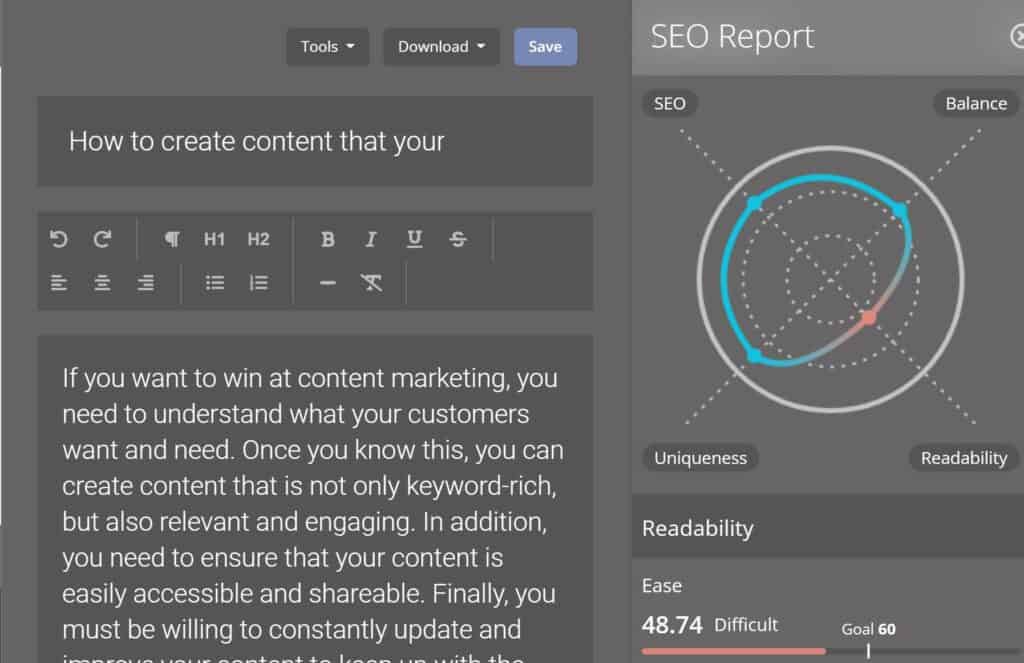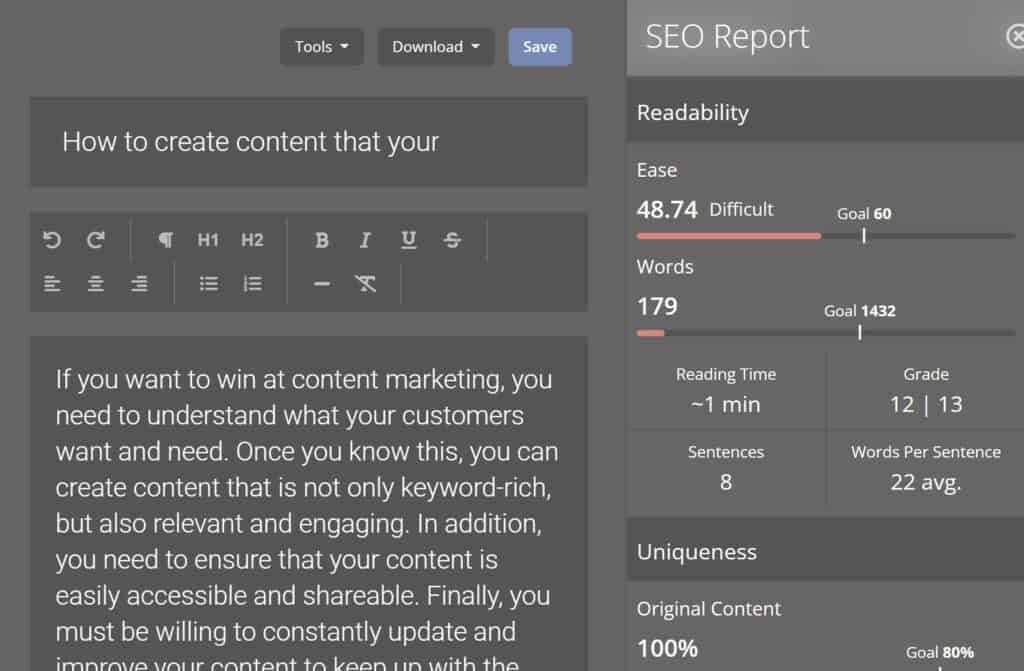 After you are done with the article, you can download it in the following formats: Ms Word (.docx), OpenDocument format (.odt), Rich Text format (.rtf), PDF (.pdf), Plain Text (.txt) or Web Page (.html).
Under Marketing tools, there are the following: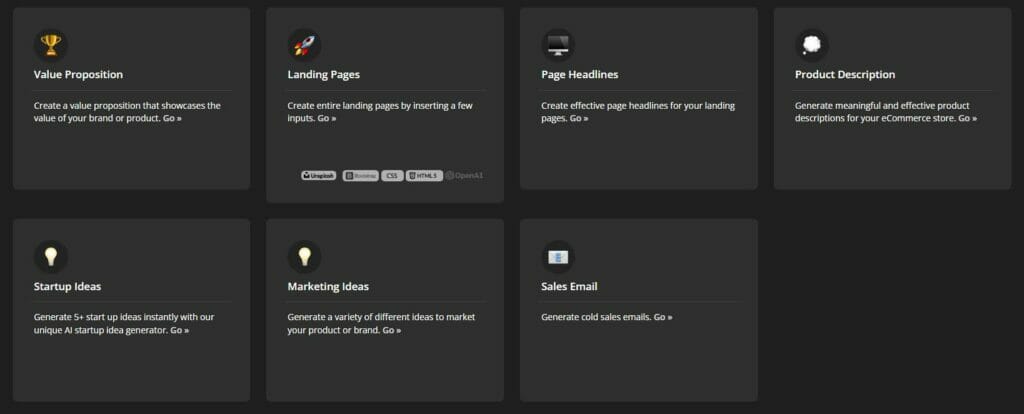 SEO – Meta Description: Generate meaningful Meta Descriptions containing your keywords.
AdWords Ads: Create 5+ AdWords Ads with the click of a button!
Facebook Ads: Generate 5+ Facebook Ads by inserting a few details about your product or brand.
Video Ideas: Generate 5+ video ideas in a few seconds by inserting a short description.
Video Description: Create the perfect description text for your videos.
Brand Names: Create a variety of different brand names with slogans.
Slogan Generator: Create a variety of different slogans for your brand or product.
Brand Story: Create a brand story that invokes emotion and exhibits your passion, purpose and dream.
Value Proposition: Create a value proposition that showcases the value of your brand or product.
Landing Page: Create entire landing pages by inserting a few inputs.
Page Headlines Ideas: Create effective page headlines for your brief description landing pages.
Product Description: Generate meaningful and effective product descriptions for your eCommerce store.
Startup Ideas: Generate 5+ start up ideas instantly with ContentBot's unique AI startup idea generator.
Marketing Ideas: Generate a variety of different ideas to market your product or brand.
Sales Email: Generate cold sales emails.
Under Social Media and Other tools, there are the following: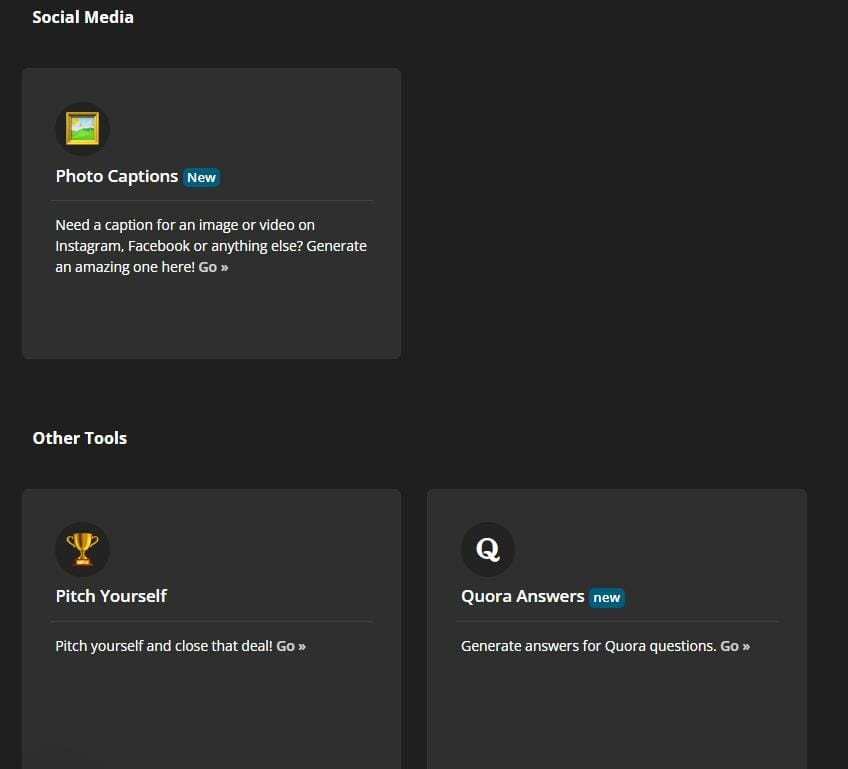 Photo Captions: Generate a caption for an image or video on Instagram, Facebook or anything else by supplying a photo description and select tone.
Pitch Yourself: Pitch yourself and close that deal!
Quora Answers: Generate answers for Quora questions.
Create Automation
Full Blog Articles: Ask the AI to create full blog posts (600 to 1300 words) every few days. Simply insert a blog topic of your choice and the AI will identify similar topics, phrases and questions to write about.

Blog Topic Ideas: Receive blog topic ideas emailed to you daily, weekly or monthly.
Marketing Ideas: Receive marketing ideas for your startup emailed to you daily, weekly or monthly.
Create Your Own Blueprints
You can create your own model to ask the AI to generate output based on a certain format. Some other AI writers call it differently as framework or recipe. Currently, there are two blueprints shared by ContentBot creator for Simple Blog Post and Engaging Questions Blog Post.
What are the Benefits of Using AI Writing Software?
Solves writers' block problem
Even though you may be very knowledgeable about your products or services, sometimes you simply don't know where to start. Therefore, using AI writer such as ContentBot can give some new ideas so that you don't need to write from scratch.
Save You Time and Money
You can see that from the many tools outlined above, you can use ContentBot to help you generate business ideas, ads, blog content and ecommerce product descriptions easily without having to engage writers. Thus, it helps you save on content creation costs and cut down on the content creation time. I use ContentBot in my business extensively to help me generate ideas and content and it's been really useful.
Improve Your Content Marketing
Contentbot can help you create high-quality content for your blog or website. With Contentbot, you can create content faster and more efficiently, freeing up your time to focus on other aspects of your business.
In addition, Contentbot can help you improve your SEO, as it can create content that is optimized for search engines. If you're looking to take your content marketing to the next level, Contentbot is a tool you should consider.
Help you generate ideas for new content
Contentbot helps you generate ideas for blog posts, articles, and more. Simply tell Contentbot what you're looking for, and it will come up with a list of ideas for you. You can then use these ideas to create new content for your business. Whether you're looking for ideas for a new blog post or article, Contentbot can help you get the creative juices flowing.
Help you research and gather data for your content
As mentioned earlier under Long Form AI Writer feature, Contentbot can help you research and gather data for your content. With Contentbot, you can get help with everything from finding data to writing headlines.
Contentbot.ai review: The Advantages of Contentbot AI Writer compared to other AI writers
Contentbot AI Writer is a powerful tool that can help you create content for your business. Compared to other AI writers, Contentbot has some advantages that make it a great choice for businesses. First, Contentbot can generate high-quality content quickly and easily with the various short-form and long-form templates which cover the many marketing needs of online businesses. This means that you can get the content you need without having to spend a lot of time or money on it.
Additionally, Contentbot can customize its content to match your brand voice and style. This ensures that your content will be consistent with the rest of your marketing materials.
I also like the fact that ContentBot has the following features that other AI writers may not have:
AI writer chrome extension and WordPress plugin: Apart from the web app, ContentBot has a Chrome extension which means you can use it in Google Doc and many other Chrome-based web apps. It also has a WordPress plugin which allows you to generate the content within WordPress editor. This can help increase blogging output.
Automated content creation and inspiration: The automation feature of ContentBot means you can get full blog articles, marketing and blog ideas consistently and automatically done for you. This is unseen in other AI writers.
The language translation options and many tones and rewriting options available: This is very useful if you are selling internationally.
It's under active development: The founder Nick Duncan is actively adding features to it to stay ahead of the game. Recently, on 23 May 2022 he added features such as AI Rewriter which can rewrite entire articles with a few clicks. This is just an example that new features are constantly added to make the software more useful and valuable.
Comprehensive video training: Unlike some AI writers which are complicated and take some time to understand and learn to use, ContentBot comes with video training. In fact, the app itself is very intuitive to use so you can easily get started once and get productive once you orientate yourself around the app.
How Much Does ContentBot Cost?
Contentbot offers two types of paid plans – one is prepaid which is pay as you go as and when you need it based on the number of words generated, the other is a monthly subscription. Monthly subscription has 3 tiers, Starter, Premium and Premium+ with starter plan starting from $29 per month. You can check out their price plans here.
Conclusion
From this Contentbot.ai review, you can see that Contentbot is a very impressive and user-friendly AI writing tool that can help you with a wide range of content needs, from generating ideas to creating entire pieces of content. It's a great tool for businesses of all sizes. It can help you create content quicker and more efficiently, without sacrificing quality. It's easy to use and has a wide range of features that make it a valuable asset for any business. So sign up for ContentBot and start using it today to enjoy its many benefits.