How to Get Started on Email Marketing for the Beginner
In this article, we'll cover everything you need to know to get started on email marketing in 7 easy steps. From building a list of subscribers, how to set up your campaigns, to write your email content, and much more so that you know how to get started on email marketing and you can get it started early on a good note.
DISCLOSURE: Some of the links that I share in this article ARE my affiliate links. This means I may earn a commission, at no extra cost to you. In fact, sometimes you'll get a discount or free credits just FOR using my link. 🙂
What is email marketing?
In my previous article, I talked about Why Email Marketing For Startup Is More Important Than Social Media.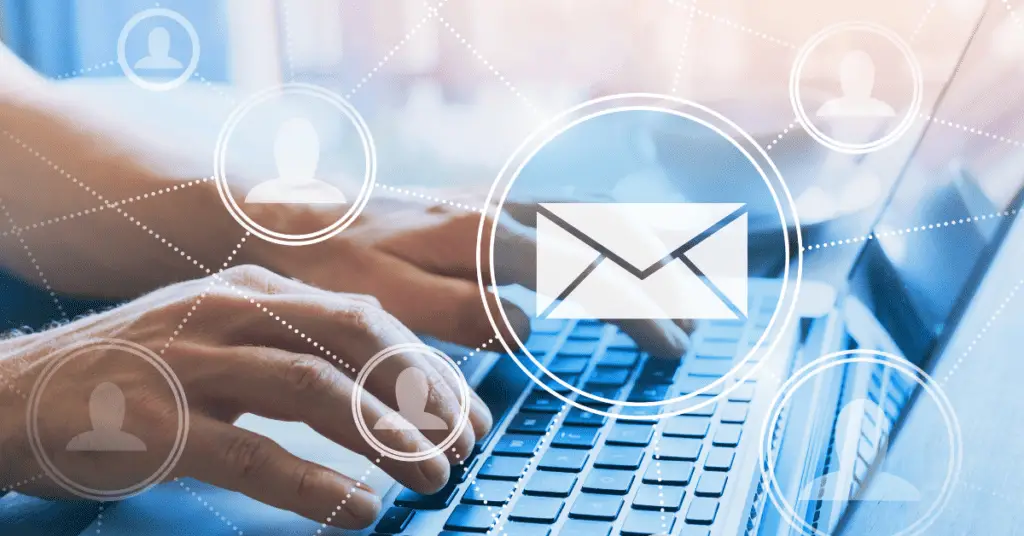 To recap, email marketing is the act of emailing addresses that you have built up. Your customers will already have interacted with your business, so it is important to keep them engaged by providing them with value.
A good email marketing campaign should be tailored to your business and your customer base. For example, if you are a dentist, you can send them an email on dental hygiene tips and tricks. Or, if you are a lawyer, you can send them information about common legal questions.
Get Started With Email Marketing
Email marketing can be a great way to reach new customers and grow your business. But if you're new to online marketing, it's hard to know where to start. Here are seven steps to help you get started:
How to Get Started on Email Marketing for the Beginner Step 1: Figure Out What Are Your Marketing Goals?
Decide what your goals are for your email marketing campaign and make sure your goals are realistic. Do you want to build brand awareness, increase customer loyalty, or drive more sales? More website visitors? More engagement with your brand?
Once you know what your goal is, you can create a plan that will help you achieve it.
Step 2: Choose an Email Marketing Software
Email marketing is a great way to connect with your customers and promote your small business. To get started, first you need to create a list. To do this, you'll need to choose an email marketing software to help you gather email addresses from your customers and subscribers.
You also need to use the email marketing software (some people also refer to it as an autoresponder) to manage your list and send emails. These services provide templates, design tools, and statistics so you can track your results.
There are many different email marketing software programs available, each with their own set of features. It is important to choose the right software for your business to get the most out of it.
Start by looking at your needs and budget. Some software offer free plans for small businesses, so that's a great place to start. There are several email marketing software available, including:

MailerLite – MailerLite is a simple, effective and powerful email marketing software. It's easy to use and set up. I highly recommend MailerLite as it provides up to 1000 contacts for free. It also offers great customer service via in-app chat for the first month to help you get started.
After the first month, it provides support via email. It has a lot of powerful features such as automation and building landing pages even in the free plan.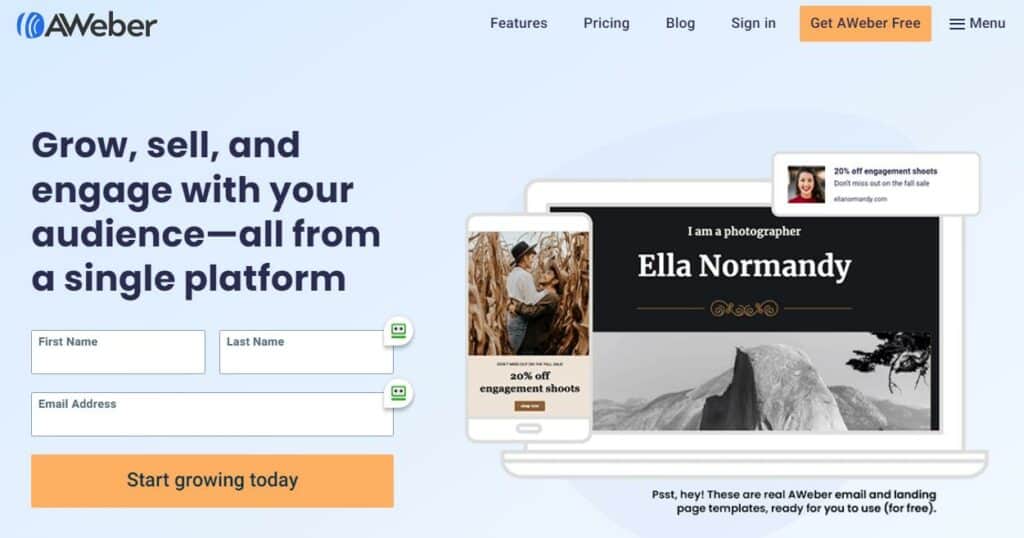 Aweber – Aweber is one of the most popular email marketing services for affiliate marketing. With Aweber you can create a follow-up series to remind visitors to buy or follow up with potential clients.
It also has easy-to-use forms, and you can integrate it with leading sales platforms such as Shopify and WordPress. Its 1,000 subscribers limit is ideal for small businesses just getting started.
MailChimp – MailChimp is a well-known email marketing service that's free for up to 2,000 subscribers. Even though it seems to provide a free tier for more subscribers, I do not recommend Mailchimp personally. This is because Mailchimp does not provide customer service for its free plan after the first 30 days you set up an account with them. Customer support is important as you are bound to run into issues along the way, so without support Mailchimp is not very useful.
A case in point is I set up my Mailchimp account previously and also an automation to link to another software. It was working initially but recently I found out that it's no longer working so I wanted to seek support from Mailchimp as someone helped me to diagnose that the problem was coming from Mailchimp not sending the data.
Yet I have no way to contact Mailchimp for support as there is no support after the first 30 days and I am way over the 30 days period. I am therefore left helpless unless I sign up for a paid account with them. So major regret for me to get on with them in the first place!
Once you've chosen a software, setting up your account is quick and easy. You'll just need to provide some basic information about your business and what you hope to achieve with email marketing. From there, you can start building your list by importing contacts from your existing customer database.
After signing up for the software, you'll need to create an email list. You can do this by collecting email addresses from your website, social media, or business cards. If you don't already have customers, you can build your list by reaching out to people you know, conducting sweepstakes, or by buying a qualifying list.
I don't recommend buying customer lists though as they did not sign up to be on your list so they might mark your emails as spam and affect your email deliverability down the road. Another thing is you do not know how the companies got their lists.
How to Get Started on Email Marketing Step 3: Create a sign-up form
To get started with email marketing for your small business, you'll need to create a sign-up form that collects contact information under consent, such as an opt-in to receive relevant content or discounts.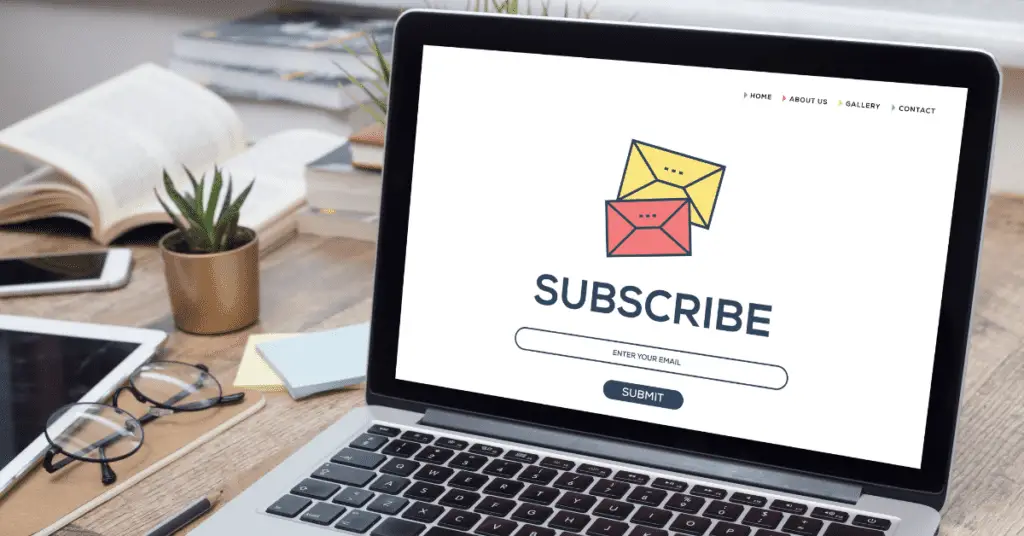 Collecting E-mail addresses requires explicit consent in most countries. This means that you need to make it easy for them to sign up for your list, and make it clear what they will receive by subscribing.
This form should be easy to find and simple to fill out so customers can easily subscribe to your list and get tips, hints, or exciting news. You can include this form on every page of your website or just on the home page.
The form should ask for the customer's name, email address, and permission to add them to your list. It's also important to make it clear that the customer can unsubscribe at any time.
This form should be placed on your website, in your store, or wherever else your potential customers might see it. You could have a "sign up for my newsletter" section on your website.
You can also provide a freebie resource that your potential customers would be interested in to motivate them to sign up for your newsletter.
Choose a sign-up form style
Many websites have pop-up sign-up forms. Another type of sign-up form is embedded on web pages or standalone on a landing page.
There are two main styles of sign-up forms to choose from: inline and pop-up. Inline forms are included on each page of your website directly beneath the text or button that invites visitors to sign up.
The advantages of an inline form are that visitors don't need to stop what they're doing to sign up, and the form isn't distracting. The main drawback is that these forms are often overlooked by visitors, which can severely limit the number of emails you collect.
Pop-up forms appear when visitors scroll through your website once they've reached a certain point on the page. These are called pop-ups because they "pop" up out of the screen, forcing visitors to click to continue reading your content or to leave the site.
For ecommerce stores, there is a special type of pop-up form which incorporates a gamification element in which visitors could play a game such as a wheel roller to get discounts or credits and give their emails to subscribe to the newsletter. This is popular but usually requires a separate 3rd party app to add on this function. An example is as shown in the picture below how this looks like on a Shopify store.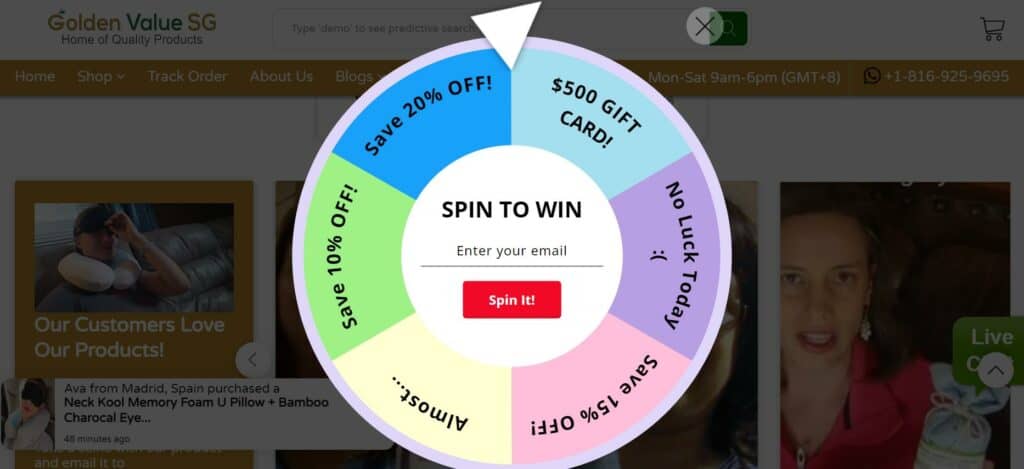 The advantage here is that these forms are highly visible and get lots of attention. The main disadvantage is that many web browsers nowadays have settings to automatically pop up blocking out the content, so visitors may not even see the form.
The other style of forms is positioned as a tab on each page of your website. Visitors click on this tab to discover where the form is located, and then they can choose to fill it out and subscribe to your list.
The main advantage of this style of form is that they're easily recognizable and accessible across every page of your website. The disadvantage is that many visitors may miss these forms and never find them.
Test and tweak your sign-up form
As with any element of your website, the way you collect email addresses should be refined until it generates a positive response. You can do this by testing the placement of the form, the copy, and the design of the form interface.
For example, there are tons of sign-up forms to choose from. You could use a pop-up, overlay, embedded form, or classic form. The best method to use depends on how users interact with your site.
You'll need to consider your goals when choosing a format. Are you primarily interested in generating sales? Creating a lead magnet to build your resources library? Or is email marketing simply a means to an end—building brand awareness and developing a subscriber base? The format and positioning of your form should reflect these goals.
For example, if you're creating a lead magnet, you'll want to offer something of real value. This could be a free e-book or cheat sheet with tips on how to perform a task or create something (e.g., how to write your e-book).
The goal is to entice users to submit their details in exchange for the promised resource. Once they do, you'll be able to keep them engaged and turn them into long-term subscribers.
Step 4: Building Your List
Make sure you have a list of people to whom you can send your emails. You can grow your list by adding sign-up forms to your website or blog, or by running contests or giveaways. One of the best ways to build your list is by giving away a free gift in exchange for an email address.
You can do this by collecting email addresses from your website, social media, or through customer surveys. Once you have a list of addresses, you can start sending out newsletters, special offers, and other marketing materials or information about your business.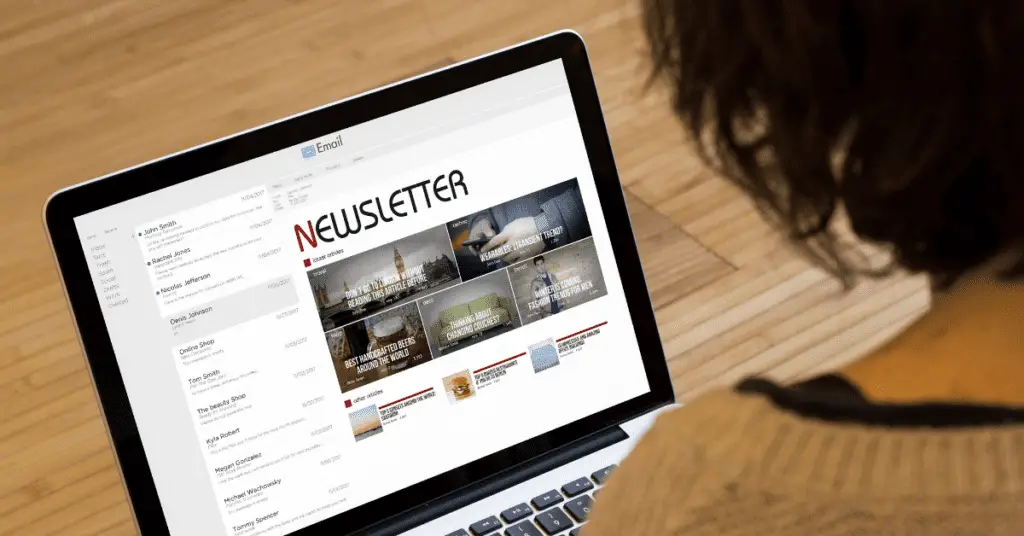 Step 5: Write your first email campaign
Next, you need to create a campaign. This can be as simple as a weekly newsletter or a more complex marketing campaign. Once you have created your campaign, you can then use the email list to send out your messages.
Two types of email
You can set up two types of emails in most email autoresponders. The first type is a regular, stand-alone broadcast email that you can send to your selected subscribers. For example, you compose a weekly email newsletter to be sent to your subscribers.
The second type is an automation which allows you to set up a sequence of emails to be sent out automatically based on certain event triggers. For example, you may want to set up an automated sequence of welcome emails to be sent to your subscribers whenever someone signs up for your newsletter.
This is where the power of the autoresponder lies as it can help you set up automations which can free you from manually sending emails yet able to provide the personalization and customization to the task based on the rules you set up.
It's suggested that you should at least set up a welcome email or a sequence of 3 to 4 emails when people join your list to introduce them to you and your business. You can then email them regularly to keep the relationship going.
Write email with great content
Write great content. Your emails should be well written, relevant, and interesting to your audience. If you're promoting a product, be sure to include screenshots and reviews.
The key is to be engaging and avoid sounding like a salesperson. After all, your subscribers signed up for your newsletter because they like you (or at least what you have to offer). So, do them a favor and show your true personality.
To make your emails more effective, be sure to personalize them and use images. They should also include a call-to-action (CTA) so that recipients know what they're supposed to do when they finish reading. Common CTAs include linking to a specific page or website, entering a promotion, or signing up for more emails.
Edit and proofread. Just like any other piece of writing, email campaigns should be edited and proofread before being released into the world.
Send your message!
How to Write Email Marketing Copy That Drives Results
Email marketing can be a great way to reach new customers and drive results for your business. But how do you write an email marketing copy that will actually drive results?
Here are a few tips:
1. First, make sure you clearly understand your target audience. Who are you trying to reach with your email marketing? What are their needs, interests and wants? What kind of content will resonate with them?
2. Once you know your target audience, craft an interesting subject line that will grab their attention. Remember, the subject line is the first thing they will see, so make it count! Your subscribers will never see the email content if you can't get them to open it. So make sure your subject line is interesting and relevant to the content inside.
3. Keep your email body focused and to the point. No one wants to read a long, rambling email. Get to the point and deliver your message in a clear, concise way.
4. Keep it relevant. Email marketing should be about providing value to your customers, not just selling them stuff. Make sure your content is relevant to their needs and interests. Don't bombard them with emails that they don't want or need.
5. Use strong call to actions in your email content. If you want someone to take action, be clear about what that action is!
6. Remember you started by deciding on the goals earlier? You can brainstorm ideas for your email content by relating them to the goals you have decided.
7. To increase brand awareness, you could include images and links to your website in your email. To drive traffic to your website, you could include a call-to-action in your email that leads recipients to your website.
8. To generate leads, you could include a form in your email that recipients can fill out to learn more about your product or service. No matter what your goals are, make sure that your content is interesting and engaging so your subscribers will look forward to reading and receiving your emails.
Step 6: Create Engaging and Regular content
As the CEO of your small business, you probably have lots of ideas and should use them all! Your email list subscribers should be the first to hear about new products and services, special offers, behind-the-scenes glimpses and more.
Send consistent, high-quality emails. Your email content should be of the highest quality, so make sure you proofread and check for spelling mistakes. Also, make sure your email design is professional and eye-catching.
It is important to email your customers regularly and not just send them once in a blue moon as otherwise they may forget about you totally. Consistency is the key here. You can start by sending them an email once or twice a week to keep in touch.
Step 7: Measuring Your Success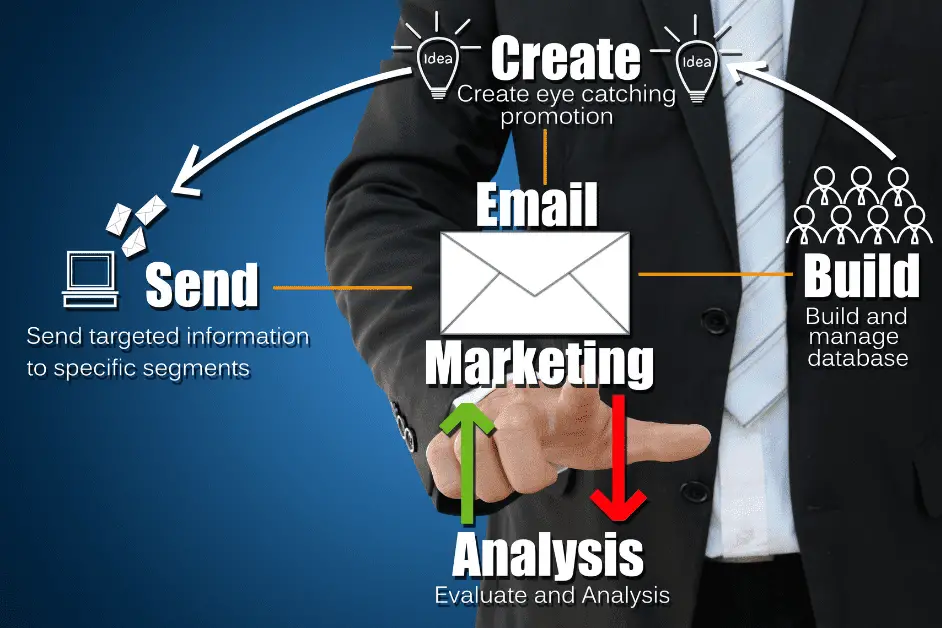 Once you have a list of subscribers, you can start sending out regular emails with updates, special offers, and other information. To measure your success, track how many people open and click through your emails. You can also ask customers to provide feedback on your emails.
By tracking how many people open and click through your emails, you can gauge the effectiveness of your campaign. Keep track of how your email campaign is performing and make changes as needed. If you're having trouble getting results, it may be time to adjust your strategy.
Conclusion
Email marketing can be a great way to reach out to your customers, build a relationship with them, and promote your small business. However, it's important to do it right.
In this article, we've covered everything you need to know to about how to get started on email marketing, including building a list of email subscribers, how to set up your campaigns, and write your email content.
Now that you know all this, it's time to put it into practice! Start building your list of email subscribers today, and you'll be on your way to developing a successful email marketing campaign in no time.
FAQ
Below are some of the commonly asked questions on email marketing:
1. Why do I need to use email marketing autoresponder software? Can't I just use Gmail or Outlook?
An autoresponder is a program that automatically responds to an email, request, or action. They are commonly used in email marketing to stay in touch with leads or customers without having to manually send each individual email.
Many autoresponders also come with features such as email list management, email segmentation, and automated email nurturing that can make email marketing easier and more effective.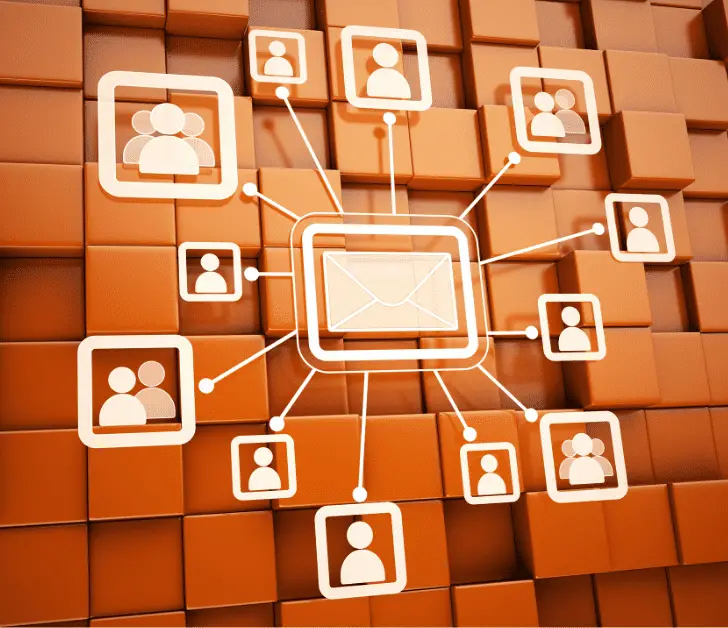 Gmail or outlook only have basic auto reply functions and is not meant for ending mass email marketing outreach campaigns. In fact, there is a cap on how many emails you can send out each time for Gmail and Outlook.
You need to use email marketing software to send out mass marketing emails and help you to track your email marketing performance.
2. Is there a best time and day to send an email marketing campaign?
The best time to send an email marketing campaign will vary depending on your audience, product, and goal. However, as a general rule, it is best to avoid emailing on weekends and during holidays. Additionally, Tuesday, Wednesday, and Thursday mornings tend to be the best times for email open rates.
Marketo suggests sending marketing emails in the morning : 10am ranks highly for open rates in a number of sectors. It is also possible to achieve good results in the afternoon. Trying out a few email times and seeing how your audience responds is the best solution.
3. What is considered a good open rate for an email marketing campaign?
A good open rate for an email marketing campaign is usually between 15-20% depending on the niche or industry you're in. Similarly to the last question, you need to test out a range of email times and see how your audience responds.