Is Jasper AI writer really the best AI software? My in-depth review
If you're an entrepreneur or solopreneur, chances are you've been wondering if Jasper AI Writer is really the best AI software out there. After all, you want to make sure you're getting the most bang for your buck. Well, wonder no more! We've put the Jasper AI Writer through its paces and here's our in-depth review.
We'll discuss everything from Jasper's features to its pros and cons to its pricing. So whether you're thinking of purchasing it or just want to learn more about it, read on!
DISCLOSURE: Some of the links that I share in this article ARE my affiliate links. This means I may earn a commission, at no extra cost to you. In fact, sometimes you'll get a discount or free credits just FOR using my link. 🙂
What is Jasper AI Writer?
Jasper AI writer is an intuitive AI-powered (AI stands for Artificial Intelligence) content creation tool that helps new users get up to speed with everything it has to offer. It specializes in copywriting tools. It is simple to use and generates high-quality content quickly with its content templates and recipes.

Jasper was developed by a useproof.com company in January 2021. It has become very popular among thousands of marketers, entrepreneurs, and writers in a very short period as it can help you write better, faster, and more efficiently. It has a 4.8-star rating across several software review websites.
Who is Jasper Al Writer for?
It's designed for entrepreneurs, solopreneurs, bloggers, content creators, and anyone who wants to get their content production done quickly and without stress.
How does Jasper Al work?
Jasper AI uses the power of artificial intelligence (AI) and machine learning to create human-like text to make compelling content for blogs, ad campaigns, landing pages, eBooks, webinars, and more.
In the background, it is leveraging the state-of-the-art GPT-3 technology developed by OpenAI. Its AI technology was highly trained by several well-known copywriters and conversion gurus, thus it knows how to write copy that sells. The software is constantly learning and getting better at understanding the user's needs, wants, and requirements.
Jasper does all the heavy lifting for you by taking your inputted data points and turning them into a well-crafted, engaging piece of content complete with headlines, subheadings, bullets, and more!
What are the main features of Jasper AI Writer?
Jasper AI writer uses natural language generation and comes with many features that are sure to be useful for entrepreneurs and solopreneurs. Some of its features include:
– A smooth interface and it helps you change the tone of voice for your documents in a second.
– A wide range of 50+ templates for different types of content covering social media posts, frameworks (e.g. AIDA framework), email (e.g. email subject lines), website, ads, ecommerce (e.g. compelling product descriptions), Google, video (e.g. video titles, video scripts and video description), SEO tools and marketing and blog posts (e.g. Blog post outlines and blog post topic ideas). See screenshots below for some of the templates under these categories.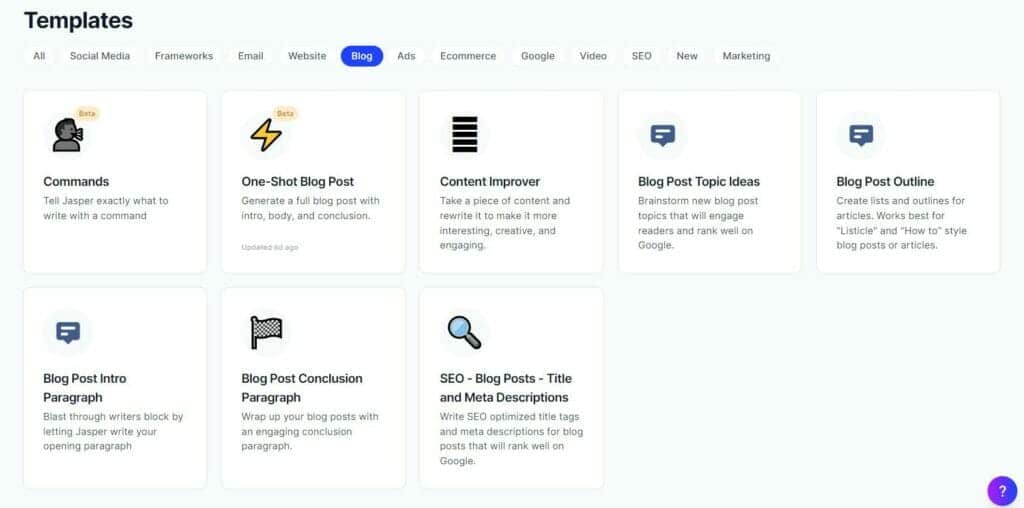 – Support for 20+ languages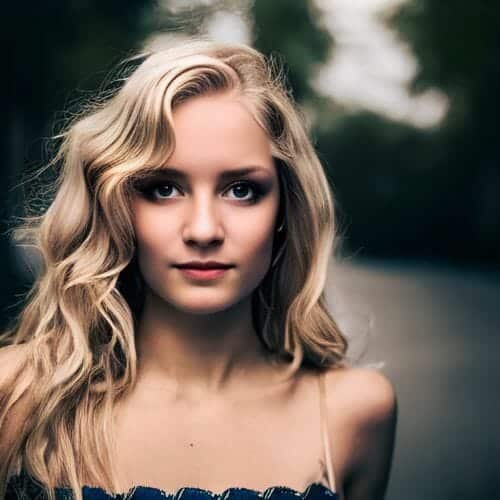 -Jasper Boss mode: which is a long-form content editor that functions like an AI assistant and content improver that helps you edit and improve your writing for long-form blog article creation.
-A recipe library with tips and examples on how to write better copy.
– A plagiarism checker to make sure only original content is generated.
Most recently, it has added Command, one-shot blog posts, and Jasper Art to its features.
I have shared more about Jasper Art in the following blog post: Jasper Art AI Image Generator: Uses, Benefits, and Limitations. You can check it out to find out more.
What are the benefits of using Jasper AI Writer?
There are many benefits of using Jasper AI to help you with your writing. Here are the highlights:
– You don't need any prior copywriting experience to use it.
– You no longer need to be worried about writer's block as it can help you come up with ideas for your content.
– Be ultra-productive with Jasper long-form assistant!
– You'll be able to produce high-quality, engaging content faster than ever before as it does all the heavy lifting for you.
The pros and cons of using Jasper AI Writer
Now that we've gone over all the features and benefits of using Jasper AI, let's take a look at the pros and cons.
Jasper AI Pros
The pros of using Jasper AI include:
-Ease of Use For Beginners: You don't need any prior copywriting experience to use Jasper. Just supply the necessary information to the templates and the AI will take care of the rest to generate content.
-Templates and recipes are useful for a variety of purposes, which makes it easy to start outputting content right away.
-Generates high-quality content: With Jasper's Boss Mode long-form content editor, you can easily generate high-quality content without any effort. It generates original content and passes plagiarism tests.
-Specializes in copywriting tools: You can create high-quality content quickly and easily with Jasper's templates and recipes.
-Time-Saving: You can save a lot of time by using Jasper to write your content for you.
-Money-Saving: You can save money by using Jasper to write your content instead of hiring a freelance writer or copywriter.
-Jasper Academy, which contains video tutorials and training: You can access helpful video tutorials and training on how to use Jasper to get the most out of the software.
-Supportive Community: There is an active community of Jasper users who are always willing to help and support each other.
Jasper AI Cons
The cons of using Jasper include:
-On very rare occasions it freezes (maybe I have overworked it LOL) which can be frustrating. I usually just copy the URL and open a new window and continue from where I left off.
-Sometimes it repeats itself: As Jasper would learn from pattern recognition, there are times when it will slightly repeat itself. However, there are workarounds available to prevent this from happening.
It doesn't have research for SEO functionality, so you'll need to use a different tool for that or you can pay for Surfer SEO, which is integrated with Jasper at $49/month extra to get added SEO capability.
It is not the cheapest AI software out there: Jasper is not the cheapest AI software on the market but it is worth the investment if you plan on using it regularly to generate content.
You will still need to edit and proofread your content even if you're using Jasper. As with all AI writers, the AI is not perfect and there may be some errors in the generated content. However, this is to be expected as it is not a human writer.
I do have something to say about the fact that it's not the cheapest, though. As entrepreneurs, we need to look beyond just the cost of a tool. We need to ask ourselves if the tool is going to save us time and money (or in this case, you can even use Jasper to make money). We need to look at the ROI of the tool instead. In this case, using it makes it a worthwhile investment.
Jasper AI Pricing – How much does Jasper Al cost?
Jasper has a 5-day free trial for new users. Its paid pricing plan starts at $29/month for 20,000 words for short-form content (this becomes $24/month if you subscribe annually) and $59/month for 50,000 words (this becomes $49/month if you subscribe annually) for Boss Mode long-form content editor, and the price increases depending on the number of words.
You have the option of the new Jasper Art add-on at additional cost of $20/month for unlimited generation. This is very worthwhile if you are going to generate a lot of images that can be used in your content or even be sold.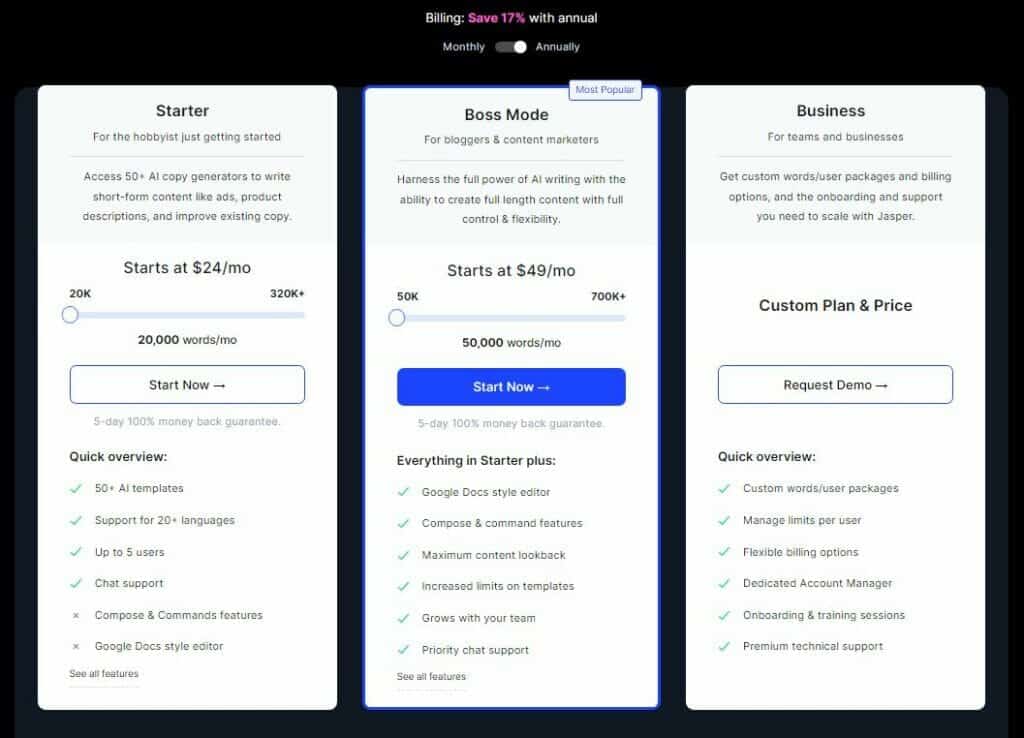 My Personal Experience With Jasper AI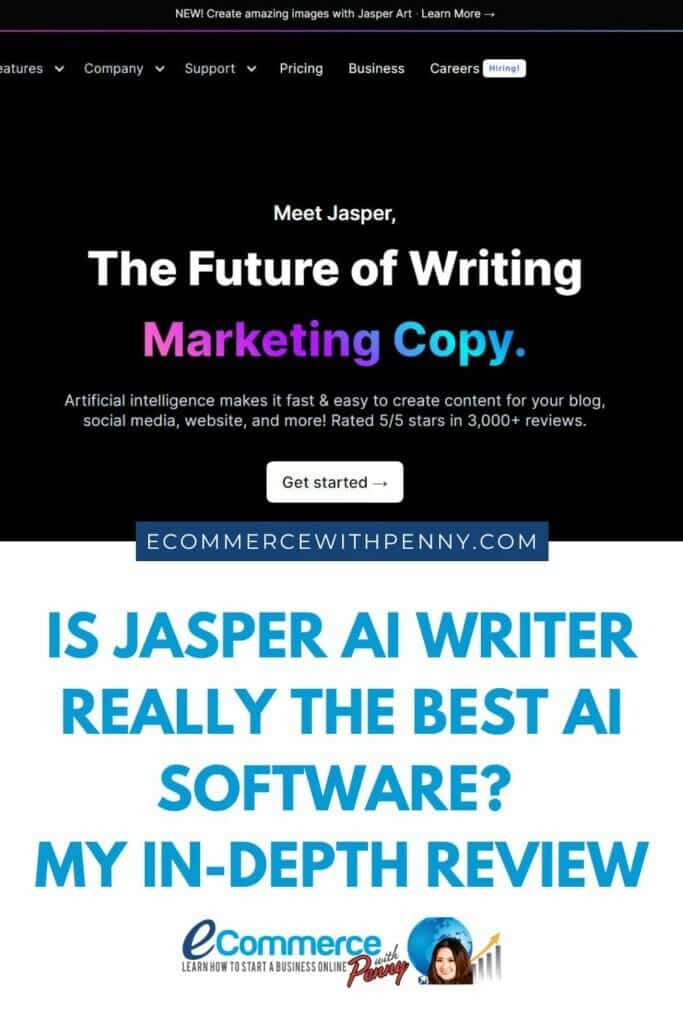 I had heard about Jasper for a long time before signing up for a trial. This is because I had already purchased several AI writing tools in the form of lifetime deals before. Thus, I never thought of signing up for it. But I kept hearing praise from others, so I got curious about it.
I want to see exactly what's so great about it myself, since I have a lot of experience working with other AI writers. So I signed up for the trial with Boss Mode in June this year.
I was astonished! I was able to produce five pieces of blog content within the first two days of testing. I usually take about one to two days to write a blog post, even with other AI writers.
Furthermore, not only was the content quality on par with what I had expected, it often exceeded my expectations. The grammar checker that is integrated into it also meant that I can save one step in my blogging workflow (as I usually run through a grammar checker as part of the final editing in the writing process).
It's very easy to navigate and straightforward to use. The user interface is clean and simple, which makes it easy to find what you're looking for quickly and get the job done. So everything is geared toward helping you be productive.
As a sucker for anything that can help improve my productivity, I signed up for it quickly. I believe that time is money, and the amount of time I could save with Jasper is definitely worth the price.
The best thing I found with writing with Jasper is that it seems to be able to read my mind. I just need to provide the start of the sentence, and it is often able to complete the thought for me. This is extremely helpful as sometimes I know what I want to write but I just can't find the right words.
It is so good that I do not need to approach customer service so far after using it for 3 months. I love that, despite its simplicity, there is a very active and helpful community of users who generously share information on how to use the tool better constantly.
Take the example of the recently launched AI Art, the community of users excitingly shared not only their creation but also the commands that lead to the creation thus uplifting everyone together.
Another thing I love about it is that even though the software is already simple and intuitive enough to use, the company makes an effort to onboard you with a Jasper AI Bootcamp and make sure that you can make the best use of it. I thought this was smart, as the better we can use the tool, the more likely we will stick with it.
This is in contrast to some of the other AI writers that are not easy to use to start with but also do not have many educational materials available and you are left to figure out how to use them.
After using Jasper for a couple of months, I have no hesitation in recommending it as one of the best AI writers out there currently. It has helped me to be much more productive in my content creation process, and I believe it can do the same for you.
If you are looking for an AI writing tool to help improve your productivity, I urge you to give Jasper a try. You will not be disappointed!
How does Jasper AI Writer compare to other AI writing assistants?
There are a few different AI writing assistants on the market, and they all have their own unique features. So it really depends on what you're looking for in an AI writing tool.
I've tried a few different AI writing assistants, and I have to say that Jasper is my favorite general-purpose AI writer. It's easy to use and the quality of the content is really good. Plus, the grammar checker is really helpful, so I basically edit my whole blog post in Jasper and then copy and paste it to WordPress.
So if you're looking for an AI writing assistant, I would recommend giving it a try. You won't be disappointed!
You can also read my blog post The 11 Best AI Writer Software to Help You Write Better Content 2022 for a comparison of Jasper with other AI writers.
My verdict on Jasper Al
Overall, I was very impressed with Jasper AI Writer and would recommend it to anyone who's looking for an AI writing tool. I think it is truly the best AI writer I've used and I highly recommend it to anyone who's looking for an AI writing tool to help them with their business.
How to get started: Get Jasper AI Free Trial with 10,000 Bonus Credit
To get started, sign up for the free trial with Boss Mode here. You will get a Jasper AI free trial with access to all features, plus you'll get an extra 10,000 bonus credit to use toward your content creation.
Conclusion – Is it worth it?
So to answer the question "Is Jasper AI Writer really the best AI software?", I would say yes! If you're looking for AI software to help with your content creation, I highly recommend it wholeheartedly to anyone who needs help with their writing. If you're looking for AI software that will quickly learn your style and produce high-quality content, look no further than Jasper! 
If you're not sure whether it is right for you, I urge you to give it a try of the free trial with Boss Mode where you can get access to all the features for five days and use up to 10000 credits. I highly recommend that you take advantage of this and try it out for yourself! I'm sure you'll be as impressed as I was.
Thanks for reading and I hope this Jasper AI review was helpful! What are your thoughts on Jasper AI? Let me know in the comments below!