Pictory.ai Review: AI Software that Creates Beautiful Videos in Just Minutes
Let's face it! If you have experience making videos, you will know that video production is time-consuming. Video recording is only the first part, what comes next is a tedious editing process.
This is why for busy ecommerce business owners like me, a tool such as Pictory which helped reduce my video production time is a real gem. With Pictory.ai, you can forget about the hassle and quickly create stunning videos in just minutes!
In this Pictory.ai review, I will share with you how I use this app to help me with video marketing. We will delve into a comprehensive review of Pictory.ai, exploring its features, capabilities, and the seamless experience it offers in producing visually captivating videos within minutes.
DISCLOSURE: Some of the links that I share in this article ARE my affiliate links. This means I may earn a commission, at no extra cost to you. In fact, sometimes you'll get a discount or free credits just FOR using my link. 🙂
What is Pictory.ai?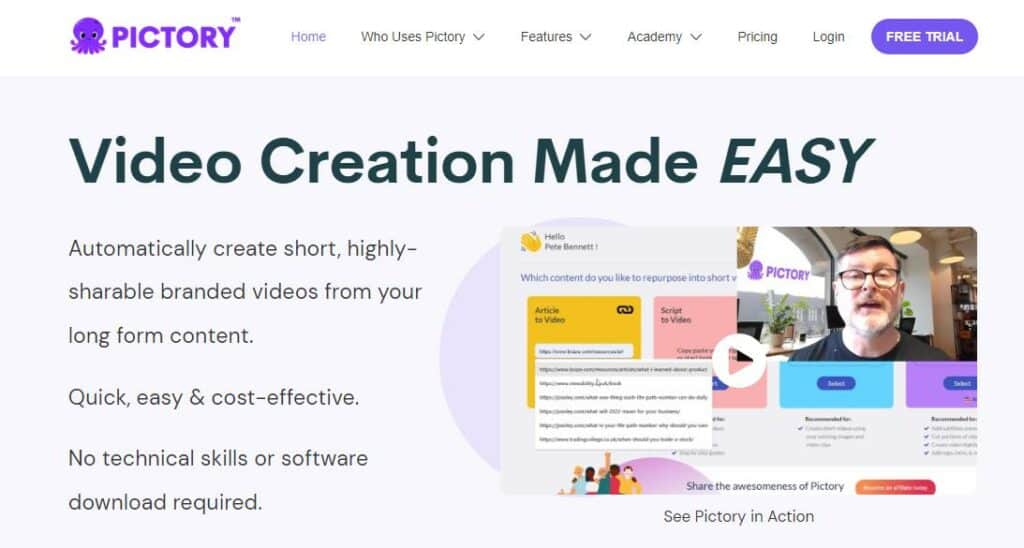 Pictory.ai is an advanced video creation tool that leverages artificial intelligence (AI) to help content creators produce professional-looking videos easily and quickly.
It simplifies the video production process by transforming articles and blog content into videos effortlessly, making it an excellent tool for anyone looking to create compelling marketing videos for their website or social media platforms.
Who is Pictory.ai For?
Pictory.ai caters to a broad range of content creators looking to enhance their video creation process. From bloggers, social media influencers, marketers, YouTubers to agencies, Pictory.ai offers the versatility to create videos that cater to different niches and styles.
Bloggers can use Pictory.ai to turn their blog content into engaging videos that attract more viewers. The platform's basic image manipulation features enable bloggers to customize their videos with custom branding, background music, and other elements that match their blog's theme.
Social media influencers and marketers can use Pictory.ai to create powerful videos that promote their social media campaigns. Pictory.ai's advanced features make it easy to create engaging videos that showcase their products or services, giving them an edge over their competition.
YouTubers can use Pictory.ai to create professional-quality videos that stand out from the crowd. From highlight videos to trailer videos, Pictory.ai offers a range of features that make it easy to create high-quality videos that attract more views and engagement.
Agencies can use Pictory.ai to streamline their video production process and deliver professional-looking videos to their clients. The platform's transcription feature enables agencies to add subtitles to their videos, making them accessible to a broader audience.
The platform's versatility and range of features make it an excellent tool for creating stunning videos that captivate viewers and drive engagement.
Features of Pictory.ai
When you log into Pictory, you will find that there are 4 ways you can use Pictory.ai to repurpose your content into videos, and they are listed as follows: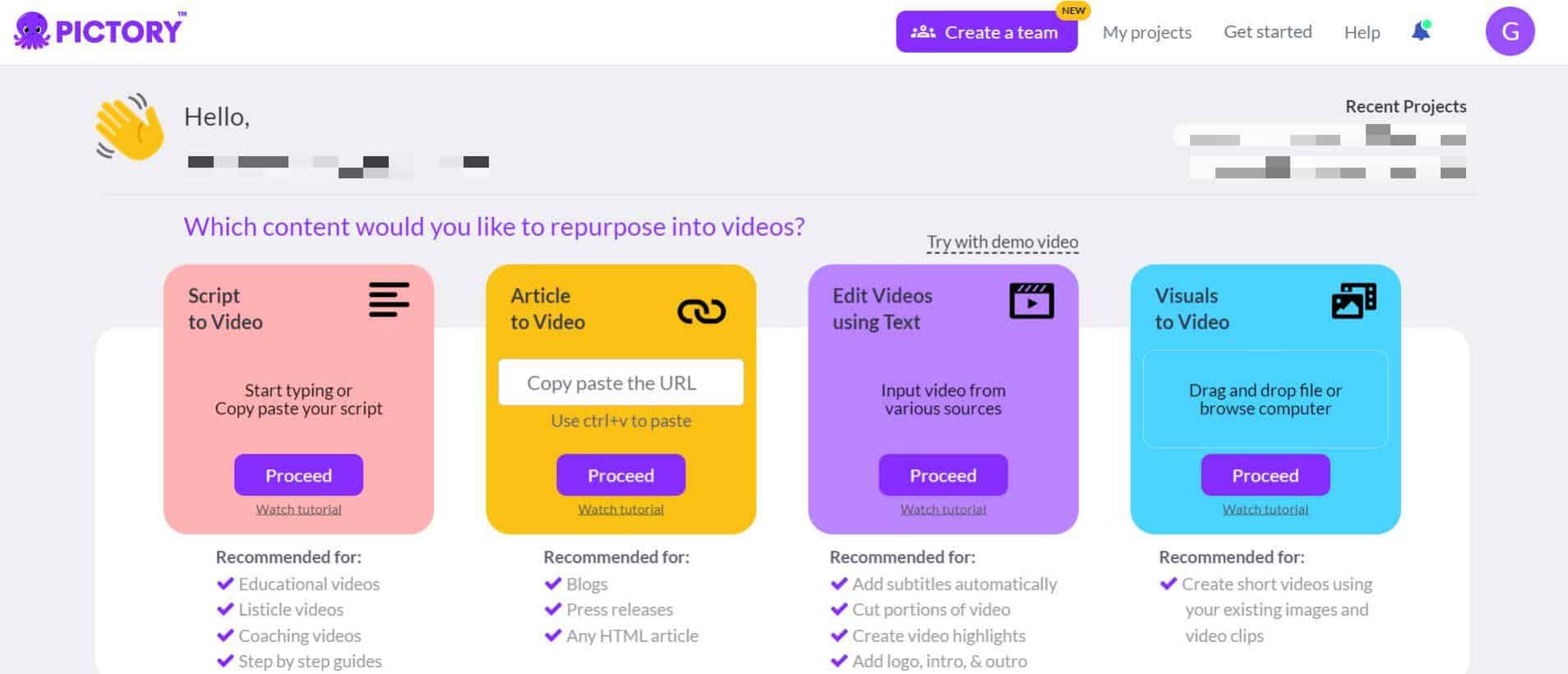 Automatic Video Creation with Professional Quality
Pictory AI's automatic video creation feature utilizes advanced AI technology to generate professional-quality videos from your scripts, blog posts, and even text. With over 3 million video clips, images, and 15k music tracks, Pictory AI's video editing tools are perfect for various projects, from short clips and podcasts to growing a YouTube channel.
You can add your voice or select from one of the AI voices available for voice-overs, making it incredibly simple for YouTube creators to produce high-quality video content. Pictory AI's professional templates and advanced editing tools make creating explanatory videos straightforward and efficient, saving businesses and individuals time and money while still producing high-quality videos.
For example, Pictory AI's automatic captioning feature makes captioning videos fast and easy at no extra cost, perfect for webinars, demos, e-Learning, video podcasts, and more. Pictory AI is thus a one-stop solution for all your video creation needs, providing a streamlined and efficient process that allows you to create top-notch videos that engage and inform your audience.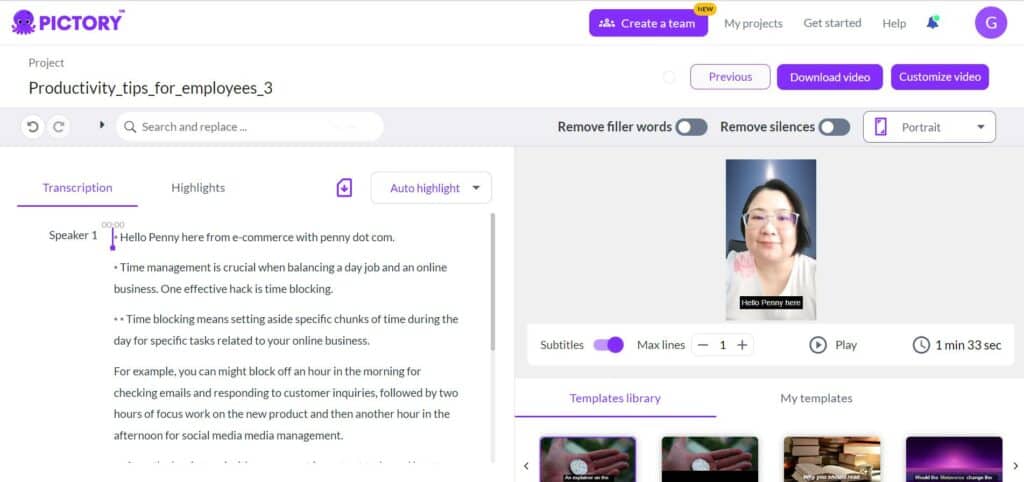 At the heart of this tool is an AI auto-voice generator, which saves users from the trouble of recording a voice-over manually, thereby significantly reducing video production time.
In addition, Pictory.ai provides an inbuilt voice-over and transcription feature to enhance the overall video quality. This feature is particularly useful for bloggers, social media marketers, and content creators looking to expand their reach and engage with their audience across various media outlets.
Pictory.ai makes it easy for users to access a range of music tracks and background music options to add a certain level of creativity and sophistication to their videos. It offers automatic audio enhancement features, such as volume adjustment, to ensure clear and audible sound.
The tool also includes a custom branding option that enables users to customize their videos with their own logo, fonts, and color schemes, making it easy to integrate their brand within their content.
Additionally, users can export videos in different aspect ratios, download in various file formats, and add subtitles that are exportable as text, .srt, or .vtt files.
Another notable feature of Pictory.ai is its ability to repurpose longer videos into shorter clips, which is an excellent way to grow your YouTube channel and engage your audience across social media platforms. This tool's basic image manipulation features help users put their best foot forward when editing their videos with ease.
What are the Benefits of Using Pictory.ai?
Saves Time By Producing High-Quality Videos Quickly
With its wide range of features and automated processes, you can create beautiful and engaging videos in a matter of minutes instead of spending hours in boring and laborious manual editing. If you have outsourced these tasks before, you could also save money now as the production of videos with Pictory.ai is considerably cheaper than traditional video editing services.
Easy to Use Interface
The user interface of the Pictory.ai is designed for ease of use, allowing even novice content creators to quickly and easily create stunning videos. With most features clearly marked and accessible, users can create stunning videos with ease, without the need for extensive training.
Pictory's drag-and-drop interface and customizable templates make it easy to get started with video production, while its audio editing, music library, and special effects options provide ample room for creativity. Furthermore, Pictory offers detailed step-by-step tutorials to help users navigate the platform's features. Thus, Pictory's user-friendly interface makes video creation accessible to all.
Superb Voice-Over Synchronization
Pictory AI's voice-over synchronization feature is a game-changer in the video creation process. This feature allows users to easily import their own audio content and synchronize it with captions at placement spots of their choosing within the script. The auto-sync feature ensures that the text appearing on-screen will be spoken in sync with the accompanying caption, eliminating the need for manual adjustment and saving time.
Not only does this feature save time, but it also allows marketers to take full control of how their message resonates with their viewer base. Timing plays an important role in evoking emotions from viewers watching branded videos, and by using Pictory's voice-over synchronization tool, marketers can ensure that their message is delivered in a way that resonates with their audience.
Overall, Pictory's voice-over synchronization feature is a must-have for anyone looking to create professional, engaging videos in a timely manner. With this feature, users can easily align their voice-overs with captions, saving time and ensuring that their message is delivered effectively.
Ability to Add Music and Graphics
Pictory's ability to add music and graphics is a great feature that enhances its video creation capabilities. With Pictory, adding royalty-free music to your video content is easy. Standard users can choose from 5,000 backing tracks, while Premium users have access to 15,000 background music tracks. This means that you can easily find the perfect music to complement your video content.
Pictory could also include an option on the storyboard to merge one or more scenes when users upload text, which would further enhance the visual appeal of the videos.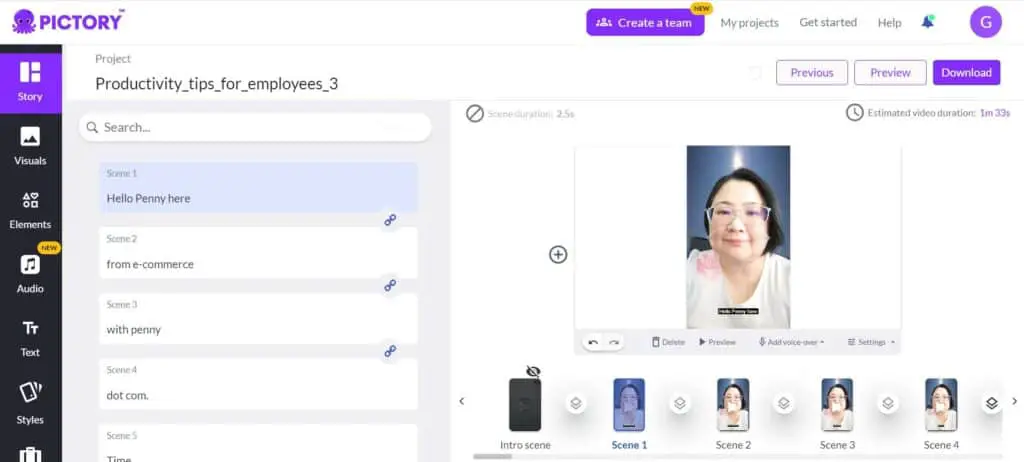 The ability to add music and graphics to your videos with Pictory makes it a great tool for creating engaging and visually appealing content.
Pictory's easy sharing feature is a game-changer for social media users who want to improve their social visibility. With just a few clicks, you can create high-quality, shareable videos that are perfect for ranking on social media platforms.
The platform's drag-and-drop interface and customizable branding options make it incredibly easy to use, even for beginners. Whether you're a blogger, YouTuber, or just someone looking to increase your social media presence, Pictory is a great tool to have in your arsenal.
By creating short highlight videos from lengthy content, you can grab your audience's attention and drive more traffic to your website or social media profile.
Caption and Subtitle Accuracy
A study by Verizon Media claims that approximately 83% of people watch videos with the sound off, so adding accurate captions to your video content has never been more important.
Pictory's AI software offers a highly accurate captioning and subtitle feature for videos, ensuring maximum clarity for your message. With Pictory, users can easily add captions or subtitles to their videos and correct errors automatically.
This feature not only helps people with hearing problems or those in a noisy environment to access your content, but also increases discoverability and engagement. Pictory's auto-sync feature aligns the narration with captions, making it easier for content creators to adapt to different platforms.
Pictory's caption and subtitle accuracy feature is a valuable tool for content creators looking to enhance their video content and reach a wider audience.
What I like about Pictory.ai
As mentioned earlier, I use Pictory for captioning and editing of video. I usually record my videos either on my desktop or mobile first and then upload the videos to Pictory for it to auto-caption it. I would then edit the videos by removing silence or filler words with the text editor. This saves me a lot of time.
I like that it is a web app, so it works on any type of platform whether it's PC or IOS. In addition, it's easy and intuitive to use so there is no need to mess with messy timeline editing (if you have used some other video editing software, you know what I mean) and there are short video tutorials available to show you how to use each function.
Occasionally where I needed support, Pictory provided responsive and great customer support to me. Last but not least, I love that it's being constantly updated even though it's been in the market for a while. Thus, I would highly recommend it if you are looking for an easy-to-use video editing software.
How Much Does Pictory.ai Cost?
The software offers three pricing plans, including Standard ($27/month), Premium ($47/month), or Teams ($119/month) depending on the number of users, number of videos and hours of transcription etc.
And if you subscribe on an annual basis, you can save more than 15% and get it at Standard ($19/month), Premium ($39/month), or Teams ($99/month) as shown in the picture below. You can choose one of the plans depending on your individual needs. You can even try it out for free (with no credit card required) to see if it's the right fit for you.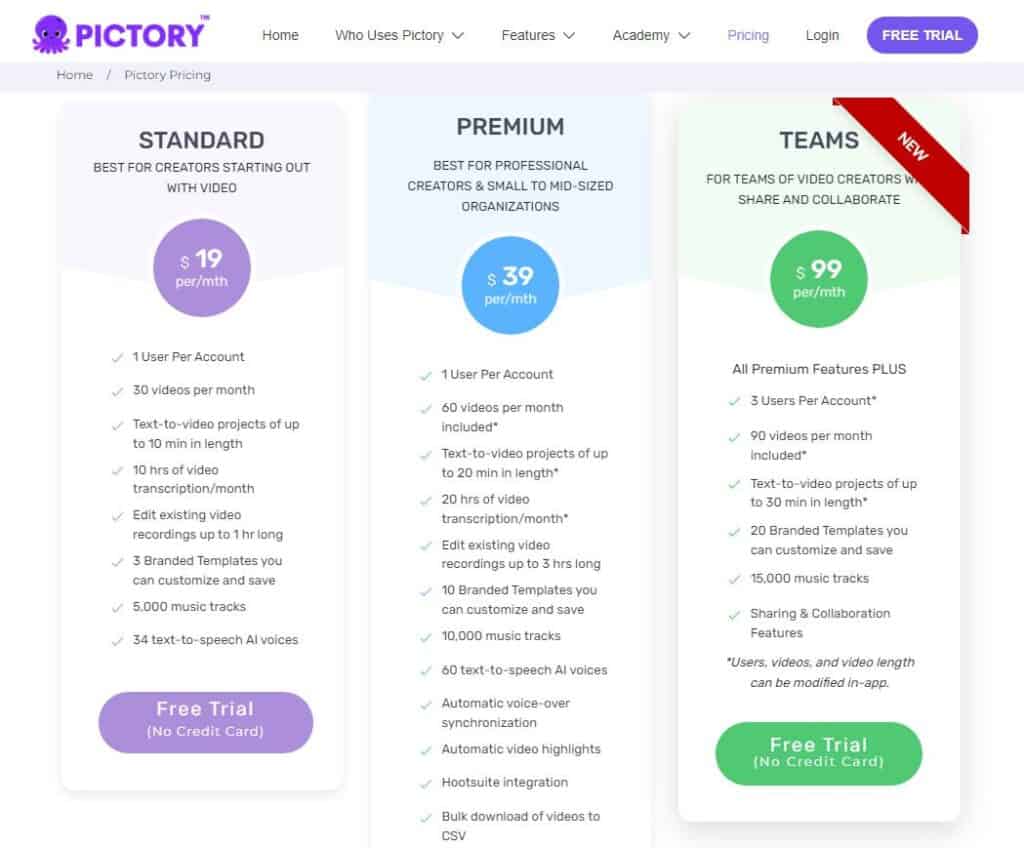 Conclusion on Pictory.ai review
Pictory.ai is the perfect solution for anyone who wants to create beautiful, professional-looking videos in just minutes. It's an AI-driven software that automatically adds audio, graphics, text, and images to your videos for added personalization.
Moreover, the user-friendly interface makes it effortless to make quick edits and share your impeccable artwork with your followers or friends in no time! Try Pictory.ai today and start creating stunning videos with ease!