14 Uses for AI Writer in Your Business
As a business owner, you know that content is key to driving traffic to your website and generating leads. But creating fresh, original content can be time-consuming – time that you don't always have. That's where artificial intelligence (AI) writers can come in as part of your business strategy.
AI can help you generate high-quality, unique content quickly and easily. Here are 14 uses for AI writer in your business:
DISCLOSURE: Some of the links that I share in this article ARE my affiliate links. This means I may earn a commission, at no extra cost to you. In fact, sometimes you'll get a discount or free credits just FOR using my link. 🙂
What is AI Writer and how does it work
AI Writer is a content generator that uses artificial intelligence to help you create high-quality content quickly and easily. It uses natural language processing and machine learning to analyze your data and create content that is both relevant and accurate.
AI Writer is easy to use – you simply provide it with the data it needs and it will take care of the rest.
14 uses for AI Writer to generate content in your business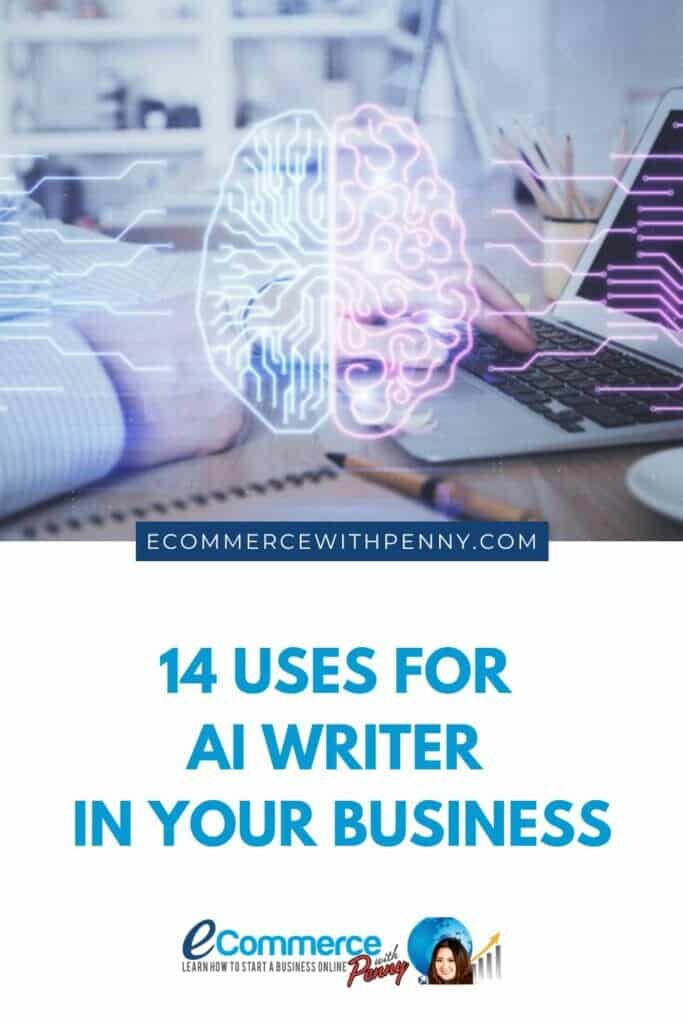 AI writers can generate text quickly. AI writers are commonly used for brainstorming, content creation whether it's generating new content, or improving existing content. In other words, they are functioning like writing assistants.
Brainstorm ideas
Feeling stuck? Use AI writers to help jumpstart your creativity and brainstorm new ideas for your business. You can typically generate ideas for the following common content types:
Blog article topic ideas,
Youtube Video ideas,
Growth Ideas (High-impact growth tactics to help your business grow),
Listicle Ideas (Creative listicle ideas that are easy to write and perform well on social media),
Startup Ideas (Great startup ideas that you can get started on right away),
marketing ideas, Automation (send emails to you on ideas regularly) or even viral ideas (in copy.ai)!
Brainstorming marketing ideas can be a daunting task, but AI can make it much easier! Just give the software an idea of what kind of marketing campaigns you're interested in, and it will generate ideas for you. ContentBot can do this and send you ideas regularly.
You can read more in my review on ContenBot here: ContentBot.ai Review: Features, Benefits, Advantages and Prices
Generating ideas for blog posts can be difficult—especially if you're not a natural writer. But with AI-generated content, all you need is a topic and the computer will do the rest!
What are some ways AI writer software can be used for writing?
Basically, AI writers can be used to write anything and everything. There are simply a wide range of use cases and you are simply limited by your imagination. Thus, it's not limited to article writing or writing of blog posts!
Writing blog content
Apart from generating ideas for blog posts, you can use AI to help you with generating blog titles and even help you write the articles themselves. All you need is a topic or keywords that you want to write about, and the AI software will either guide you through the content writing process and do the rest. This is most useful for blog writers, copywriters, or content marketers.
All you have to do is edit the final product and hit publish. So if you've been wanting to start a blog but haven't known where to begin, why not let AI take care of the hard part?
Create Better Headlines
Chances are, you've read a few headlines in your lifetime that were so good, that you just had to click on them. But what makes a headline irresistible? Turns out, there's a science to it! A computer algorithm can analyze hundreds of headlines to find patterns in what makes people click. So if you're looking to increase your click-through rate, using AI writer is a great place to start.
Generating Video Scripts
If you're looking to create videos for your business, AI can help with that too! Whether you want to create a commercial or an explainer video, AI can write the script for you.
Just provide the software with a topic or some keywords, and it will generate a script for you. You can then use that script as a guide for your video.
I have used my AI writer to do this and it's been a great time saver! No longer do I have to spend hours brainstorming video ideas or writing scripts. The computer does it all for me.
Creating Social Media Content
We all know that social media is a powerful tool for promoting our businesses. But coming up with fresh, original content to post daily can be tough—especially if you're running a one-person show.
Luckily, there are AI writers available that can help you generate social media posts that are both interesting and relevant to your target audience. Use AI writers to create attention-grabbing social media posts that will help you increase your reach and engagement.
Some of the types of content that can be generated by AI writers Copy.ai and Writesonic are shown in the screenshots below:
Creating Ad Copy
Need help creating ad copy that converts? AI can assist with that as well! Grab attention and get clicks with Ad headlines that pack a punch courtesy of AI. Just give the software some information about what you're selling and who your target audience is, and it will create ad copy that's tailored specifically for them.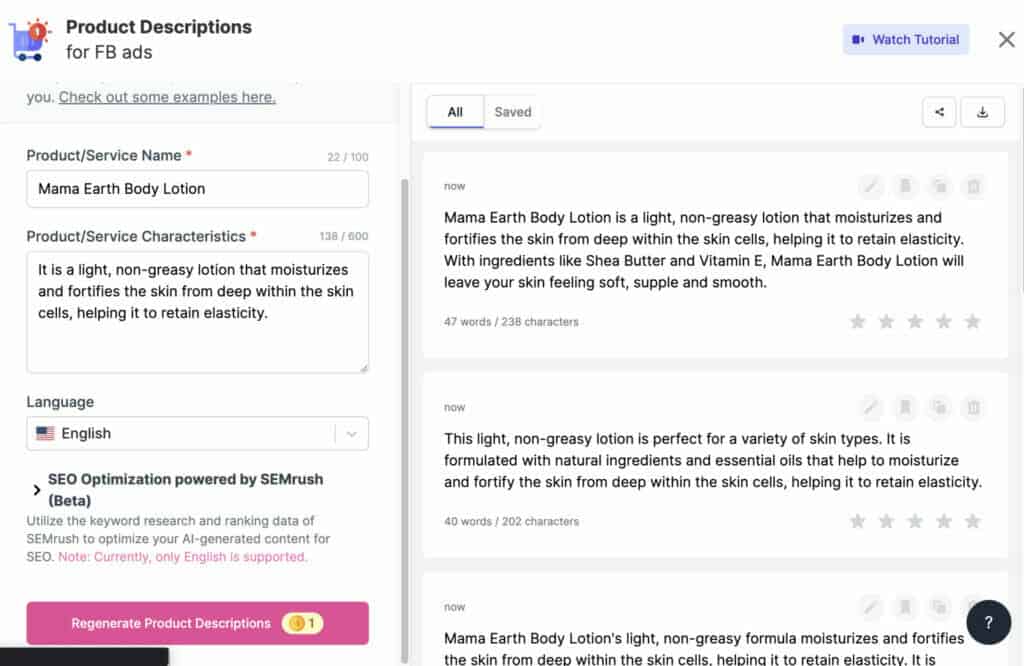 Writing Press Releases
Need help writing a press release? Look no further than AI-generated content! Just give the software some information about what's happening at your company and why it's newsworthy, and it will craft a press release for you in no time.
Coming Up With Slogans
Slogans are a great way to market your business and build brand awareness. But coming up with a slogan that's both memorable and effective can be difficult. Luckily, AI can help!
Just provide the software with some information about your business, and it will generate slogans for you to choose from.
Writing Product Descriptions
This is particularly useful for eCommerce businesses. If you sell products online, you know that writing compelling product descriptions is essential to boosting sales. But coming up with original, creative descriptions for every product can be time-consuming.
Writing product descriptions that are both informative and engaging can be tricky. But with AI writers, all you need to do is provide the software with some information about your product, and it will create a description for you.
Creating Webpage Content
Not sure what kind of content to put on your website? Let AI help! Just provide the software with information about your business and what kind of messaging you want to convey, and it will generate content for you.
Let AI take care of the tedious task of writing website copy so you can focus on more important things.
Creating Email Subject Lines
Email marketing is still one of the most effective ways to reach your target audience—but only if people open your emails! A great subject line is the key to getting people to open and read your email.
But coming up with creative subject lines day after day can be tough (and let's face it, sometimes they just don't come naturally). This is where AI comes in! By using an AI tool to generate eye-catching, curiosity-provoking email subject lines, you can increase the likelihood that people will read the emails you send them.
Just provide the software with a few parameters, such as what kind of audience you're targeting, and it will generate subject lines that will get people to open your emails.
Transcribing meeting notes
If you're someone who hates taking notes, or if you're often too busy to take them, an AI writer can help! The software can transcribe meeting notes quickly and accurately. All you need to do is turn it on during the meeting, and it will generate a transcript for you.
This is especially useful if you have a lot of meetings and don't have time to transcribe them all yourself. With AI writer, you can just sit back and relax while the software takes care of everything for you. A great AI writer for this is Otter.ai which can transcribe accurately and quickly. It is available as mobile app and as a Chrome extension.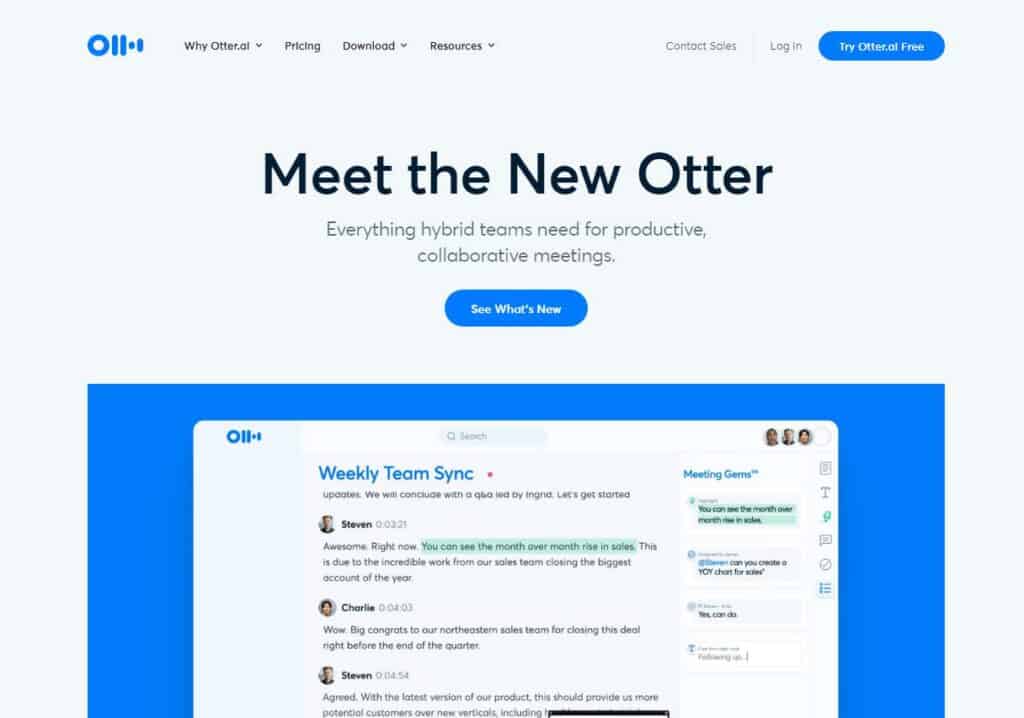 Generate AI Art to be used in blog posts
If you're looking for a way to add some visual interest to your blog posts, consider using AI-generated art. There are now several software programs that can create original artwork based on the content of your blog post.
For example, if you're writing about AI, the software might generate an image of a robot or a computer. Or if you're writing about travel, the software might generate an image of a sunset over a beach. Here is an example I used Photosonic under Writesonic to generate an AI Art: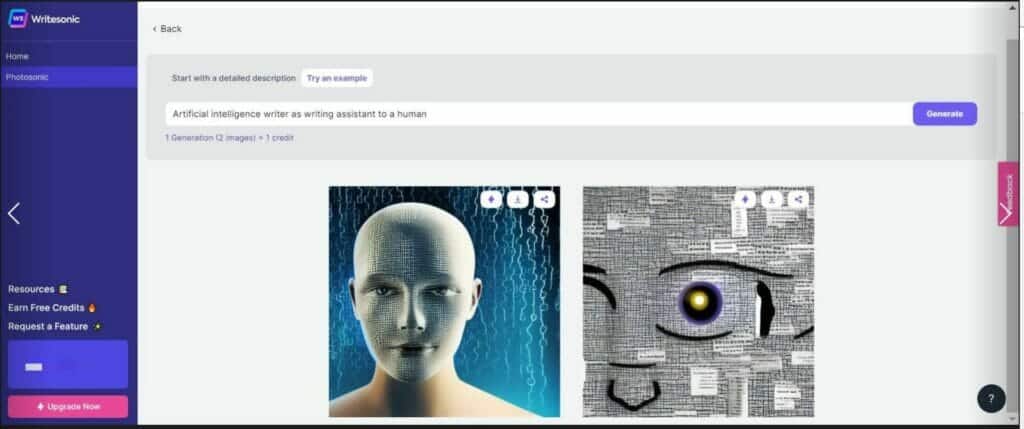 Adding AI-generated art to your blog posts can help them stand out and be more visually appealing. And since the artwork is generated automatically, it's easy and fast to do! You just need to provide a description of what you want the artwork to be, and the software will do the rest.
Improve existing content
Another common use of AI writers is to improve existing articles. It does this by rephrasing, rewriting, or summarizing the content already present in the article. This way, it can improve on the original reading experience and make sure that the topic is conveyed effectively and clearly.
This comes in particularly handy if you have a website, podcast (audio), or YouTube channel (video) where you regularly need content creation. You might not have time to go through all your existing content and edit/rewrite/summarize it every time you create new content.
Good examples for AI writer that help to rephrase or rewrite articles are Quillbot, WordTune and ContentBot.
What are some benefits of using AI writer software for content creation?
Given the many uses for AI writer, the are many benefits of using AI writer software which has revolutionized the way people can get their work done, or even just have fun with something new. Some of them are outlined as follows:
Say goodbye to writer's block with automatic text generation
The AI writer software eases writer's block because it can generate thousands of words a second, much faster than one would be able to on their own. This means that no matter what the subject, the AI writer program just needs to collect data and process it into text so that it can produce an original piece for you.
Therefore, you will never be faced with a blank screen and not knowing what to write again and you can get started on projects without spending time thinking about what to write about or how to structure ideas.
AI writers can save you time and energy thus increasing your productivity
The AI writer also helps your work become less time-consuming! Instead of being stuck trying to create hundreds of sentences by hand or spending hours looking for ideas, you can simply let the AI generate them for you.
This way, all you have to do is focus on higher-level work of constructing a quality outline and editing the final content.
Powered by AI, controlled by you
AI writers are a fantastic way to save both time and money, but it's important to remember that the software is powered by AI. It's controlled by the user and through continued input of quality content, AI writers will write only high-quality content. Thus, the role of the human writer in controlling the flow of the content is important.
While AI technology may sound like a simple solution to many of the problems that plague the world of writing, it's important to remember that it is not as perfect as it seems. While AI writer does what it says on the tin, in reality, there are still things that a human needs to do for the software to work more effectively.
What are the disadvantages of using AI content writing software?
Lack of accuracy
While using AI writers to help with writing is good, there are some disadvantages too. First is accuracy. AI writers are not human writers and they cannot be perfect. That's something to expect from writing software but remains true of AI writers.
Therefore, to play it safe, it is good to check how your article is being generated and to make sure that all the information you provided is factually correct.
It is also worth noting that AI writers have their faults which can be embarrassing at times such as grammar mistakes or typos in the output texts and even grammatical errors in the keywords used, etc. Thus, it is good to check the content for grammatical errors before you publish it.
There are writing tools that are very good for this purpose such as Grammarly, ProWritingAid, and Linguix. If you do not spend enough time polishing and editing the output, it may not meet your satisfaction even with the best software.
Risk of plagiarism
Another thing you need to do is to run the AI writer output through plagiarism check. Plagiarism is when the output is copied, plagiarized, and re-used. It can cause copyright infringement issues. Therefore, you need to make sure that the output you get is original by running it through plagiarism checker tools such as Copyscape or Grammarly.
Cost money
There is a cost to it and it's mostly not free. Most artificial intelligence writers also need some sort of payment for usage with subscriptions or credits. This is a necessary evil as writing is work and a business after all.
AI writers are tools to help save you time and generate quality content. They are not free and cost money to develop and maintain. However, as long as the tool is cost-effective and able to meet the quality considerations this should not be a big issue as it will help you make money which will pay for itself and save you time.
Limitations in what it can write
Last but not least, an AI writer is essentially a data generator. Therefore, you need to ensure that the end result is not only something you can use but it's also good enough for you to use it. Also, if you are generating articles from scratch and not taking anything from an existing database where all the writing already exists will thus be challenging for the AI writer.
Conclusion
Overall, AI writers can be a great help to businesses as content generators. As you can see, I have shared 14 uses for AI writer in business in this article. From creating blog posts to generating video scripts and even writing press releases, AI can help save you time and money while still delivering high-quality content.
However, it is important to remember that there are some disadvantages to using AI writers and that human input is still necessary for the software to work effectively. With careful control and editing of the output, businesses can save time and money while generating high-quality content with the help of AI writers.