Why Procrastination for Entrepreneurs is Dangerous and How to Overcome it
We've all been there: sitting at our computers, browsing the internet instead of working on that important project we're supposed to be completing. Sound familiar? If you're an entrepreneur, then it's likely that you've struggled with procrastination at some point in your career.
And while it can be easy to ignore the dangers of procrastination for entrepreneurs, doing so can cost you dearly. In this blog post, we will discuss reasons why entrepreneurs should not ignore the dangers of procrastination and how to overcome it.
FULL DISCLOSURE: This page contains affiliate links which means we receive a small commission at no cost to you when you make a purchase. As an Amazon Associate, I earn from qualifying purchases.
What is Procrastination?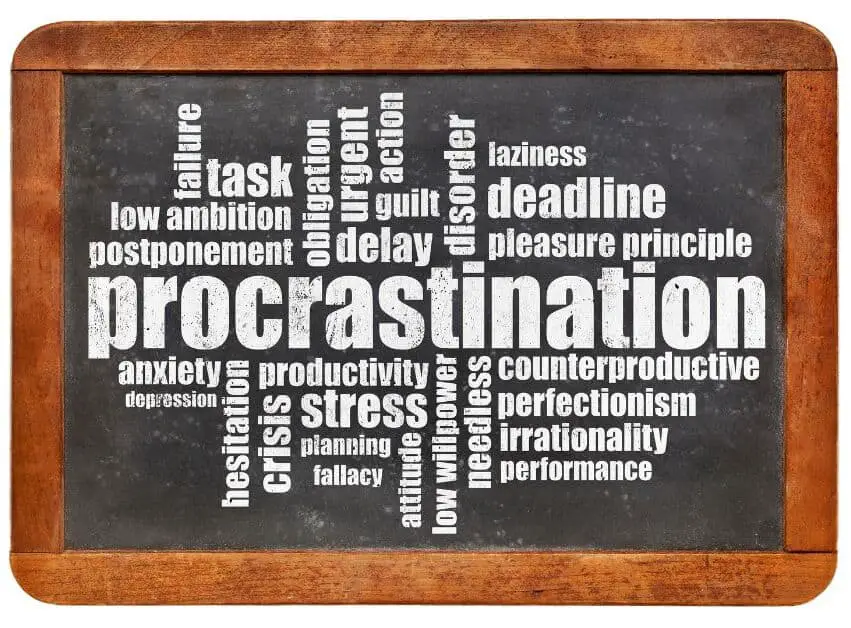 Procrastination is the act of delaying or postponing something that needs to be done. It can be caused by a variety of factors, including fear, insecurity, and a lack of motivation.
Procrastination can lead to negative consequences such as missed deadlines, lower-quality work, and stress.
Procrastination is the enemy of productivity. It's why you lack the motivation to work on your business. It's why you put off writing that blog post or finishing that video.
Why do entrepreneurs procrastinate?
There are several reasons why entrepreneurs procrastinate. Some of the most common reasons include fear of failure, fear of the unknown, and a lack of confidence. Procrastination can also be caused by a lack of motivation or by distractions such as social media and internet browsing.
6 Types of Procrastination for entrepreneurs
There are six types of procrastination that you may commonly face as an entrepreneur:
1. Decision procrastination – this occurs when you're faced with a decision and you procrastinate making a choice.
2. Avoidance procrastination – this occurs when you avoid tasks that you don't want to do. This is the type that I am most familiar with as I know I have lots of things that I need to do but I just don't feel like doing them.
Overthinking is usually the reason behind this procrastination. To overcome this type of procrastination, we need to use the Nike slogan "Just do it!" without thinking too much about it.
3. Perfectionism and procrastination – this occurs when you procrastinate because you want everything to be perfect. This is another type that I am guilty of a lot of the time.
It's related to the fear of failure. Since I want to succeed so much, I worry about failure so if I put it off, then there will not be any failure. However, in doing so I usually felt regrets due to missed opportunities later.
4. Procrastination by overload – this occurs when you're overwhelmed with too many tasks and you don't know where to start.
5. Emotional procrastination – this occurs when you procrastinate because you're not in the mood or don't feel motivated to work.
6. Time management procrastination – this occurs when you procrastinate by spending too much time on unimportant tasks instead of working on the important ones.
The dangers of procrastination for entrepreneurs and how it can affect your business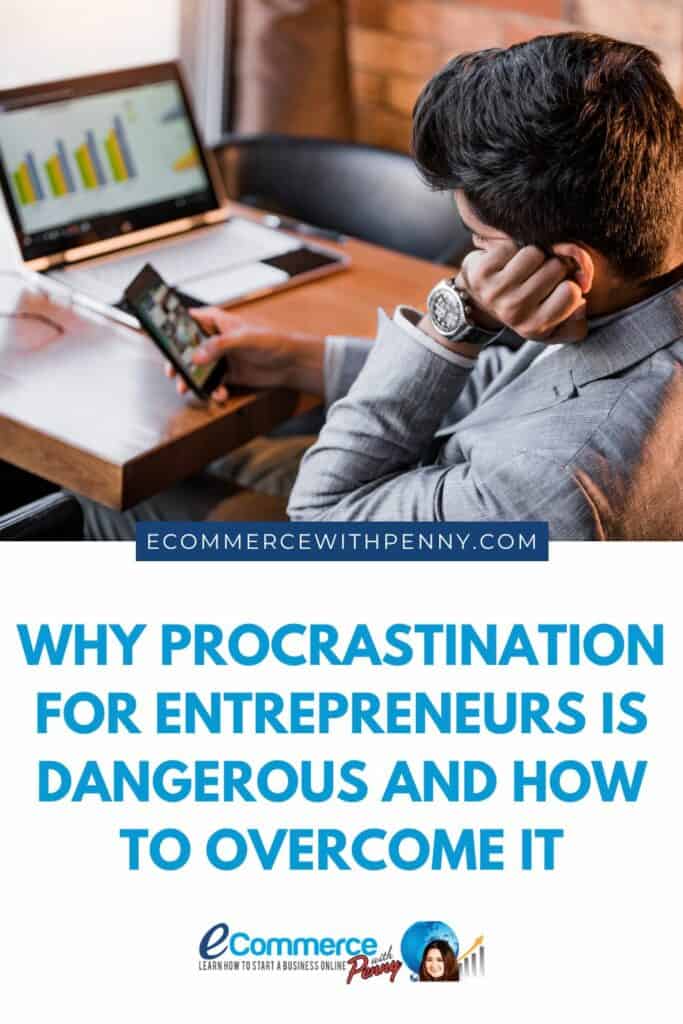 Procrastination is dangerous for entrepreneurs. Failing to start on important tasks can slow your business down and cause many problems for your business.
One of the most important aspects of your business is time management. Entrepreneurs tend to have a lot of tasks that need to be completed each day. Properly scheduling and completing these tasks are critical to the success of your business.
However, many people procrastinate when it comes to completing their job tasks. They may tend to leave their tasks for late into the day or they may finish them at the last minute.
This can lead to a backlog of tasks that need to be completed, which can affect the overall success of their business.
Why is it Critical for Entrepreneurs to Overcome It?
Entrepreneurs must overcome procrastination because it can lead to the negative consequences mentioned earlier. In addition, it can be a major obstacle to success and prevent you from reaching your goals.
You'll never get anything done if you keep procrastinating, and the longer you wait, the harder it will be to start as your to-do list will get longer and more daunting. Another problem is that the longer you procrastinate, the more behind you'll fall as your competition isn't going to wait for you
Procrastination is a form of self-sabotage. It's a waste of time that could be spent on more productive activities. It can lead to anxiety and stress as you'll become overwhelmed with everything you have to do.
It's hard to focus when you're constantly putting things off and trying to rush things at the last minute, so you're not doing your best work when you procrastinate. Furthermore, you're more likely to make mistakes when you're rushing.
You may start making excuses for why you can't do certain things. And after some time you may lose confidence in your ability to accomplish tasks.
It can also lead to missed opportunities, as procrastinating entrepreneurs are often too late to take advantage of new opportunities. Finally, procrastination can be a major drain on your mental and physical energy.
By overcoming procrastination, you'll be able to focus on the important things in life and make progress toward your goals. You'll have more energy and enthusiasm for the tasks that need to be done, making it easier to stay motivated and productive.
Why Perfection Is the Biggest Enemy for Startup Entrepreneurs
Many startup entrepreneurs make the mistake of striving for perfection, which can lead to procrastination and missed deadlines. The key is to find a balance between getting things done and ensuring that the quality of your work is top-notch.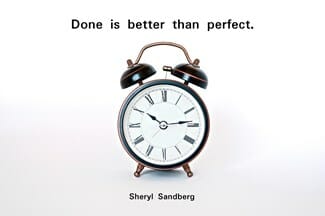 It's important to remember that when it comes to procrastination, taking action trumps perfection every time. Done is better than perfect! You'll never have the perfect circumstances to start. So don't let procrastination hold you back- take control of your tasks and start moving forward!
3 strategies to deal with procrastination
If you are struggling with procrastination, try these three strategies:
Identify your weak spot. Find what triggers your procrastination and identify how your habits are affecting your progress. Then, come up with a solution. Remember, you can't change what you don't acknowledge.
Remove distractions. Studies have shown that concentration is greatly diminished by distractions. Thus, identify your distractions and find ways to eliminate or reduce them.
For example, turn off your phone and other distractions so you can focus on getting things done. By eliminating distractions, you are more likely to focus on the task at hand.
Break it down. Putting off a task can seem overwhelming, but by focusing on smaller chunks it becomes more manageable. Try to look at the big picture of your project and break it down into smaller tasks and tackle each part separately.
There is a good book on this called Tiny habits by BJ Fogg which talked about developing habits by doing a little bit every day.
Simple Methods to Help You Let Go of Procrastination Habits Completely
For some entrepreneurs, procrastination can be difficult to overcome but learning how to overcome it can be easy. The secret to overcoming procrastination is discipline. By following one set of rules, you can prevent tasks from slipping through the cracks.
The rules of discipline for entrepreneurs are:
Prioritize tasks. Figure out what tasks are most important and focus on completing those first. When starting a task, focus on only 1-2 items at a time.
Write things down and get organized. Writing things down will help you keep track of what needs to be done. Keep a to-do list where you write down all the tasks that need to be completed. Set reminders and use a calendar to stay on track.
Don't start your day too late. Most entrepreneurs make the mistake of waking up late, which sends them straight into a procrastination spiral. To stop procrastinating, start your morning early.
Set clear and realistic goals. The best way to beat procrastination is by setting clear and realistic goals for yourself. By defining your goals, you know exactly what you need to do, which increases your motivation.
Set deadlines for yourself. Set a time limit on how long you will complete a task. Setting deadlines for tasks will allow you to get tasks completed on time.
Don't multitask. Multitasking may seem like a good idea, but it can actually cause you to procrastinate more. The best way to beat procrastination is to focus on one task at a time.
Find a way to track your progress. Knowing where you are in your goals and tasks will help you stay motivated.
Find a friend or colleague to hold you accountable — find a friend or colleague to stay accountable to help motivate you.
Reward yourself. Reward yourself when you are done with a task. A quick break or watching your favorite TV show can be a great reward.
Take a break when needed — procrastination can occur when you're feeling overwhelmed, so take a break when needed to recharge your batteries.
Beat Procrastination With Biohacking
According to Healthline, biohacking is described as citizen or do-it-yourself biology. For many "biohackers," this consists of making small, incremental diet or lifestyle changes to make small improvements in your health and well-being.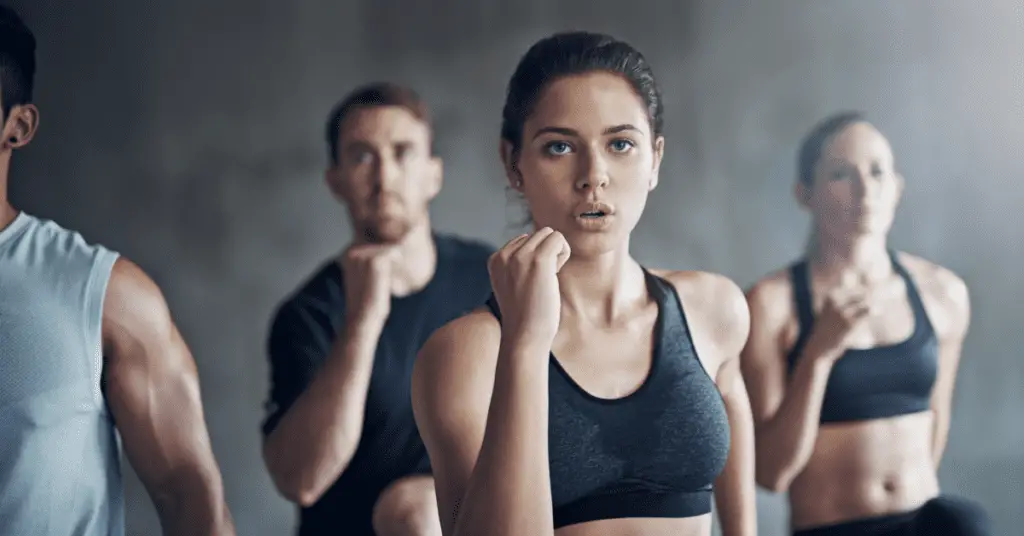 Biohacking is a great way to overcome procrastination and improve your productivity. There are several biohacks that entrepreneurs can use to help them get things done:
1. Take cold showers — this is a great way to shock your body and get rid of any procrastination-related fatigue.
2. Drink coffee or tea — caffeine is a great way to boost your energy and focus, which can help you overcome procrastination.
3. Exercise — exercise is a great way to release endorphins and improve your mood, which can help you overcome procrastination.
4. Use a productivity app — there are many helpful productivity apps available that can help you stay on track and eliminate procrastination.
5. Try a brain stimulation device — there are many devices available that can stimulate your brain and help you focus, which can be helpful for overcoming procrastination.
6. Work according to your biological rhythm – understanding your body's natural biological clock can help you improve productivity and eliminate procrastination. For example, if you work best in the morning, make sure to schedule your most important tasks for that time.
By using these tips, you can beat procrastination and become more productive.
Develop habits that can help you avoid procrastination
When it comes to developing good habits, it is important to start with the basics. Here are a few tips that can help you avoid procrastination:
Establish a daily routine: Make sure you have a routine for yourself. Try to wake up at the same time each day, spend time in the morning doing your productive activities, and then spend the rest of the day focusing on your goals. This will help you stay on track and avoid feeling overwhelmed.
I have previously shared about my own morning routine in the following blog posts that you can check them out: The 5AM Club – My New Secret to a Productive Day and My Morning Routine 2022 Update to the 5AM Club.
Challenge yourself: When you start to feel overwhelmed or tempted to procrastinate, take a break and do something that is challenging but also fun. This will help to energize you and keep you motivated.
Make time for fun: Finally, make time for fun and relaxation. This will help to keep you sane and prevent you from feeling overwhelmed by your deadlines. By setting small goals, challenging yourself, and making time for fun, you will be more likely to develop good habits that can help you avoid procrastination.
Conclusion: Taking Action Now to Combat the Dangers of Procrastination for Entrepreneurs
Procrastination is a common issue that entrepreneurs face. While it's not easy to overcome procrastination, there are ways to overcome it and channel it into productivity. By understanding the risks procrastination poses, you can take steps to minimize the effects procrastination has on your businesses and reach your goals.
When it comes to procrastination, the key is to take action and stay productive. With these simple strategies and the right approach, you can overcome procrastination and achieve entrepreneurial success. So don't procrastinate any longer – start taking action today! Your business will thank you for it.