7 Steps to Create a Killer Content Strategy for Your Online Business
As a new entrepreneur, knowing how to create a content strategy is essential. With so much competition in the digital world, it is vital to stand out, and that involves creating consistent and compelling content that will keep customers engaged.
In this blog post, we're going to give you a step-by-step guide to show you how to create a killer content strategy for your online business. From finding your target audience to figuring out the best platforms, I've got you covered. So, let's dive in!
DISCLOSURE: Some of the links that I share in this article ARE my affiliate links. This means I may earn a commission, at no extra cost to you. In fact, sometimes you'll get a discount or free credits just FOR using my link. 🙂
What is content strategy?
A content strategy is the planning, creating, and delivering of content with a specific purpose in mind. Whether that's to educate customers, promote new products, or engage existing ones – having an effective strategy can help you achieve your goals.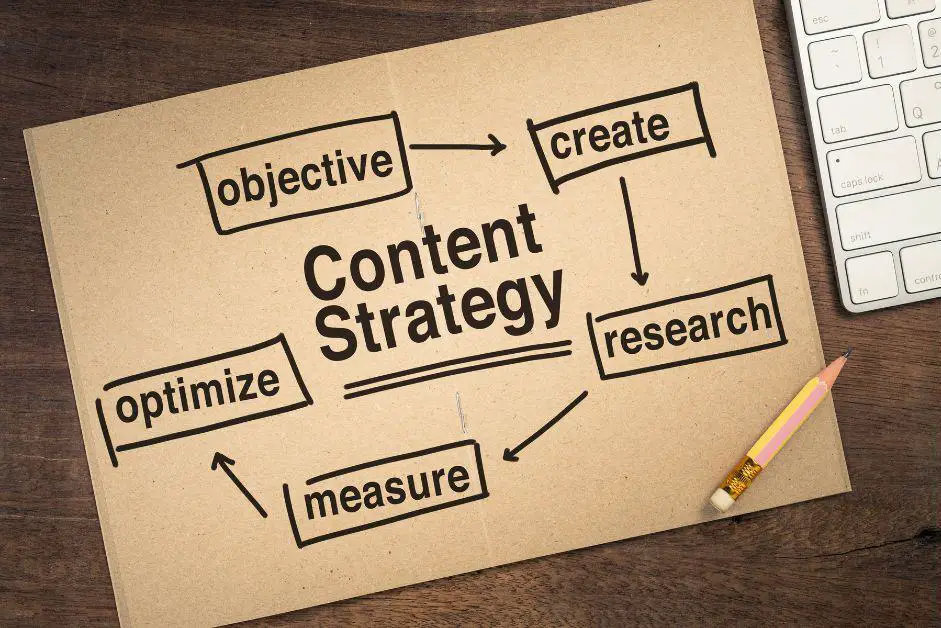 It involves understanding who your audience is and what they want from your business, as well as how to create content that resonates with them. It also means understanding the best channels for delivering it, such as social media or email.
What are the components of a content strategy?
The components of a content strategy can be broken down into four basic areas:
1. Content Planning: This involves understanding your target audience, researching the topics they're interested in, and coming up with ideas for content that will fit their needs. It's also important to plan how often you will post and what format it will take.
2. Content Creation: This is where you actually create the content for your strategy. This can be anything from blog posts and videos to podcasts and images. It's important to ensure that your content offers value to your readers, so make sure to research topics thoroughly and use strong visuals or engaging language.
3. Content Promotion: Once your content is created, you need to promote it. This involves figuring out the best platforms for your audience – whether that's social media, email lists, or websites – and using those to reach out to potential customers.
4. Content Analysis and Optimization: Finally, you need to review the performance of your content strategy and look for ways to improve it. This involves tracking metrics such as engagement, clicks, and conversions to determine which pieces of content are resonating with your audience and which need to be tweaked or changed up.
Steps to Create a Killer Content Strategy
I will next walk you through the essential steps for creating a strategy that helps you achieve your business goals.
Define Your Target Audience
The first step in creating a content strategy is to define your target audience. Consider things like age, gender, interests, and location.
Who are they, what are their pain points, and what motivates them to buy from you? Understanding your target audience will help you create content that speaks directly to them, increasing engagement and conversions.
It is useful to create personas for your target audience at this stage too. Personas are fictional characters that represent your ideal customer. You can use them to understand how they think, how they make decisions, and what kind of content is likely to pique their interest. The picture below shows an example of a buyer persona.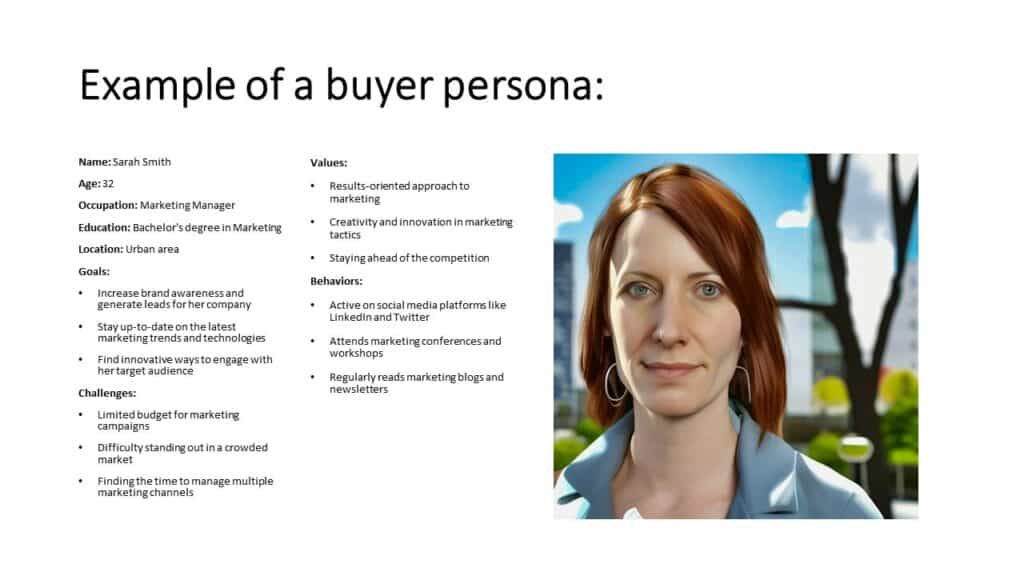 Identify Your Goals
Once you've defined your audience, it's time to determine your content marketing goals. What you're trying to achieve with your content strategy? Are you looking to increase brand awareness, drive traffic to your website, increase sales, improve customer retention or generate leads?
Your goals will help you choose the types of content to create, the channels to use, and the metrics you'll need to track success. Once you have a clear understanding of your goals, your content strategy should be designed to meet those objectives.
Establishing clear and specific goals will help you focus your efforts and measure the success of your strategy.
Conduct a Content Audit
Before you start creating new content, it's essential to take stock of what you already have. A content audit involves evaluating the effectiveness of your existing content to determine which types of content resonate with your audience and which ones need improvement.
By analyzing your content inventory, you can fill gaps in your content strategy and optimize your existing content to improve its performance.
Choose the Best Platforms for Your Content
There are so many platforms to choose from these days, which can make it overwhelming to know where to start. Consider which platforms your target audience uses the most, and which ones align with your goals.
For example, if your goal is to drive traffic to your website, you'll want to consider blog posts and social media platforms such as Facebook and Twitter. If you're looking to increase brand awareness, consider visual platforms like Instagram or YouTube.
If you're unsure of where to start, it's best to focus on a few channels first, then expand your reach when you get more comfortable with the process.
Create a Content Plan
This is the next step to create a killer content strategy. A content plan outlines the types of content you'll create, when you'll publish it, and which channels you'll use to promote it. Be sure to consider the frequency and type of content you'll post, which topics you'll cover, and when you will publish it.
Brainstorm Content Ideas
Think about what your audience would find valuable and engaging. Brainstorm content ideas regularly to keep your content fresh and interesting. You can keep yourself updated with the latest news in your niche to see what is trending or of interest to people.
Another way is to check out Google search results and see the People Also Ask section. You can also check out Reddit or Quora to see what questions people are asking.
If you're working with a team, consider holding weekly brainstorming sessions, drawing inspiration from customer feedback, or analyzing competitor strategies.
Plan Your Content Mix
Your content strategy should encompass a variety of formats and distribution channels. Blog posts, social media posts, videos, podcasts, e-books, and infographics are just a few examples of the types of content that you can include in your marketing mix.
Choose the types of content that are most appropriate for your target audience and your business goals. You should also consider the channels you use to distribute your content to maximize your reach and engagement.
Establish a Content Calendar
Consider creating a content calendar that outlines your content publishing schedule, so you have a consistent plan for publishing. A content calendar helps you stay organized, align your content with business goals and target audience interests, and maintain a cohesive voice across channels.
Establishing a publishing schedule also ensures that you're maintaining a consistent flow of new content to keep your audience engaged. You can start by creating a content calendar that outlines your publishing schedule for the next three to six months.
This will help ensure that you're publishing content regularly and sticking to your plan. You can use a social media scheduling tool such as SocialBee to help you stay organized and manage your content calendar.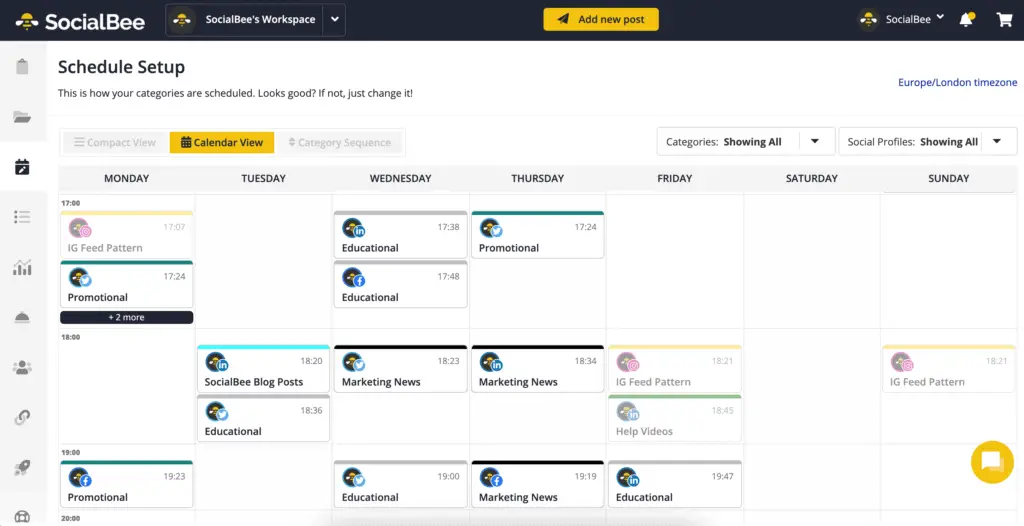 It's also important to include a budget for any promotional activities or paid ads that may be required. Having a plan in place will help ensure your content marketing efforts are organized and effective.
Execute Your Plan
Now that you have a plan in place, it's time to execute. Remember, your content strategy isn't set in stone. It should constantly be evolving as you learn what works and what doesn't.
Measure Your Success
Finally, it's important to measure the success of your content strategy. This will help you determine which types of content are most effective, which channels are working best, and where you need to make improvements.
It's important to track your results and adjust your strategy as needed. Tracking the results of your content strategy is a crucial step in determining whether it's successful.
Use analytics tools to track your website traffic, and monitor your social media engagement, likes, shares, and comments to determine which pieces of content are resonating with your audience and which need to be tweaked or changed up. Analyze engagement levels, and conversions to see what's working and what's not.
If you use SocialBee to help you schedule the social posts to different social media platforms, you will be able to track analytics for each platform with it too. Below are two screenshots of analytics insights from SocialBee.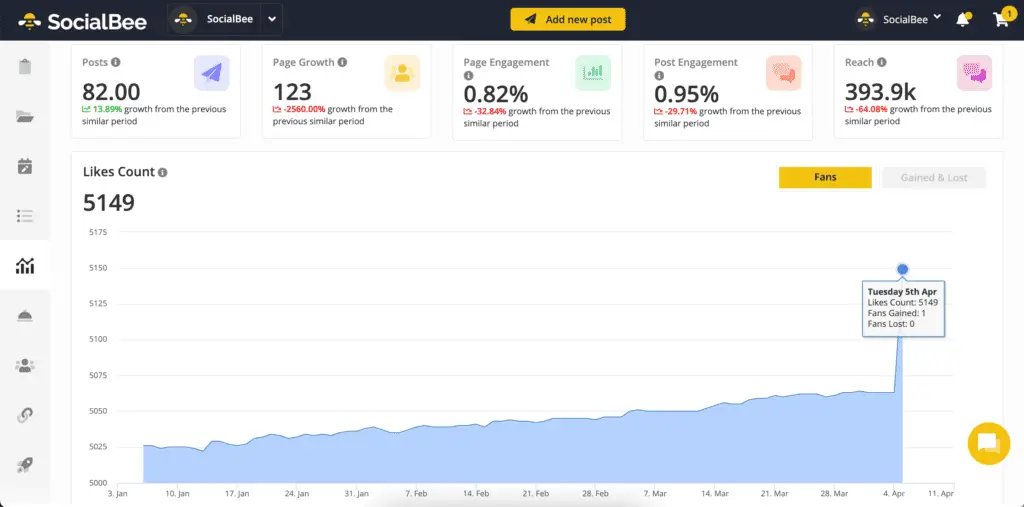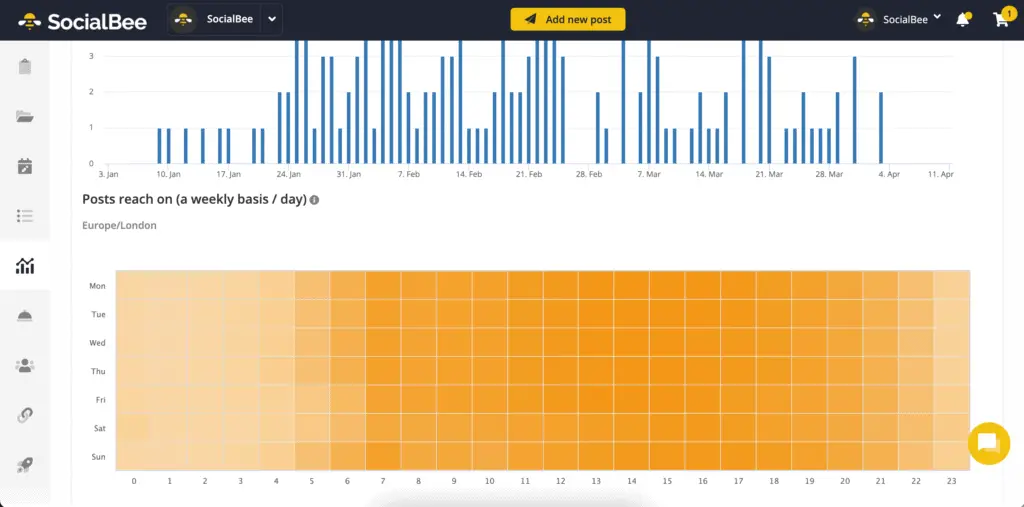 There are many tools available to help you track your progress. Google Analytics and Google Search Console are two popular tools that can help you check website traffic. If you use Social Media Management tools like SocialBee, it also provides analytics to give you insight into social media engagement.
By regularly tracking your content's performance, you can adjust your content strategy as needed to ensure that it's working for your business. Take the time to review and analyze your content marketing efforts – measure your results, identify areas for improvement, and adjust your strategy accordingly.
As you start to see success with your content strategy, it will become easier to refine and optimize it even further.
Conclusion on 7 Steps To Create a Killer Content Strategy
Creating a killer content strategy for your online business isn't something that can be done overnight. It requires careful planning and execution. With the steps outlined in this article, you'll be able to build an effective and successful content strategy.
Remember, consistency is key when it comes to content. A well-planned and executed content strategy will help you build brand authority, attract and keep customers, and drive conversions. So go ahead, craft that winning content strategy, and take your online business to new heights!