Learning Points From My Facebook Page Is Restricted From Advertising
Do you know how important it is to be flexible as an online entrepreneur? I recently learned this firsthand when my Facebook page is restricted from advertising unexpectedly. This setback was a hard lesson in the necessary flexibility of running an online business, and in this article, I would like to share my experience with you so that you too can learn from it.
DISCLOSURE: Some of the links that I share in this article ARE my affiliate links. This means I may earn a commission, at no extra cost to you. In fact, sometimes you'll get a discount or free credits just FOR using my link. 🙂
What Happened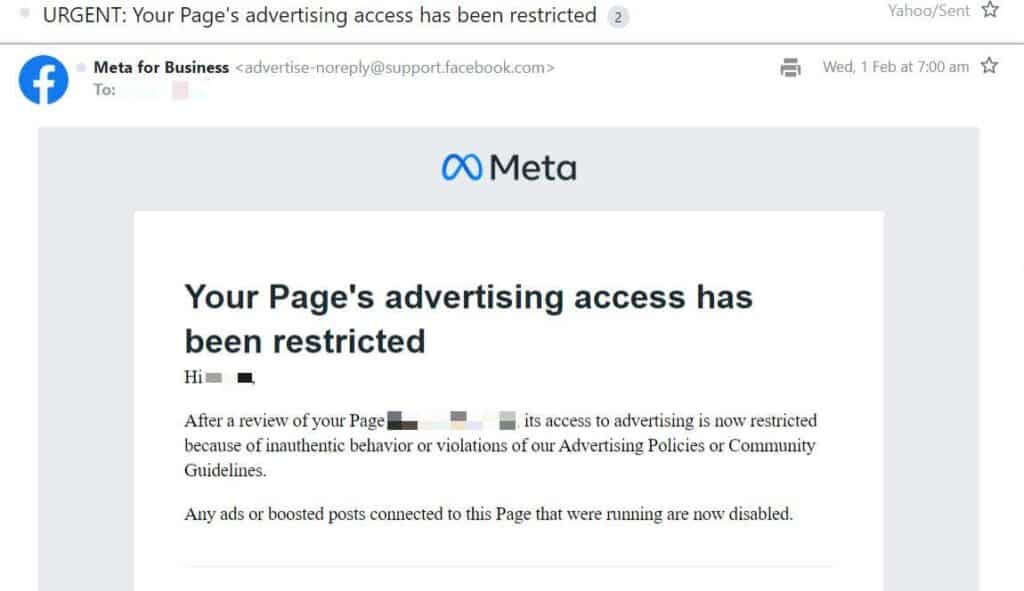 On the 1st of February, I received an email from Facebook at 7 a.m. informing us that our business Facebook page had been restricted! The email stated that "Your Page's advertising access has been restricted" because of "inauthentic behavior or violations of our Advertising Policies or Community Guidelines". And "Any ads or boosted posts connected to this Page that were running are now disabled."
In simpler terms, this meant that my Facebook page was not allowed to advertise anymore. This happened suddenly and gave us a rude shock, as we have been advertising on Facebook using our business page all along with no issue. Furthermore, the email was really not helpful as it didn't tell us which advertising policy or guideline was violated.
In fact, we had just started running some new ads like one to two days ago, so this sudden restriction meant that 1. The engagements the ads have accumulated over the past 1 to 2 days basically became useless and 2. The "learning" that the ads had accumulated went down-the-drain, which means I have wasted a few hundred dollars on those ads. 🙁
What we tried to do
So immediately I clicked the button "Fix issue" that came with the email. That brought me to a page which let us submit an appeal to request review from Facebook. I submitted the appeal to them to review this politely.
Also, I also chatted with a Facebook support staff on Facebook Messenger who told me that I had to wait for 24 to 48 hours for the review process to complete and for them to come back to me on the result of the review. He also said that we couldn't do anything other than wait since all the ads had stopped running abruptly. He assured me that he had escalated our case to the internal team.
It felt really terrible as we had put in much effort in managing our page over the years and also in creating the ads. But all of a sudden, Facebook just threw a spanner in the works for us. And we don't even know what's going to happen as they may or may not lift the restriction.
The current status
As of today, it's already the 4th of February and way past 48 hours since I submitted the appeal and chatted with the support. But there is no news or any update from Facebook, and I still do not know what exactly caused the restriction.
I cannot help but feel that Facebook doesn't really care about small businesses like us. We are at their mercy here, and we just can't do anything.
It's still up in the air whether my Business Facebook page will be allowed to advertise again, but my experience has definitely taught me that it is important to always remain flexible so as not to get too caught off guard when unexpected issues like this arise.
My learning points from my Facebook page is restricted from advertising
Such "misfortunes" can happen in your online business for no reasons. It has happened quite a few times to us in the past, and we just had to adapt and pivot.
Arising from this episode, my key learning points are:
1. Always remain flexible when running an online business, as unexpected issues can and will happen without prior notice.
2. There is no use getting angry or feeling injustice about it since such things are out of your control. When it happened out of no reason, you can feel bad and angry about it. You probably would feel injustice like I did. But since things like this are totally out of your control, you can only accept it and move on.
3. Focus on finding a solution and be prepared to pivot and adapt accordingly. So in this case, I am exploring other advertising avenues and platforms to generate organic traffic. For example, through content marketing on social channels and email marketing.
Related Posts
4. It's dangerous to put all your eggs in one basket. Never rely on just one platform, whether it's selling on one online marketplace or, in this case, advertising on just one platform. Aside from selling on online marketplaces, you should open your own store and expand your sales channels. For example, you could set up your own Shopify store.
Related Posts
5. How to contact Facebook for help: If you need to contact Facebook support for similar issues in future, you can try to reach them via the following URL: https://www.facebook.com/business/help/support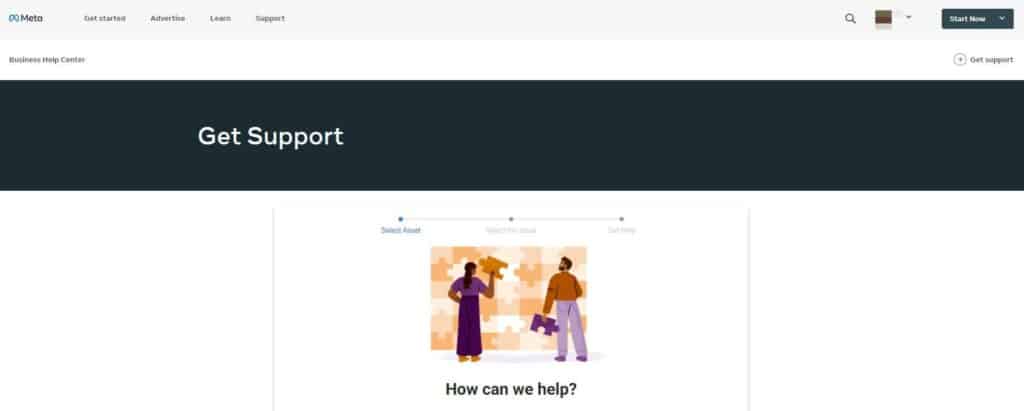 I am sharing with you this episode of my Facebook page is restricted from advertising so that you know online entrepreneurship is not a bed of roses. Sometimes bumps and roadblocks come up that can throw a wrench in your plans—my Facebook page being restricted from advertising is my most recent example!
The good thing is, with the right attitude and research, you can overcome these obstacles. I'm already looking into other ways to drive my business forward and be successful despite this setback.
Conclusion for my Facebook page is restricted from advertising
In conclusion, it is important to be prepared and plan ahead for the unexpected when running an online business. Flexibility and agility are keys to quickly adjusting when something out of your control occurs. It might not be easy at first, but with some practice and patience, you will eventually get used to it!