How to Monetize Your Blog: The Best Ways to Make Money Online
Picture this: You wake up in the morning, grab a cup of coffee, and open your laptop. Instead of facing the mundane routine of a 9-to-5 job, you eagerly log into your blog, knowing that every word you write has the potential to generate income. Your blog isn't just a hobby anymore; it's a thriving business that fuels your dreams and empowers your creativity.
Monetizing your blog isn't a far-fetched fantasy reserved for a lucky few. It's a tangible reality within your reach, waiting to be unlocked. If you're wondering how to monetize your blog and turn your hobby into a profitable business, this blog post is for you. I'll share some practical tips and strategies that I have learned along the way, and you can use to start earning money from your blog.
Before we go deeper into details, I want to emphasize the importance of having realistic expectations and being patient when it comes to earning money from your blog. While many bloggers find success within a few months, other blogs may take years to see tangible results. It is important to remember that blogging is an investment, and like any investment, it takes time for it to grow and generate returns.
DISCLOSURE: Some of the links that I share in this article ARE my affiliate links. This means I may earn a commission, at no extra cost to you. In fact, sometimes you'll get a discount or free credits just FOR using my link. 🙂
What are the best ways to monetize a blog?
Monetizing your blog can be done in a variety of ways. Here are some of the most popular and effective methods for bloggers to start making money:
Display Advertising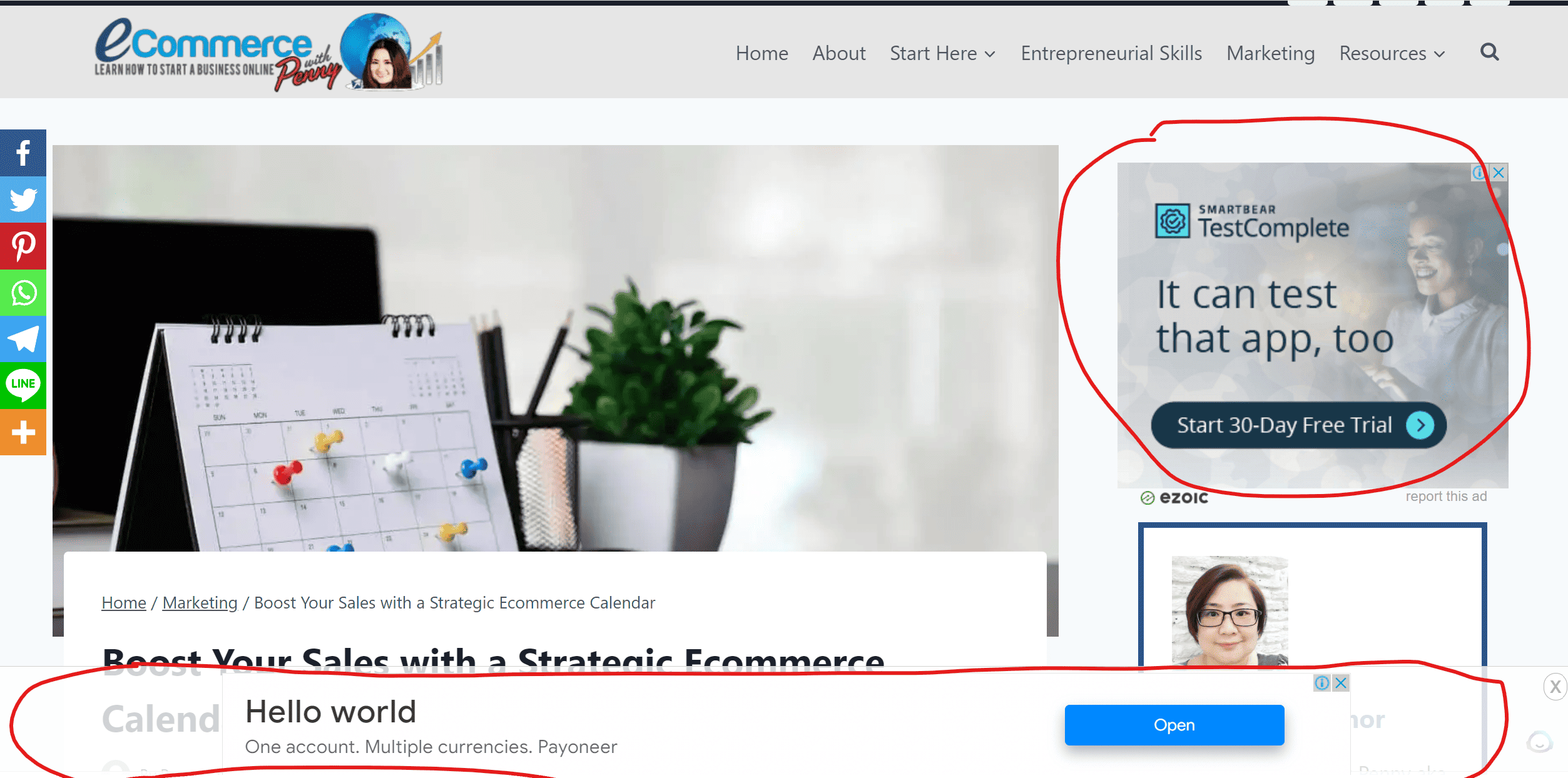 This is a common way to monetize your blog for beginners. It is also one of the most popular ways to monetize a blog. You can place ads on your site, and when visitors click on them, you make money.
Two of the most popular ad networks are Google AdSense and Media.net. Both networks are easy to join, and you can start earning money from blog traffic almost immediately.
The greater the amount of traffic your blog generates, the higher your potential earnings. However, the downside of having ads on site is that they can be distracting to your audience and diminish the user experience.
It's thus important to balance the content and the number and placement of ads to avoid being intrusive while maximizing the generation of revenue.
Affiliate Marketing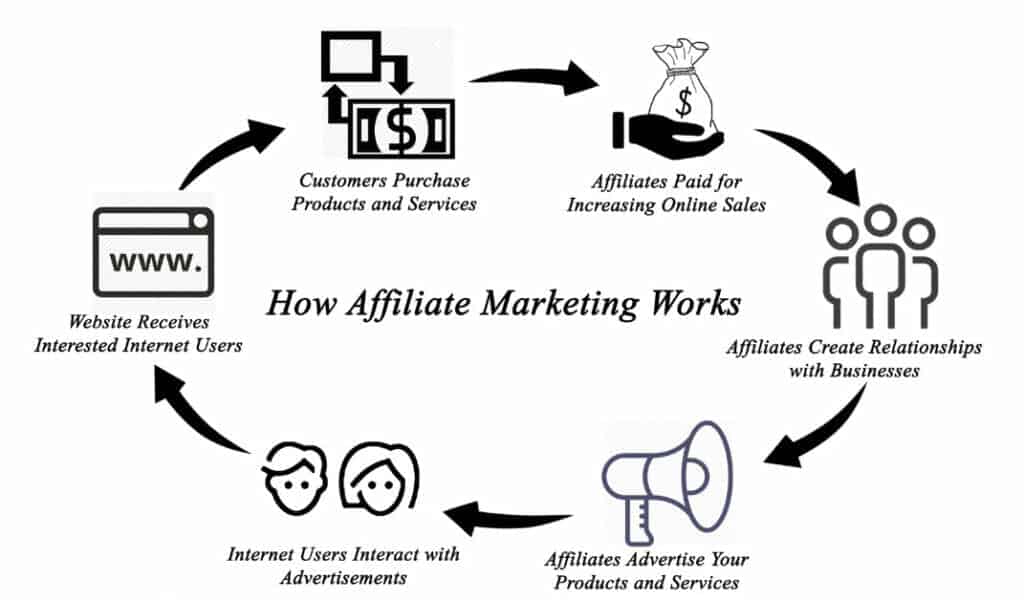 Affiliate marketing is another popular way to monetize your blog. The idea here is to promote products or services from other companies on your blog and earn commissions on sales made through referral links. You earn a commission when someone clicks on your unique affiliate link and makes a purchase.
To get started with affiliate marketing, you'll need to join an affiliate program or network, such as Amazon Associates, ShareASale, or Clickbank. To make more money, find top-notch products and services that match your audience and suggest them through affiliate links strategically placed in your content.
Always disclose your use of affiliate links for transparency. This will help you earn readers' trust and keep your blog's integrity.
Sponsored Content and Brand Partnerships
Approaching and collaborating with brands in your niche is another great way to monetize the blog. Brands are always looking for influencers to promote their products and services, so why not you?
If you have a large audience and steady engagement, it shouldn't be difficult to find brand partnerships that can help monetize your blog. Companies often pay bloggers in cash or free products/services to review and promote their products on their blog. It's a great way to expand your reach and generate income from the blog.
You can create sponsored posts, which are paid pieces of content written by you for a particular brand or business. You can also create a sponsored video, or even hold a sponsored event.
Sponsored posts cover diverse topics according to sponsoring companies' needs, but it's crucial to label them clearly to ensure transparency and win readers' trust. Like affiliate marketing, the key here is to work with companies that align with your niche and audience.
Bloggers usually charge more for sponsored content as it requires creating valuable content that aligns with the sponsor's goals and resonates with their audience, which takes time and effort. According to Impact Radius, Influencers charge approximately $60 per post, per 1,000 unique visitors.
Selling Own Digital Products
Another way to monetize your blog is to sell digital products such as ebooks, courses, printables, or software. You can create these products yourself, or you can work with other bloggers or businesses to create products that align with your niche.
If you have in-depth knowledge in your niche, consider creating an e-book. Once you create an e-book, you can sell it on the blog and earn passive income. E-books are a convenient way for your audience to learn about the topic and provide you with steady income.
One useful tool that can help you make ebooks easily is Designrr. With Designrr, you can easily create professional-looking ebooks from your existing content in the form of word document or blog posts. There are also a variety of customizable templates and mock-ups to choose from so that you can create the perfect ebook for your audience.
For example, I have leveraged my expertise in using AI to help in blogging and created an ebook with Designrr called "Unlock Your Blogging Potential with ChatGPT: 107 Winning Prompts for Bloggers" for sale on my site.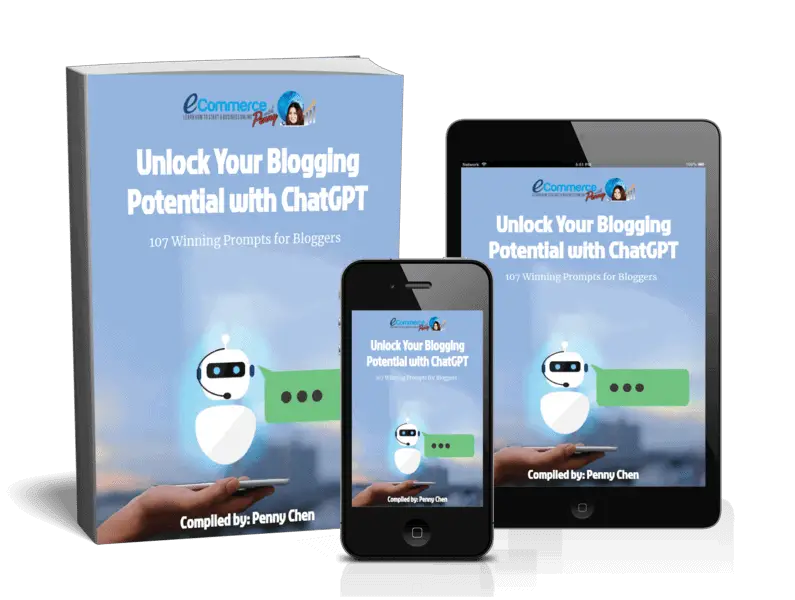 Another option if you have extensive knowledge about a specific topic is creating an online course that educates the audience. Online courses can add credibility to your blog and help you position yourself as an expert in your niche. A great platform that you can use to create and market your courses is Teachable.
Creating digital products requires time and effort, but once they're created, they can provide a passive income stream for years to come. Plus, they offer value to your audience and can foster a sense of community around your blog.
Offering Services and Consultation
If you are an expert in your niche, you can earn from your blog by providing coaching or consulting services. Simply create a services page on the blog, showcasing your skills and attract clients.
Coaching, consulting or offering services requires more of a time investment than other monetization strategies. However, it can be a lucrative way to monetize your blog as you don't have to create products or manage inventory — all you need is your time and expertise. And, it provides an opportunity to impact your audience's lives, which can be incredibly rewarding.
Building a Community and Seeking Support
Engaging with your audience and fostering a strong community around your blog is key to monetization. And, if you have a supportive audience that trusts and believes in you, they may even be willing to financially support your blog.
This can be done through Facebook groups or using community platforms such as Heartbeat or Uuki. You can also create a membership site where users pay a monthly fee to access exclusive content or benefits.
By leveraging audience support, you can create sustainable income from your blog and offer added value that will keep your supporters coming back for more. And, with the right strategy and an engaged audience, you can monetize your blog successfully without compromising its authenticity or integrity.
Building an Email List with Relevant Subscribers
Building an email list with relevant subscribers is an essential component of maximizing returns from your blog. An email list is a collection of email addresses that have opted-in to receive communications from your blog.
These subscribers represent a loyal audience who are interested in your content and can become valuable customers over time. This method takes time and effort but can be a valuable component of a successful blog monetization strategy.
By creating opt-in forms, offering incentives, nurturing relationships, utilizing email marketing platforms such as MailerLite, and targeting your audience, you can build an email list that converts subscribers into customers.
Read Related Post
Speaking gigs
You can use your blog to establish yourself as an expert in your niche and get paid to speak at events. Speaking engagements are a great way to reach new audiences, build relationships with potential customers, and monetize your blog.
To find speaking gigs, you can use sites such as SpeakerHub. Or you can register on speaker directories such as Experts Exchange and share your story with potential clients.
Sell merchandises
Apart from selling digital products, you can create and sell merchandise related to your blog's niche. It's important to have the right systems in place, such as an effective e-commerce store. Through careful selection of the right product and pricing for your target audience, you can make money through the sale of your physical items.
Dropshipping is another option if you don't want to invest in your own product and hold stock. This side-steps some of the risk associated with creating and holding stock of physical products while still giving you the potential to generate earnings online.
While this alternative won't provide the same profit margin as manufacturing and distributing your own products, it's a more feasible way to monetize your blog due to its low investment requirement.
How to implement these strategies into your blogging routine?
Now you know the best ways to monetize your blog, so how do you actually go about implementing these strategies? The following are some suggested steps to get you started:
Step 1: Determine your goals
Before implementing any monetization strategies, it is important for you to determine your goals for blogging. This will help you tailor your approach to monetization and ensure that you are pursuing strategies that align with your overall vision.
For example, if your goal is to empower women to travel solo, you may want to focus on creating sponsored content or affiliate partnerships with travel companies that cater to solo female travelers. On the other hand, if your goal is to build expertise in a particular area, you may want to focus on creating and selling your own digital products or courses.
By understanding your goals and tailoring your monetization strategies accordingly, you can create a sustainable and profitable business that aligns with your passions and vision.
Step 2: Choose a strategy to achieve your goals
To choose a monetization strategy that aligns with your blogging goals, start by defining your big why and creating a mission statement. Identify a problem that you can solve for your audience, and develop a solution that your course can teach.
Research the market to ensure that your course can add value to your audience and that there isn't already a similar offer available. Map out your course content and have a clear plan of how it will solve a user's problem. Focus on implementing one strategy at a time, testing and tweaking before moving to the next.
Step 3: Create a plan and execute it
Once you have decided on a monetization strategy, create a plan of action and timeline to achieve your goals. Make sure that you are setting realistic goals while still aiming high. Set milestones for yourself so that you can track progress and measure success.
Finally, take action and execute the plan. You can utilize tools like Jasper AI to come up with content ideas quickly and optimize for buyer-intent keywords.
Consider creating a blog series and promoting your highest paying affiliate programs. Remember to keep your content cohesive and focused on content pillars, and make it easy for your content to rank in organic search.
Step 4: Monitor and track your results
To effectively monitor and track the results of your monetization strategies, it's important to have a structured approach and regularly measure your success. One way to do this is by setting specific goals and KPIs (key performance indicators) for each monetization method you are using.
For example, if you are promoting affiliate products, you can track the number of clicks on your affiliate links, the conversion rate, and the revenue generated. If you are selling digital products, you can track the number of sales, the revenue, and the customer feedback.
It's also important to use analytics tools like Google Analytics to track your website traffic, user behavior, and conversion rates. By analyzing this data, you can identify which monetization methods are working well and which ones need improvement.
Additionally, regularly sending surveys or collecting feedback from your audience can help you understand their needs and preferences, and adjust your monetization strategies accordingly.
Overall, monitoring and tracking your monetization strategies is essential to ensure you are making the most of your blog and maximizing your revenue potential.
By regularly measuring your success and making adjustments based on data and feedback, you can continue to grow your blog and increase your income.
Step 5: Revise your strategy as needed
To revise your monetization strategy as needed, you need to regularly evaluate its effectiveness. One way to do this is by tracking your blog's metrics, such as traffic, engagement, and revenue.
If you notice a decline in any of these areas, it may be time to make some changes. Start by identifying the specific strategy that's not working and brainstorming alternative approaches.
Consider implementing one change at a time, so you can measure its impact before making further adjustments. Don't be afraid to experiment with new methods, but always stay true to your brand and values.
Remember to regularly check in on your progress and adjust your goals as needed. By staying flexible and adaptable, you can ensure that your monetization strategy is always optimized for success.
Take the time to develop a strategy around each of the ideas mentioned above and create an action plan that outlines exactly what needs to be done to get started. It's also a good idea to research the best practices for executing each of these strategies, such as email marketing tools and e-commerce platforms.
Read Related Post
Finally, make sure you have adequate time in your schedule to devote to monetization efforts, so you can see the desired results. With commitment and focus, you can begin turning your blog into a lucrative business.
Conclusion on how to monetize your blog
Monetizing your blog is more than just making money; it's about unlocking your potential, pursuing your passions, and creating a life of purpose. As you embark on this journey, stay true to your voice and values, while adapting to the changing landscape.
Remember, it's a process that requires patience, perseverance, and a commitment to growth. Use the income generated to fuel your creativity, invest in personal development, and make a difference in the lives of others.
Embrace the challenges and celebrate the victories. With passion and determination, your blog can become a beacon of success and fulfillment. Start today and let your blog pave the way to an extraordinary future.
FAQ
What are some affiliate marketing programs I can use to make money from my blog?
There are several affiliate marketing programs that bloggers can use to monetize their blogs. One of the most popular is Amazon Associates, which offers a commission of up to 10% on qualifying purchases made through affiliate links.
ShareASale and Commission Junction are also great options for finding affiliate products to promote. It's important to choose products that are related to your blog's niche to ensure that your audience will be interested in them.
Many affiliate programs are free and easy to join, with a single approval to activate your account. Payment methods vary by program, but most offer options such as direct deposit, PayPal, or check. Affiliate marketing is an excellent way for bloggers to earn income while providing quality content to their audience.
Read Related Post
What is the best way to find advertisers and sponsors for my blog?
To find advertisers and sponsors for a blog, you should take the initiative to email brands and inquire about partnership opportunities. It's also important to create an advertising page and media kit that includes details on the blog's traffic, social media following, email list, demographics, target audience, etc.
Look for a brand partnership that enables you to create a series of sponsored posts spread over several weeks or months. When reaching out to brands, show them how sponsoring your posts would benefit their business and offer ideas for how you'd include their products in your content.
Don't compromise your integrity as a blogger and only recommend products that you believe in and that you think would offer genuine value to your readers. Be honest with your audience and clarify sponsored posts with a short disclaimer.