How Can a Small Online Retail Store Compete with Online Retail Giants? 
It's no secret that Amazon has taken the online marketplace by storm. In fact, when it comes to ecommerce, Amazon makes up nearly half of all sales. So, why would people want to buy from your online store if they can get the same things from Amazon, and worse, at a cheaper price sometimes?
This is a question on the minds of many new ecommerce sellers. So how can a small online retail store compete with online retail giants? While it may seem daunting at first, there are some key strategies you can use to stand out from the competition and draw customers away from the big players like Amazon. 
DISCLOSURE: Some of the links that I share in this article ARE my affiliate links. This means I may earn a commission, at no extra cost to you. In fact, sometimes you'll get a discount or free credits just FOR using my link. 🙂
You should never compete with Amazon based on price
Yes, you read me right. You should never compete with Amazon based on price alone. In fact, you should try not to compete with other online stores solely based on price, despite the fact that people frequently compare prices when shopping online.
Let me tell you why. You should never even compete based on price alone, as it's a downward spiral and a slippery slope. A customer may come to your website today because it's cheaper than Amazon, but what about tomorrow when Amazon drops their prices even further? You'll have to drop yours too, and then you're in a race to the bottom.
Instead, let's look at the question from another angle.
Why people would want to buy from your online store instead of megaretailers such as Amazon?
The reality is that despite the presence of the likes of Amazon and Walmart, people are still buying from small online retail stores. Here are some of the main reasons why:
– More Personal Touch – Customers appreciate being able to connect with sellers on a personal level, something larger retailers simply can't provide.
– Lower Prices – Smaller businesses often have lower overhead and can offer more competitive prices than big companies like Amazon.
– Unique Products – Smaller stores often carry unique, one-of-a-kind items that customers can't find anywhere else.
– Customization Options – Many smaller retailers offer customization options for their products, such as apparel and jewelry, that larger businesses don't have the capacity to offer.
– Better Customer Service – Small businesses typically provide better customer service than large companies, as they can offer more personalized attention.
Furthermore, buying locally or from small businesses helps support the local economy which is something that many customers appreciate greatly.
Shopping directly from a retailer offers customers more control over their purchases and makes it easier to make returns. Finally, some shoppers prefer using an online store tailored specifically towards their interests such as fashion or electronics as opposed to a one-stop shop like Amazon.
All these factors make it possible for small online retail stores to compete with giants like Amazon. Being aware of how you can stand out from the competition is the first step in gaining loyal customers and growing your business.
If you're a new entrepreneur looking to compete in the ecommerce space, these are just some of the ways you can set yourself apart from big companies.
Key differentiation strategies to stand out from the competition
Offer specialized or unique products
You should focus on finding products that are unavailable or difficult to find elsewhere. Another way for new ecommerce sellers to stand out is through personalization.
Examples of specialized or unique products that small retailers can offer are customized items, vintage collectibles, limited edition products, and handmade goods.
Many online retailers offer personalized recommendations based on past purchases and customers' browsing histories, which provides added convenience and a sense of value for shoppers.
You can also offer customers exclusive product lines that they wouldn't be able to find on Amazon.
Create Unique Content and Offerings
Additionally, you can create content and offerings that are unique to your brand. If you want customers to choose your store over Amazon, then they need something special that sets you apart.
This could be anything from custom product bundles or subscription boxes to exclusive products or services. Even if it's something small, like a monthly newsletter with helpful tips and tricks, it will make your business stand out from the crowd while adding value to your customers.
Focus on Quality over Quantity
Just because Amazon has a wide selection of products doesn't mean that you have to offer a vast range of items. Instead of offering tons of different items, focus on quality instead of quantity.
Make sure that the products you do sell are top-notch and stand out from the competition. This will help differentiate your store from larger retailers and draw customers in who are looking for high-quality goods. 
Focus on Brand Experience
It's also important to focus on creating a positive brand experience for your customers. This includes things like offering free shipping, money-back guarantees or easy returns, and providing loyalty programs or rewards.
You can offer great deals and discounts for loyal customers or those who make large purchases. This can also make it easier for new customers to take a chance on your business and will make them more likely to come back in the future.
These types of initiatives will not only encourage people to shop at your store but also keep them coming back for more.
Provide Stellar Customer Service
Customer service is an area where small online retailers have a huge advantage over big players like Amazon. You should strive to provide speedy responses, tailored advice, and prompt resolutions to any customer inquiries or complaints.
You can leverage technology to automate certain customer service processes, such as responding to emails or processing returns. This will help you save time while ensuring that customers get the best possible experience.
Another useful technology to look into is chatbot automation, which can provide customers with 24/7 personalized assistance and help you handle customer inquiries more efficiently.
By offering top-notch customer service, you'll be able to build trust with your customers.
Focus on Quality Content
Another way you can level the playing field is with quality content marketing. Creating high-quality content related to your products and services will help you build trust with potential customers and establish yourself as an authority in your industry.
It also provides another avenue for people to find your business, which can help drive more traffic to your website. Just make sure it's well written, SEO optimized, and entertaining! 
Build Your Social Media Presence
Lastly, it's important to build up your social media presence. Having an active presence on social media platforms like Instagram and Facebook will give customers an easy way to connect with your brand.
It will help them stay up-to-date on any new products or promotions that you may have going on. This can be a great way to increase visibility and generate more sales! 
Get Creative With Your Marketing Strategy
Another way to stand out against big retailers like Amazon is by getting creative with your marketing strategy. Try using social media platforms like Instagram or Facebook Ads to reach potential customers and drive traffic back to your website or store page.
Additionally, holding contests or giveaways on social media can be a great way to engage with followers while also potentially growing your following (and thus increasing sales).
How to create a unique customer experience that will make shoppers choose your store over Amazon
With so many options out there, it's important to create a unique customer experience that will make shoppers choose your store over Amazon. You can do this by mapping out the customer journey and identifying areas where you can create a better experience than your competition.
Focus on creating an enjoyable shopping journey that starts from the moment they land on your page and continues even after they receive their order. Put in place the strategies mentioned in the earlier section, such as offering personalized recommendations based on their interests, running loyalty programs, or providing exclusive discounts to returning customers.
Having an active presence on social media can also be a great way to engage with your audience and keep them up-to-date on any upcoming promotions.
And not to forget that people may be visiting your online store from different devices and not just from a desktop, so make sure that your store is mobile-responsive before launching. In fact, you should also map out the customer experience on mobile devices since according to statcounter, as of December 2022, 61.42 percent of all web traffic came through mobile phones.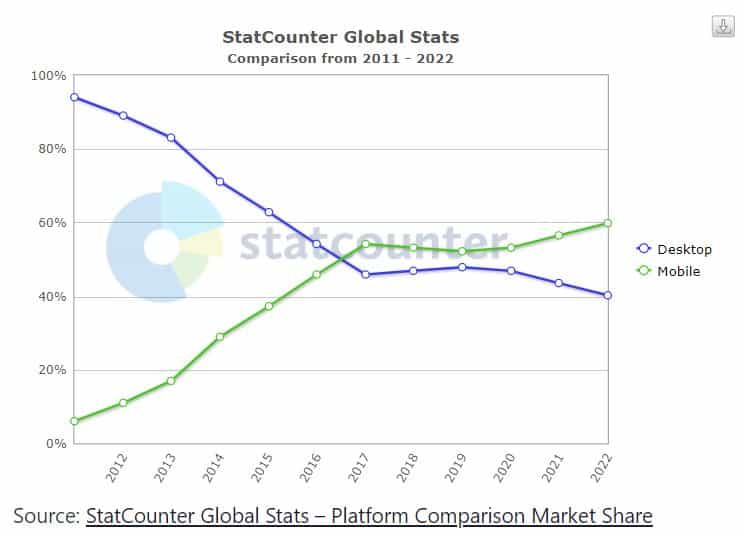 Conclusion on How Can a Small Online Retail Store Compete with Online Retail Giants?
The key takeaway here is that competing with Amazon as a small online retailer isn't impossible—it just requires a bit of creativity and strategic thinking on your part!
At the end of the day, it's important to focus on what makes your business unique and how you can leverage that to stand out against online retail giants. By staying creative and consistently providing an exceptional customer experience, your small business can stand out from the competition and level the playing field with your larger counterparts.