The Beginner's Guide to Starting a Print on Demand Business
Are you looking to start a Print on Demand (POD) business? If so, this guide is for you! It is rapidly growing in popularity because of its low overhead costs and ease of use. This guide will provide an overview of the business model and explain how to get started.
I'll cover topics such as selecting your products, setting up a shop, marketing strategies, and more. With the right knowledge and resources, you can launch your own successful POD business with minimal effort. So let's get started!
DISCLOSURE: Some of the links that I share in this article ARE my affiliate links. This means I may earn a commission, at no extra cost to you. In fact, sometimes you'll get a discount or free credits just FOR using my link. 🙂
What is a POD business?
A print-on-demand business is based on an online business model in which products are only printed when customers order them. This means that there is no need for large inventories or complicated manufacturing processes.
Instead of having to buy items in bulk and keep inventory in stock, POD businesses simply upload their designs online and have them printed when customers make orders. This eliminates the need for large upfront investments and expensive storage fees. Plus, it makes it much easier to test out different designs and product offerings. 
The cost of goods sold (COGS) for each item is much lower than buying wholesale, which makes it easier for entrepreneurs to make a profit. Plus, it eliminates the risk of having inventory that doesn't sell. 
How does print on demand work?
To get started with Print on Demand, you'll need to choose a Print on Demand company such as Printful, Printify, or Teelaunch. This is the company that will handle the printing and fulfillment of your products.
You'll upload your designs or artwork to their platform, select product offerings (such as t-shirts, mugs, stickers, etc.), set prices for each item, and create a store or website to display your products.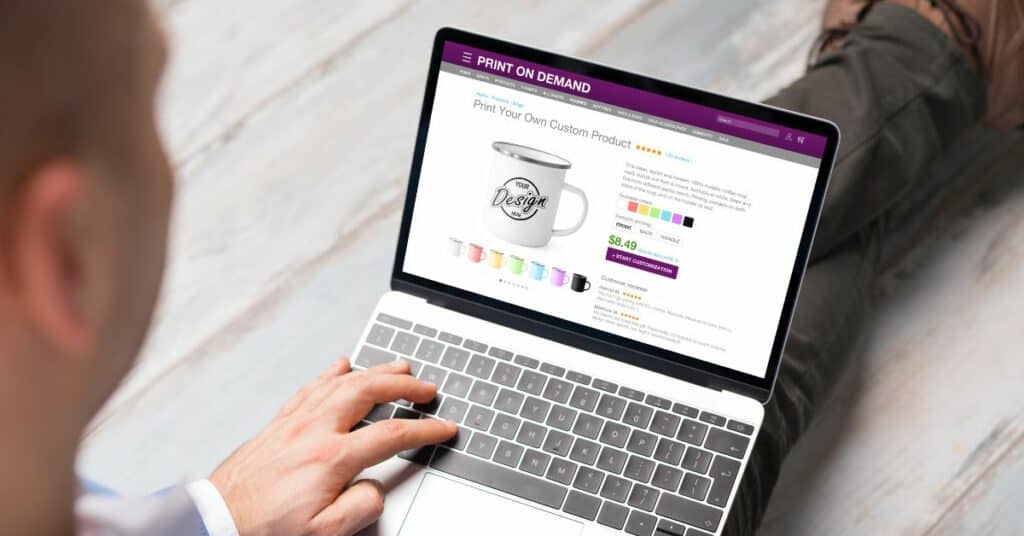 When a customer orders a product—say, a t-shirt with your unique design—the Print on Demand service provider will print and ship each item as it is ordered. This process ensures you don't have to keep any inventory in stock, which simplifies running your business.
Plus, Print on Demand services handle packaging and shipping – so you don't have to worry about those tasks either.
Why is POD an attractive business opportunity?
Print on Demand Business is an attractive business opportunity for many reasons.
– Low start-up costs
It has much lower start-up costs than traditional ecommerce businesses, as they don't need to invest in a large inventory of products upfront or manage complex fulfillment processes.
This allows Print on Demand businesses to get started with low start-up costs and limited financial risk, allowing you to get your business off the ground quickly and without breaking the bank.
It also allows you to focus on creating designs, marketing products, and delighting customers without having to worry about the logistical headaches associated with traditional ecommerce businesses. This makes Print on Demand an incredibly attractive option for entrepreneurs who are just starting out.
– Fast setup process
Setting up a Print on Demand business is incredibly easy and fast. You can quickly upload your designs, select products and prices, and get your store online in no time. This makes it ideal for entrepreneurs who don't have the time or money to invest into more traditional ecommerce operations.
– Offer customers a unique and personalized shopping experience
Print on Demand offers a unique and personalized shopping experience for customers. By creating unique or custom productdesigns that can't be found anywhere else, shoppers can find something that is truly unique and speaks to their individual style.
– Wide range of products
Print on Demand businesses can offer a wide range of customizable products, from t-shirts and mugs to phone cases, bags and even jewelry. This means that they have the potential to reach an even wider audience and tap into larger markets than traditional ecommerce stores.
– Faster shipping time
Print on Demand businesses also provide customers with faster shipping times than traditional ecommerce stores that dropship from China, for example. They can typically fulfill orders within a few days, making it easier for customers to get their hands on the products they order quickly.
– Easy to scale
Finally, Print on Demand offers entrepreneurs the ability to quickly scale their businesses without having to worry about managing inventory or fulfillment processes. This makes Print on Demand an attractive option for entrepreneurs who want to grow their business quickly and efficiently.
Pros and Cons of Print on Demand Business
Pros
Aside from the cost savings associated with launching a POD business, there are many other benefits as well. For starters, POD businesses can offer customers a wide variety of products without having to take up valuable space in their homes or offices.
Since orders are fulfilled digitally, entrepreneurs can easily reach customers around the world. And last but not least, entrepreneurs don't need any technical skills or experience to get started—all they need is a great idea! 
Cons
– Low margins
Print on Demand businesses typically have lower margins than traditional ecommerce stores because of the cost of printing and shipping products to customers.
– Print quality
Print on Demand products may not have the same level of quality as products from traditional ecommerce stores, since Print on Demand providers often use standard printing techniques.
– Limited customization options
Print on Demand businesses usually offer limited customization options for customers due to the nature of Print on Demand services. This means that customers may not get the exact product they are looking for.
What types of products can you sell with POD?
Print on Demand businesses can offer a wide range of customizable products, including t-shirts, mugs, phone cases, bags, posters, greeting cards and even jewelry. The types of products you can sell depend on the Print on Demand provider you work with.
Related post:
Print on Demand companies like Printful also offer services such as sublimation printing and embroidery to help you create even more unique designs for your customers.
With Print on Demand businesses, you can offer a wide range of customizable products and easily scale up as your business grows as you can scale the same design to different products to create a suite of products.
How to get started selling print on demand?
If you're ready to launch your POD business, the following are a few things you should do first.
Choose the right platform to set up ecommerce store
The first and most important step is researching and choosing the right platform for your business needs.
There are many platforms out there, so it pays to do some research and make sure you choose one that meets your needs. Consider things like cost, features, customer service and integration with different print on demand companies before settling on a platform. 
I recommend Shopify which offers easy setup processes, integration with many POD suppliers, and helpful resources for new entrepreneurs. I have been using it myself for my ecommerce shop since 2016 and am very happy with it.

Alternatively, you may also set up shops on platforms such as Amazon or Etsy. However, not all POD suppliers provide integration with platforms, so it's important to do your research to see which supplier can integrate with which platform.
The thing to note about selling on platforms is that your products would be listed with products from other sellers, so it may be harder for customers to find your products. Thus, if you want to create a recognizable brand and have better control over the customer journey, setting up your own Print On Demand store is the way to go.
Create Your Storefront
Once you have selected your platform, you can create your storefront. This involves setting up policy pages and other pages, such as a blog or About page, to create deeper connections with your customers and help them learn more about your products and business.
You also need to set up payment gateways to enable customers to make payments for your products and other business aspects such as shipping, taxes and discounts.
Understand Your Customers and Research Your Niche
The next step is understanding your customer base. Know what types of products they're looking for, and understand the trends that drive their buying decisions.
Research what other Print on Demand businesses are doing in your niche to gain insights into popular designs, product offerings, pricing, and customer service. This will help you create a business that stands out from the competition.
Selecting Products 
The most important step in starting a print-on-demand business is selecting the right products. You want to choose items that will be popular with your target audience and have good margins so you can make money on each sale.
Consider what type of products would best fit your brand and target audience, then decide what type of products you want to offer. Consider things like t-shirts, mugs, bags, prints, stickers, and other items that can easily be customized with designs or logos.
Once you've decided on the products you want to offer, it's time to find a supplier who can produce them for you.
Finding Suppliers 
There are lots of suppliers out there, so take some time to research and compare prices before making your decision.
When looking for suppliers, it's important to do your research and find experienced companies that offer high-quality merchandise at competitive prices. Look for suppliers who offer fast turnaround times, reliable customer service (so that your customers are always satisfied with their purchases), a wide range of products available for printing, and competitive shipping rates or free shipping options if possible.
It's also important to find suppliers who will work with smaller orders so that you don't have to buy more product than necessary when first starting out.  
Once you've identified a few potential providers, compare their options side by side until you find the perfect fit for your business. 
Create Your Designs 
Once you have chosen a supplier, it's time to start creating your designs! There are lots of different software programs out there that make creating designs easy and fun—even if you have no design experience!
One good program to use is Canva which makes it easy to create beautiful designs quickly and without any prior design knowledge. You can find a variety of templates, fonts, graphics, and more that you can customize to make your own unique designs.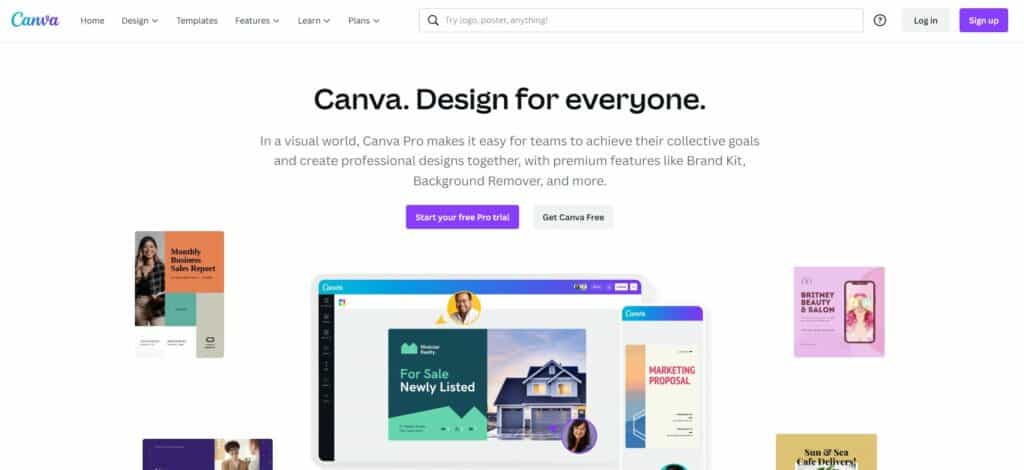 Another resource you can use is Creative Fabrica which offers a huge selection of pre-made designs that you can customize to fit your Print on Demand business.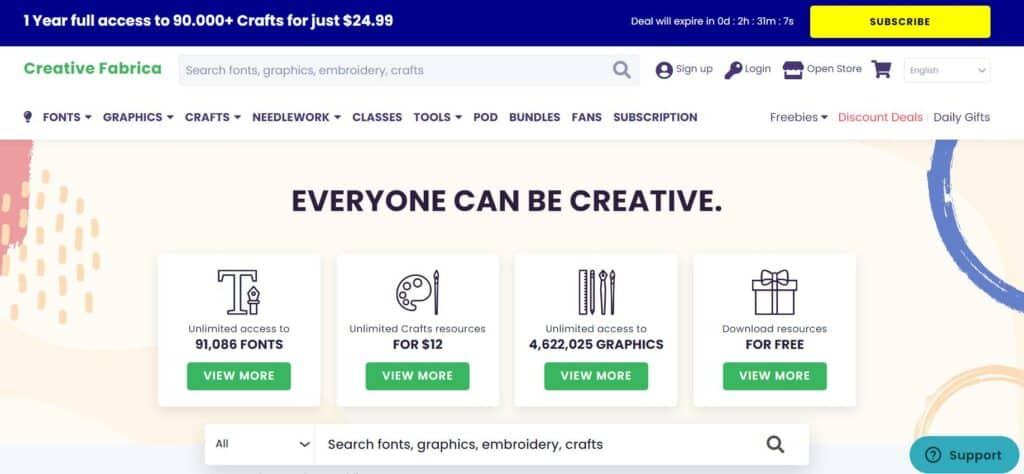 Whether it's an original piece of artwork or simply text on a t shirt, make sure it looks professional and visually appealing before uploading it to your chosen POD platform.
If you don't have any graphic design experience yourself, consider hiring a professional designer from Fiverr who can help bring your vision to life in an attractive way. 
Create listings for your products
Once you've created your designs, upload them to your Print on Demand provider and also list the products on your shop so customers can buy them online easily.
Be sure to include all relevant product details such as size charts and measurements so customers know exactly what they are buying before they click "Add To Cart"!
Market Your Products and Promote Your Print on Demand Business
Now it's time to get the word out about your new business! Start by designing a logo and setting up accounts on social media so people can learn more about your company and the products you offer.
You should also consider investing in ads on Facebook or Instagram; this way, people who haven't heard of your company will be able to find out what you're all about. Lastly, don't forget about word of mouth – ask friends and family members to spread the word about your business online! 
Manage Fulfillment and Shipping for Orders
Once an order comes in, it's time to start fulfilling it! Print on demand services typically offer fulfillment and shipping services, which can save you a lot of time and hassle.
Your Print on Demand provider will print your products and ship them directly to the customer. Then, all you need to do is monitor the order status and make sure everything goes smoothly.
With Print on Demand, running a business can be a breeze – no need to worry about stocking inventory or dealing with the logistics of shipping!
Analyze Performance and Grow Your Print On-Demand Business
Once your Print on Demand business is up and running, it's important to track its performance and make adjustments as needed. Keeping an eye on key metrics such as website traffic, conversions, cost per order, and average order value will help you understand how well your business is doing and identify any areas that need to be improved.
By consistently analyzing these metrics you can keep track of your progress and make informed decisions about growing your business. Also remember to keep track of all sales data so that you can adjust pricing as needed over time if necessary. 
Conclusion
Print on Demand businesses offer an incredibly attractive option for entrepreneurs wanting to start a low-cost ecommerce business quickly. Although starting it may seem daunting, it can be a great way to make money online if you take the time to plan and prepare before launching.
We hope this beginner's guide has given you some valuable insights into the world of Print on Demand! With the right resources and dedication, you can start and grow a Print on Demand business that will give you financial freedom. So why not give it a try?
Happy Printing! ??✨?
Related post: