The Importance Of SEO For Your Online Store: How To Boost Your Visibility
Did you know that 75% of internet users never scroll past the first page of search results? If that statistic makes your heart skip a beat, it should. In the bustling world of online retail, being on the second page of search results is akin to setting up shop in a deserted alleyway.
That's why optimizing your eCommerce store for search engines is crucial. Search Engine Optimization (SEO) can be a great way to boost your online store's visibility. In this blog post, we will discuss the importance of SEO for your online store and ways to boost your visibility.
DISCLOSURE: Some of the links that I share in this article ARE my affiliate links. This means I may earn a commission, at no extra cost to you. In fact, sometimes you'll get a discount or free credits just FOR using my link. 🙂
What is SEO and why is SEO important for a small business?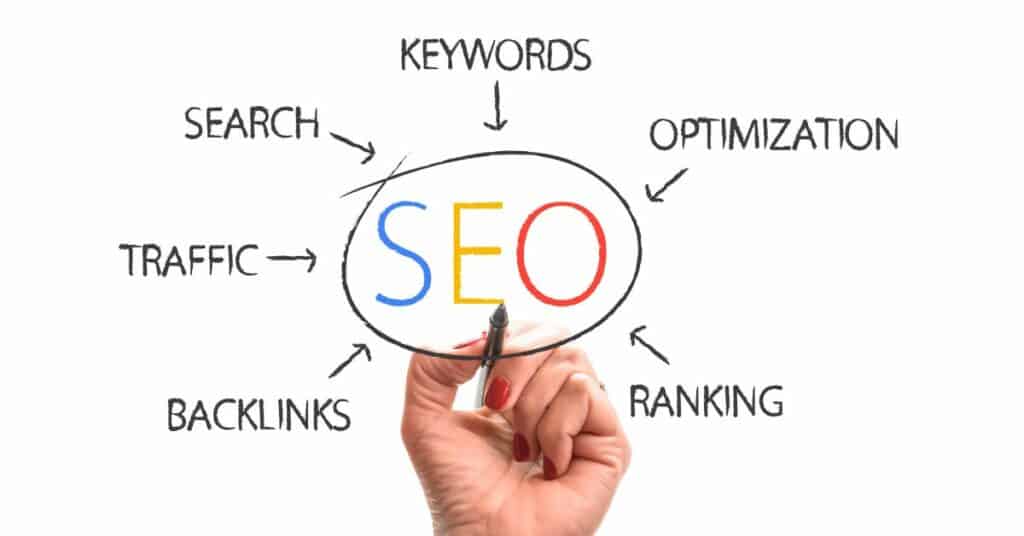 SEO stands for Search Engine Optimization. It is a process used to help your website or online store be easier to find on search engines, like Google. SEO helps people find your business or website more easily and can help you get more customers.
The importance of SEO for e-commerce businesses is vast. SEO can help drive organic traffic and sales to your online store. Organic traffic refers to visitors who discover your website through non-paid search engine results. These visitors tend to have higher intent and are more likely to convert into leads or customers.
SEO can also help you stand out from the competition by boosting your visibility in search rankings and ultimately, gaining customers' trust. For example, when a customer searches for a product you sell, using the right keywords in your content will help ensure that customers find your business and not your competitors.
Furthermore, it ensures that customers find the products they're looking for easily, thus increasing the chances of a sale.
What is The Process Of SEO?
Now that you understand the importance of SEO for your online store, let's explore the process. SEO can be broken down into three main parts: On-Page Optimization, Off-Page optimization, and Technical SEO.
On-Page Optimization focuses on optimizing content such as product descriptions and titles to help search engines better understand what is being offered. This includes optimizing page titles, descriptions, URLs, headlines and content for your keywords. It also helps ensure that the structure of your website is easy to understand by search engines.
Off-page optimization focuses on improving backlinks. Backlinks are links from other websites that point to yours, thus increasing your authority in the eyes of search engines. The more websites that link to yours, the higher your website ranks in search results.
Finally, Technical SEO focuses on making sure that your website has no technical issues that could be hindering its ability to rank highly in search results. This includes ensuring everything runs smoothly and is properly indexed by search engines.
Reaping the Benefits of SEO
When done properly, SEO can have a great impact on your online store. Here are some of the benefits you can reap from proper SEO:
Increased Visibility: People searching for products or services related to yours can find your store more easily when you optimize your content for search engines.
Increased Organic Traffic: Optimizing your content for search engines can help drive more organic traffic to your online store. This can be achieved by having an SEO strategy in place that targets the keywords that potential customers are using to find products like the ones that you offer in store.
Helps you reach your target audience: SEO is not only about attracting traffic to your website, but it's about attracting the right traffic – people who are interested in your products and are more likely to buy from you.
Improved Sales: When customers are able to find you easily, it increases the chances of a sale. Investing in SEO can attract targeted traffic, resulting in a higher conversion rate and ultimately, improved sales.
Improved Branding: SEO also helps create brand awareness and trust among customers as they see your website ranking higher in search engine results. When your online store appears at the top of the Search engine results page (SERP), it gives your business credibility, and they are more likely to buy from you.
Competitive Advantage: With the online market becoming increasingly saturated, gaining a competitive edge is crucial. Implementing a solid SEO strategy can help you outshine your competitors by ranking higher and attracting more qualified traffic. By consistently optimizing your website, you can stay ahead of the competition and position yourself as an industry leader.
Improved user experience of your website: By optimizing your website for SEO, you also improve the UX of your website, making it easier and more enjoyable for your visitors to browse your store. Google rewards businesses that provide quality user experiences by ranking them higher in search results, positioning them ahead of the competition.
Long-Term Results: SEO is a long-term marketing strategy that yields lasting results. Unlike other tactics that may provide short-lived visibility, SEO efforts can continue to generate organic traffic over time. By regularly updating your website's content, optimizing keywords, and building quality backlinks, you can enjoy sustainable online success.
Understanding the Basics of SEO for E-commerce Websites
Search engine optimization (SEO) has become a key component of success for any e-commerce website. Understanding the basics of SEO and how it can be leveraged by your online store is essential for competing in the increasingly competitive digital landscape.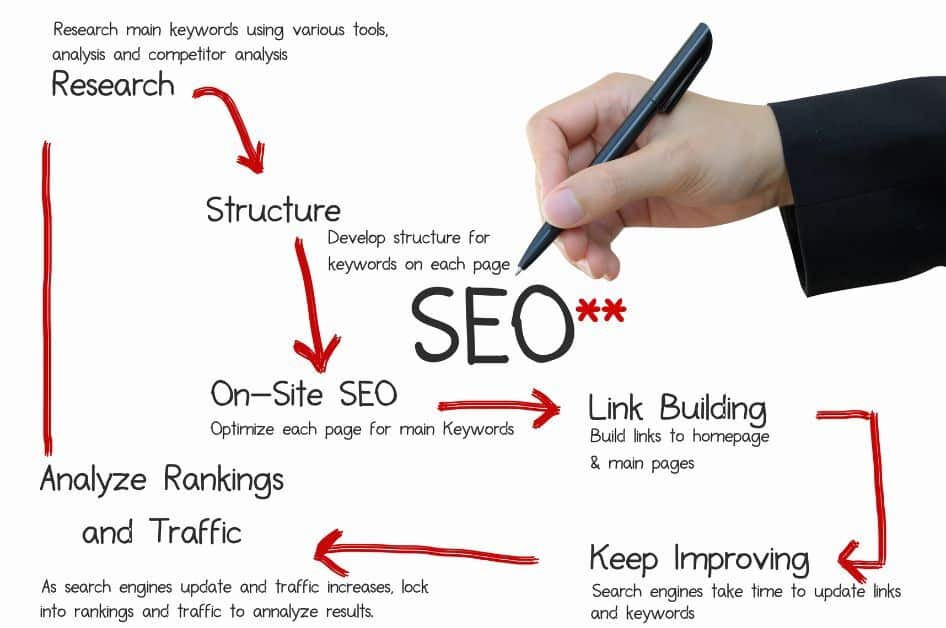 Mastering Keyword Research
Using the right keywords is one of the most important aspects of SEO for e-commerce websites. To ensure that your website appears in the top search engine results, you need to use effective keyword research techniques.
This involves understanding what your customers are searching for and which words they're using when looking for products on your store. Once you have identified the right keywords, you can then incorporate them into your website content and optimize it accordingly.
Below are some tips to help you use relevant keywords in your product descriptions and website content to improve search engine rankings:
1. Research relevant keywords: Before you begin writing your product descriptions and website content, spend some time researching keywords that are relevant to your business. Use online tools such as Google AdWords or Semrush to find relevant keywords that are frequently searched by potential customers.

2. Use keywords in your product descriptions: When creating product descriptions, make sure you include relevant keywords in the description. This will not only improve your search engine rankings, but it will also help potential customers find your products more easily.

3. Use keywords in your website content: Besides using keywords in your product descriptions, make sure you use relevant keywords in your website content. This will improve your website ranking and help drive traffic to your site.

4. Avoid keyword stuffing: While it may be tempting to use as many keywords as possible in your product descriptions and website content, it's important to avoid keyword stuffing. This is when you use too many keywords in your content, and it becomes unnatural. Instead, focus on using keywords naturally in your content.
Creating Quality Content
Content is what drives people to your store. It's important that you create quality, informative content that includes the right keywords for SEO purposes. Your content should be helpful and engaging so that customers will stay on your site longer and be more likely to buy from you.
Creating a website is just the first step. To attract and keep visitors on your site, you need to regularly update your website with fresh content and optimized images to enhance the user experience and engagement.
Here are some key tips to keep your website up-to-date and enhance user experience and engagement:

1. Update your website regularly: By regularly publishing new content, you can keep your website fresh and relevant. It can also help to improve your search engine rankings. A good strategy is to have a content calendar that outlines what you will publish and when.

2. Use high-quality images: Visual content is essential for engaging visitors and conveying your brand message. Ensure that all your images are optimized for fast loading and high resolution.

3. Add multimedia content: Adding videos, podcasts, and infographics can add a new dimension to your content and make it more engaging.

4. Optimize for mobile: With more people accessing websites on their mobile devices, it's important to have a website that is optimized for mobile. A mobile-friendly website ensures that visitors have a good experience regardless of the device they are using.

5. Use calls to action (CTAs): CTAs are essential for guiding visitors towards the next step on your website. Whether it's signing up for a newsletter, downloading a free guide or buying something, a clear CTA can help to increase conversions.

6. Track your website analytics: Regularly reviewing your website analytics can help you to identify areas that are performing well and areas that need improvement. By understanding your visitors' behavior, you can make informed decisions about how to optimize your website for better engagement.

Read Related Post
The Art of On-Page SEO
On-page SEO is the art of optimizing individual web pages to make them more visible and rank higher on search engine results pages. It involves both technical and creative aspects and covers several elements such as titles, tags, meta descriptions, content optimization, internal linking, and image optimization.
Titles – Title tags help search engines understand what your website is about and where it should be positioned in the SERP.
Meta Descriptions – Meta descriptions are snippets of text that appear on the SERP and serve to inform users of what they can expect from the page.
Image Optimization – Images are an important element for any e-commerce website, but optimizing them properly can make them more visible on search engines.
Meta tags and descriptions are an essential tool for website optimization. Using tags and descriptions can give search engines important information about your website. This can help improve your search engine rankings and bring more traffic to your site.

Here are some important factors and details to consider when crafting meta tags and descriptions:

1. Use relevant keywords: Your meta tags and descriptions should include relevant keywords that describe your products, services, or content. These keywords should match the search terms that people are using to find information related to your site.

2. Keep it concise: Your meta tags and descriptions should be brief and to the point. Aim for around 155 characters or fewer for your meta description, and 60 characters or fewer for your meta title.

3. Use unique titles and descriptions: Each page on your website should have a unique meta title and description. This helps search engines understand the content of each page and prevents duplicate content issues.

4. Highlight your unique value proposition: Your meta tags and descriptions can be a great place to highlight what makes your website or products unique. Use this space to sell your offerings and showcase what sets you apart from your competitors.

5. Make it compelling: Your meta tags and descriptions should be compelling and informative, encouraging people to click through to your site. Use language that entices people to learn more about your products or services.
Decoding Technical SEO
Technical SEO focuses on optimizing the backend of your website to improve its search engine ranking and organic visibility. Here's a look at some of the key elements of technical SEO:
Sitemaps – A sitemap is a file on your website which shows the structure and hierarchy of all the webpages in your store. It helps search engine crawlers better understand how to navigate around your store.
Robots.txt – Robots.txt files allow you to control what content search engines should or shouldn't index.
Indexing – This ensures that your store gets indexed and appears in the SERP for relevant queries.
Link Building Strategies for Success
Link building is a crucial part of any SEO strategy, as it helps to improve search engine rankings and build organic visibility. It's important to focus on quality links rather than quantity, as this will help you achieve better results over time.
Here are some strategies that you can use to build quality links for your e-commerce website:
Guest Posting – Reach out to other websites and offer to write content for them in exchange for a link back to your store.
Link Reclamation – If you've been mentioned on another website without being linked, contact the webmaster and ask him/her to add a link pointing back to your store.
Broken Link Building – Find broken links on other websites and offer to replace them with a link to your store.
Link building is an essential part of SEO for any e-commerce store. The more quality backlinks you have, the higher your website will rank on search engine results pages. You can build these links by creating content that other websites find valuable and link to, such as blog posts, videos and infographics.
Top E-commerce SEO Tools You Should Be Using
There are many SEO tools available that can help you optimize your e-commerce website, ensure its visibility in search engine results, and boost traffic. Here are a few of the most popular tools:
Ahrefs – This tool provides an in-depth analysis of your store's backlinks to help identify weak spots and opportunities for improvement. It also includes keyword research and competitor analysis.
Semrush – This is a comprehensive SEO tool designed to help you track your website's performance and optimize all aspects of it. It also offers tools for social media management, content marketing, and PPC advertising.
Google Search Console (FREE) – Google's search console gives you an insight into how your store is performing in terms of organic visibility. It also provides data on popular keywords, impressions, clicks and more.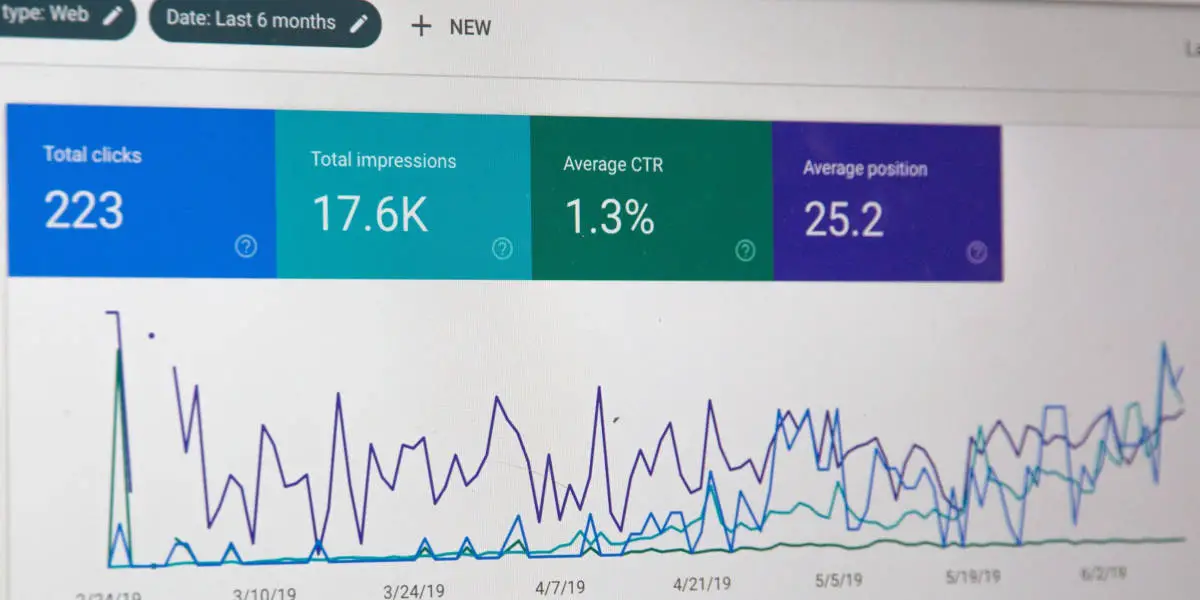 How to Implement SEO Strategies for Your Online Store
Once you've gained a better understanding of SEO, the next step is to begin implementing SEO strategies. Here are a few tips on how to get started:
Streamlining Your Site Structure
When it comes to SEO, a well-organized website structure is essential. This means that all your pages should be easily accessible to search engine crawlers and viewers alike. You should also ensure that all the information on your site is clearly organized in categories, tags and subcategories for better accessibility.
Optimizing Page Load Speed
Having a fast-loading website is crucial for SEO success. Search engines tend to favor websites that load quickly, so make sure you optimize your page speed by compressing images and reducing the number of plugins and scripts.
Investing in Quality Content
Having quality content on your website will help attract more customers and improve organic visibility. Ensure that all your content is valuable, informative and relevant to your target audience.
This will also help you build a positive reputation in the industry, as potential customers are more likely to trust websites with high-quality content.
Read Related Post
Power-Packed Product Pages
Your product pages should be optimized with the right keywords for better visibility. This means incorporating relevant keywords into your product titles, descriptions and images as well as optimizing your page structure with headings and subheadings.
Category Pages That Convert
Category pages are essential for SEO, as they serve to group related products together and make them easier to find. Make sure your category pages are optimized with the right keywords, descriptions and images to boost conversions.
Content Optimization Secrets
Content optimization is the process of making sure that your content is optimized for search engines. This means ensuring that all pages have unique titles, meta descriptions and headings as well as optimizing images with appropriate tags and captions.
Crafting an Outstanding User Experience
Having a great user experience is essential for any e-commerce website. Make sure your website is mobile-friendly, provides an easy navigation system and has an intuitive checkout process to provide customers with a positive shopping experience.
Measuring and Analyzing SEO Success for E-commerce Stores
Finally, you need to track your website's performance and analyze the data regularly to identify areas of improvement.
Setting Up Analytics and Tracking Key Performance Indicators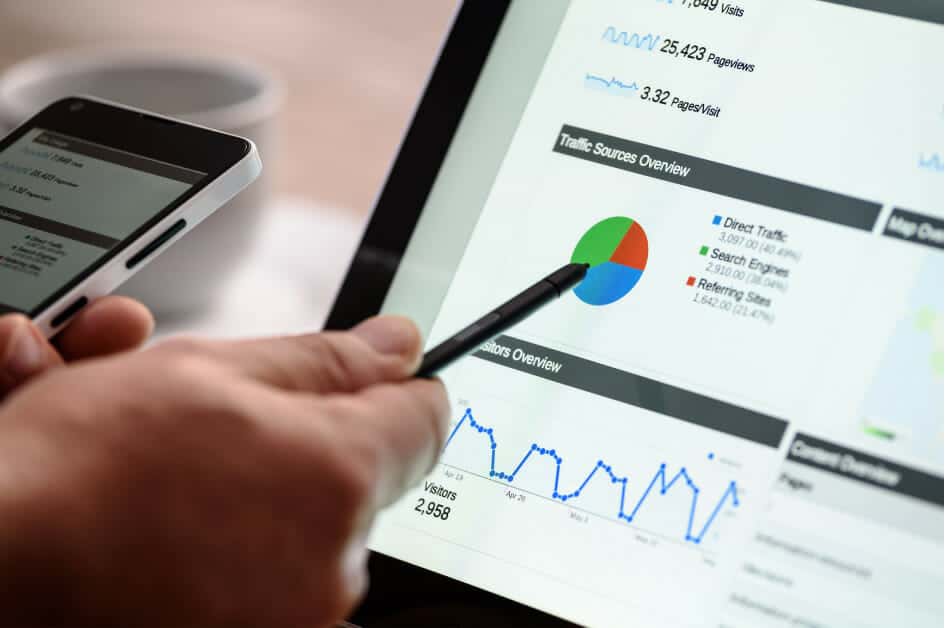 Tracking the performance of your store is essential to identify areas of improvement. Use tools such as Google Analytics and Ahrefs to track your website's progress and make sure key performance indicators (KPIs) are being met.
KPIs can include website traffic, organic search visibility, customer engagement and conversions.
Making Sense of Your SEO Data
Once you've set up analytics and KPIs, it's time to get to grips with your data. Analyze your reports and identify any areas of improvement to boost your store's visibility on search engine results pages.
You can then adjust your SEO strategy accordingly and ensure that all the changes are implemented correctly.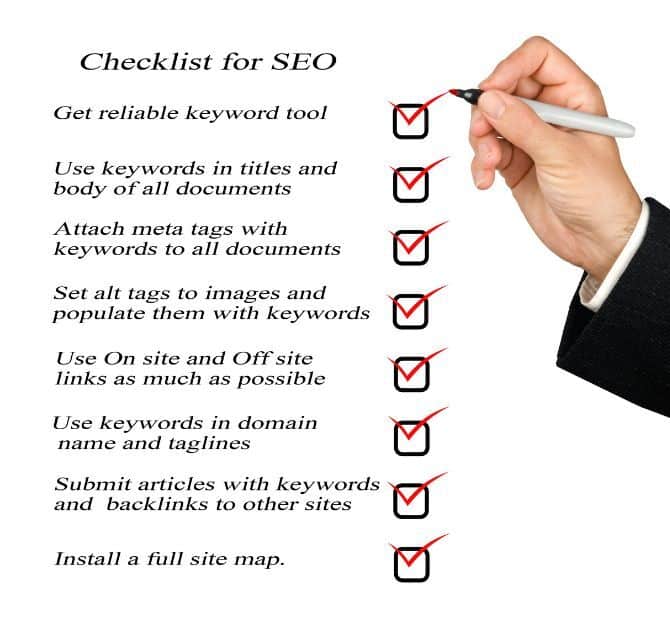 Conclusion on the Importance Of SEO
Ultimately, SEO is an important part of any e-commerce business's strategy. With the right strategies and tools in place, you can ensure that your store remains visible on search engine results pages and attracts more customers.
By focusing on quality content and link building, optimizing page speed and providing a great user experience, you can boost your visibility and take your store to the next level. So, what are you waiting for? Start implementing the tips provided and share your success stories with me!
Read Related Post