My Review of ShineOn 14 day Challenge
As shared in my last blog post on Find the Best Print-on-Demand Jewelry Suppliers in the USA, I will be sharing my experience with ShineOn which is one of the suppliers mentioned in the post.
I signed up for the ShineOn 14 Day Challenge on October 23 2022 to get started with selling Print on Demand jewelry. In this review, I'll be going over what the challenge entails, what I liked about it, and whether I think it's worth doing.
DISCLOSURE: Some of the links that I share in this article ARE my affiliate links. This means I may earn a commission, at no extra cost to you. In fact, sometimes you'll get a discount or free credits just FOR using my link. 🙂
What is ShineOn?
ShineOn is a reputable print-on-demand jewelry supplier with a vast selection of products, from custom keychains, to engraved necklaces, earrings, bracelets made from gold/silver, and much more.
Their products are handcrafted and designed in the USA. They offer an easy way to set up a shop through their Shopify app or integration with the Etsy marketplace. All orders are shipped directly from the USA.
What is the ShineOn 14 Day Challenge?
The ShineOn 14-Day Challenge is a 14-day program that teaches people how to set up a Shopify store and use ads to get customers in preparation for the 4th quarter (commonly known as Q4 in Ecom speak)!
The cost of the challenge is currently USD $47 (it used to cost $27 when it was started in September this year), which is fully refundable if you can get the first sale within 30 days of joining the challenge.
In addition, instead of a once-off challenge, they turned the 14-day challenge into an evergreen one so anyone can join at any time. 
Why I decided to take the Shineon 14 day challenge
I have been hearing good things about POD Jewelry and attended some free workshops at the beginning of this year. However, I have not delved into it as I was busy learning blogging and other online skills.
So even though I have set up the ShineOn app in my Shopify store, I have not done anything about it. Nevertheless, I was on ShineOn's mailing list and joined their official Facebook group.
In September when the 14-day challenge first came out, I wasn't even paying attention as I got too many marketing emails in my mailbox. Then one fine day in October, I saw someone's Facebook post from the ShineOn group on my Facebook newsfeed and got interested.
That was when I found out more about the challenge and decided that it was high time for me to learn more and join the challenge!
What the challenge entails
It comes with Daily Lessons in the form of Video training, PDF Downloads, resource links, and homework all accessible through an online course portal. It also has a Discord channel where you need to post the homework you have done each day.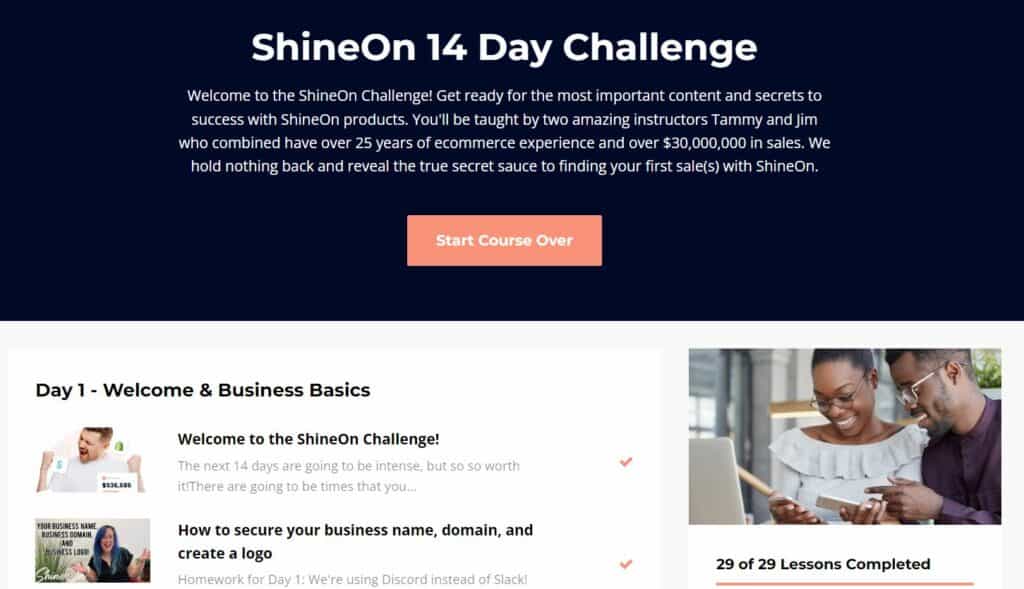 It also provides you with a free Shopify theme with product pages optimized to integrate with ShineOn and for conversion.
Only when you post your homework for the day, the sub-channel for the next day would then appear and you can continue with posting for the next day. You also get to ask questions and seek support from ShineOn Admin.
The goal of the challenge is to help you get started with selling ShineOn jewelry within 14 days.
I was very motivated
So every day I schedule a time to go through the course materials (which are mostly relatively short videos between 10 to 20 minutes) and then do the homework implementing what I learn from the challenge for that day.
As I already had my business and Shopify store set up when I started the challenge, I breezed through the first few days. However, I did find that the challenge had provided good information to get you started with business set-up for the first day and also setting up of your Shopify store in the next 2 days.
It then went into niche selection and design of message cards to go with the POD Jewelry and the creation of products in the ShineOn App. Then we were taught about running Facebook ads to advertise our products for 2 days.
The final 3 days of the challenge covered customer service and maintaining the store and handling bad reviews. I took about 3 weeks and completed the challenge only on 14 Nov 2022 due to some delays.
The benefits I've seen so far from taking the challenge
I've found the challenge to be very helpful in providing insight into what this business entails. It has helped me focus on the most important things.
Before taking the challenge, I was just using ShineOn as another product source in my store and never went into it. But after taking the challenge and understanding more about the POD Jewelry business in general as well as how to use ShineOn's system, I've found that there is potential to build a brand around ShineOn products.
Another thing is that due to some prior issues with my Facebook account, I also set up my Etsy store and integrated it with ShineOn. So one more sales channel for me.
I've also benefited from the support of the ShineOn team and community in the Discord channel as I get to ask questions and also see other people's progress in the challenge and questions asked before.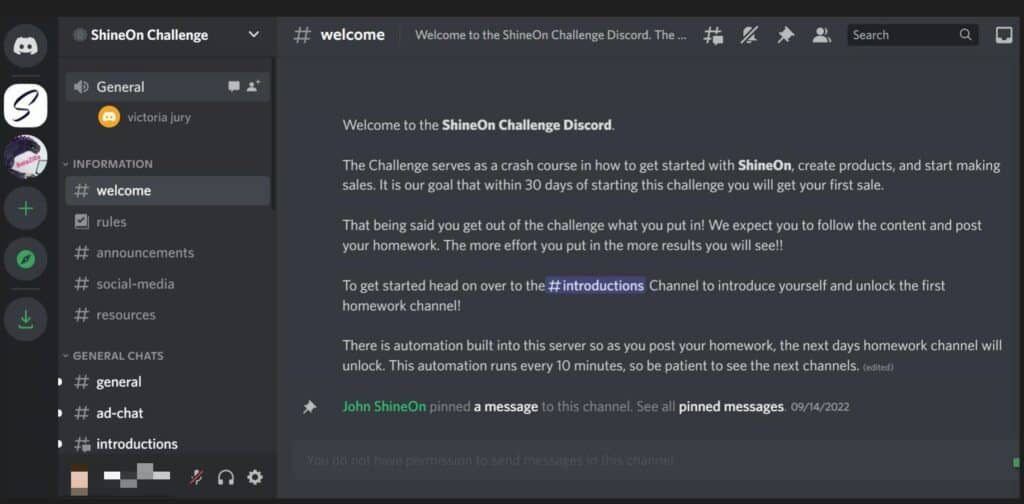 Last but not least, I like the fact that it's now evergreen so I could take it any time you like and at my own pace. All in all, I'm glad I took the ShineOn 14-day challenge and would recommend it to anyone who is thinking of starting with POD Jewelry business using ShineOn.
On a personal level, I have taken this opportunity to optimize my store theme and speed so hopefully, this would be helpful in the conversion in general.
You can read more about how to increase your store's conversion rate by reading How To Increase Store Conversion Rate with These 38 Tips.
What I dislike about the Challenge
That said, I do have certain things I think it can improve. First of all, I think some of the important things such as Facebook ads are not in-depth enough.
As I have not been running Facebook ads for some time, I have become quite rusty with it so I set up the ads like what the course material of the challenge taught me to but I did not know when to stop my ads. In the end, I think I wasted some money on the ads.
The second point is that I found that in the last 3 days there was not much content to cover and I could breeze through (again) and complete them all in one day. If only they spent more time going a bit more in-depth on the Facebook ads part.
The third thing is that some communications and Instructions were not very clear on the free theme provided which caused me to waste money to optimize the theme myself. I found that the Challenge Admin Support would push to ShineOn support and their Discord channel reply could be quite slow at times.
And apparently, ShineOn has a more expensive coaching program so basically, they want to upsell you the group coaching so the 14-day challenge was kept simple and maybe that is why they never wanted to go more in-depth on the Facebook ads part.
What are the results of the challenge?
As of now, I have not made a sale yet since I started advertising on 11 Nov. I have tested some of my designs and gained some insight from the ads into what kind of designs may appeal to people and also what are some of the improvements I should be making.
I intend to revise (through other courses I bought before) and learn more about running Facebook ads and set up more campaigns to test the designs. It is not going to be an easy feat given that Black Friday is just around the corner and I am sure the FB ads fees skyrocket now with everybody else trying to get their piece of the pie but I will do my best.
What are some tips for those considering the challenge?
I have a few tips for those of you who may want to take up the challenge yourself. The first tip is that If you are just starting, you need to just learn as much as possible and make good use of the materials in the Discord channel to ask your questions and also learn from others' questions and critiques.
There are many important things about running an online business that you need to have at your fingertips but they may not have been covered in the course. For example, you need to be aware of the costs of every product you will be selling.
They do have this information in ShineOn's system but it requires a bit of collating for you to see it at one glance. You need all this information to be on top of the calculation of your profit margins.
The second thing is you need to be well aware of the refund and return policies of ShineOn and things like Shipping time etc. All this information will be needed when you handle customers' enquries.
What are my thoughts on ShineOn 14 Day Challenge?
The ShineOn 14-day challenge is a great way to learn more about POD Jewelry business and get in the door. However, it is not enough to make you a successful online business owner.
You need to be proactive in learning more and also take action on the things you have learnt to make your business a success. ShineOn does provide some great resources but it is up to you to use them wisely.
I found the challenge to be very well-organized and easy to follow. The daily lessons were concise and to the point, and the video training was very helpful.
Whether I would recommend it to others
All in all, I had a great experience with the challenge and would recommend it to others. The instructor was engaging and did a good job of keeping the material interesting. The coursework was challenging but not overwhelming, and I felt like I learned a lot within 2 to 3 weeks.
So if you would like to join the challenge too, you need to sign up for the Shopify trial which costs you $1 per month for the first 3 months. You can sign up by clicking the image below: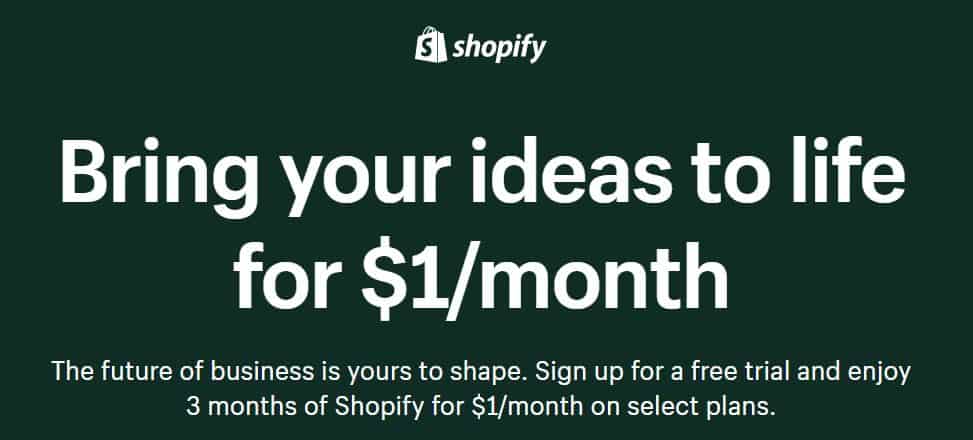 Let me know in the comments below if you have taken a similar challenge before. I'd love to hear about your experience!