How To Organize Your Work Day as an Entrepreneur and Boost Productivity
When you're your own boss, you have complete control over your schedule. You can work whenever you want, wherever you want, and take days off whenever you choose. Yet, if you're not careful, it can be easy to let your work day spiral out of control.
Without structure, it's easy to get distracted by all sorts of tasks and forget about your important projects. If you want to be productive and successful as an online entrepreneur, you need to be able to manage your time.
In this blog post, I will share my top tips to show you how to organize your work day. These tips will help you make the most of your time and become a more productive online entrepreneur.
Assess your current work habits
The first step to creating an effective work day is to assess your current habits. Take some time to reflect on how you usually divide up your work time, and which tasks you tend to focus on. You can use the following questions as a guide:
How do I spend my workdays?
Do I often find myself wasting time on unimportant tasks?
Am I neglecting important or high-impact projects?
Do I focus on my to-do list, or tackle whatever comes my way first?
Once you have a better sense of your current habits, it will be much easier for you to make necessary changes and create an effective work day.
Evaluating Your Strengths and Weaknesses
Now that you've got a grip on your current work habits, let's delve deeper. It's time to critically analyze your strengths and weaknesses. This step is crucial to organizing your work day effectively.
Ask yourself:
What am I good at doing during my work day? Perhaps you're excellent at focusing on one task at a time, or maybe you're good at multitasking.
Where do I falter? Maybe distractions often pull you away from your task, or perhaps you struggle with prioritizing your to-do list.
Remember, it's okay to have weaknesses. What's important is recognizing them. This way, you can devise strategies to overcome them, boosting your productivity.
Take some time to reflect on these points. Jot down your thoughts. This will serve as your blueprint towards creating a more efficient work day.
Identifying Your Work Patterns
Recognizing your work rhythm is a vital cog in the wheel of productivity. Everyone carries a unique work rhythm – some people are early birds, others are night owls. Some flourish under pressure, while others need a calm environment to yield their best output.
The key to improving productivity is to identify what time of day you are most energetic and align your daily schedule with your natural work patterns. For example, if you find that your peak productive time is early morning, organize your day so that you tackle the most demanding tasks during this period.

But if your creative juices flow best during the late-night hours, don't resist it – schedule your creative work for those times. Here are some questions to guide you as you identify your work patterns:
During what hours of the day do I feel most alert, energetic, and productive?
Do I work better in long, uninterrupted blocks of time, or do I excel in short, intense bursts of work with regular breaks?
How does the level of external stimuli (noise, people, etc) affect my productivity?
Remember, there are no right or wrong answers here. The goal is to gain a deeper understanding of your work patterns and to organize your work day in a way that aligns with them. This step can dramatically enhance your productivity and make your work day more enjoyable and fulfilling.
Prioritizing Your Tasks
A critical part of organizing your work day lies in the effective prioritization of daily tasks. Understanding which tasks are the most important and urgent can dramatically increase your productivity. This step requires you to make judicious decisions about the importance, urgency, and impact of your tasks on your business goals.
To start with, try dividing your tasks into four categories: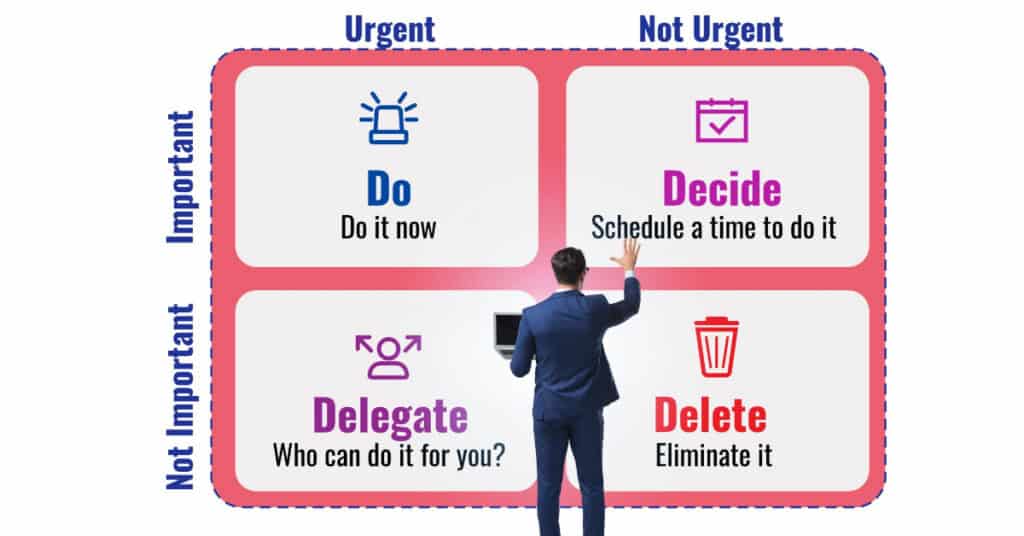 Important and urgent: These are tasks which not only have an immediate deadline, but also have a significant impact on your business objectives. They demand your immediate attention.
Important but not urgent: These tasks are significant for your business growth; yet, they do not have an immediate deadline. Planning and strategy-related tasks often fall into this category.
Urgent but not important: Tasks in this category often involve dealing with other people's priorities. They may be urgent, but their impact on your business is relatively low.
Neither important nor urgent: These non-urgent tasks have the least impact on your business and don't have an immediate deadline.
To prioritize effectively, focus on tasks that are important and have a high impact on your business goals, even if they're not necessarily urgent. Tasks which are neither important nor urgent should be at the bottom of your list.
This way, you ensure that your time and energy are spent in a manner that directly contributes to your business growth. Ask yourself:
Which tasks align most closely with my business goals?
Are there tasks which, although not urgent, could have a significant impact on my business if completed ahead of time?
Can some tasks be delegated to others, freeing up time for important and urgent tasks?
Remember that effective task prioritization is a dynamic process that requires regular re-evaluation and adjustment based on changing business needs and circumstances. By consistently prioritizing your tasks, you can organize your work day more efficiently and ensure your focus and energy are channeled towards achieving your business goals.
Setting Short and Long-Term Goals
Setting goals, both short and long-term, is an essential practice that can greatly enhance your productivity. Goals provide structure to your work day, offering a clear roadmap and a sense of direction. They help you prioritize tasks, maintain focus and stay organized, thus contributing to productivity.
Short-term goals are those objectives you aim to achieve in the near future, say within a week or a month. They are essentially your stepping stones towards long-term goals, which are objectives that you strive to do over a longer period, such as six months, a year or even longer.
When you set short-term goals, you create a series of manageable tasks that can be completed in a relatively short span of time. This promotes a sense of accomplishment and keeps you motivated. On the other hand, long-term goals embody your larger vision and give you a broader perspective of where you want to be in the future.
Consider your business objectives when setting your goals. Align these goals with your priorities and ensure they are realistic and achievable. An unachievable goal can be disheartening and counterproductive.
Ask yourself:
What do I want to achieve in the next week, month, or year?
How do these goals align with my business objectives?
Are my goals realistic and achievable within the specified timeframe?
Remember that setting goals is not a one-time activity; it requires continuous monitoring and review. So, regularly assess your progress, adjust your strategies if necessary, and keep your goals flexible to adapt to changing business environments. This dynamic approach to goal setting will help you stay focused, boost your productivity, and organize your work day effectively.
Productivity tips for organizing your workday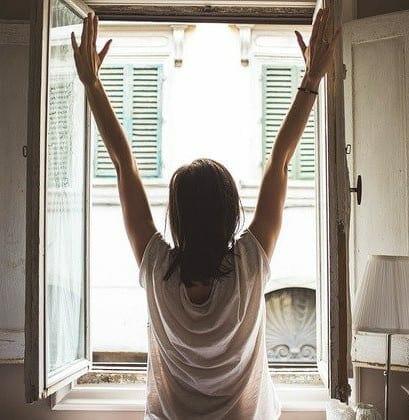 Organizing your work day requires a combination of self-discipline, focus, and dedication. I have personally benefitted from starting off early in the morning and establishing a daily routine that gave me enough time to start my morning right before starting my workday.
You can read more about my experience in My Morning Routine 2022 Update to the 5AM Club. I believe this will bring order to your day and help you stay productive. Here are more tips to help you get organized and maximize productivity:
Creating a Realistic and Specific Schedule
Creating a realistic and specific schedule is the next vital step in organizing your workday. When your tasks are scheduled based on your energy levels and priorities, you can maximize your productivity and efficiency throughout the day. Here's how you can create a personalized work schedule:
Identify Your Peak Energy Times: As discussed before, aligning your work with your natural energy levels can significantly enhance your productivity. Identify when you are most alert and energetic during the day and schedule your most demanding tasks for these times.
List Your Tasks: Write down all the tasks you need to complete during the day. This includes meeting appointments, project deadlines, administrative tasks, and any personal commitments.
Prioritize Your Tasks: Referring back to the task prioritization section, categorize your tasks as either important, urgent, both, or neither. This will help you determine the order in which to tackle your tasks.
Allocate Time for Each Task: Once you've identified your peak energy times and prioritized your tasks, it's time to create a detailed timeline. Allocate specific time slots for each task and make sure to leave enough room for breaks.
Estimate How Long Each Task Will Take: It is important to provide yourself with realistic expectations when it comes to task completion times. Estimate the time it will take to complete each task and adjust your timeline accordingly. This will take a bit of experience but once you get the hang of it, you will be able to more estimate the time required more accurately.
Allocate 1/2 hour for Unexpected Tasks: Remember to schedule some slack time for tasks that unexpectedly crop up. This could be anything from answering customer emails to troubleshooting a website issue. Scheduling time for these tasks is important so that you don't get overloaded with too much work and become overwhelmed. Make sure you leave enough space in your daily schedule to accommodate the unexpected!
Review Your Schedule Regularly: Finally, review your schedule regularly and make adjustments based on changing business needs and circumstances. Don't be disheartened if you can't stick to the exact schedule; instead, use it as a guide for organizing your workday more effectively.
From my personal experience, I am most productive when I plan ahead the tasks I want to do for the day. The tasks must be specific and well-defined with deliverables or measurable.
The planning can be done in advance on a weekly basis or the day before. It is very helpful to spend 5 minutes at the start of the day to plan what I want to achieve and by the end of the day to take stock of what has been achieved or not achieved, and what needs to be followed up the next day.
By creating a realistic and specific schedule, you can organize your workday more efficiently, stay focused and motivated, and boost your productivity.
Time-Blocking and Batch Working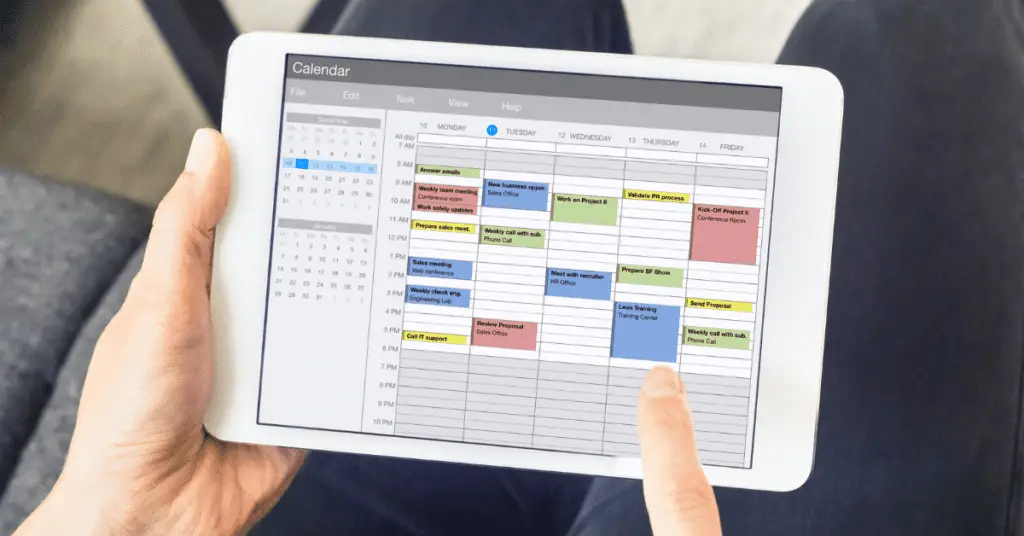 Time-blocking is an effective technique for organizing your workday that involves allocating fixed amounts of time to particular tasks. This method helps to create structure and avoid distractions, enabling you to focus and complete your tasks in the most efficient way.
Batch working is another technique that helps organize workdays more effectively. This involves grouping similar tasks together and dedicating a block of time to completing them. For example, instead of responding to emails or having business calls at different times during the day, try and dedicate one time slot for these activities.
By utilizing time-blocking and batch working, you can optimize your productivity, reduce distractions, and organize your workday more efficiently.
Organizing Workspace and Work Environment
Organizing workspace and work environment is an important step to effective work planning. A cluttered physical space or digital workspace can be distracting and hinder your productivity. Here are some productivity tips for organizing workspace and work environment:
Declutter Your Workspace: Start by decluttering your physical workspace. This could include tidying up your desk, filing away important documents, and organizing digital storage systems.
Designate Areas for Different Activities: To maximize efficiency, create separate areas for different activities such as meetings, calls, and project work.
Remove Distractions: Get rid of any unnecessary distractions in your workspace such as phones or TVs that can disrupt focus and derail productivity.
Invest in Ergonomic Furniture: Investing in ergonomic furniture can help reduce strain on the body during long hours of work. You can also find out more about this from my earlier post: Lower Back Pain After Sitting Too Long? Here's How to Beat It.
By organizing workspace and work environment, you can create an effective and productive working environment.
Avoiding Distractions and Staying Focused
Distractions are a major impediment to productivity. To stay focused and organized, it's important to identify and eliminate common distractions such as social media, emails, multitasking, and unimportant tasks. Here are some tips on avoiding distractions:
Unplug: Reduce distractions by unplugging from social media and emails for a certain amount of time each day.
Silence Notifications: If you're unable to completely unplug, then silence all notifications on your devices to avoid distraction from incoming messages or emails.
Set Timers: Create specific time slots dedicated to checking social media, emails or taking breaks. This can help you stay focused and organized throughout the day.
Use Focus Blocks: Set aside specific focus blocks to complete important tasks without any interruptions.
By avoiding distractions and staying focused, you can maximize productivity and achieve your goals in a shorter time frame.
Using Technology
Finally, there are many productivity tools and apps that can help you organize your workday more efficiently. Automation techniques such as task automation or scheduling tools can help streamline workflow and reduce manual labor. Here are some ways to use technology to optimize productivity:
Introduce Productivity Tools: Use a range of productivity tools and apps such as to-do lists, task tracking apps or project management tools.
Automate Repetitive Tasks: Use automation techniques such as task automation or scheduling tools to reduce manual labor and streamline workflow.
Use Time Tracking Tools: Invest in time tracking tools that can help you analyze your workflow and identify areas for improvement.
Get Virtual Help: Take advantage of virtual assistants or team members to help with specific tasks and projects.
By using simple technology tools you can maximize productivity, automate repetitive tasks easily and organize your workday more efficiently.
Conclusion on How To Organize Your Work Day
Managing your time effectively is a critical component of success as an entrepreneur. By taking the time to organize your workday with the tips shared in this blog post, you can become more productive, less stressed, and ultimately more successful. Organizing your workday can be daunting at first, but if you persevere, it will become a natural part of your routine.
Remember, organizing your work day is a process, and it may take some time to figure out what works best for you. Be patient, and remember that small changes can lead to big improvements over time. So take a few moments today to plan out your workday for tomorrow and start being more productive!