Super Affiliate System Pro Review: Can It Turn You into a Super Affiliate?
Are you tired of struggling to make money online? Do you dream of earning a six-figure income from the comfort of your own home? Then the Super Affiliate System Pro may be the solution you've been searching for.
In this Super Affiliate System Pro review, we'll delve deep into the features, training modules, user experiences, and value of the Super Affiliate System Pro to help you determine if it's the key to your affiliate marketing success. Let's get started!
DISCLOSURE: Some of the links that I share in this article ARE my affiliate links. This means I may earn a commission, at no extra cost to you. In fact, sometimes you'll get a discount or free credits just FOR using my link. 🙂
What is Super Affiliate System Pro about?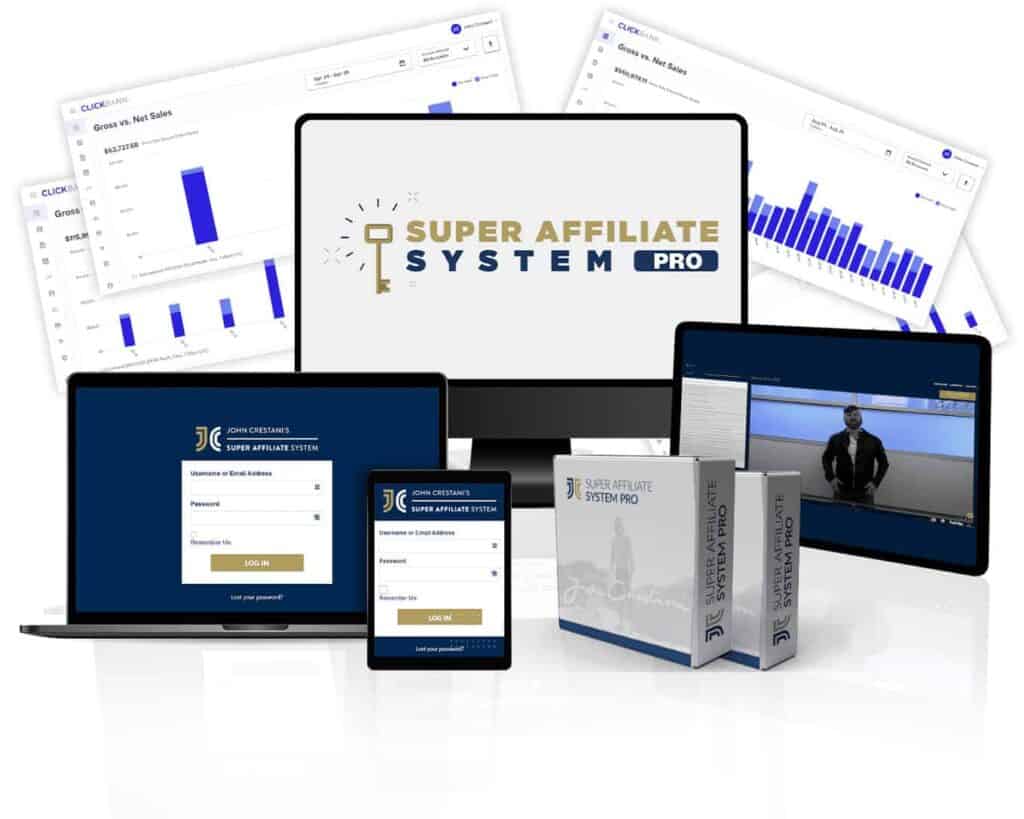 Super Affiliate System Pro is John Crestani's affiliate marketing course. This comprehensive program is designed to help individuals learn and master the techniques and strategies needed to build a successful affiliate marketing business.
It has been through several editions since its launch in 2016. The current version is its 4th edition. It offers comprehensive training and resources for affiliate marketing, with a particular focus on using paid traffic such as Solo Ads, Google Ads, YouTube Ads and Facebook Ads.
With Super Affiliate System Pro, students gain access to the course content, weekly webinars, and a community of successful affiliates. The program covers everything from the basics of affiliate marketing to advanced affiliate campaigns and offers. 
Who is John Crestani, the creator?
John Crestani is a renowned figure in the affiliate marketing industry and the creator of the Super Affiliate System. With a strong entrepreneurial spirit, he has built multi-million dollar businesses and achieved great success as an affiliate marketer.
With over a decade of experience in the industry, John Crestani has established himself as an expert in affiliate marketing. His expertise can be traced back to his early days, where he honed his skills in driving traffic and generating sales through various online platforms. Through Super Affiliate System, he shares his insights and strategies to help aspiring affiliate marketers succeed in their online businesses. 
How I got started on the course
I bought the course in 2018. Back then, it was called Super Affiliate System 3.0. I started the course but did not finish it or implement it as I was distracted by other Shiny Objects (as we all do). So recently one of my friends who had a lot of success with Affiliate Marketing through paid ads encouraged me to look into this again.
As they said all roads lead to Rome, you can either do affiliate marketing through blogging which is leveraging organic traffic or through paid advertising. I have spent the last one and half years learning affiliate marketing through blogging without much success, so I decided that it's an opportune time I should focus on learning this paid traffic route.
I suddenly remembered I had purchased this course before which is on this method of affiliate marketing, so I went back to the course work portal. But alas, I discovered that the course content seemed to have become outdated and there is a new version.
Thus, I contacted customer service for help and was pleasantly delighted when they upgraded my course access to the latest version, Super Affiliate Pro. I must give kudos to the excellent support provided by the company as their replies are both prompt and very helpful.
To cut the long story short, I went through and completed the course work this time round, so I thought it's appropriate for me to share my experience with you through my review.
Super Affiliate System Pro Review: Features and Benefits
We shall now take a closer look at the features and training modules of Super Affiliate System Pro.
Comprehensive Affiliate Marketing Course Coverage
The courses start with the basics of affiliate marketing, providing a strong foundation for beginners. It has 14 modules that cover various aspects of affiliate marketing, including understanding affiliate networks, creating effective affiliate campaigns, selecting profitable affiliate offers, and mastering traffic sources to generate traffic to your affiliate links.
The 14 modules are outlined in the picture below: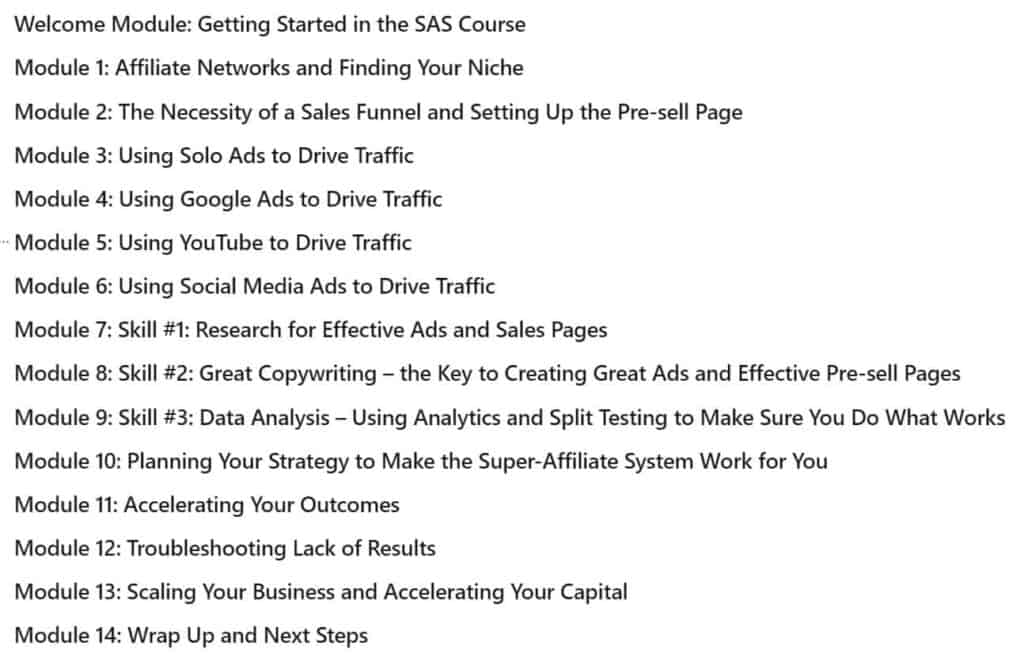 The Course is structured in a user-friendly manner, providing guidance and practical strategies that can be implemented immediately. Each module includes video lessons, assignments, and quizzes to help you reinforce your learning.
Through instructional videos and real-life examples, you will gain a deep understanding of how to leverage affiliate links and generate significant income in the affiliate marketing industry.
Step-by-Step Guide to Setting Up Profitable Campaigns
One of the key advantages is its well-structured training program. The emphasis is on following the training videos in the suggested order, guiding you through the entire process of affiliate marketing. This structured approach allows individuals, even those with no prior experience, to easily follow along and understand the intricate details of affiliate marketing.
You will only be able to access the next module if you complete the course, assignment and the quiz at the end of the module. This ensures that you understand the foundational concepts before moving on to more advanced topics.
In the first week, students will learn the basics of affiliate marketing such as choosing your niche and how to choose profitable offers. This includes understanding the different types of affiliate networks such as Clickbank and how to select the right products to promote.
The second week covers the concept of sales funnels and why you need a website and presell pages. He also goes into the types and designs of the presell pages.
In week three, he will go into traffic sources, including both free and paid methods. You will learn how to use organic traffic, as well as the different methods of paid traffic through advertising. He then goes into Solo Ads and how to set up Solo Ads campaigns.
In the next few weeks, he will go over Google Ads, YouTube Ads and Facebook Ads. The course provided step-by-step guidance on how to build profitable campaigns from scratch for each of these traffic sources and the setup of conversion tracking. By covering different traffic sources and methods, it allows you to diversify your traffic and reach a wider audience.
The focus then shifted to conversion optimization and went into the 3 important skills of affiliate marketing, which are researching for effective ads and sales pages, copywriting and then data analysis on split testing. You will discover effective strategies to increase your conversion rates and maximize your revenue.
The final few weeks of the course delves into strategic planning, troubleshooting, scaling and raising capital. Students will learn how to take their profitable campaigns and expand them to generate even higher income.
There was a wrap up in the last week which summarized what you have learned through the course and shared on next-level affiliate strategies. If you are able to pass the final exam, you can even get a certificate for the course.
The 14-week course in the Super Affiliate System Pro covers all the essential topics needed to succeed in the affiliate marketing industry. It provides a step-by-step roadmap for building a profitable affiliate marketing business and offers access to valuable resources to further enhance students' knowledge and skills.
By following the step-by-step guide and implementing the strategies taught in the training videos, you will gain the knowledge and skills needed to set up highly profitable affiliate marketing campaigns.
A Variety of Ready-to-use Resources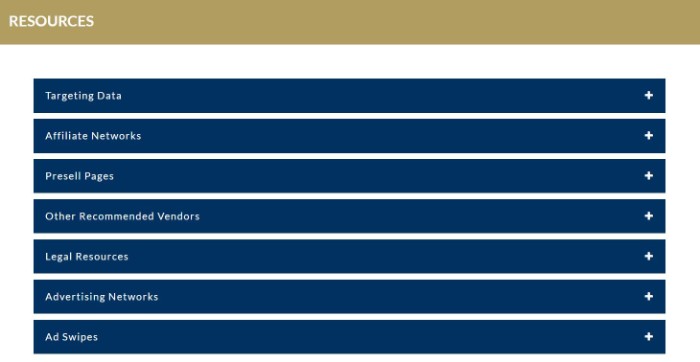 Another great feature of the course is the variety of ready-to-use and valuable resources that Crestani provides to help you succeed in your affiliate marketing journey. The most notable of which is the presence of pre-designed templates for presell pages for affiliate campaigns.
Another key resource provided in this course is a collection of ad swipes. These are pre-written ad and email templates that you can use to effectively promote affiliate offers to your audience. By using these swipes, you can save time and effort in creating persuasive and engaging promotional content.
These resources save you time and effort by providing you with ready-made materials that you can use in your marketing efforts. This not only helps you get started quickly but also ensures their campaigns have a professional look and feel.
Furthermore, the course provides targeting data which is instrumental in creating highly targeted advertising campaigns that yield optimal results. It also offers access to buyer lists, which are curated lists of individuals who have bought in the various niches before.
By leveraging the lists, you can target a qualified audience and increase your chances of generating sales and earning income. Super Affiliate System Pro provides a comprehensive set of valuable resources, including ad swipes, targeting data, affiliate networks and advertising networks. These resources give students the necessary tools to create a profitable business in the affiliate marketing industry.
Community Forum
One of the benefits of joining the Super Affiliate System Pro is access to the community. You can interact with other students and get feedback and support from Crestani and his team.
This is an invaluable resource for any affiliate marketer, as you can learn from other people's successes and mistakes and get help when you need it. The forum topics are very well organized, so you can search for answers easily if the question has been asked before.
Weekly webinars
You will keep learning new stuff continuously as John and his coaches host FREE training on a weekly basis. You can ask questions, get feedback on your campaigns, and learn from other successful affiliate marketers.
This direct access to an industry expert is invaluable for learning and gaining insights into the world of affiliate marketing. It also serves as an opportunity to discover new strategies and techniques from other experienced affiliates.
Awesome Email Support
Besides webinars, there is also a dedicated support team available to assist you. Whether you have technical queries or need guidance on implementing specific strategies, the support team is there to help. You can reach out to them via email, and they will promptly respond to your inquiries (as experienced by myself firsthand as I shared earlier).
By enrolling in this course, you can save time and avoid common mistakes made in the affiliate marketing space. Super Affiliate System Pro ensures that you have the necessary tools and knowledge to build a successful affiliate marketing business from scratch.
Super Affiliate System Pro Review: Pricing and Value
The Super Affiliate System Pro isn't cheap, with a price tag of $997. Yet it's important to keep in mind that this is an investment in your future. Compared to starting a brick and mortar business, the start-up cost is relatively low, and you can see a return on investment in less time.
If you're serious about becoming a successful affiliate marketer, you need to be willing to invest in yourself and your education. And while the price may seem steep, there are payment plans available, making it more accessible to those on a tight budget.
Furthermore, the system offers lifetime access, so participants can revisit the training materials and resources at any time, enabling them to continually enhance their affiliate marketing skills. When you consider that this one-time fee provides you with a lifetime access to the training and resources, it's value for money.
Lastly, the Super Affiliate System Pro also provides a no-risk 30-day money-back guarantee, ensuring that you can invest in the program with confidence, knowing that your satisfaction is prioritized.
Super Affiliate System Pro Review: Pros and Cons
In summary, Super Affiliate System Pro has many advantages that make it an attractive option for those looking to enter the affiliate marketing space. The table below shows are some of its pros and cons:
Pros
All-inclusive training material for affiliate marketing, covering all essential aspects.
Time-Saving Resources
Access to a supportive community of like-minded individuals
Live weekly webinars with professionals in the industry
30-day money-back guarantee if you're not satisfied with the course
Cons
The course is relatively expensive compared to other online training programs.
Extra expenses are required for advertising campaigns and affiliate networks. These costs should be taken into consideration when assessing the overall investment required for the program.
Learning Curve: While the course provides comprehensive training, individuals without prior online business experience may experience a learning curve.
The course does not provide one-on-one coaching or personalized advice. Personal coaching and mastermind are available as extra paid options.
Super Affiliate System Pro offers a comprehensive and valuable training program for individuals looking to venture into affiliate marketing. However, potential students should consider the extra advertising costs needed and be prepared to invest time and effort in acquiring the necessary skills to succeed in this industry.
What I like about the course
Apart from the awesome support experience I had with the course support team, I certainly like the comprehensive training material that shows you the whole system and introduces you to affiliate marketing. It provides a great overview of the whole business model. I also like the very systematic and step-by-step detailed tutorials.
Furthermore, the course materials are supplemented by weekly webinars. I like it that even if you are not able to attend the live coaching, they have all the past recordings with topics properly labelled. So you can easily find topics that are of interest to you and watch any one of them.
This is a learning and doing course that you can watch and implement at your own pace (although it's supposed to be one module per week). There is a quiz at the end of each module to help you check for understanding.
But it doesn't stop there. It also shares with you some more advanced level stuff (although it's just touching the surface), nevertheless it gives you a glimpse and some ideas on what you could do after you get your initial success. After my completion of the course, they even gave me a certificate for completion.
Another thing I like about the course is that it introduces you to different paid traffic methods so that you can explore and find the one that better fits you. They also point out the common mistakes people make with paid advertising, so that you can avoid them.
What I dislike about the course
There is frankly nothing I dislike about the course; the only thing I wish it would go more in-depth is email marketing, but I guess that is a topic that would warrant a separate course by itself. While it may not extensively cover email marketing and other aspects of affiliate marketing, the transferable traffic skills taught in the course can be applied to various online business ventures.
The Verdict: Can It Turn You into a Super Affiliate?
So, can the Super Affiliate System Pro turn you into a super affiliate? The short answer is: it depends. While the course provides all the tools and training you need to succeed as an affiliate marketer, you need to put in the work and apply what you've learned.
Overall, I believe Super Affiliate System Pro offers incredible value and provides the resources you need to get started with affiliate marketing. Success as an affiliate marketer isn't guaranteed, but if you're willing to put in the effort, it can be a great way to launch your own online business.
If you're serious about creating your own successful affiliate business, I highly recommend checking out the Super Affiliate System Pro by signing up for the FREE Online Workshop and see for yourself whether it's right for you.