Find the Best Print-on-Demand Jewelry Suppliers in the USA
There are many great print-on-demand jewelry suppliers in the USA. However, not all of them are created equal. It is important to find a supplier that offers quality products and great customer service. With so many options out there, it can be tough to know where to start.
In this blog post, we will share five of the top suppliers in the industry and how you can find the right one for your business. We will also go over some of the benefits of using a supplier and how it can help you grow your business.
DISCLOSURE: Some of the links that I share in this article ARE my affiliate links. This means I may earn a commission, at no extra cost to you. In fact, sometimes you'll get a discount or free credits just FOR using my link. 🙂
What is print-on-demand jewelry?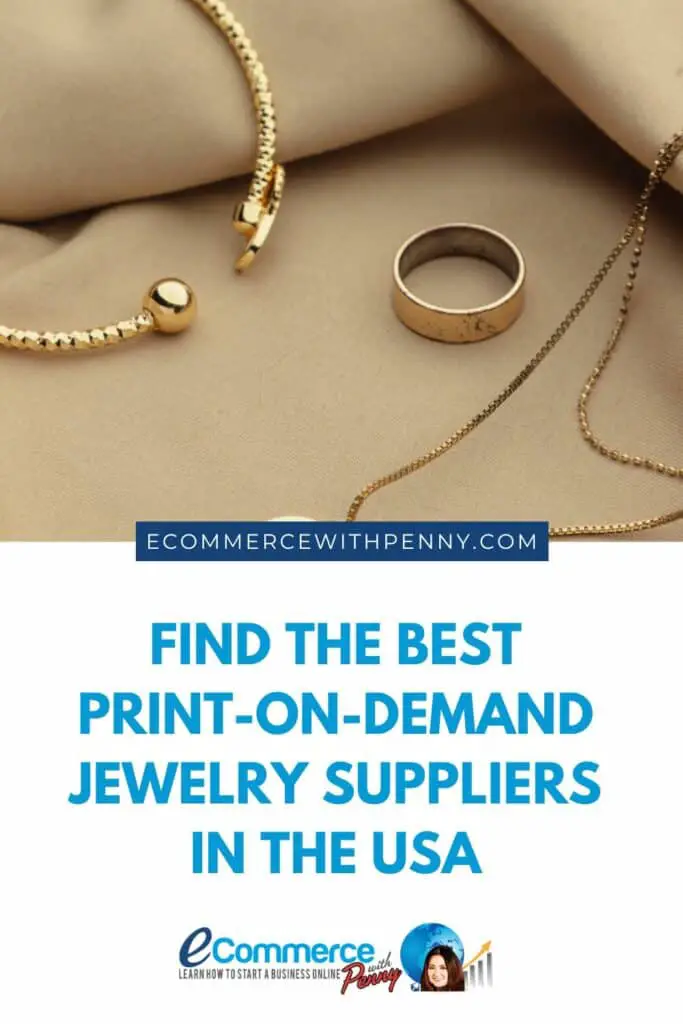 Print-on-demand (or POD in short) jewelry is a type of jewelry that is made to order. This means that the jewelry is not made until after you have placed your order, which helps to ensure that you are getting a product that is exactly what you want.
This can be a great option for businesses that want to offer customized jewelry options to their customers. You can read more about it in my earlier article on How to Make More Money with Print on Demand Jewelry.
What are some of the benefits of using a print-on-demand supplier for your business growth?
There are many reasons why you should consider using print-on-demand jewelry suppliers for your business. Using a print-on-demand supplier compared to making your own can help you save time and money because they can help you to make customized jewelry quickly and easily. They can also help you to save money by not having to waste any materials.
Some other benefits include:
Increased flexibility – They allow you to order as little or as much jewelry as you need, which gives you more flexibility when it comes to inventory.
Increased convenience – They often offer online ordering, which makes it easy for you to place orders from anywhere.
More design options – Print-on-demand suppliers offer a wide range of design options, it can thus help you to increase your product selection as you will have access to a wider range of products.
How do you find the best print-on-demand jewelry supplier for your business?
When looking for a print-on-demand jewelry supplier, it is important to consider the needs of your business. Here are some things to keep in mind when choosing a supplier:
Consider your budget
It's important to consider the price point. You can find pieces that are both affordable and of high quality by looking for sites that offer discounts for bulk purchases and first-order discounts of 20%.
Additionally, many sites integrate with popular eCommerce platforms, such as Etsy, WooCommerce, and Shopify. so you can easily buy your prints without ever leaving your online store.
Factors to consider when choosing suppliers
If you want to sell print-on-demand jewelry, it is important to choose a reputable supplier with high-quality products and excellent customer service to ensure your customers are happy. Other factors to consider are:
The range of products – the supplier should offer a wide range of products so that you can find the perfect style for your business.
The design options – the supplier should offer a variety of design options so that you can create custom jewelry that meets the needs of your customers.
The pricing – you want to find a supplier that offers competitive pricing so that you can stay within your budget.
The turnaround time – you want to find a supplier that offers fast delivery so that you can get your products to your customers quickly.
Customer service – Many sites offer customizable products and photo and text layers that allow customers to preview the product before buying. This allows customers to be sure of their choice before finalizing the purchase. Besides, many sites offer a return policy in case buyers are not satisfied with their purchase.
The reviews – Before buying, be sure to read reviews to get an idea of what others have thought about the supplier. Additionally, it is important to check out the supplier's website, which offers information about the company and its products.
bThe return policy – It will be great if you can get a sample of its products before deciding on one to see for yourself the quality of the print-on-demand jewelry.
The 5 Best Print-on-Demand Jewelry Suppliers in the USA
Here are some of the best suppliers in the USA:
1. ShineOn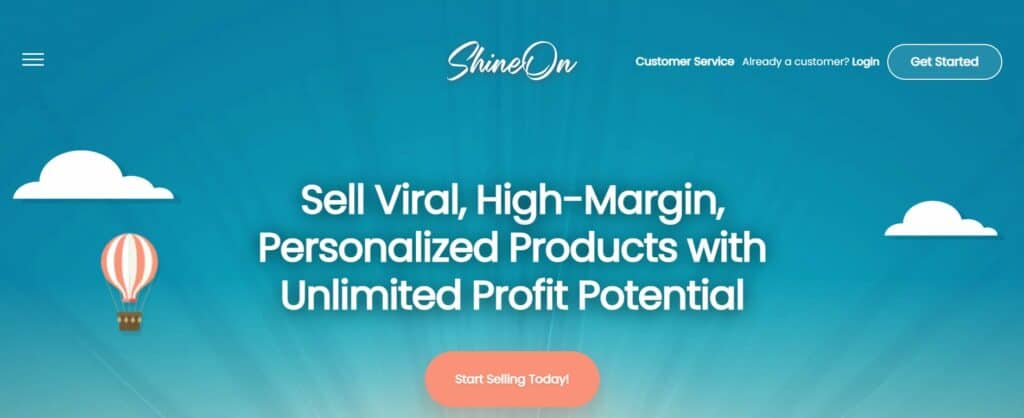 ShineOn is an online jewelry and watch printing company that was started in 2016. Unlike many other POD manufacturers, ShineOn exclusively deals in POD jewelry products and accessories. They offer a wide range of products including bracelets, necklaces, rings, earrings, pendants, etc.
The supplier also offers gift-wrapping as an add-on service. This way, a customer can have ShineOn manufacture custom jewelry, wrap it accordingly and ship it as a gift directly to the recipient. They provide a great service with a quality guarantee.
Pros
High-quality products and fast shipping times – Their products are handcrafted and designed in the USA.
Specializes in Jewelry, unlike others that offer jewelry as one of the POD options.
Take good care to keep their customers happy with reliable product quality and quick shipping which means the products would arrive on time.
Offer cancellations, returns, and exchanges – something that many online buyers appreciate.
No subscription fees to use the platform or integration – Unlike some of the dropshipping suppliers which need you to pay subscription fees to use its platform or service, ShineOn doesn't have any such fee. This means one less recurrent cost and you only need to pay for the product and shipping, which can be great for if you are working with a tight budget.
Integration with Shopify and Etsy – ShineOn offers an easy way to set up a shop through its Shopify app so you can either sell it in your privately-branded jewelry store. You can also sell on market place like Etsy.
Availability of training – ShineOn provides step-by-step instructions and video tutorials. It even offers a 14 days challenge to help you get started and they also provide marketing support and other training resources. This is how I got started with Jewelry POD with ShineOn.
ShineOn is a great company if you're looking for unique jewelry designs. In my next blog post, I will be writing about my own experience with ShineOn from taking part in its 14-day challenge recently. Stay tuned for that!
2. Shop3D

Shop3D is a print-on-demand and eCommerce company that is based in the USA and all its products are made in the USA as well.  
Pros
Quality products: Shop3D produces high-quality 3D printed jewelry, with no minimum order requirement.
Huge range of customizable products: You can choose from a huge range of customizable products, including personalized photo necklaces and rings.
Excellent personalization options: You can add text messages or your photos to most products on the Shop3D platform.
Easy-to-use app: With an easy-to-use app, you can upload your designs and set up an online store quickly and easily.
3. Printful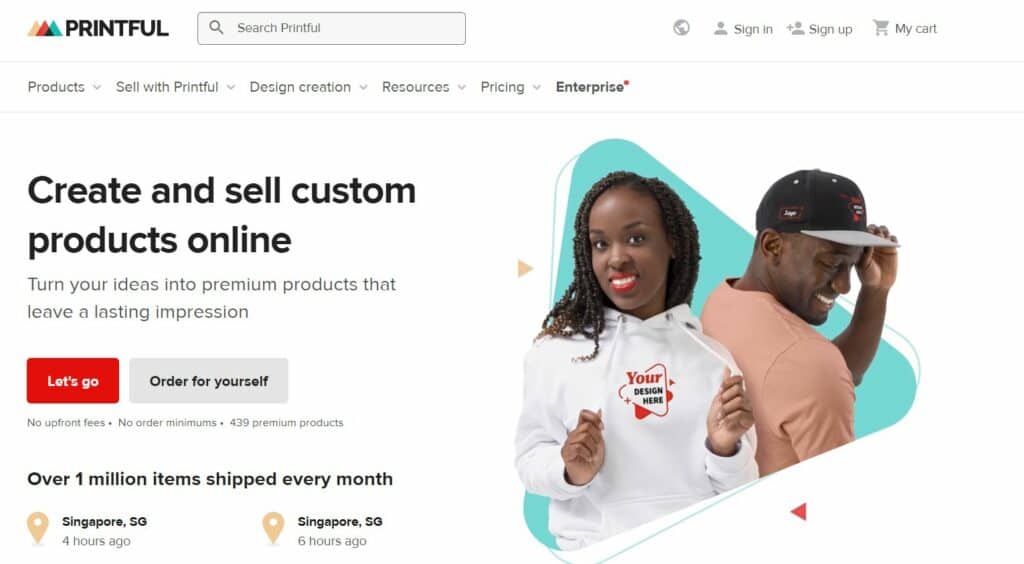 Printful has only recently started offering print-on-demand jewelry, but they're quickly becoming one of the leading providers in this field. This company was founded in 2013 and has since served over 200k sellers.
Pros
They're easy to use, have a mockup generator, and offer free shipping on orders over $75.
Printful provides you with more options: You can find high-quality items such as jewelry, clothing, and phone cases.
The platform is easy to use and has a mockup generator: Printful is easy to use and comes with a mockup generator that you can use to create online ads and product pages.
You have the option to customize your products: Customers have the option to customize their products by customizing colors, adding text or images, etc.
It's perfect for businesses that offer personalized services: Printful is perfect for businesses that offer personalized services such as jewelry making or fashion designing.
4. Beeoux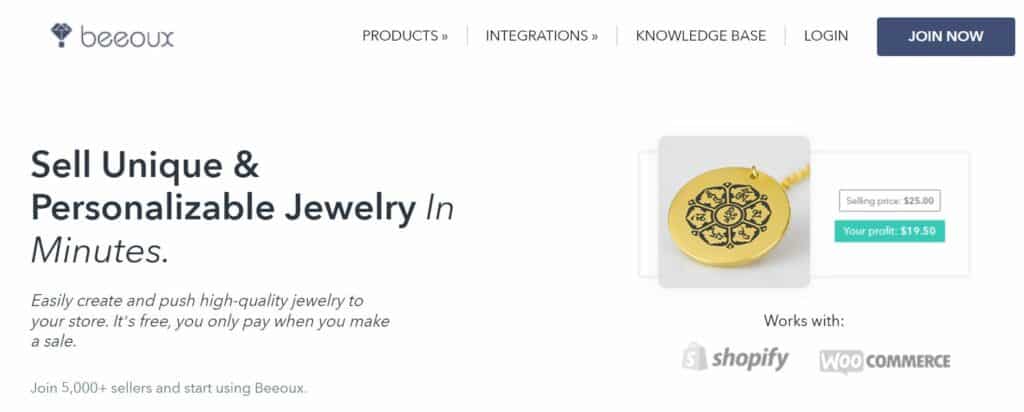 The best print-on-demand jewelry sites and companies in the USA include Beeoux which is an eCommerce site that sells jewelry and accessories. Beeoux allows you to create your own store and sell your jewelry designs. A lot of people like Beeoux because it offers great customer service.
Pros
Beeoux is easy to use: You can design and sell beautiful prints on demand with Beeoux. Each sale made through Beeoux generates production information that's pushed directly to your store, making it easy to keep track of how well your products are doing (and make necessary adjustments).
There's a wide selection of products to choose from: You can find just the right product for your customers, no matter what style they're looking for.
Affordable shipping: Connect with customers all over the world with affordable shipping costs through Beeoux. Everything is handled automatically by the platform. It also offers affordable shipping around the world so that you can connect with more customers than ever before!
Provides you with tracking information so you know exactly where your print sales are going: With Beeoux, you'll never have to worry about lost or damaged prints again!
5. Printify

Printify is a startup based in San Francisco that started in 2016. It allows you to customize printed goods like t-shirts, mugs, notebooks, etc. You can choose from hundreds of designs, add custom text, logos, and photos, and even pick up where it left off later on.
Pros
You can choose from a variety of design providers: You can choose from a variety of print-on-demand providers, each with its unique selection of products.
The premium plan gives you 20% off all your orders: This is an excellent incentive if you're planning on selling large volumes of products.
Offers things like watch band customization and jewelry box designs: There are plenty of options to choose from when it comes to designing your jewelry or accessories with Printify. In addition to traditional printing solutions like pendants and dog tags. you can also explore more creative options like watch band customization or the ability to customize jewelry boxes of your own using your designs.
You can sell a wide range of products with Printify: You can print jewelry, accessories, and other products on the site.
The premium plan offers discounts and free shipping: Get up to 20% off of all orders placed directly on the site when you subscribe to the Printify premium plan.
You can print a wide variety of items: With Printify, you can choose from a wide range of items to print on, including jewelry, watches, and other accessories suitable for custom engravings.
You have more customization options than other sites: With the customizable options, you're able to make your printing process unique and special.
Affordable shipping solutions: The affordable shipping solutions make it easy for businesses to get their products into customer's hands quickly and easily.
You can work with multiple vendors: Not only does this give you an expansive range of products and designs, but it also allows you to find the best vendor for your specific needs without any trouble at all.
Custom engraving is available: If want something extra special on your prints or shirts, printing with custom engraving is available at Printify!
If you're looking for an innovative and flexible print-on-demand provider that provides a wide range of products that can be printed on everything from jewelry to watch bands and jewelry boxes, Printify is an excellent choice.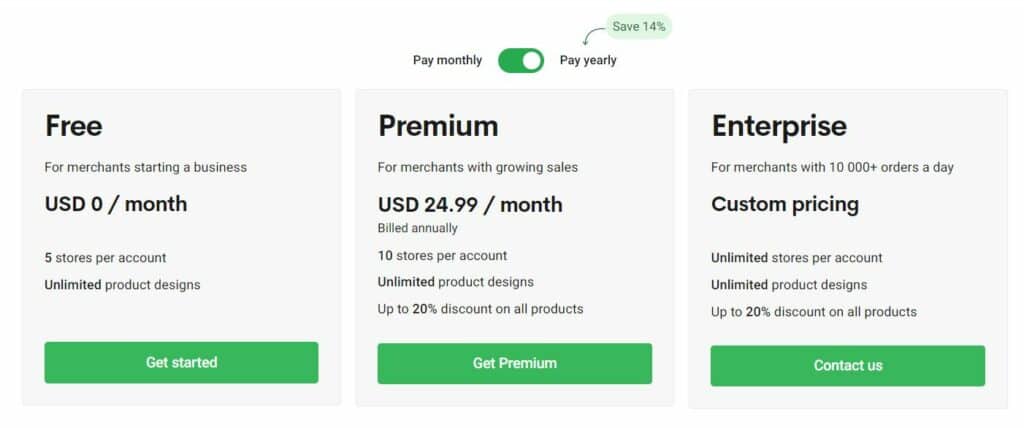 4. Final thoughts on print-on-demand jewelry suppliers in the USA
Overall, print-on-demand jewelry suppliers in the USA have a lot to offer businesses and entrepreneurs. If you're looking for a print-on-demand jewelry supplier that is easy to use, provides flexible shipping options, and tracks orders automatically, then you should consider using one of the top 5 suppliers listed in this article.
If you are looking for a way to grow your business, print-on-demand jewelry may be the right solution for you. Contact a supplier today to learn more about how they can help you get started!
FAQs about Print on Demand Jewelry
Can You Sell POD Jewelry with Shopify?
Yes, print-on-demand jewelry can be sold with Shopify. Many print-on-demand providers have Shopify integrations through Shopify Apps that make the process of setting up and managing your store a breeze.
You will need to set up a Shopify account and then add your POD jewelry products to your Shopify store. Once your POD jewelry products are added to your Shopify store, you will be able to start selling them to customers.
Is It Profitable to Sell POD Jewelry?
This is difficult to answer definitively as it depends on several factors, including the specific POD jewelry being sold, the prices at which it is sold, the number of sales made, and the costs associated with producing and selling the jewelry.
Generally speaking, however, POD jewelry can be quite profitable as you can create unique pieces that can be sold for a higher price than mass-produced jewelry. As long as you have a good design and a decent following, you can make a lot of money selling POD jewelry.
The downside is that POD jewelry can be more expensive to produce, so you'll need to do your research to make sure you're pricing your pieces correctly. You also need to market your products well through Facebook or other social media channels if you are selling on your own online store so this is another cost that you need to consider.
What is the difference between POD Jewelry and general POD?
Print-on-demand (POD) jewelry is a type of print-on-demand business that specializes in selling jewelry. POD in general includes selling a variety of different objects, including clothing, phone cases, and home decor.
If you are looking for print-on-demand products to print on jewelry, you should consider using POD jewelry instead of general POD because it's considered a high-margin item with a good profit margin.